PHXAM Photo Gallery 2017
Sunday March 26th 2017 Semi's and Finals

Saturday March 25th The Official After Party Presented By Volcom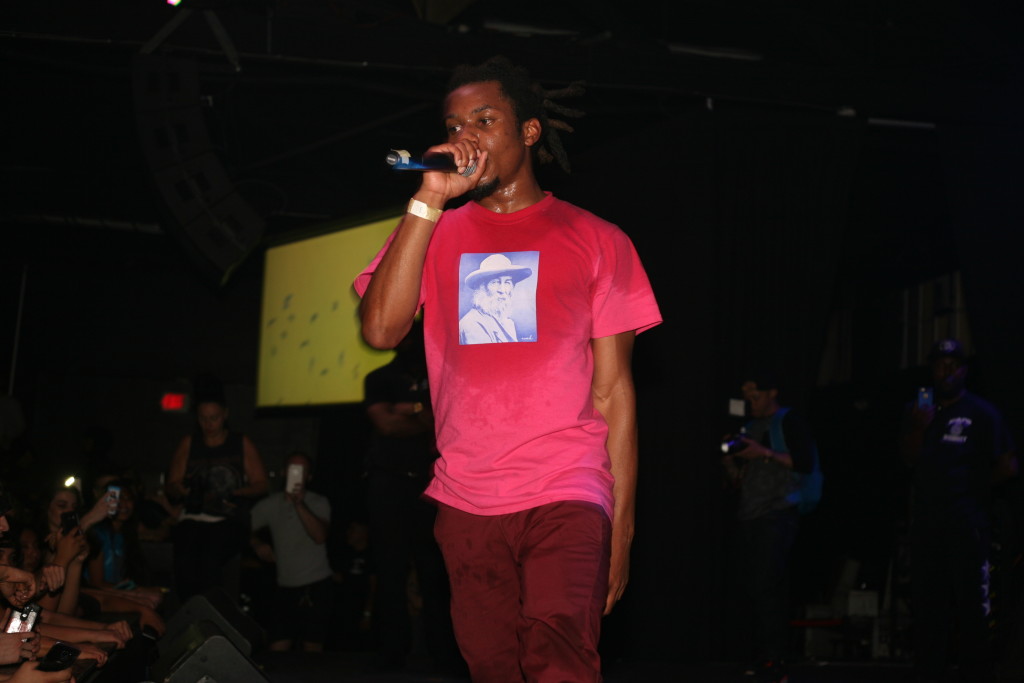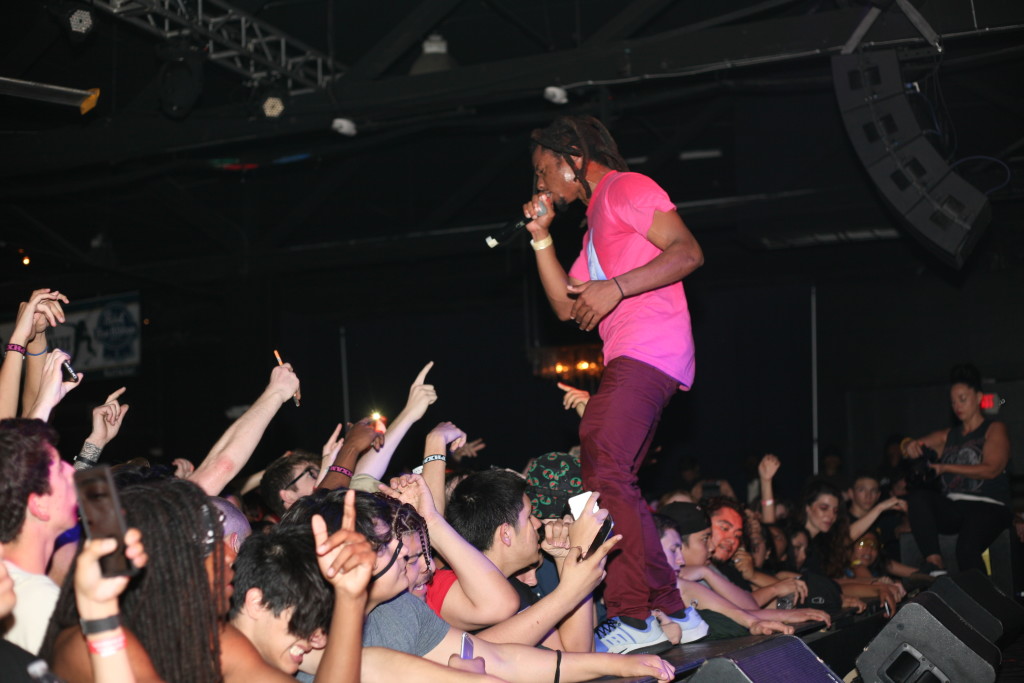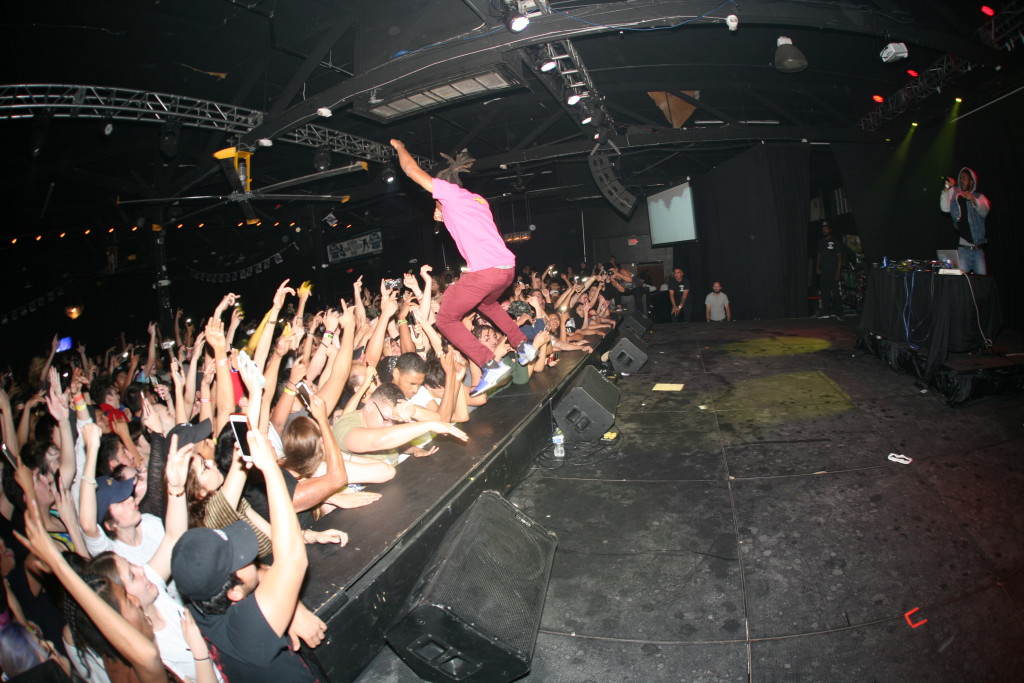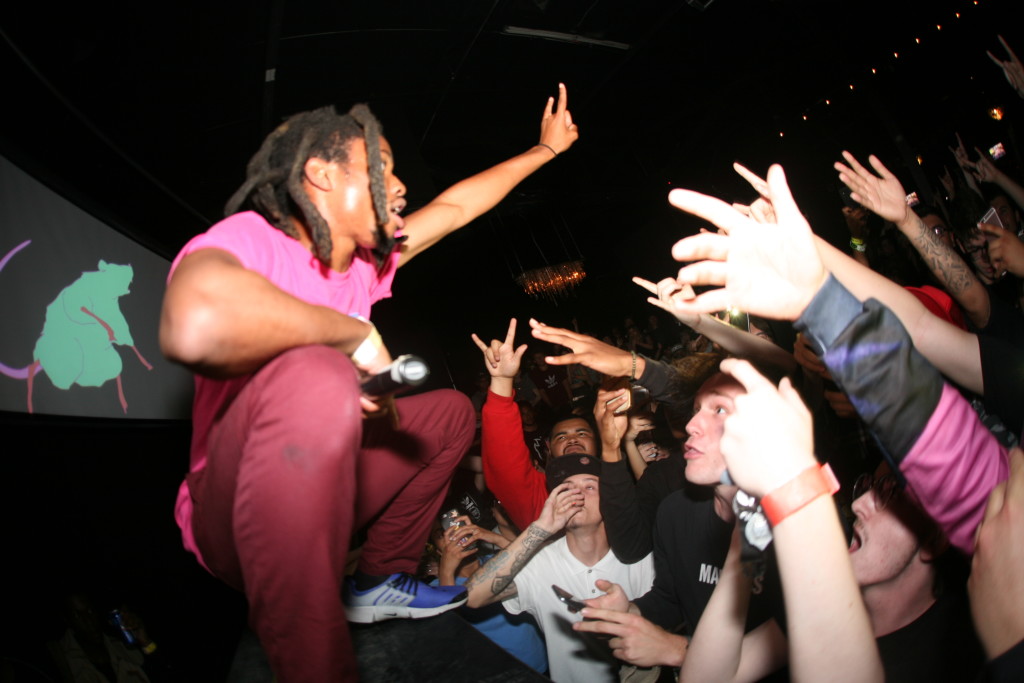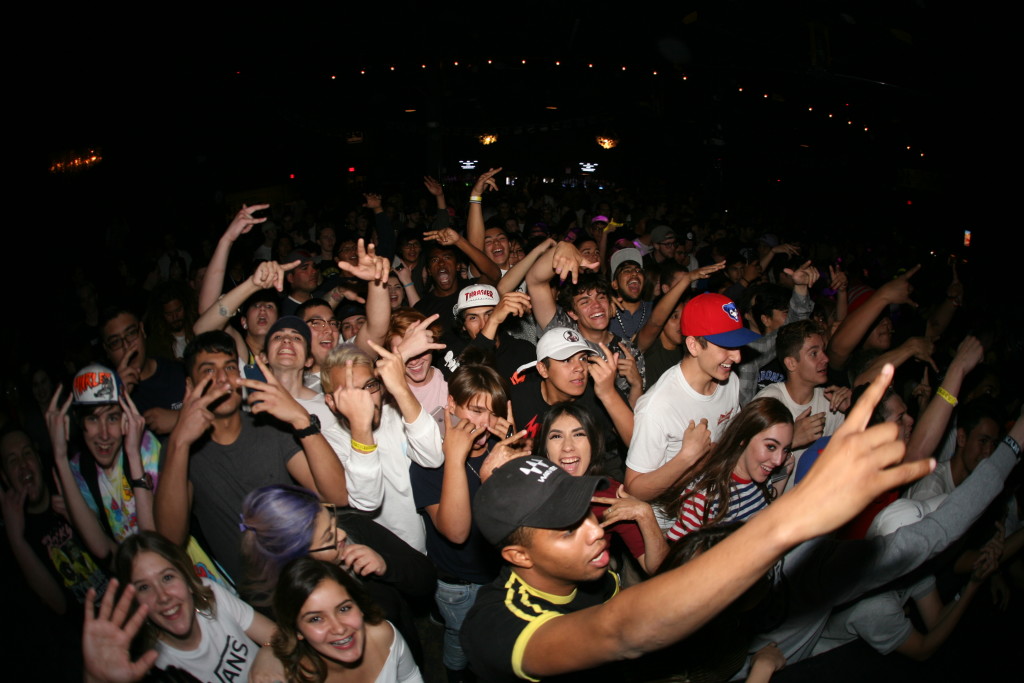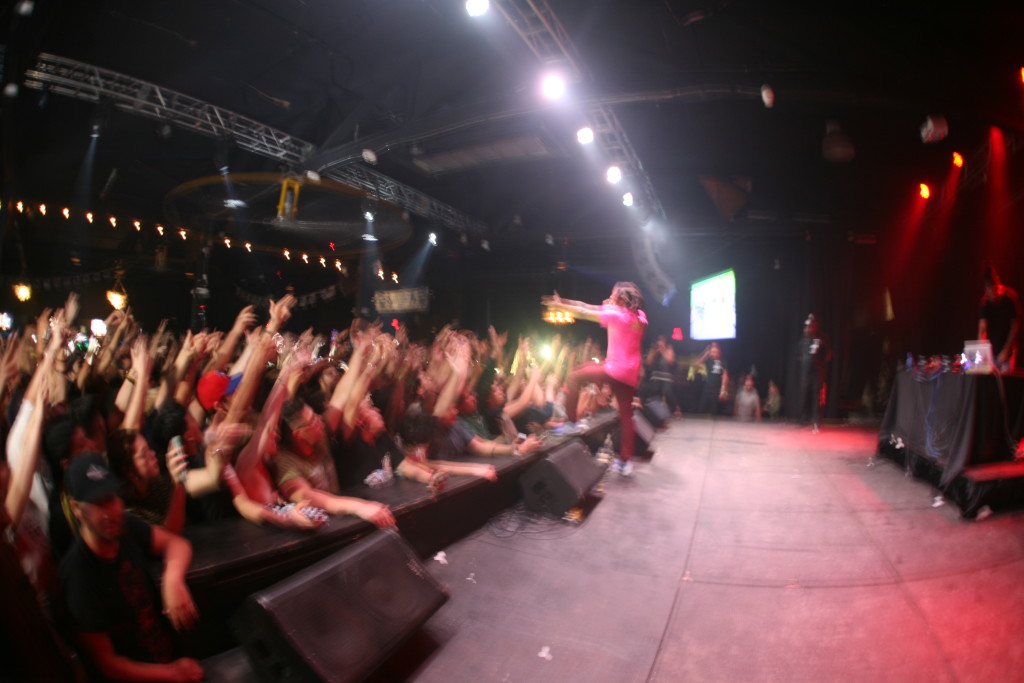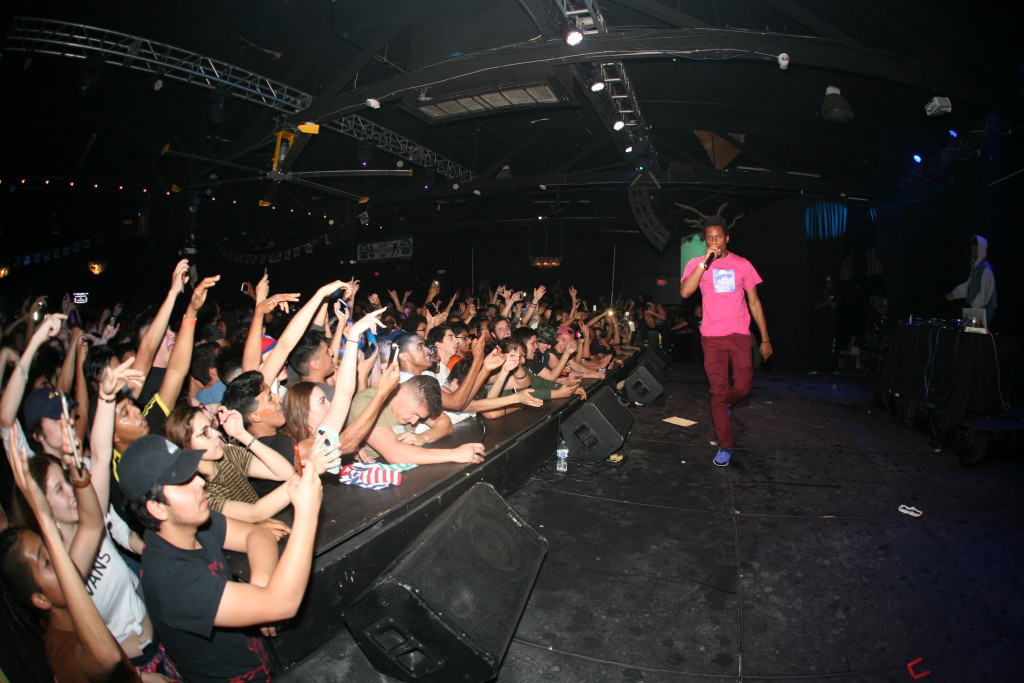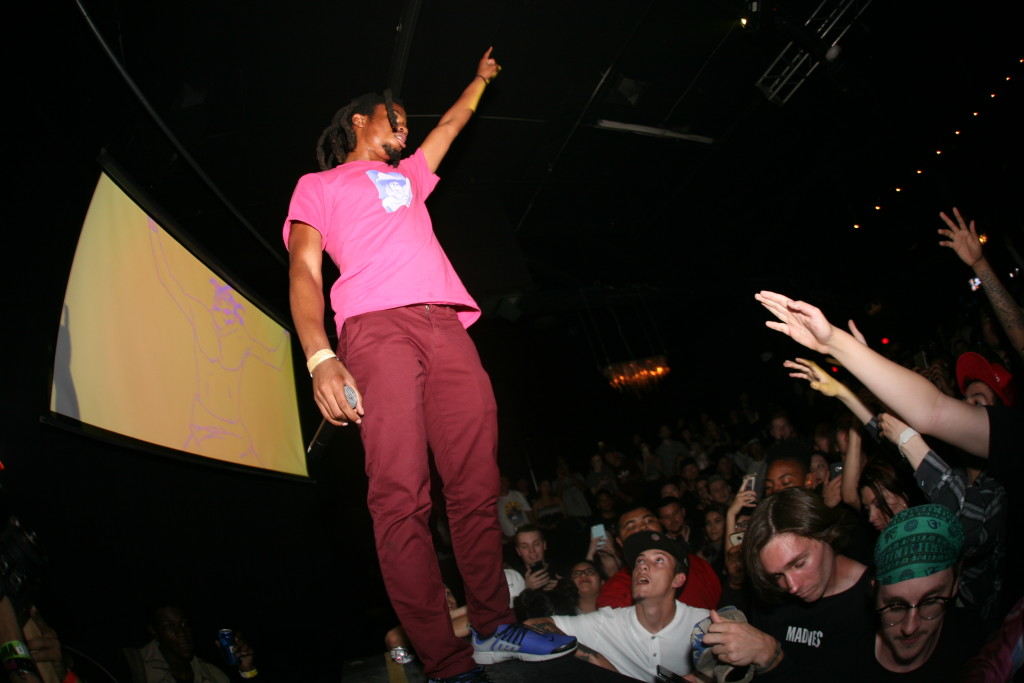 Saturday March 25th 2017 – Day 1 Qualifiers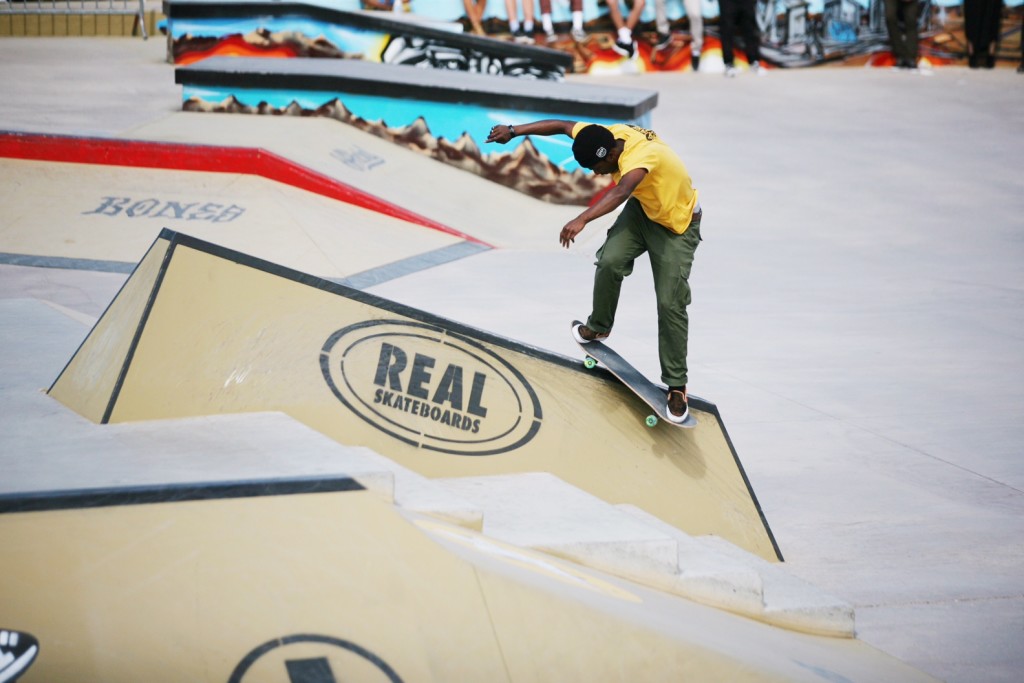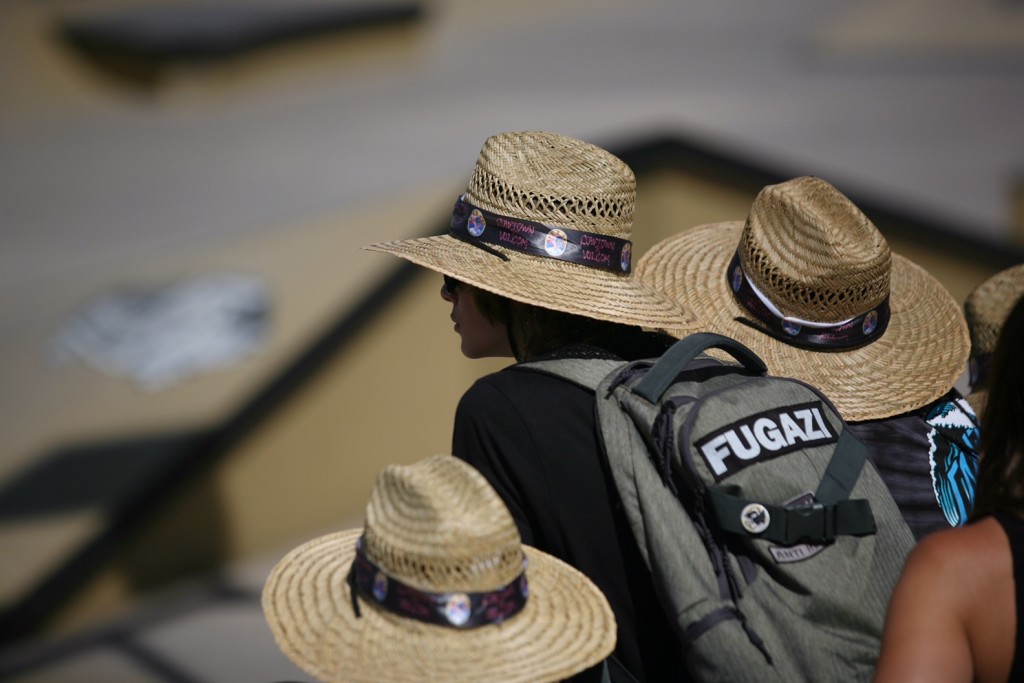 Volcom hooked up some custom JJ Horner x PHXAM hats for everyone at the park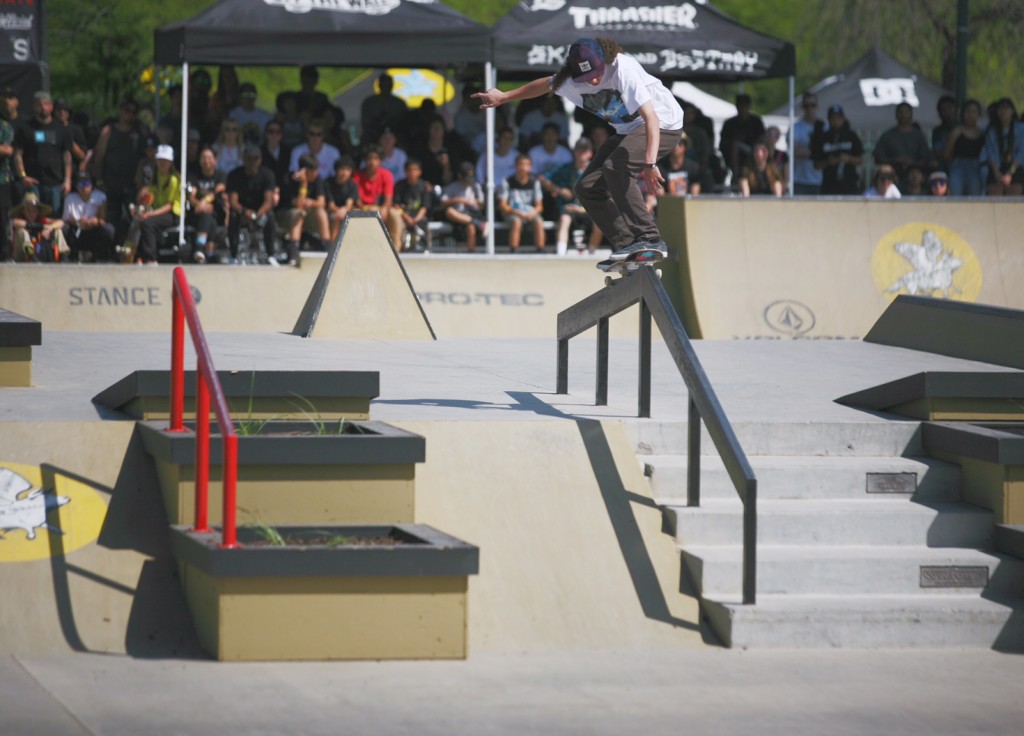 Local Thomas Turner going up and down 50-50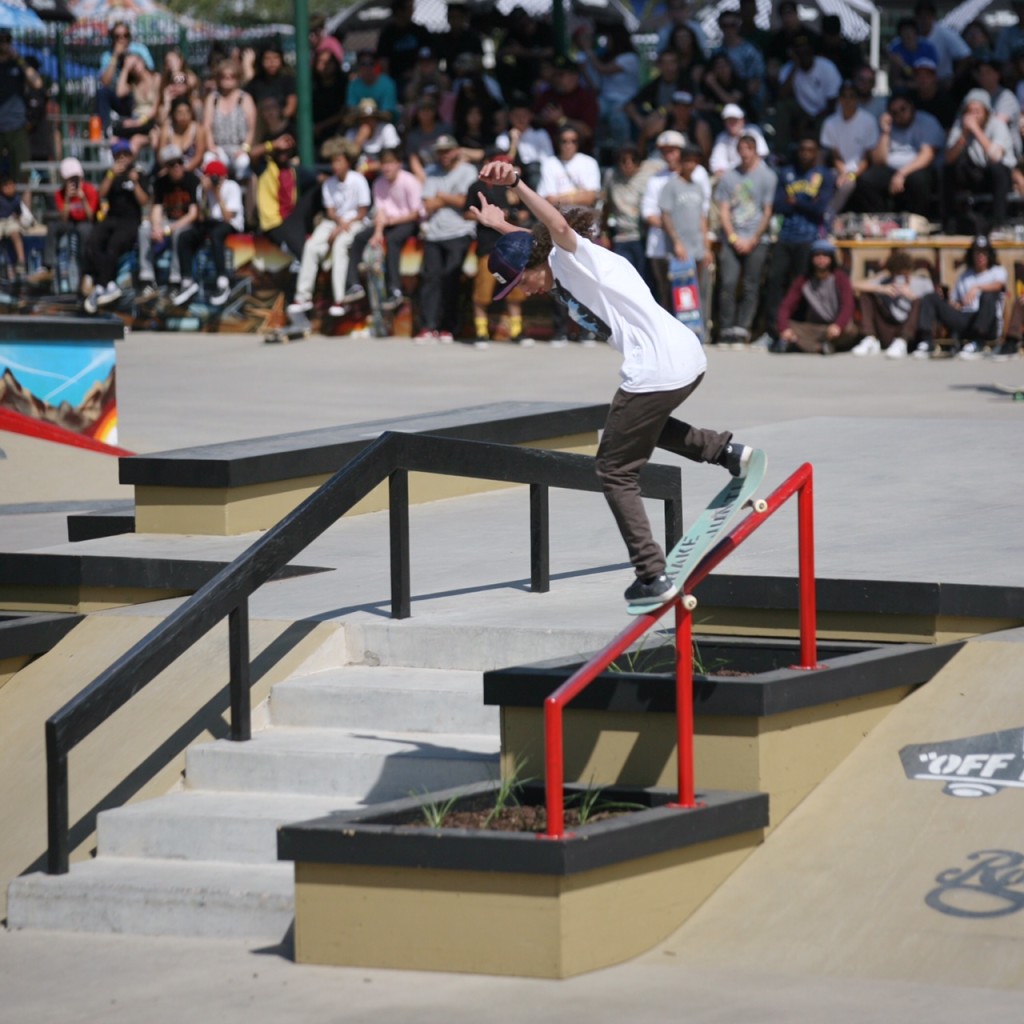 Thomas Turner Gap to BS Nosegrind
Jagger Eaton attacking the Real Hubba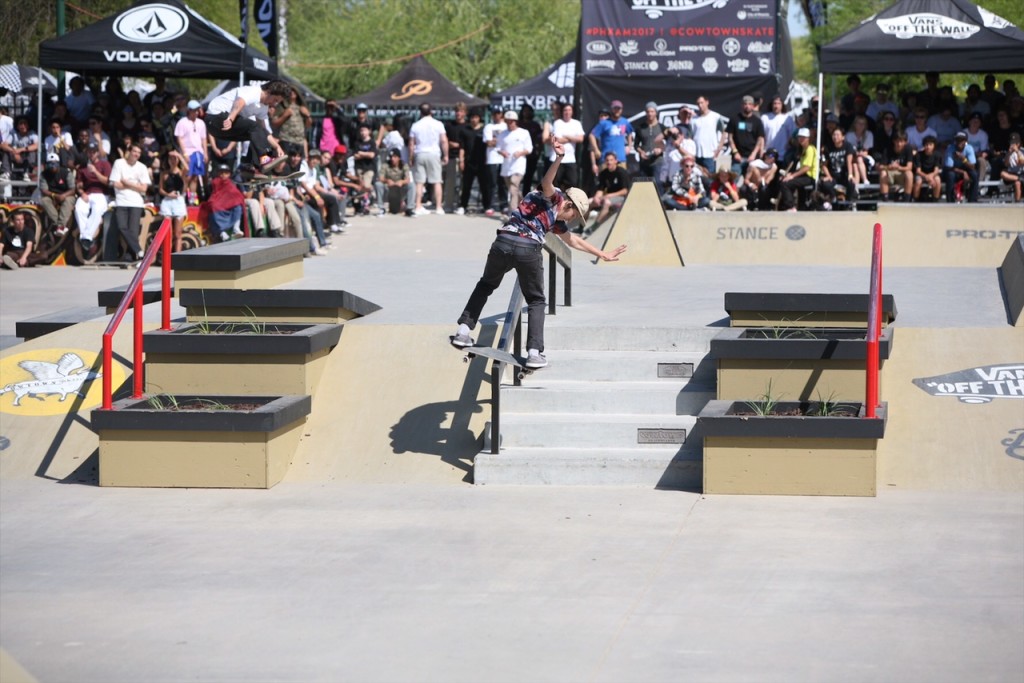 Jagger with a Back Lip on the middle rail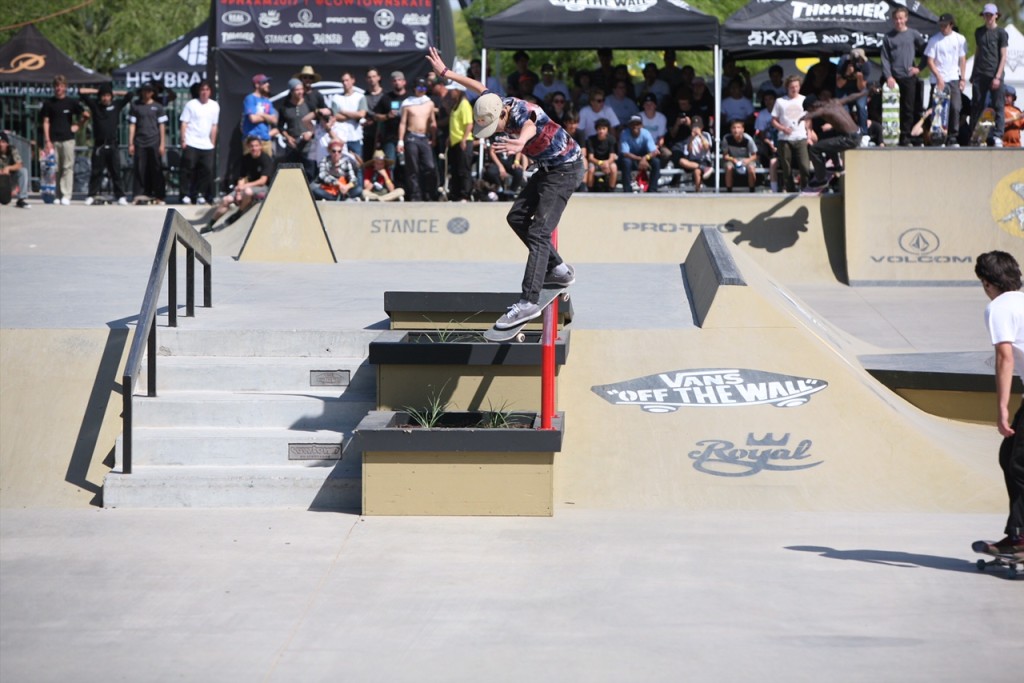 BS Smith on the Gap to Bar – Arizona's own Jagger Eaton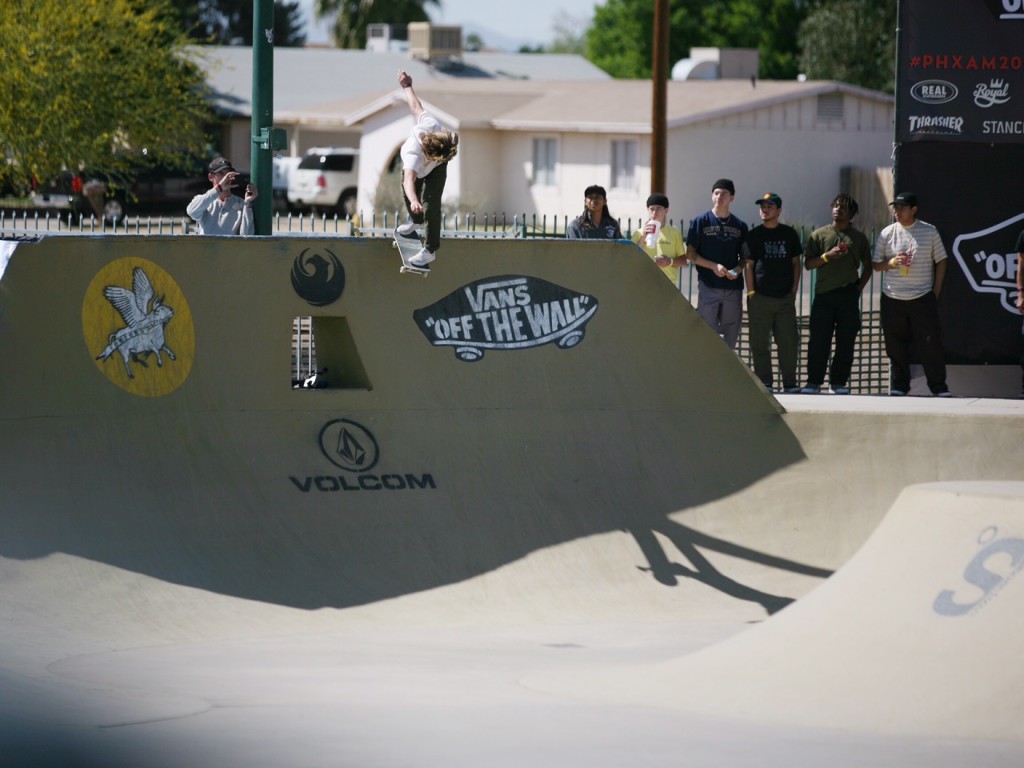 Backside Tailslide up and over the back keyhole


Will Blaty the only one to take advantage of the planters with this 50 drop 50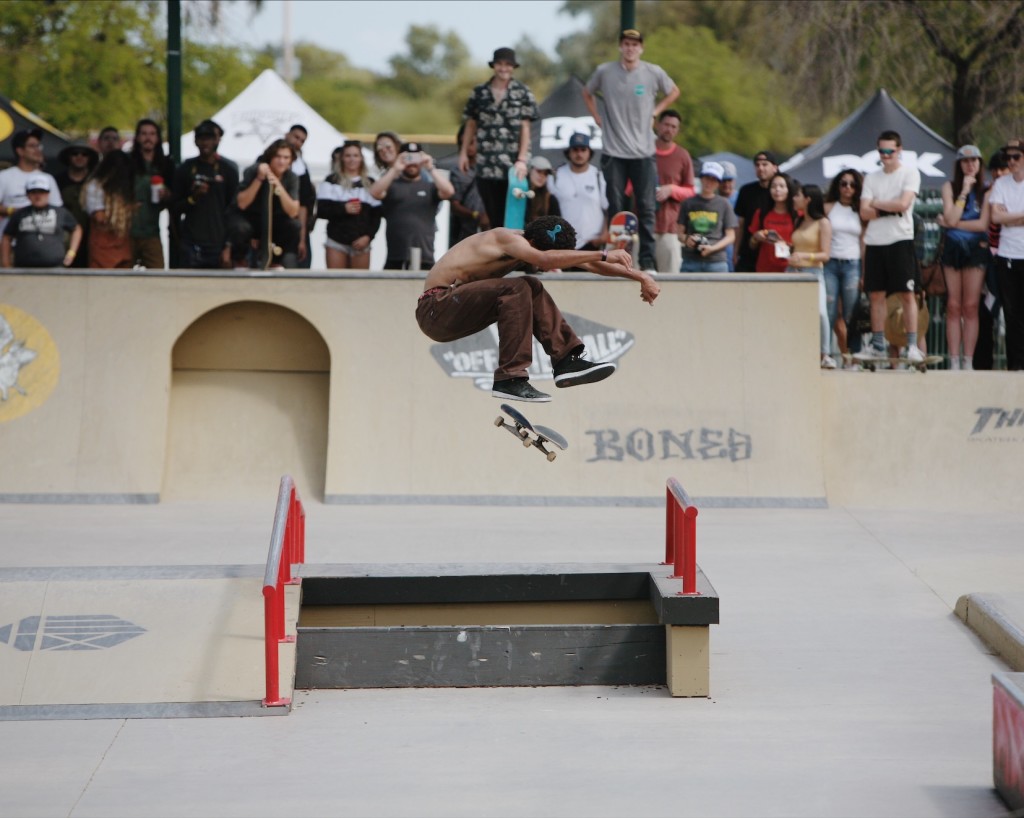 The most turnt dude Corey Millett going over the bump to gap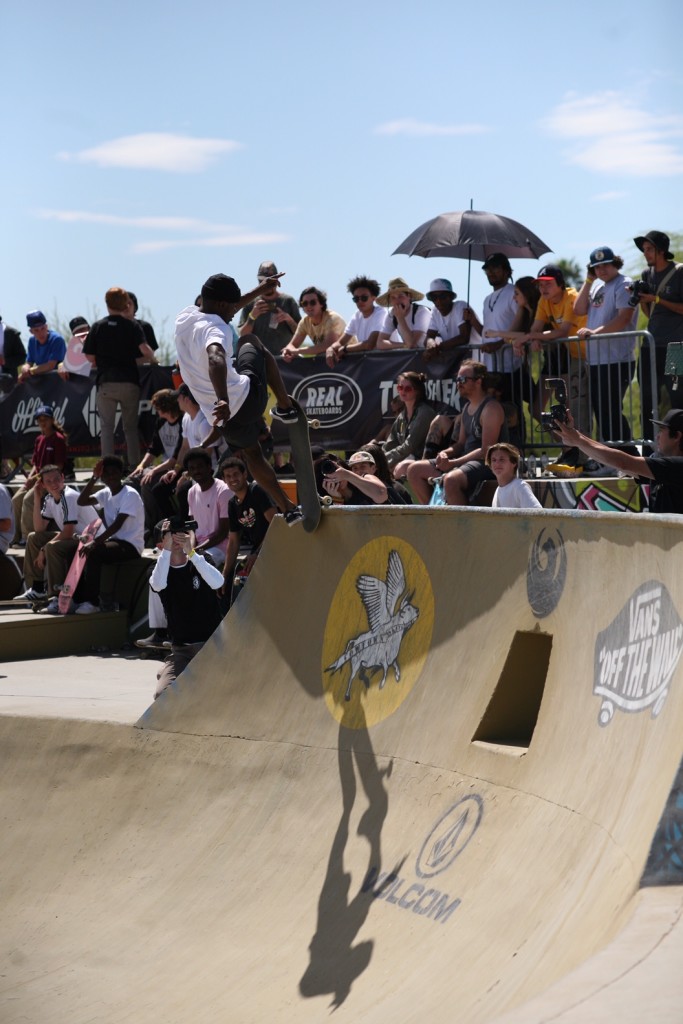 Dashawn Jordan Blunt FS 180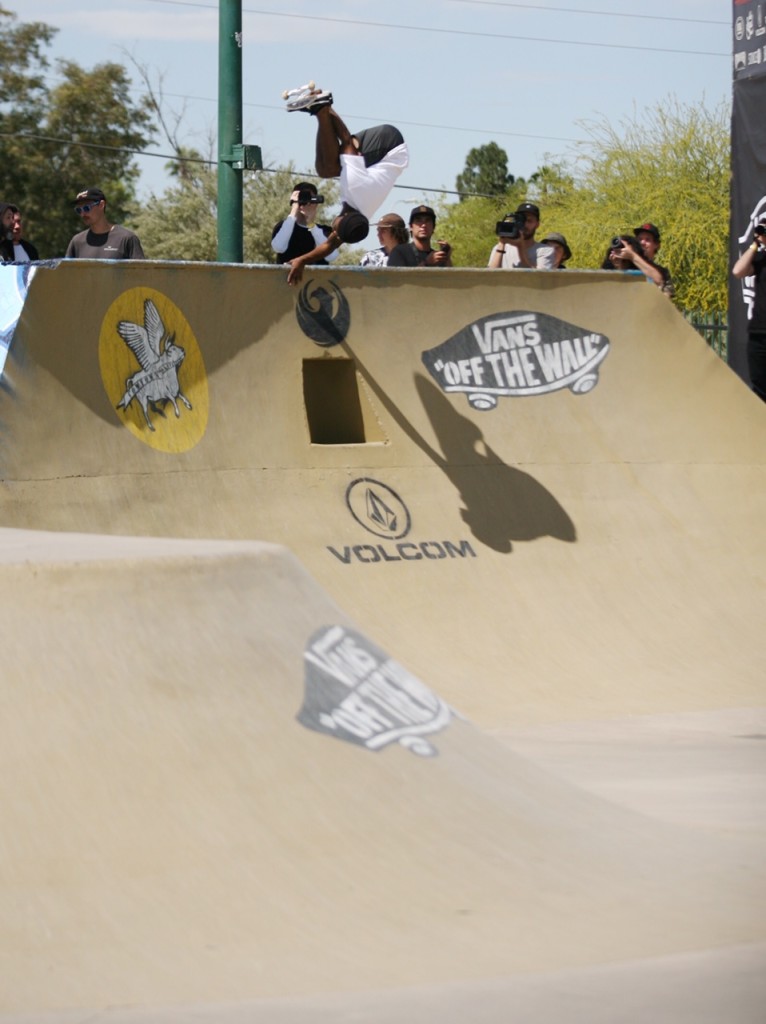 If we didn't see Dashawn hand plant over the keyhole it wouldn't be a proper PHXAM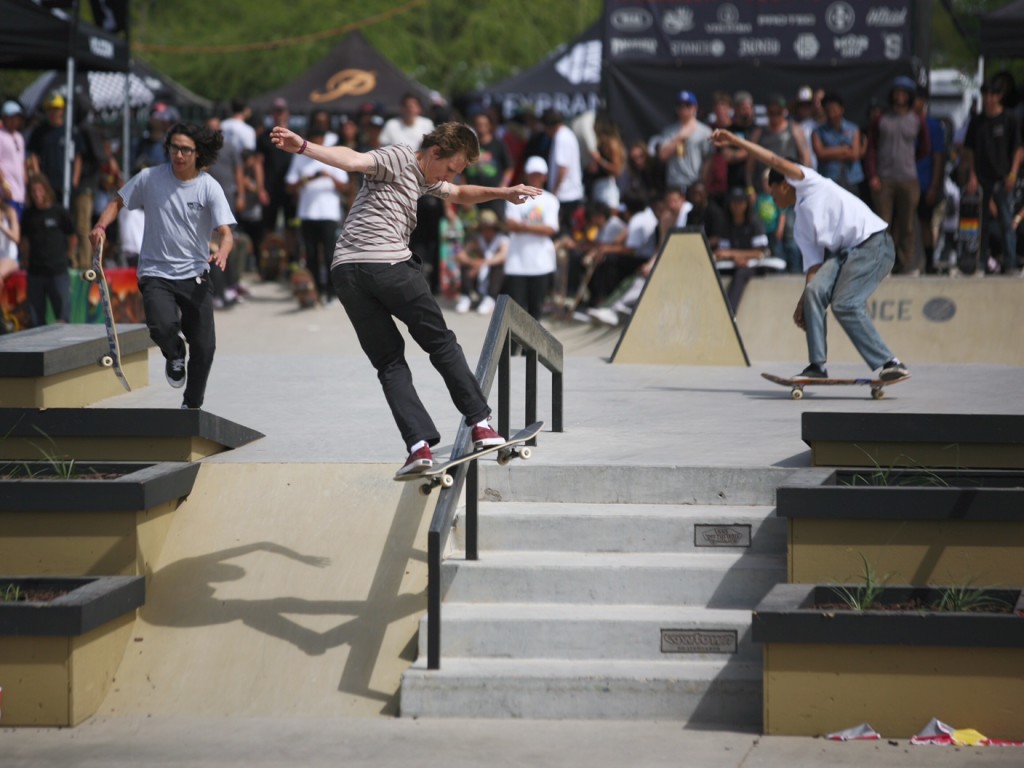 Andy Boggs with a perfect Hurricane on the middle rail of our Best Trick prop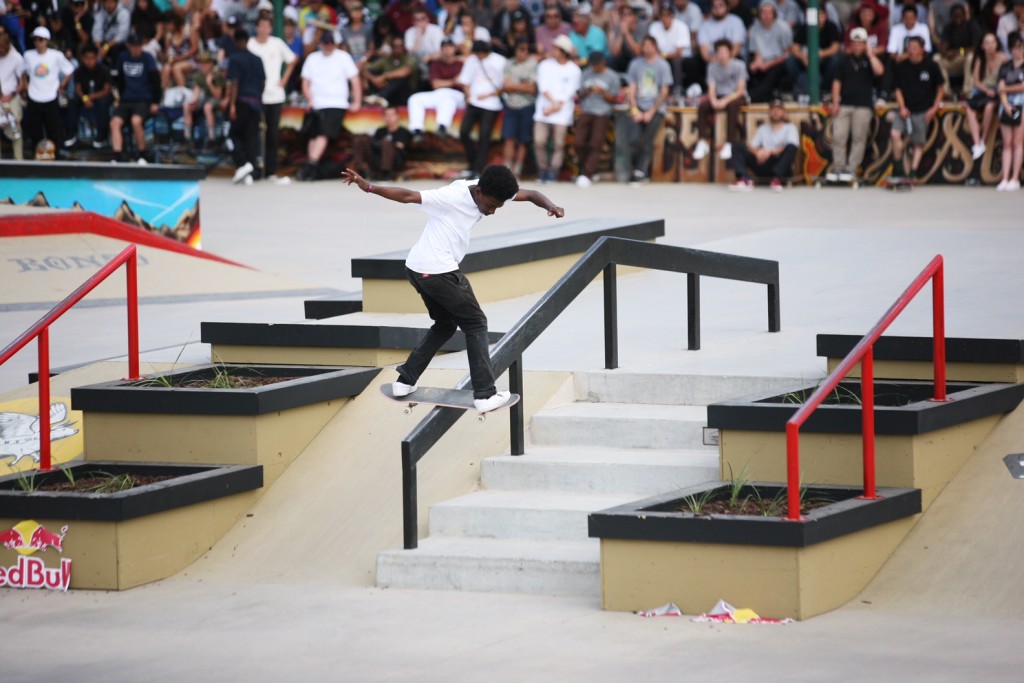 A totally stabilized Berronte Ramirez Back Lip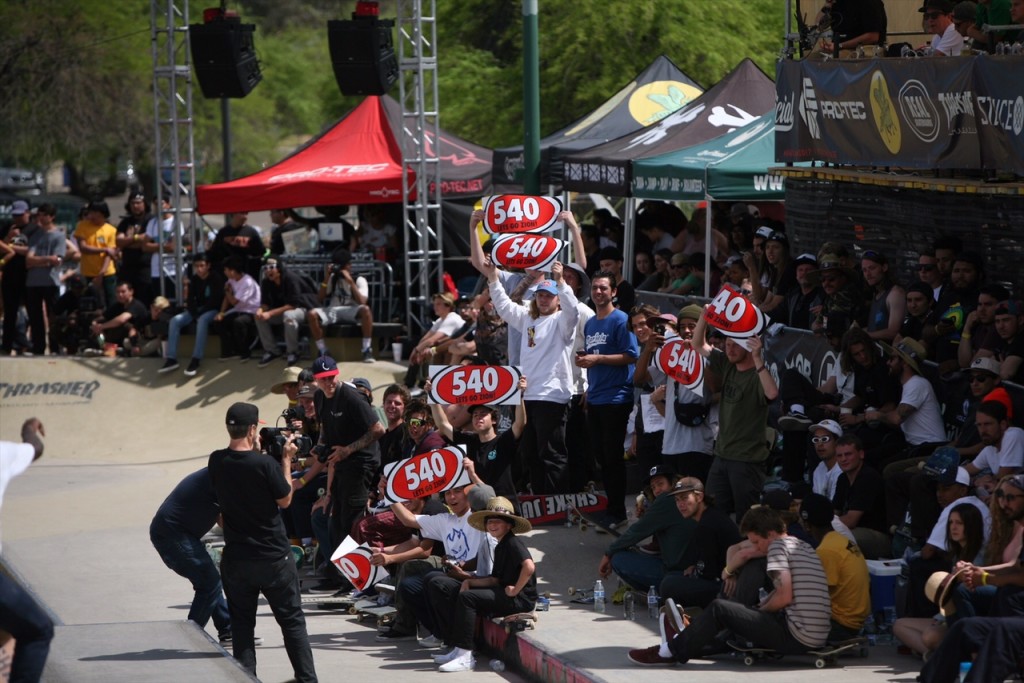 The Real Skateboards squad wanted a Zion 540.. Didn't happen though… yet.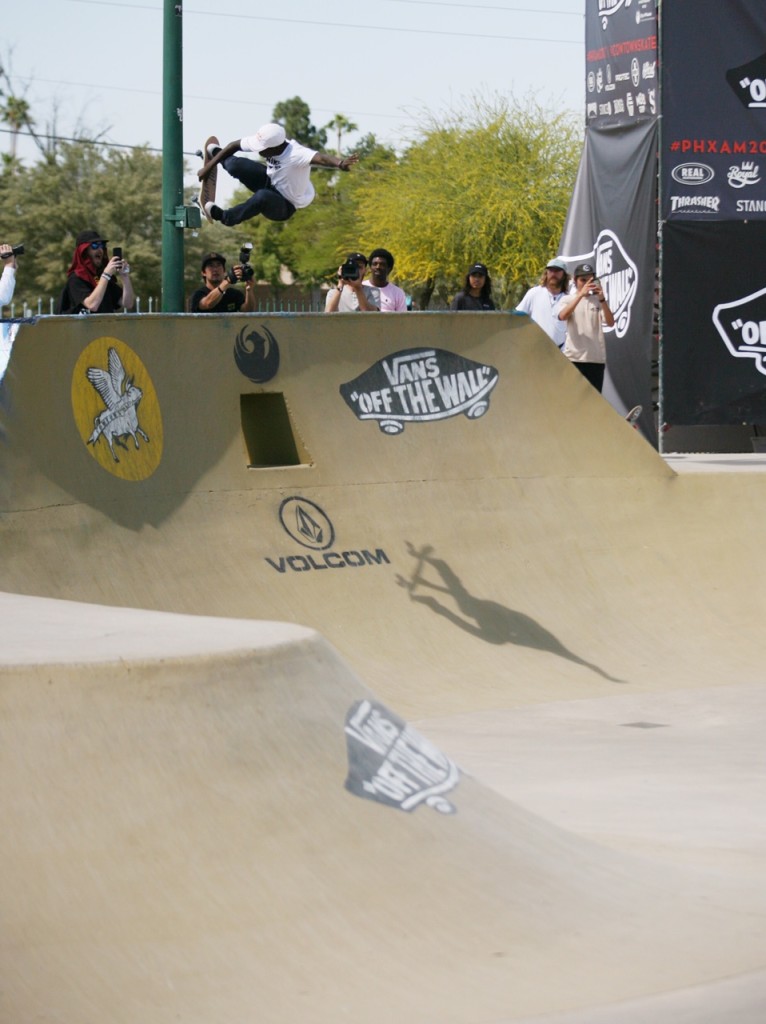 Zion Wright blasting over the back keyhole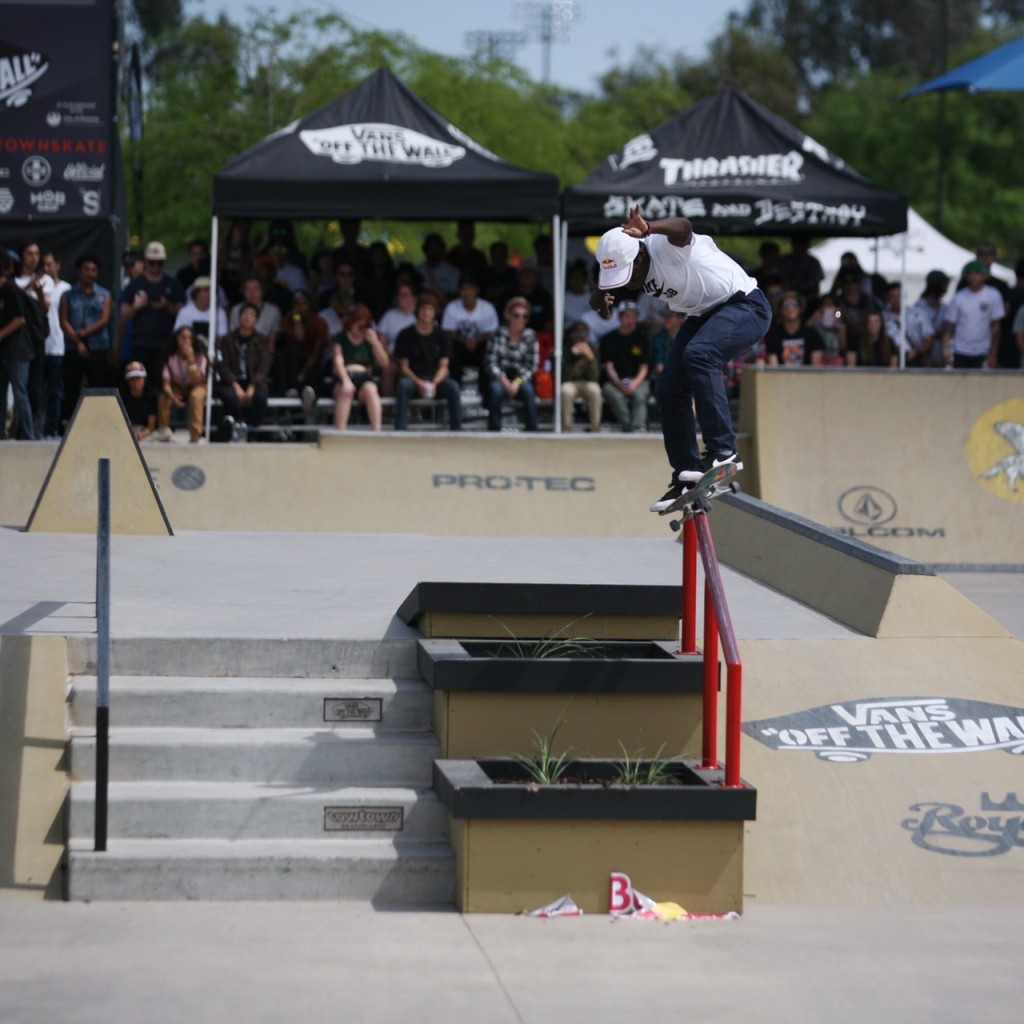 Back 5-0 for Real Skateboards' Zion Wright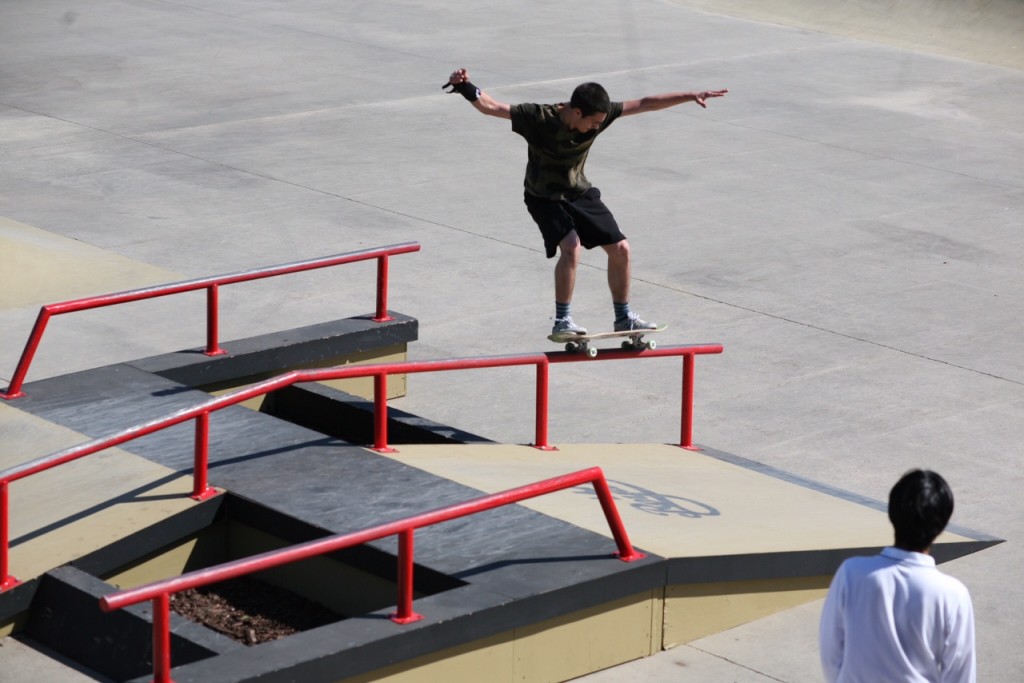 Switch 50-50 on the A-Frame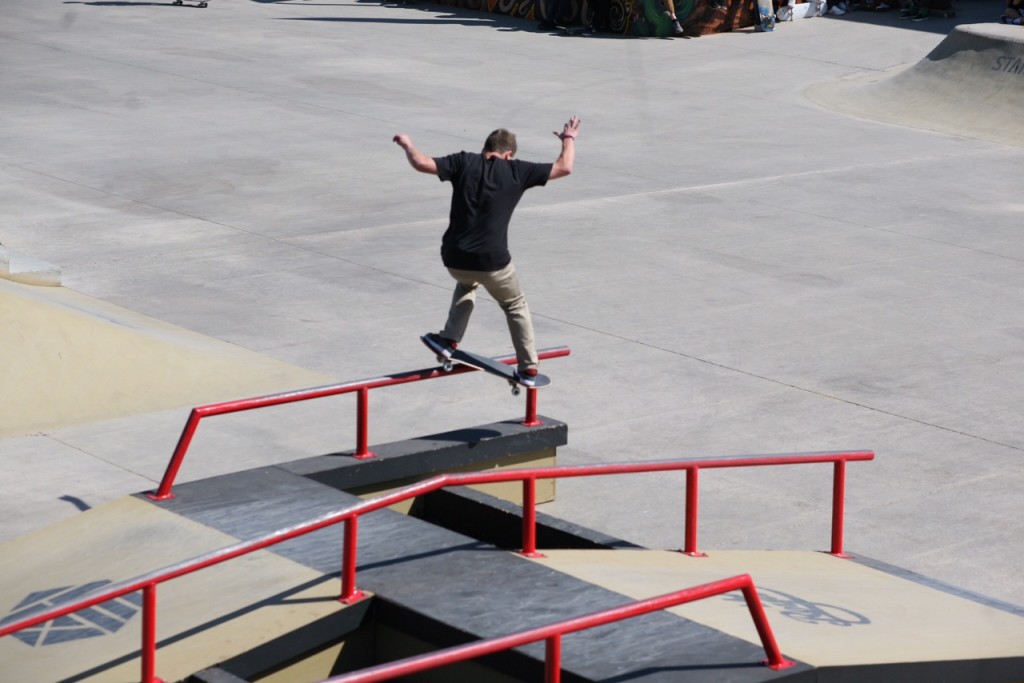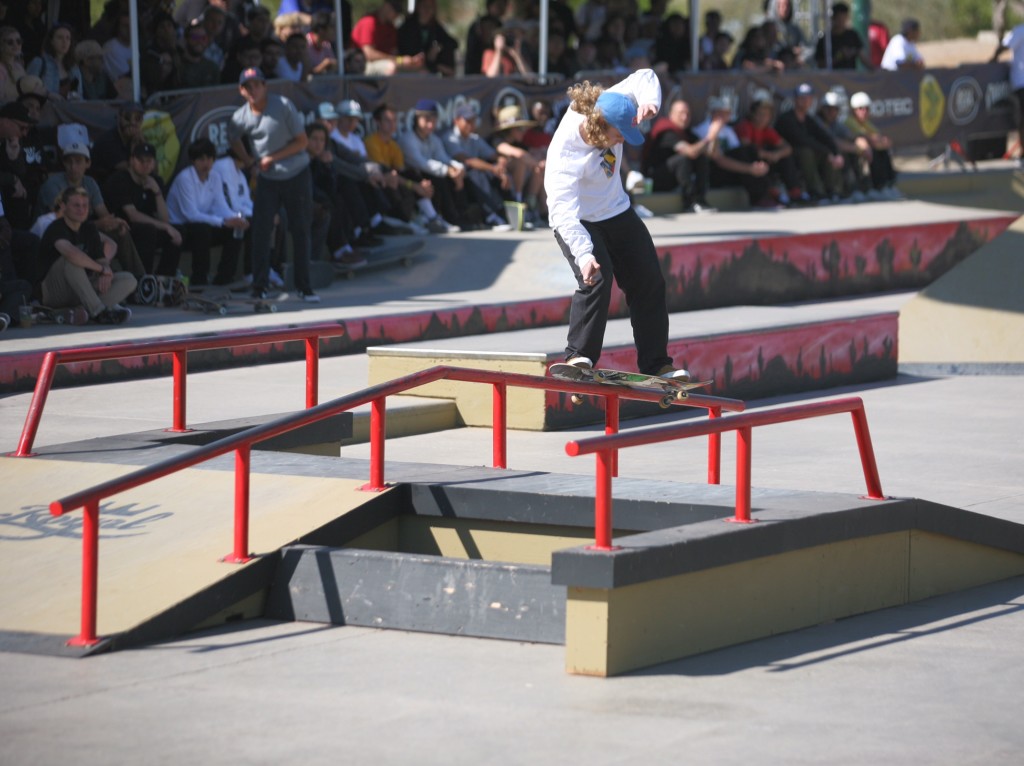 Crowd Favorite Jamie Foy styling out a Front Feeble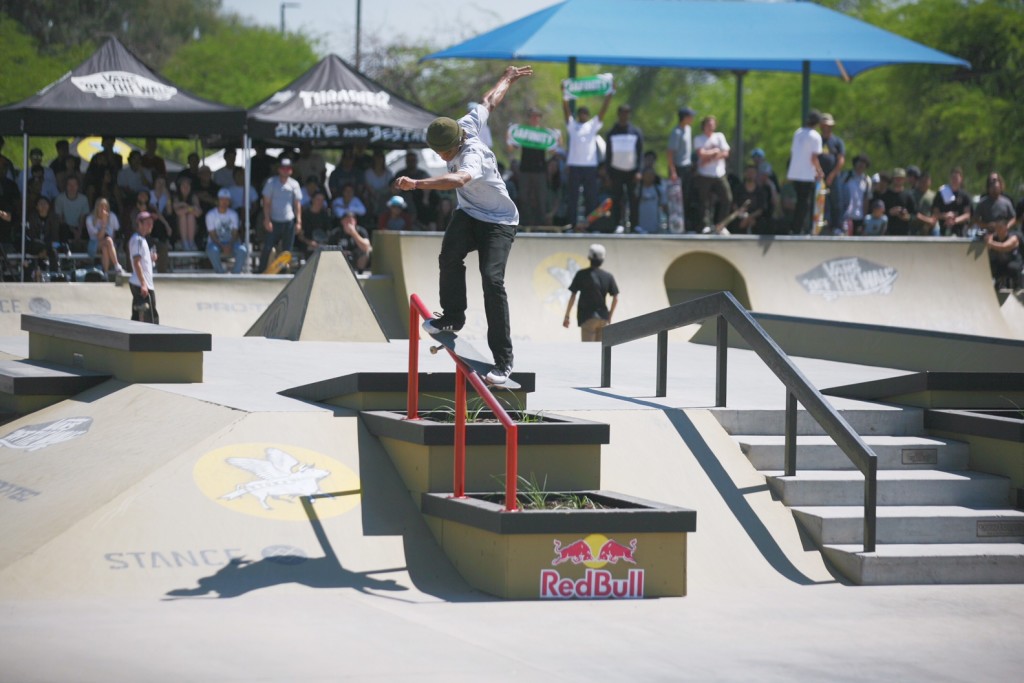 Jack Olson with a proper Gap to Krooked Grind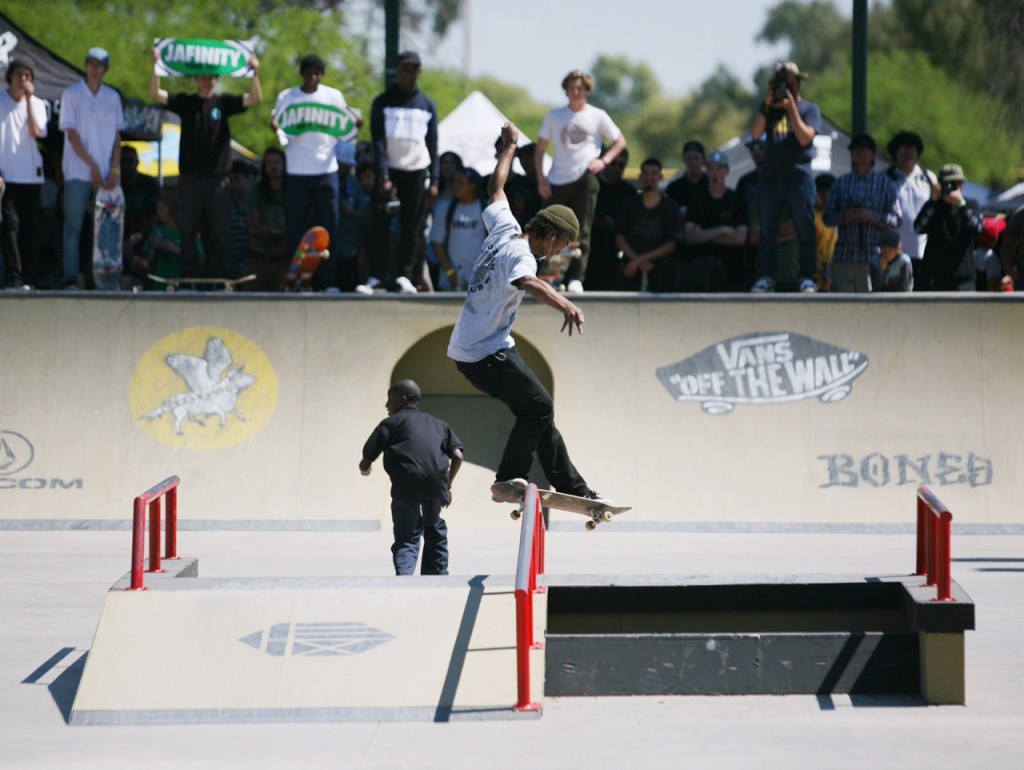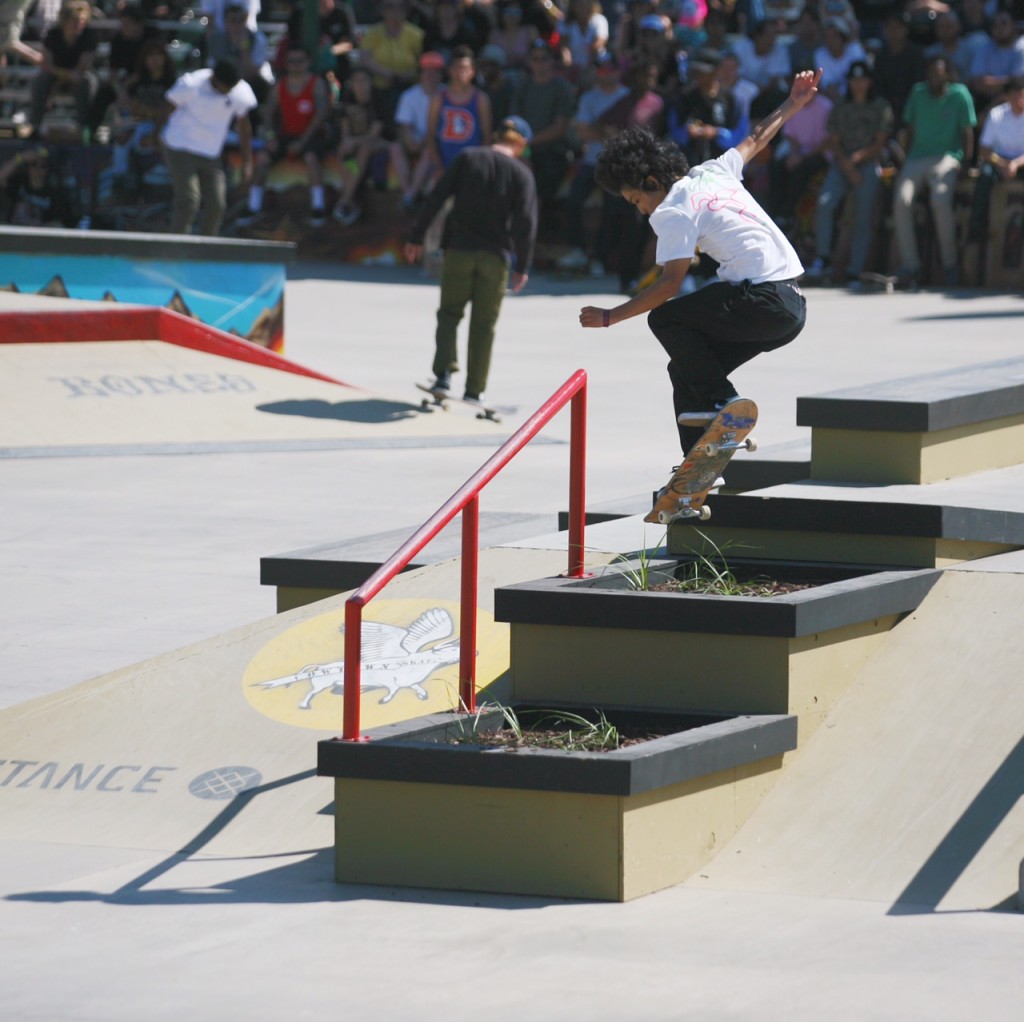 Golden Ticket Winner Daisuke Ikeda back 3's over the planters off the bump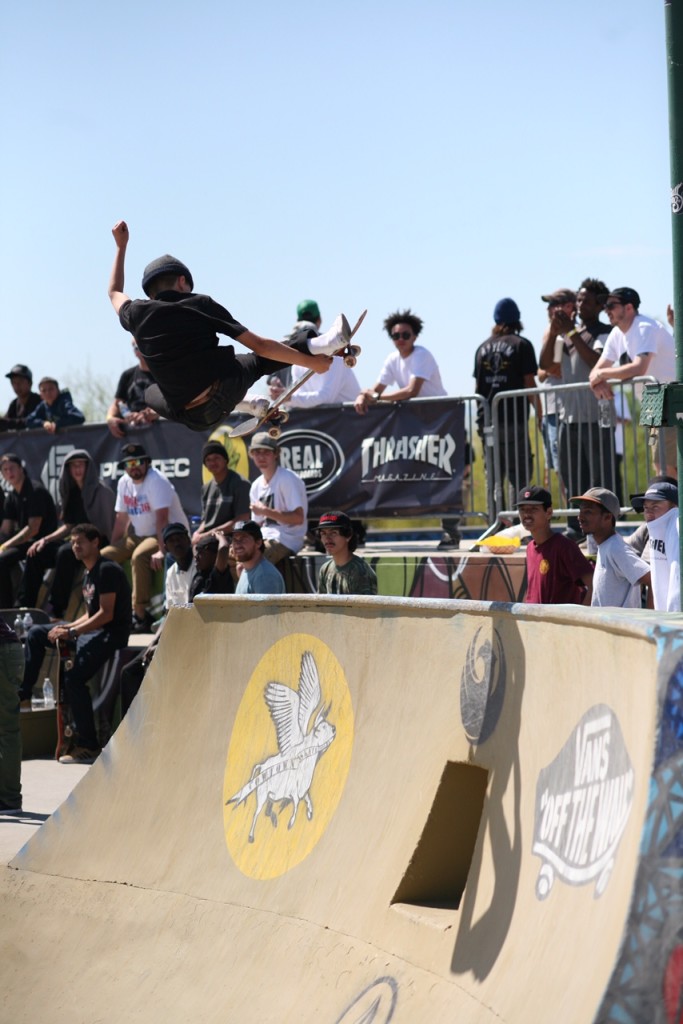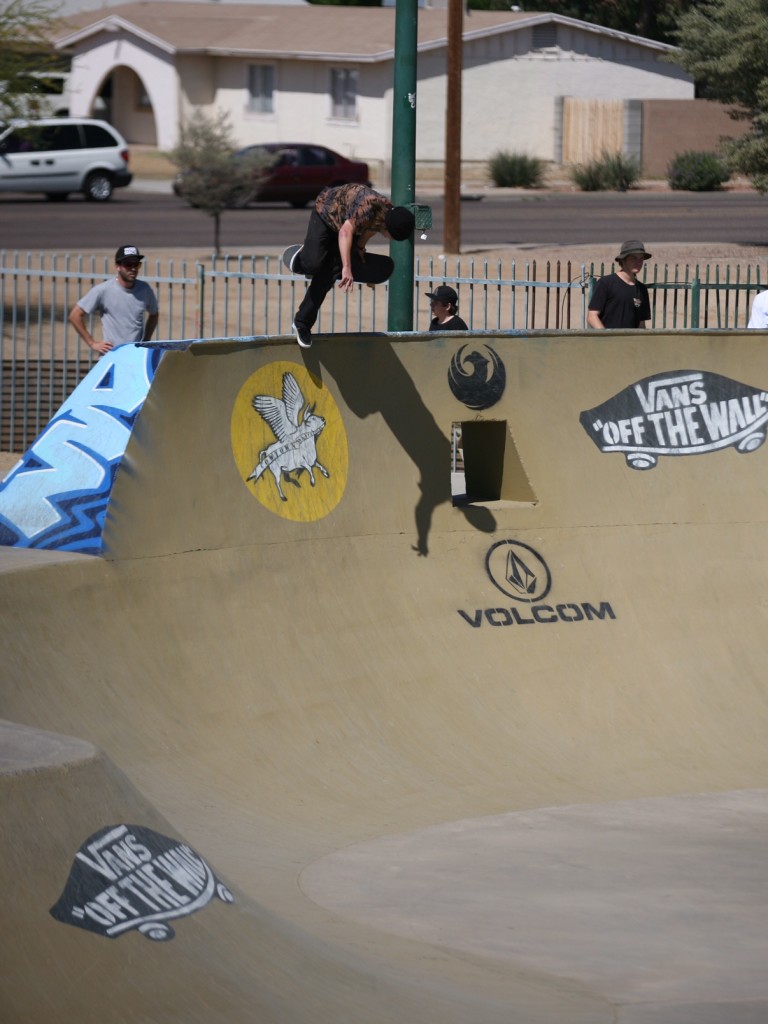 Chase Webb dancing all over the back wall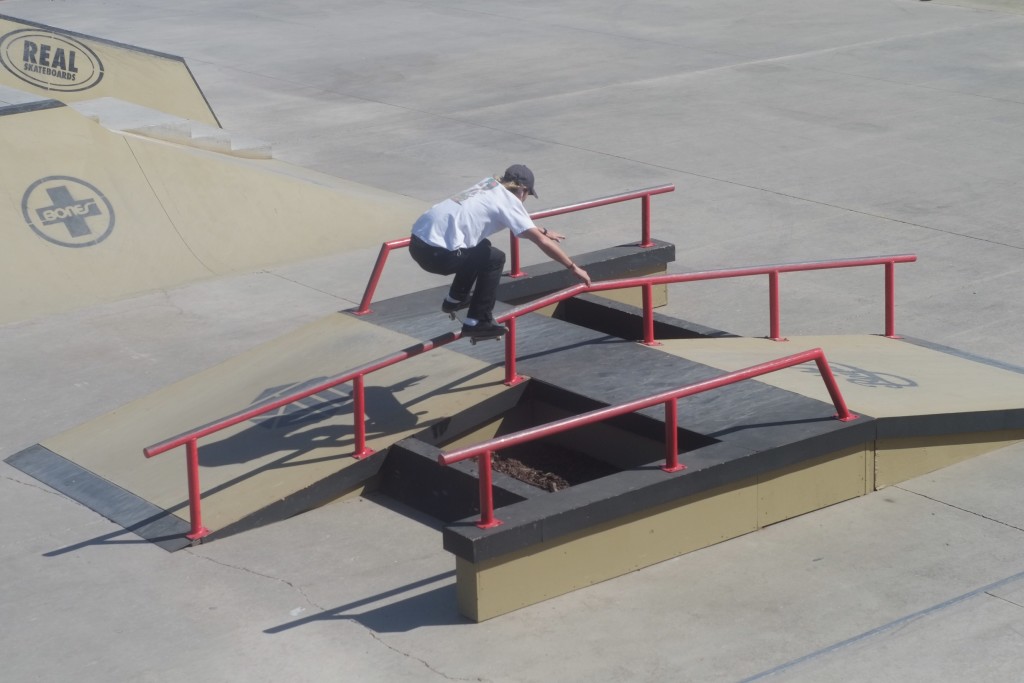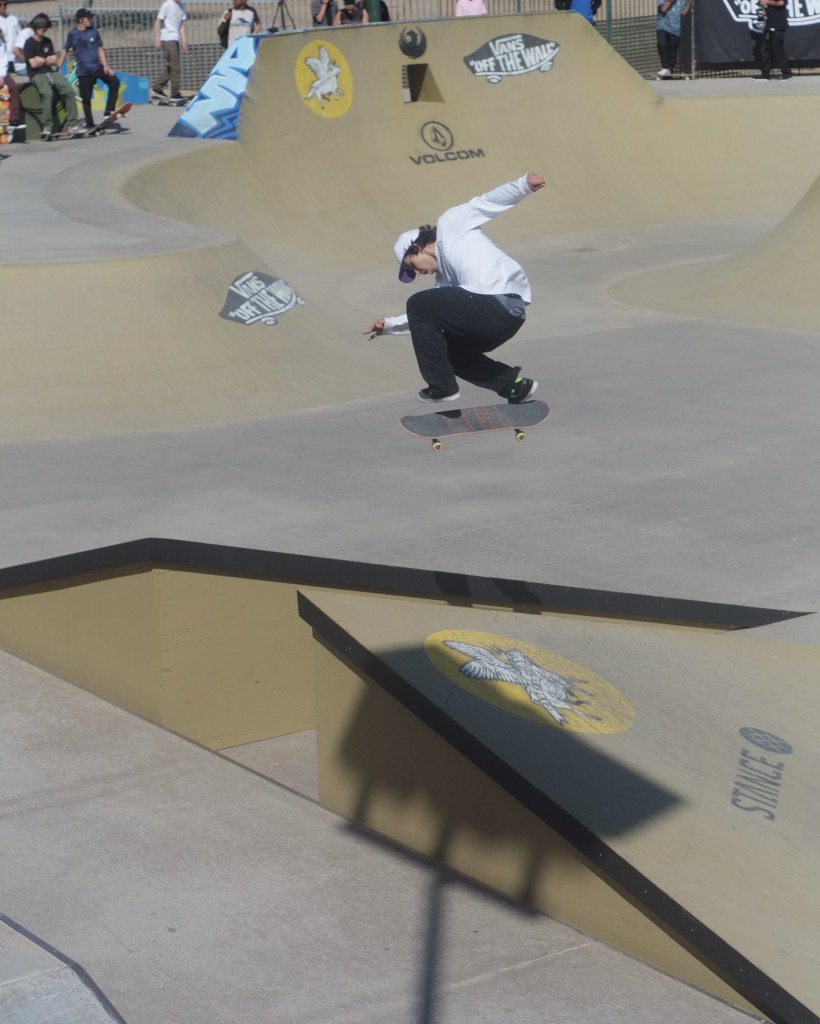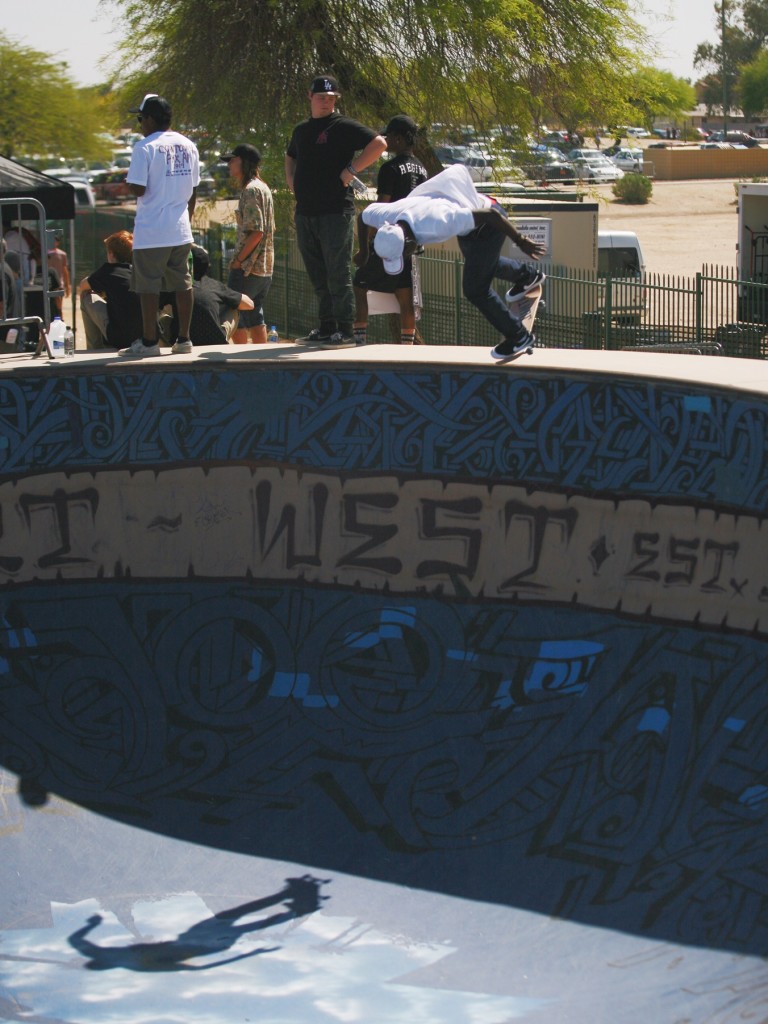 Zion having a little fun between runs in the back pool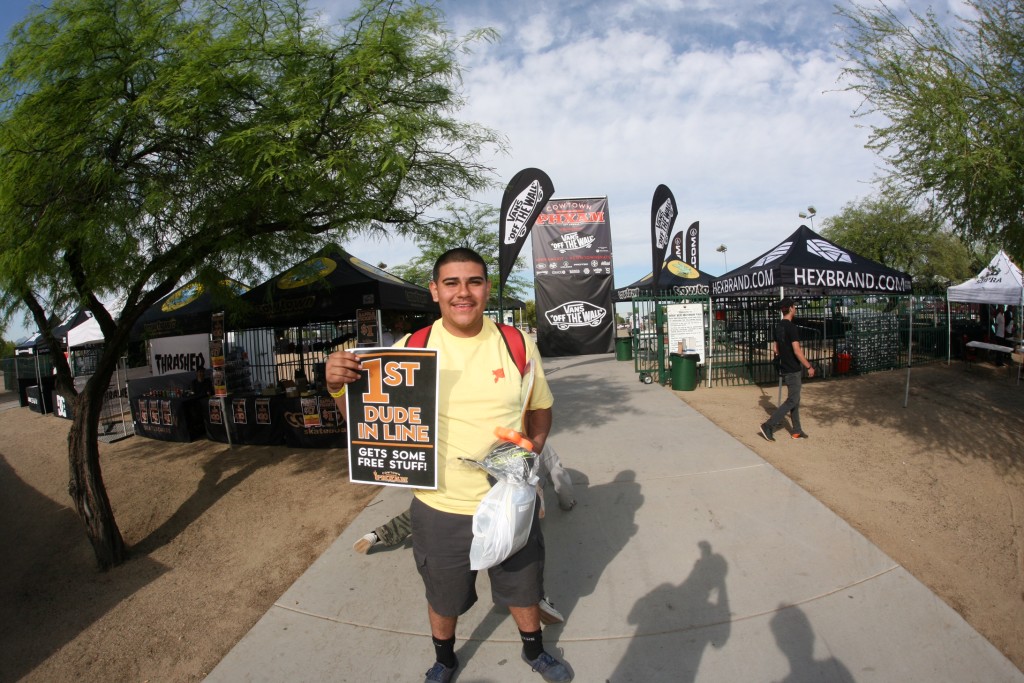 You know we gotta hook up the first dude in line!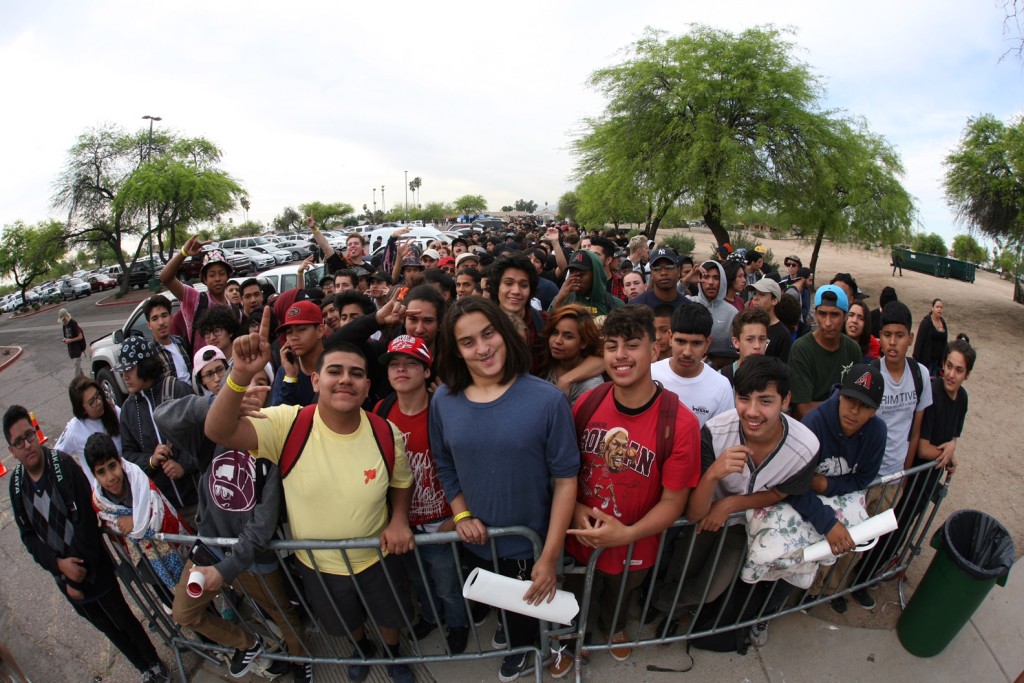 The line was deep but everyone got in as soon the clock struck 9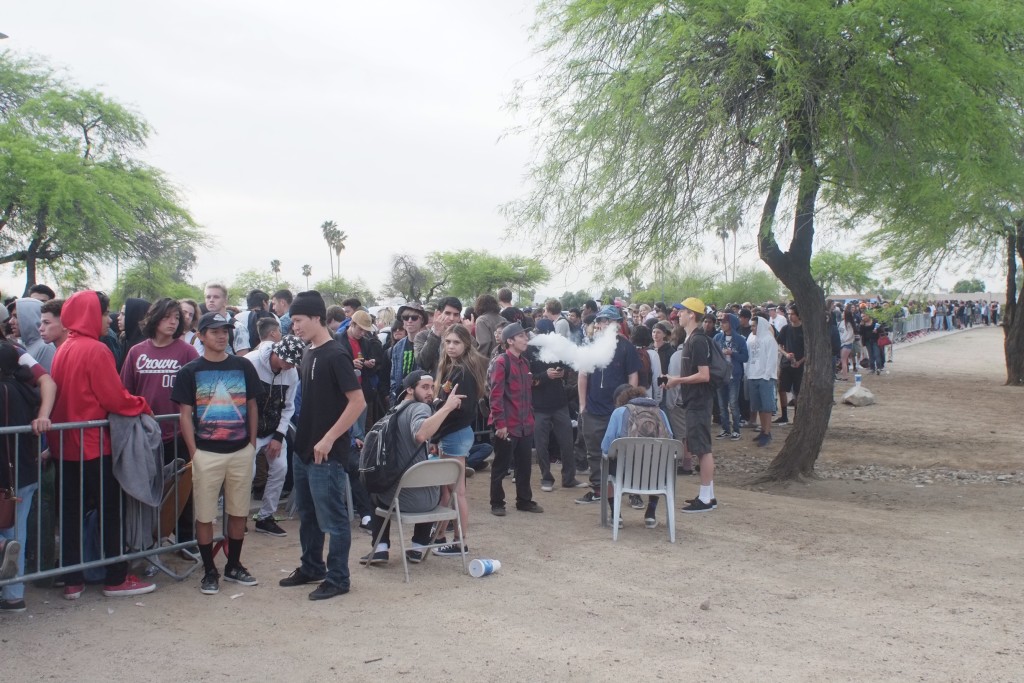 Caught homie showing off his siiiiiiick clouds in line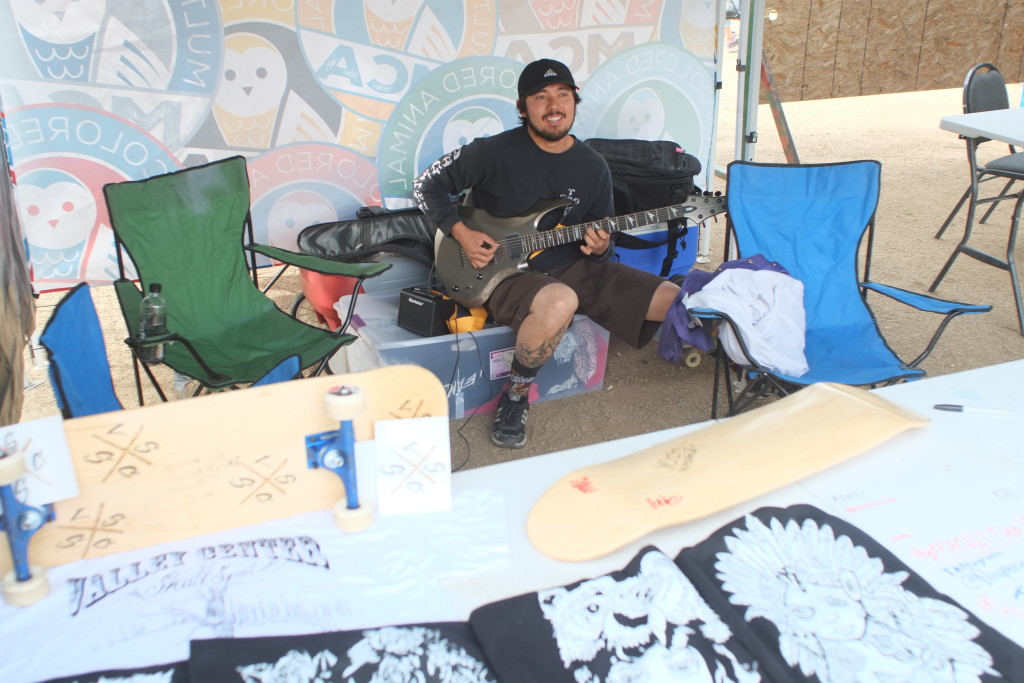 Straight chilling in Tent City at the MCA booth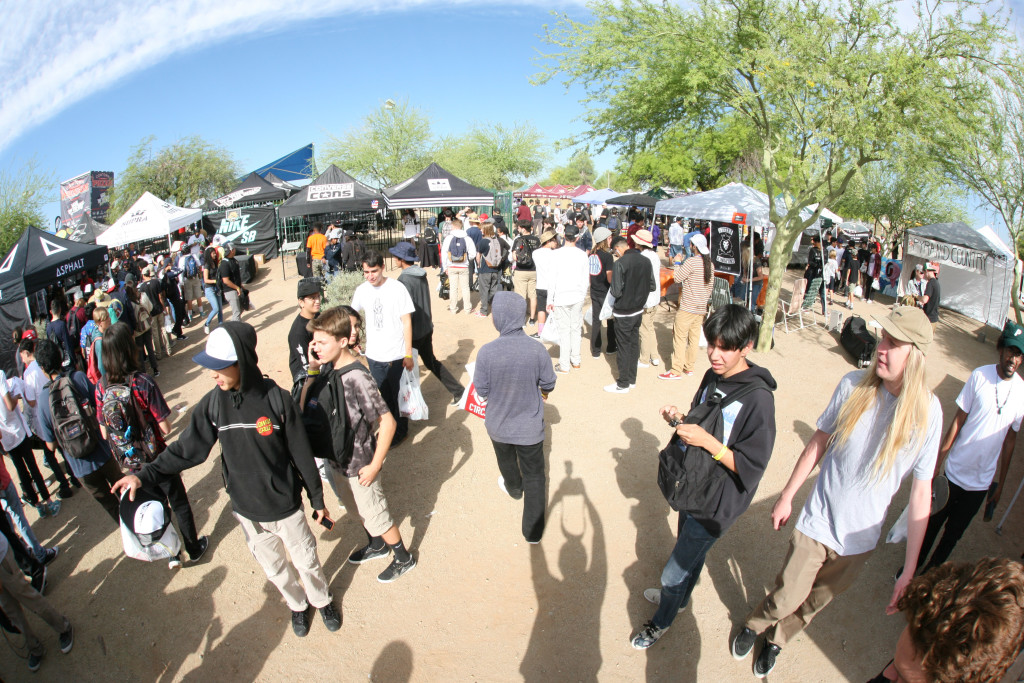 Tent City is a zoo filled with hungry animals getting free product and playing games all weekend long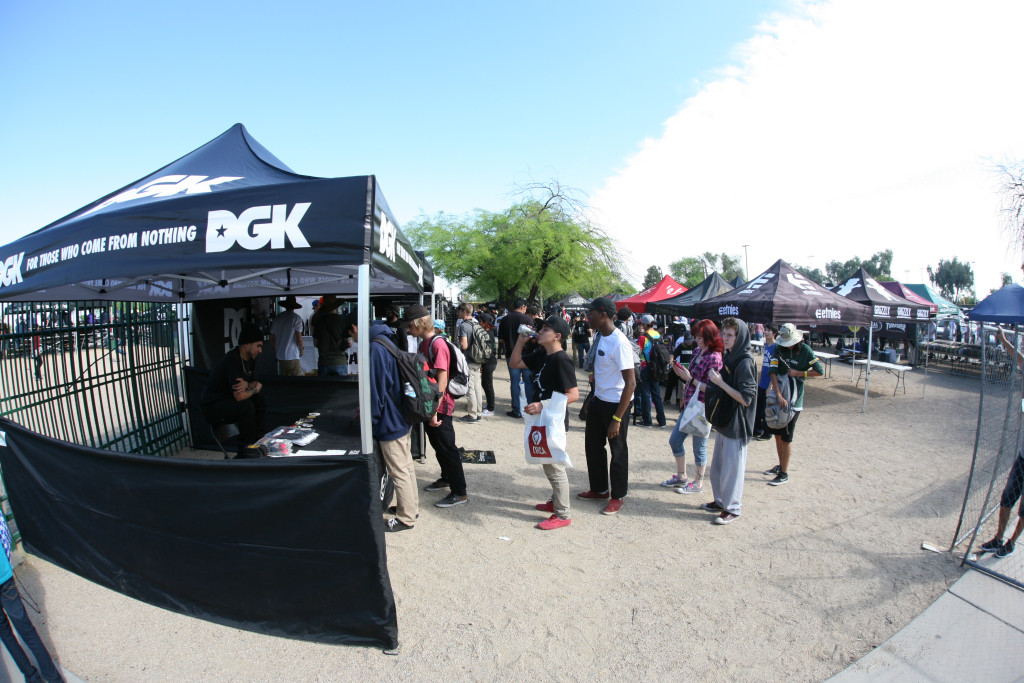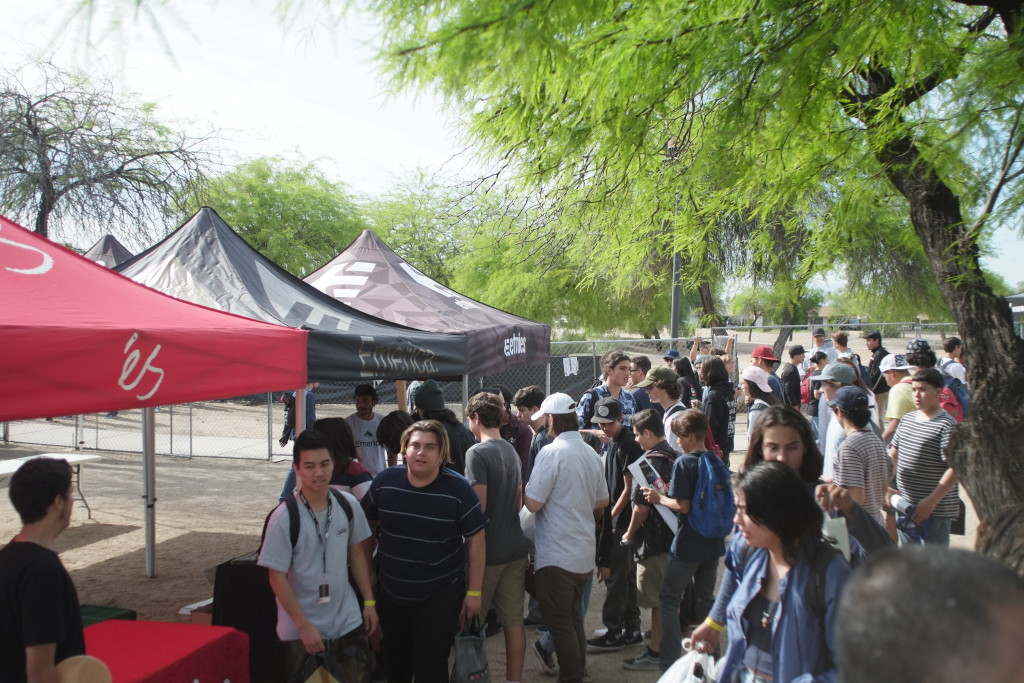 Sole Tech was out representing all 3 of their shoe brands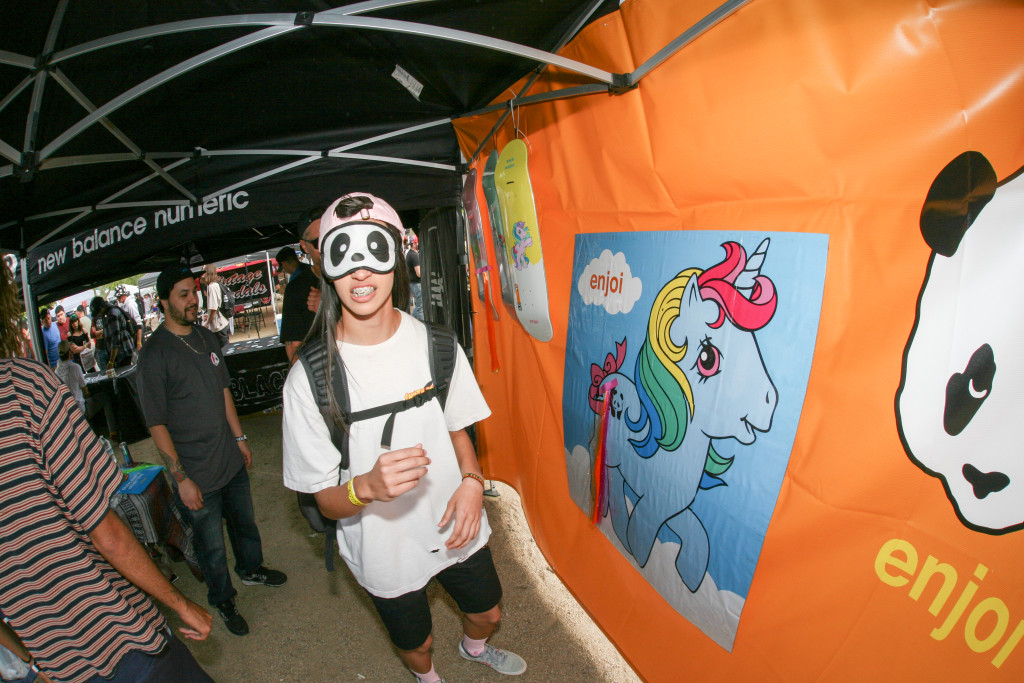 Enjoi was killing it in Tent City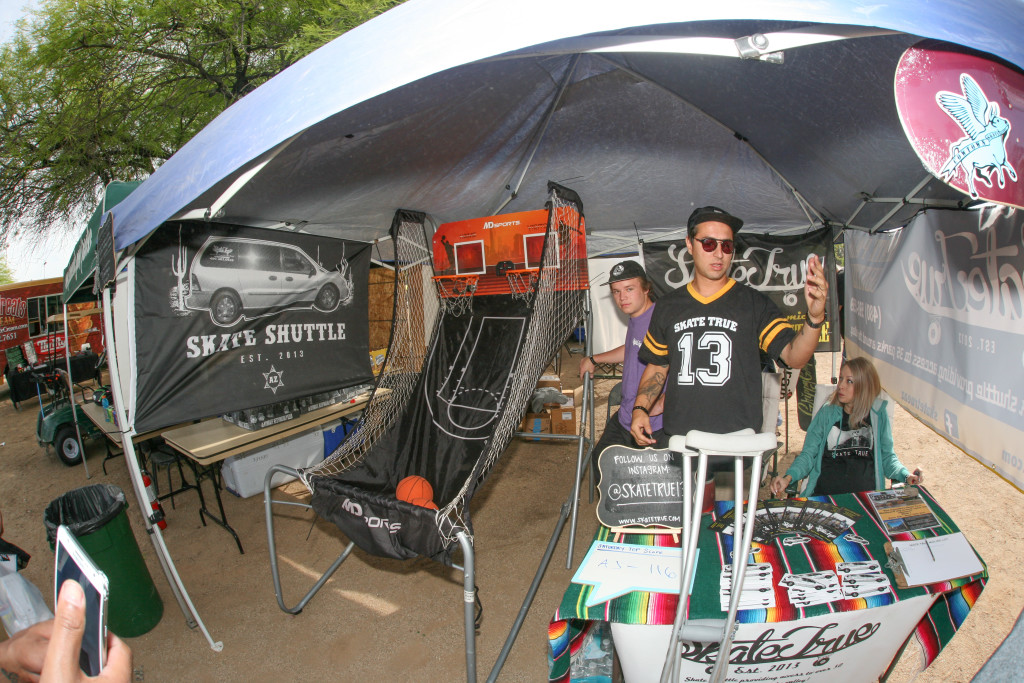 Markus Neustedder's Skate True had a booth up in Tent City hooking up the kids with some games
Friday Night's Cowtown 20 Year Anniversary Party March 24th 2017
PHXAM Photo Gallery 2016
April 3rd 2016 – Day 2 – Finals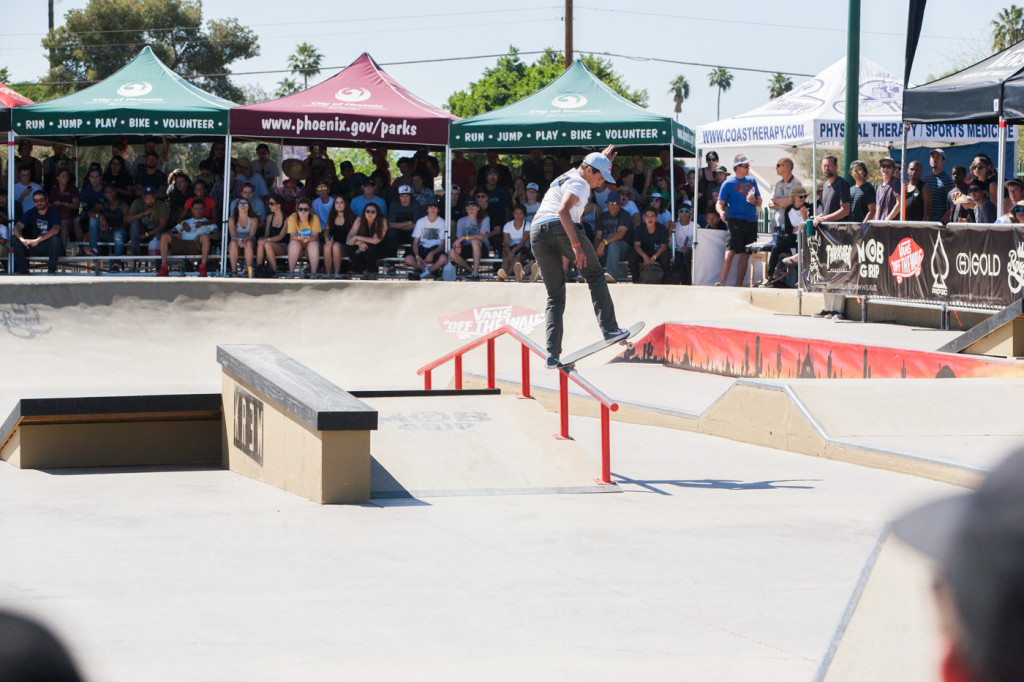 Alex Midler skated super solid all weekend attacking all the rails in the park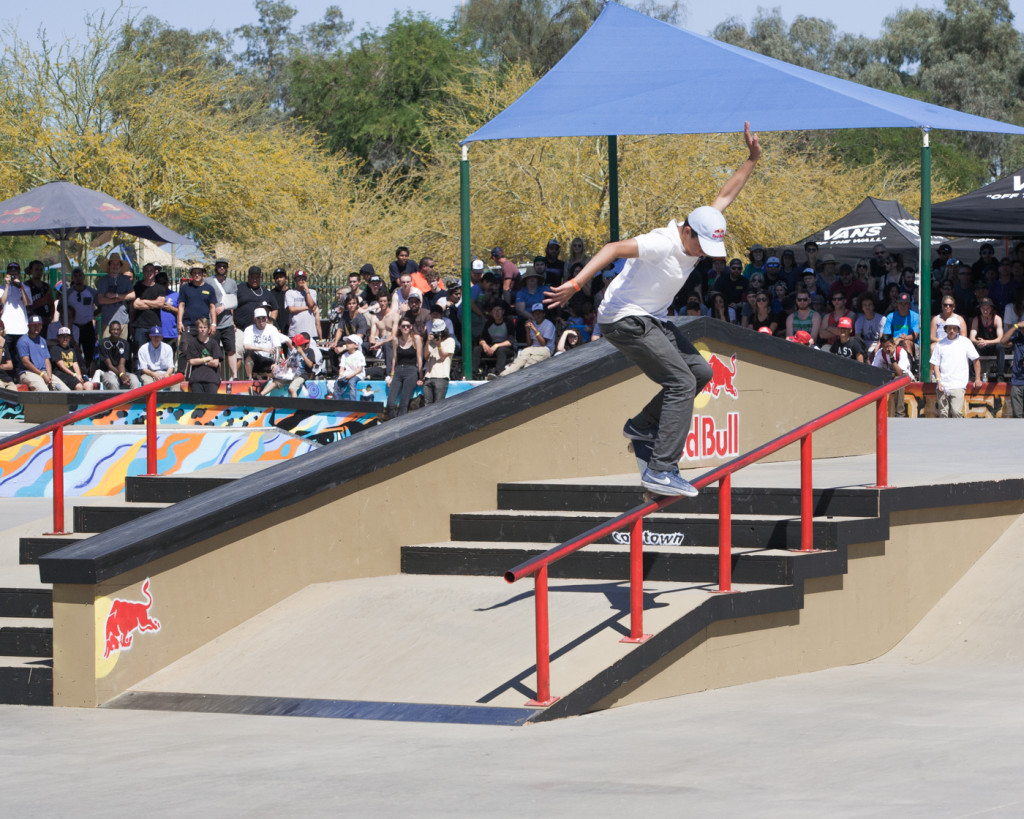 Alex with a proper front krook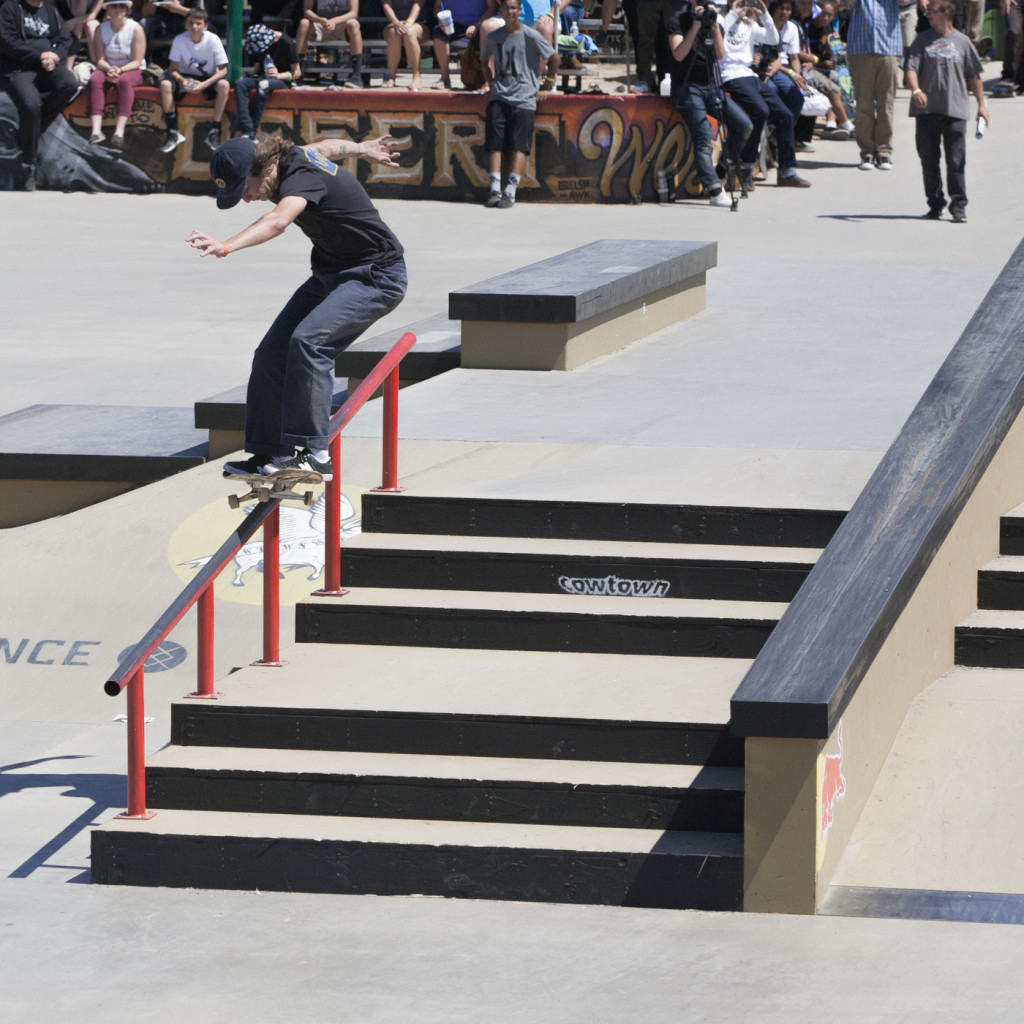 Axel Cruysberghs charging a front 5-0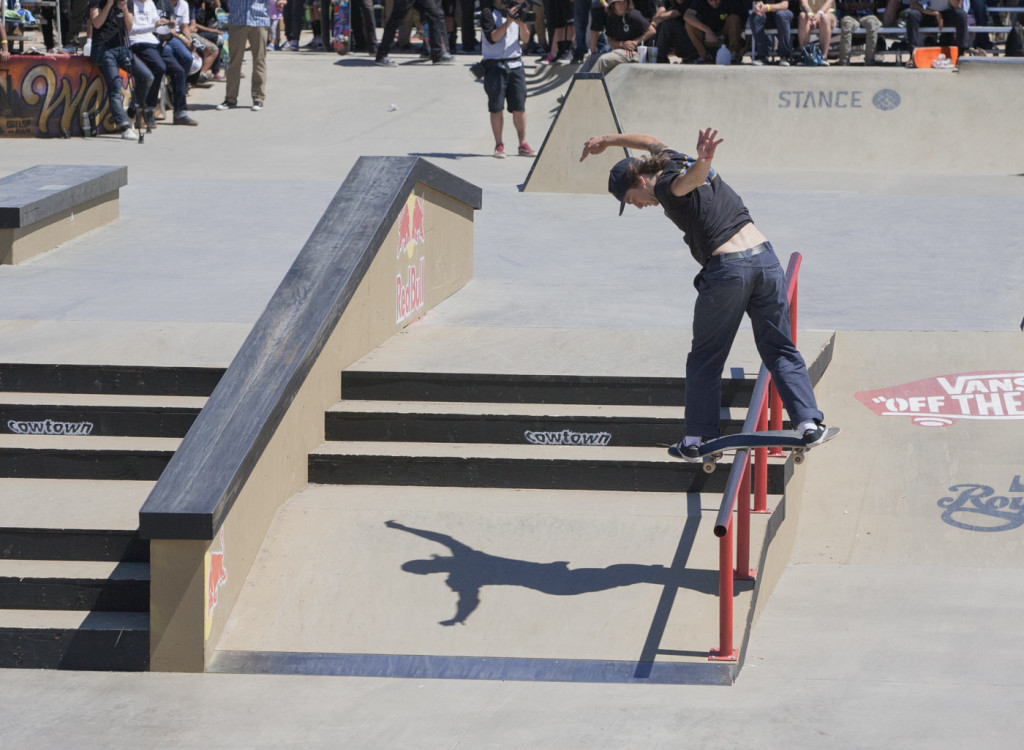 Board bending back lip on the Red Bull Rail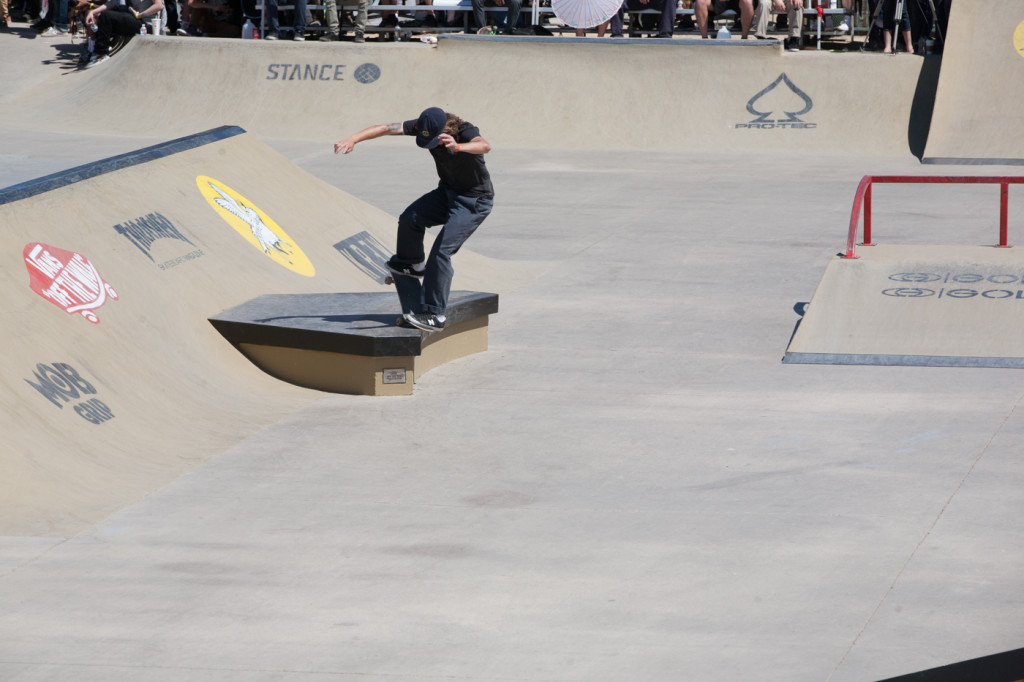 Axel is one of those dudes who flows the whole course with speed and will throw a quick trick on anything that he passes like this Nosegrind on the curved ledge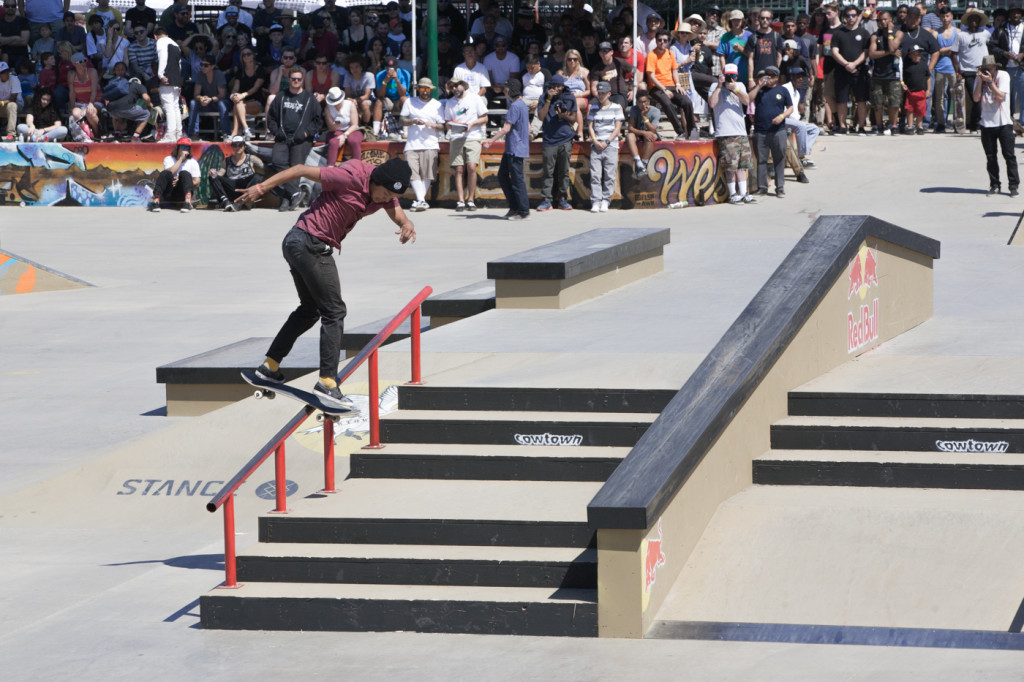 Finishing 1st in semi's, Bryant Chapo destroyed this rain in his finals runs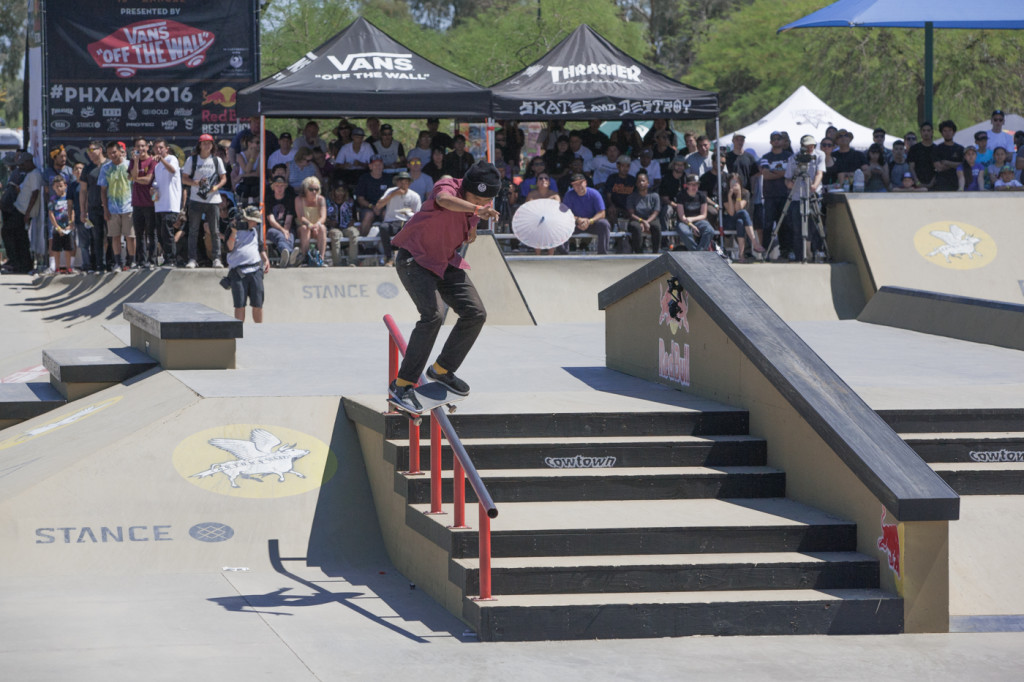 Bryant Chapo Feeble grind warming up for the 5-0 kick flip out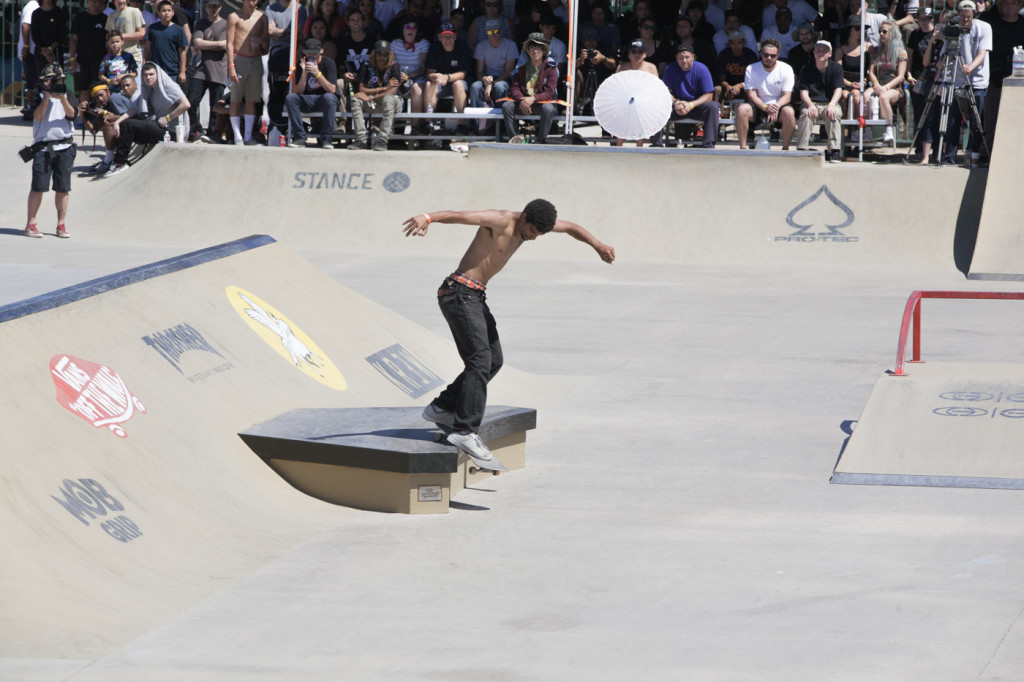 Corey Millet dipping a back smith mid run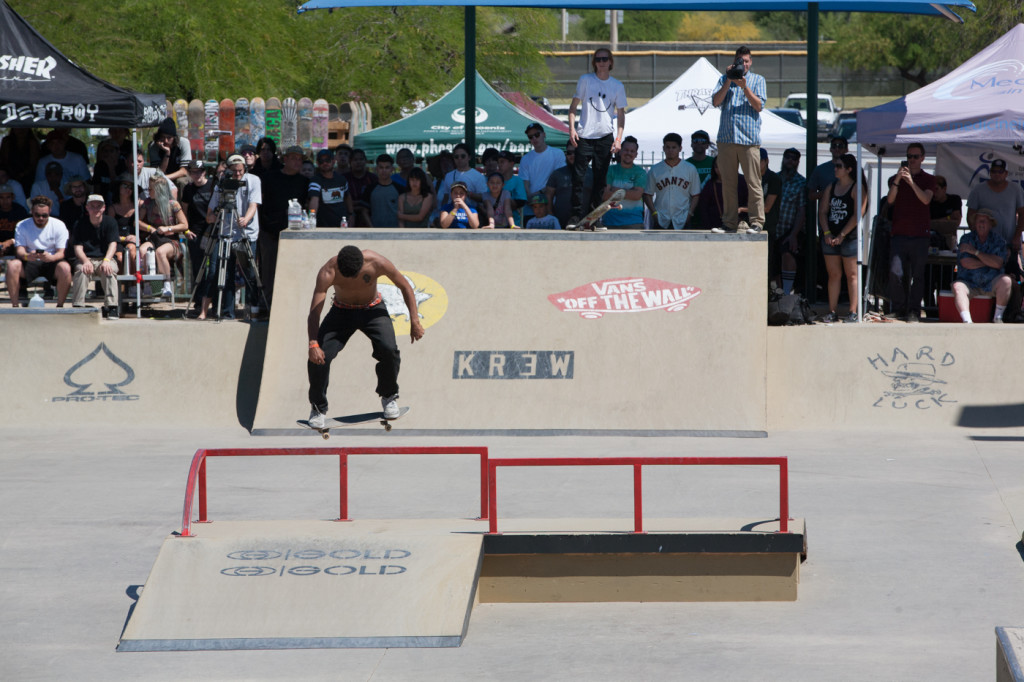 No clue what the trick was Corey did, but this photo was too great not to post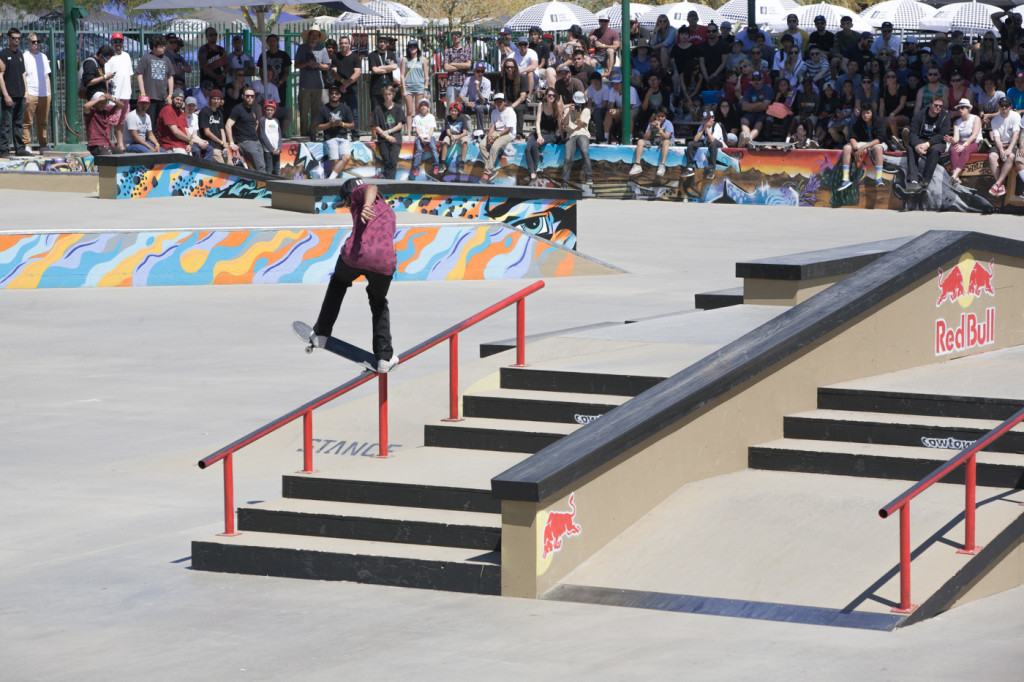 Enzo Cautela Front Blunt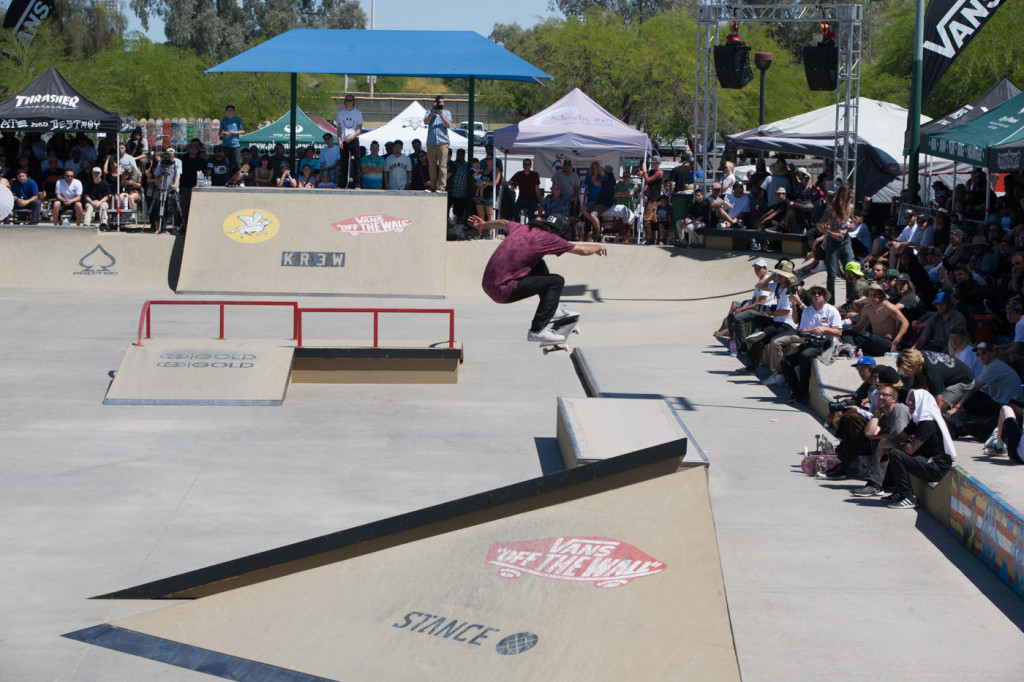 Enzo blasting over the new gap at the Desert West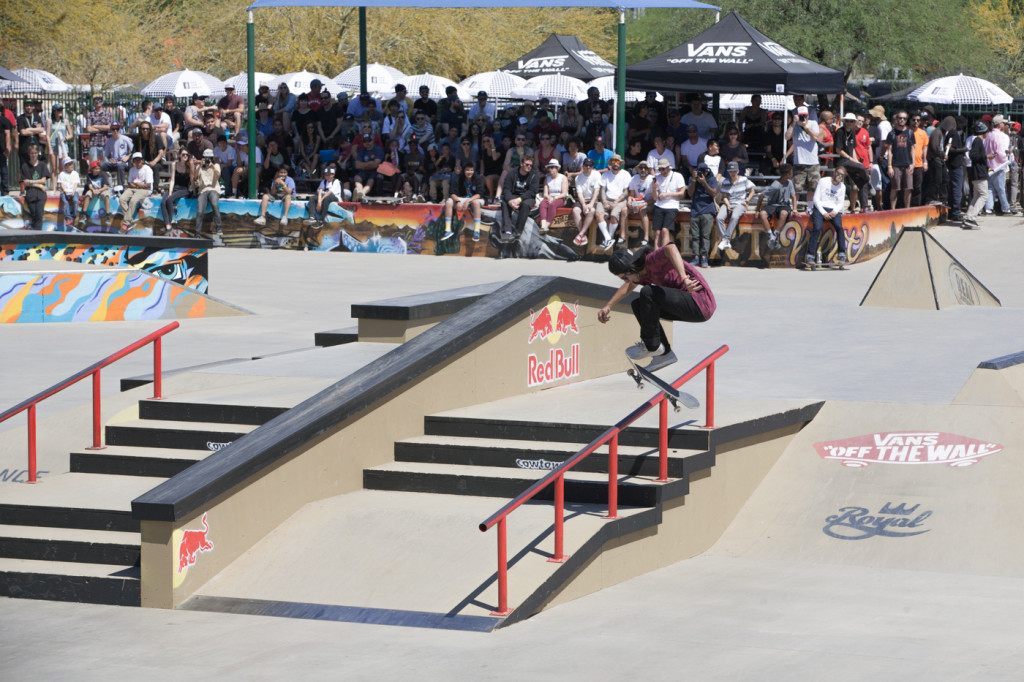 Taking a different approach, Enzo goes backside over the Red Bull Rail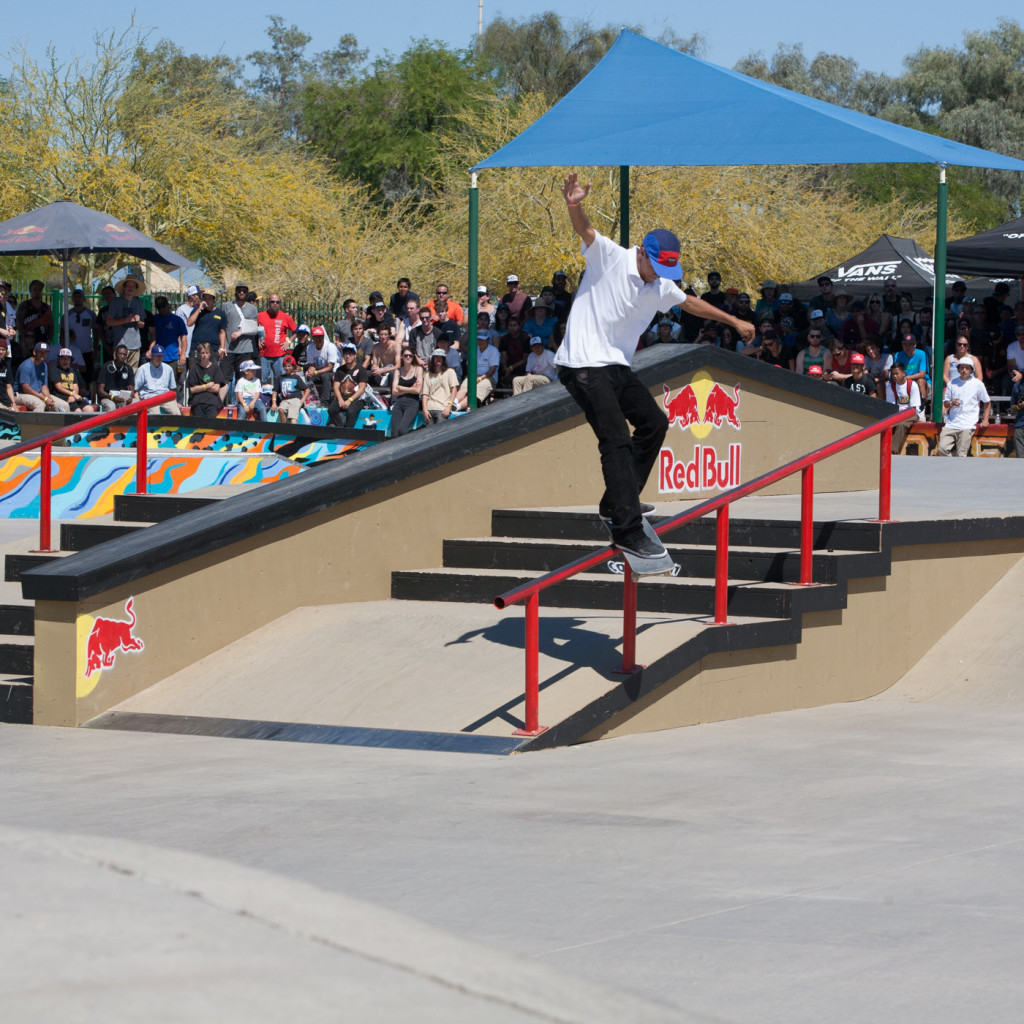 Precision would be the best word to describe Ivan Monteiro. Front Feeble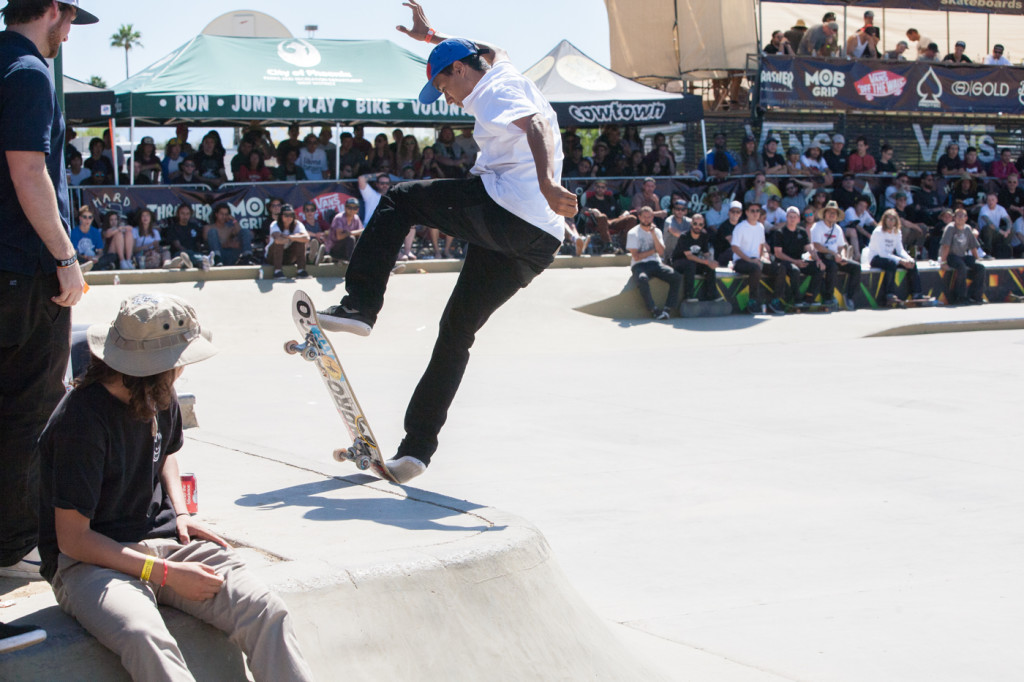 Quick Noseblunt setting up for his next trick on the A frame rail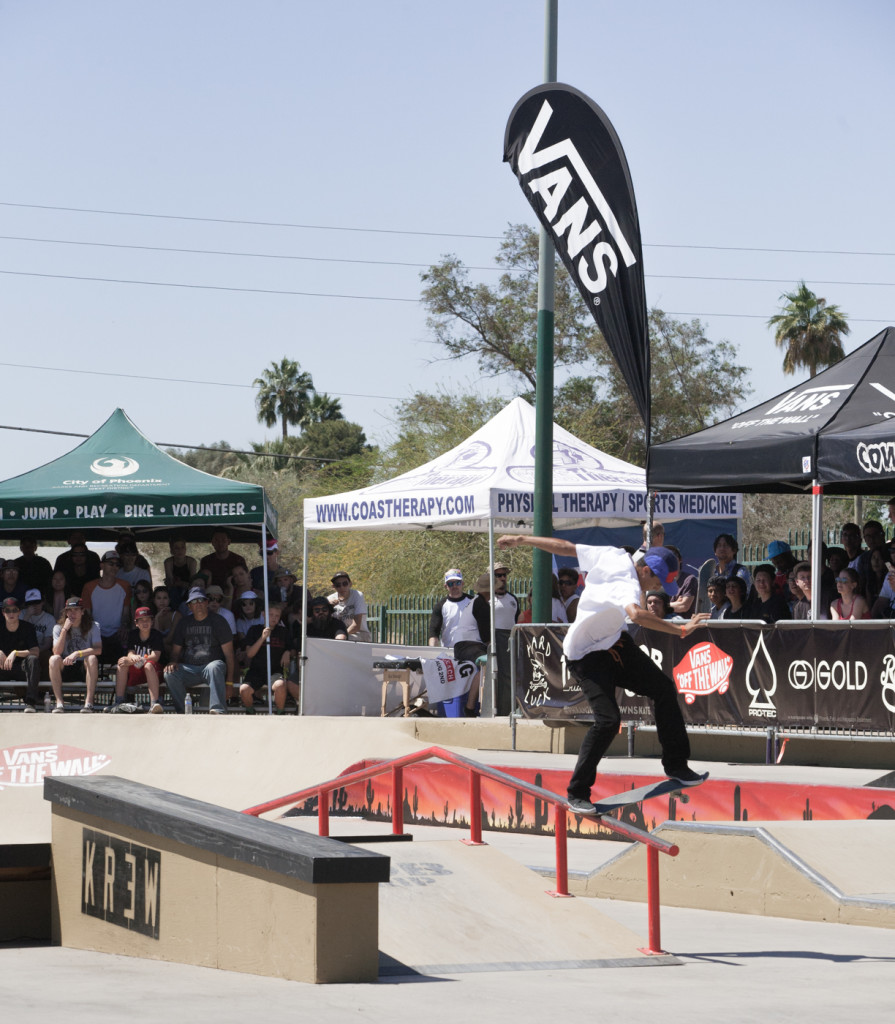 Ivan Noseblunt on the gap to rail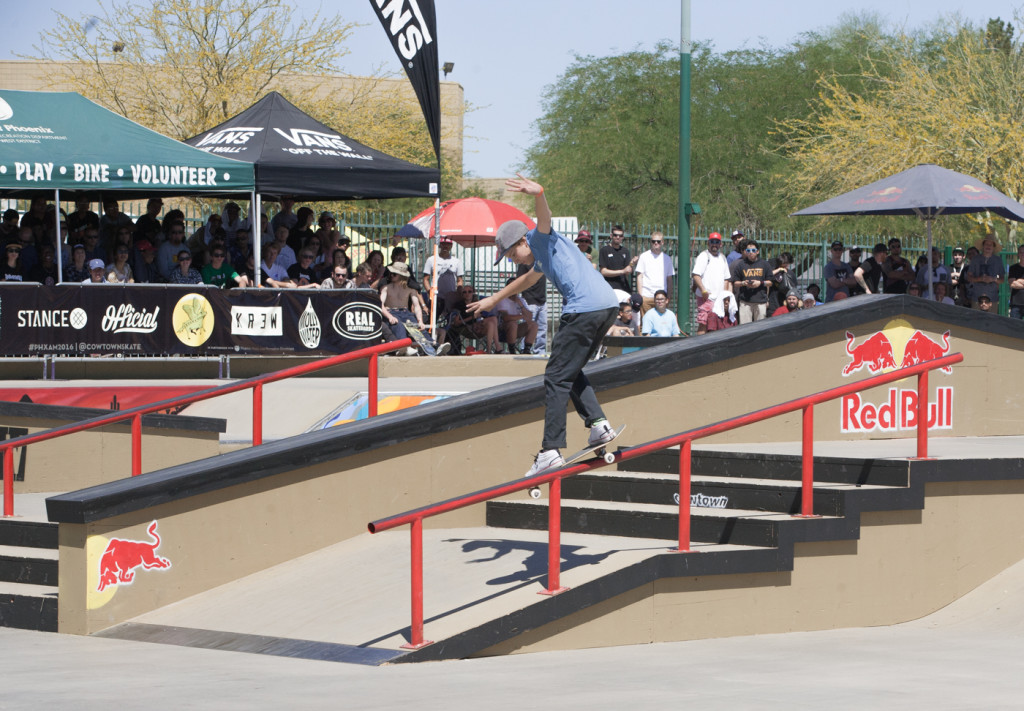 Jagger Eaton is constantly on podiums and PHXAM was no different this year for him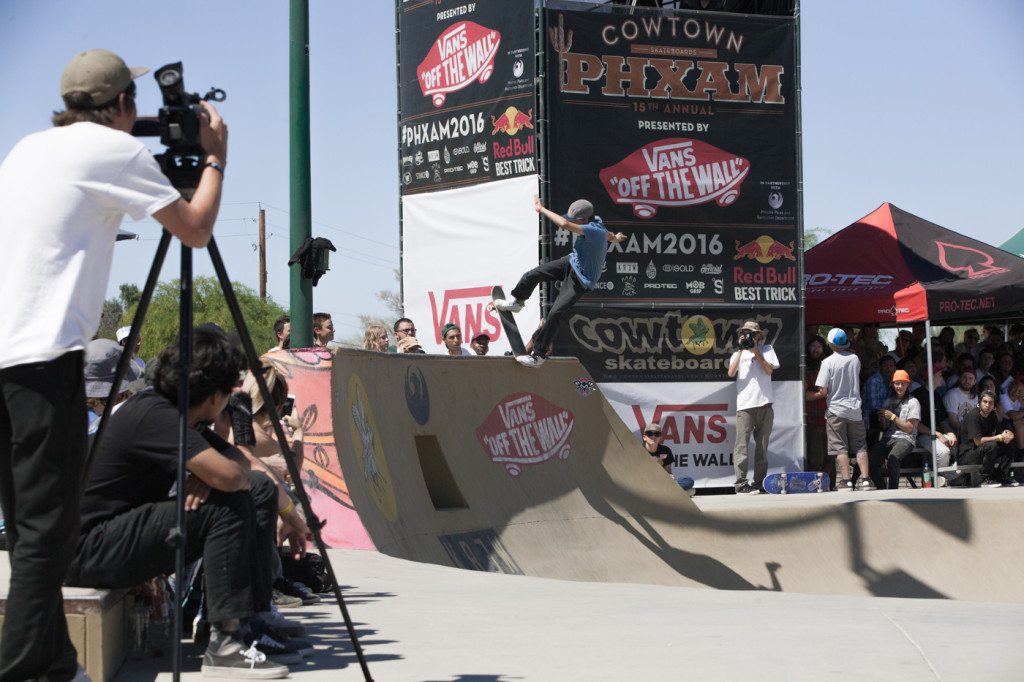 Jagger hitting the big boy section with a proper Noseblunt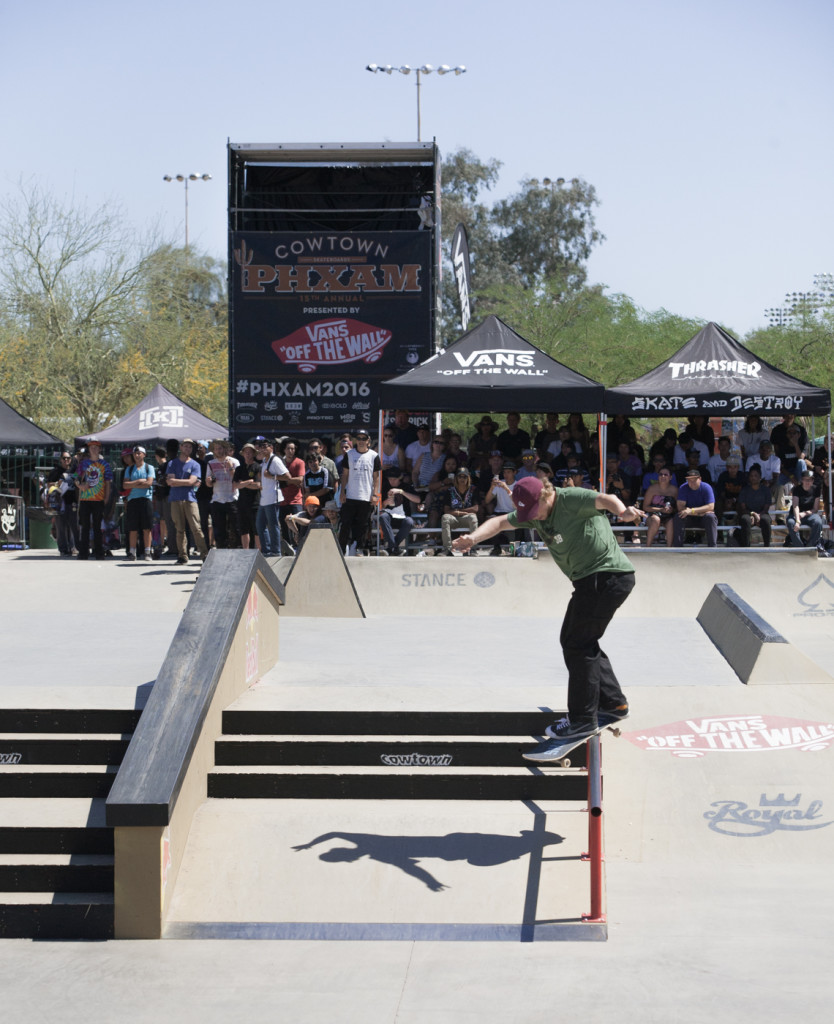 Jamie Foy sits on a Front Feeble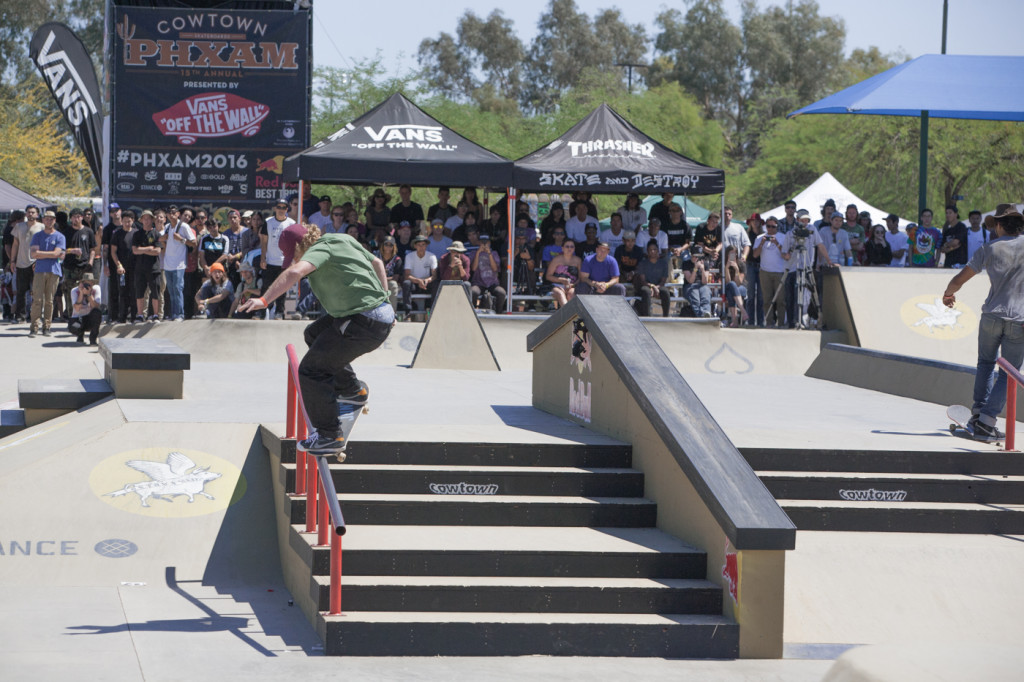 Front Krook on a round rail is an every try thing for Jamie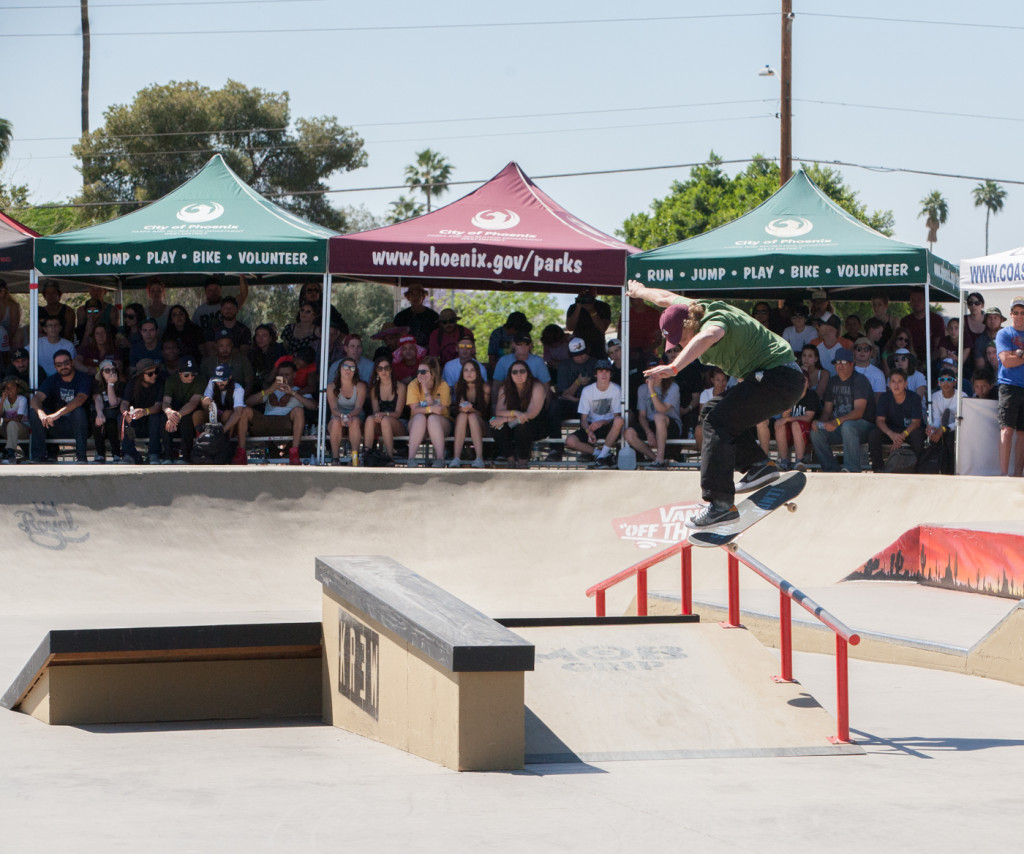 A floaty kick flip back lip from Jamie
Taking advantage of a fun Real Hubba, Jamie Wallie Blunts into 7th place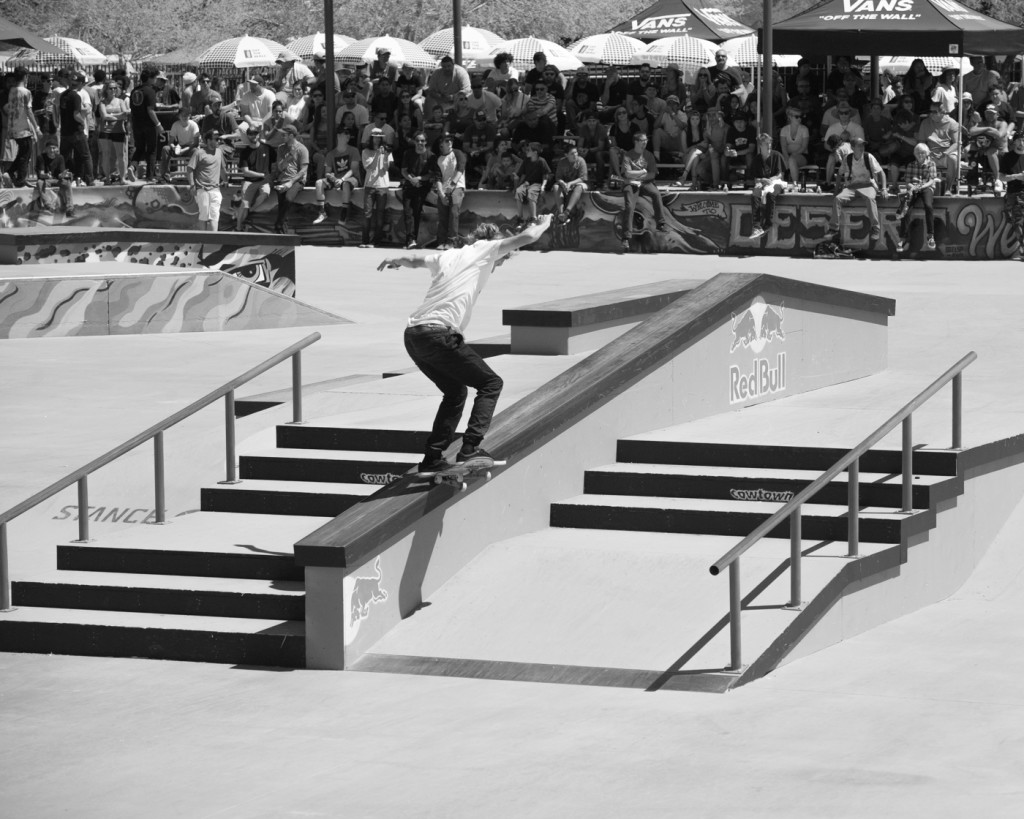 Josh Baldwin took this Back 180 Nosegrind all the way down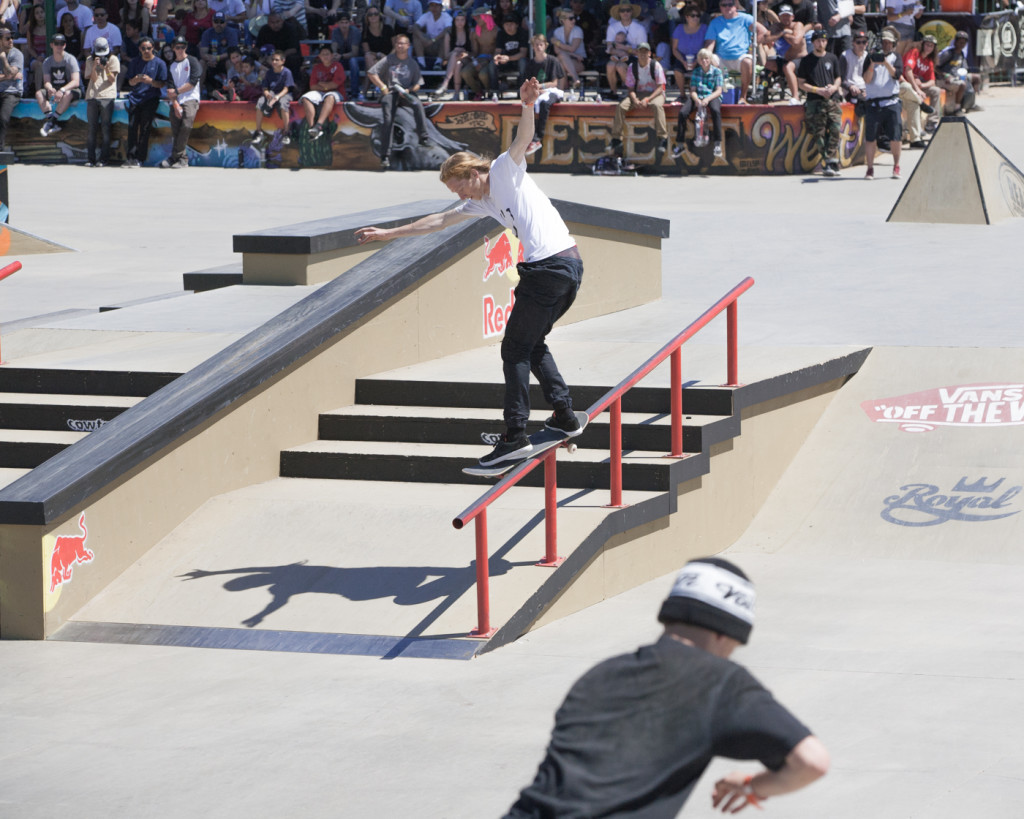 This rail saw a lot of Front Feebles Sunday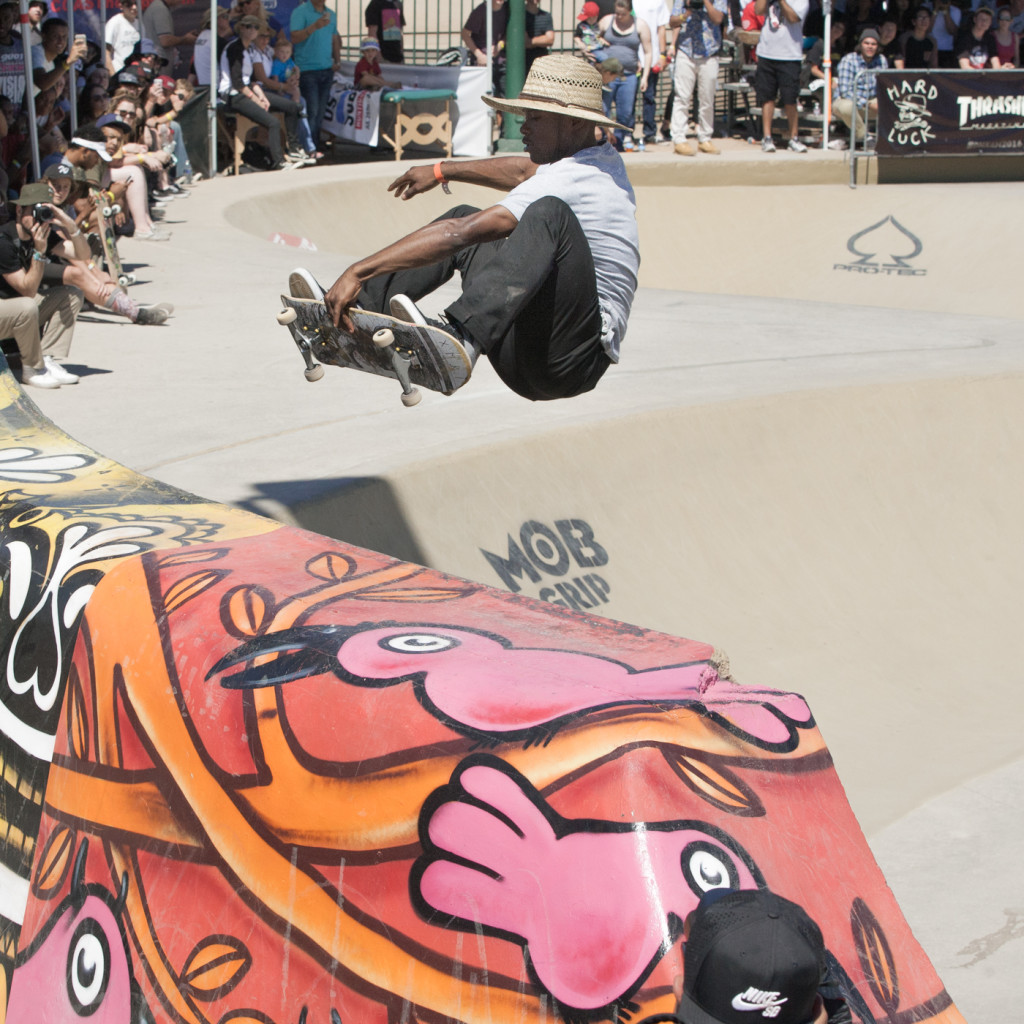 Dashawn Jordan boosts an alley up FS 360 over the keyhole on the back wall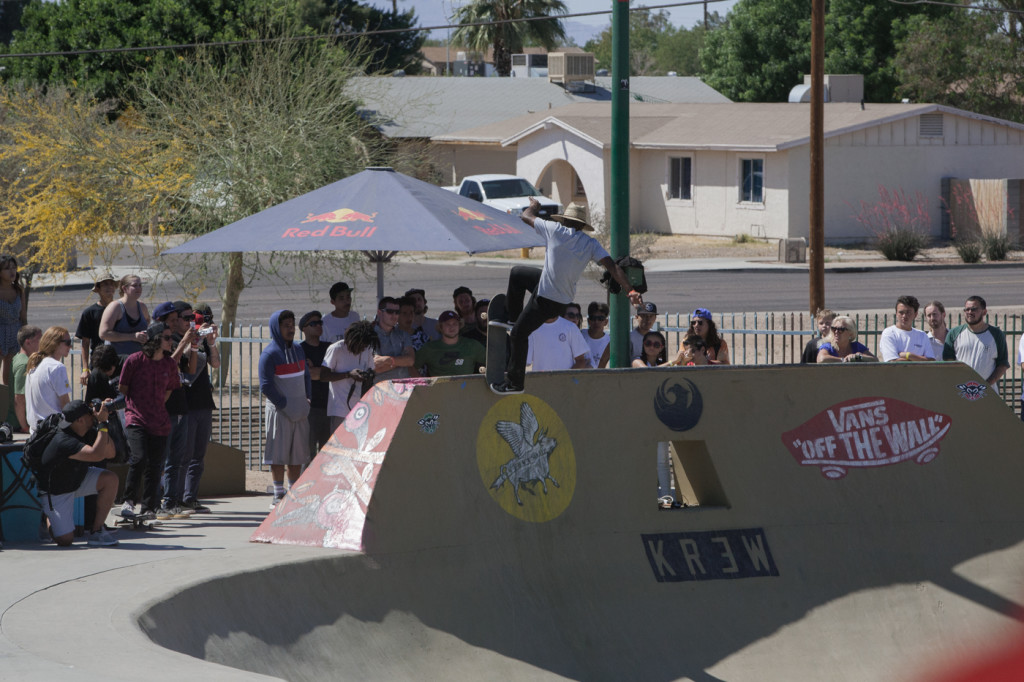 Dashawn with a Front Blunt on the back wall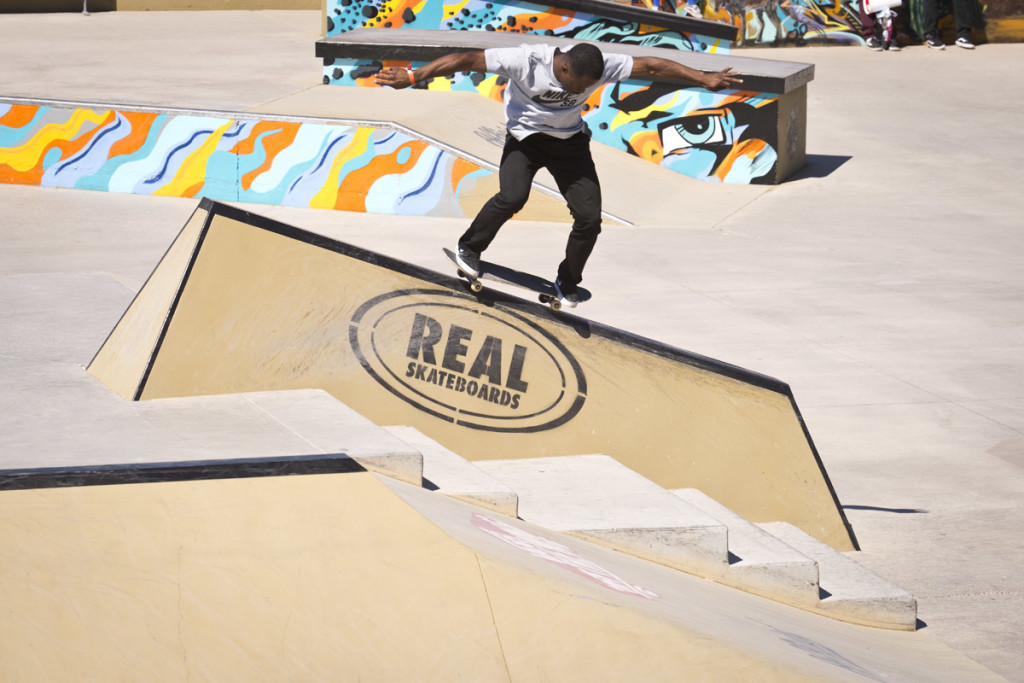 This Fakie 50-50 was pleasing to the eyes all weekend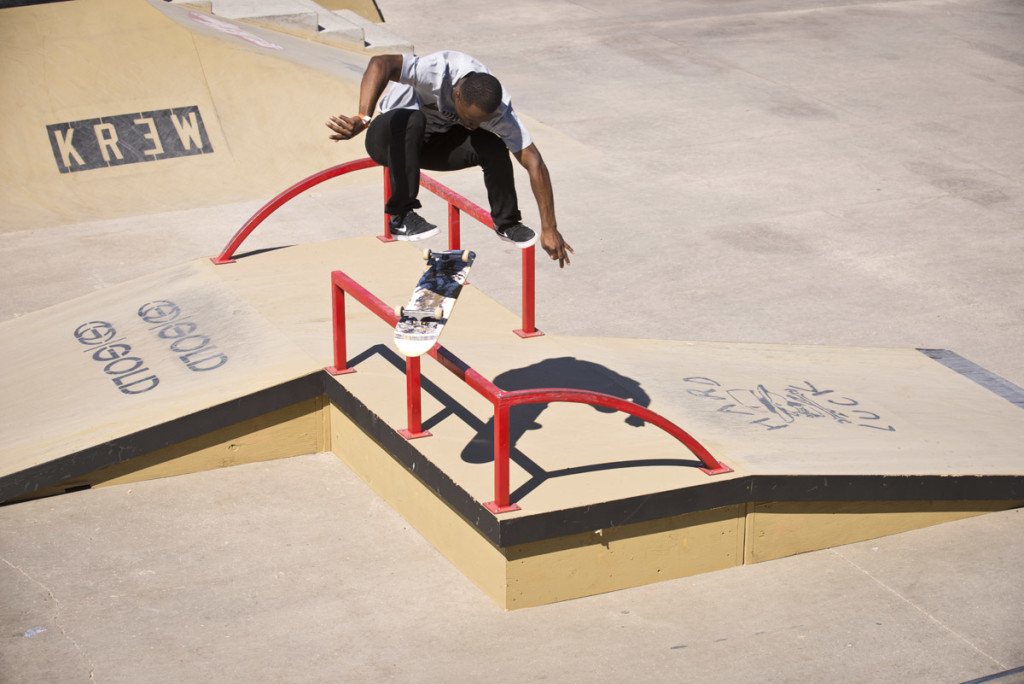 Dashawn stomping a Variel Heel going the opposite way he did in his previous run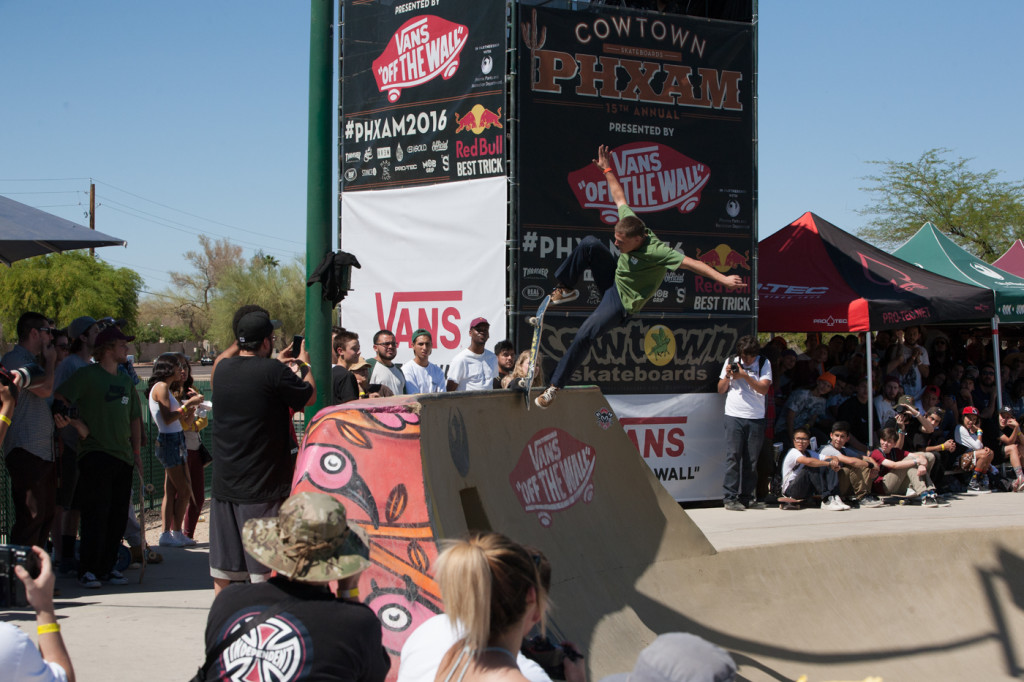 Yoshi Tenenbaum nailed this Blunt Kickflip over and over again. Beast.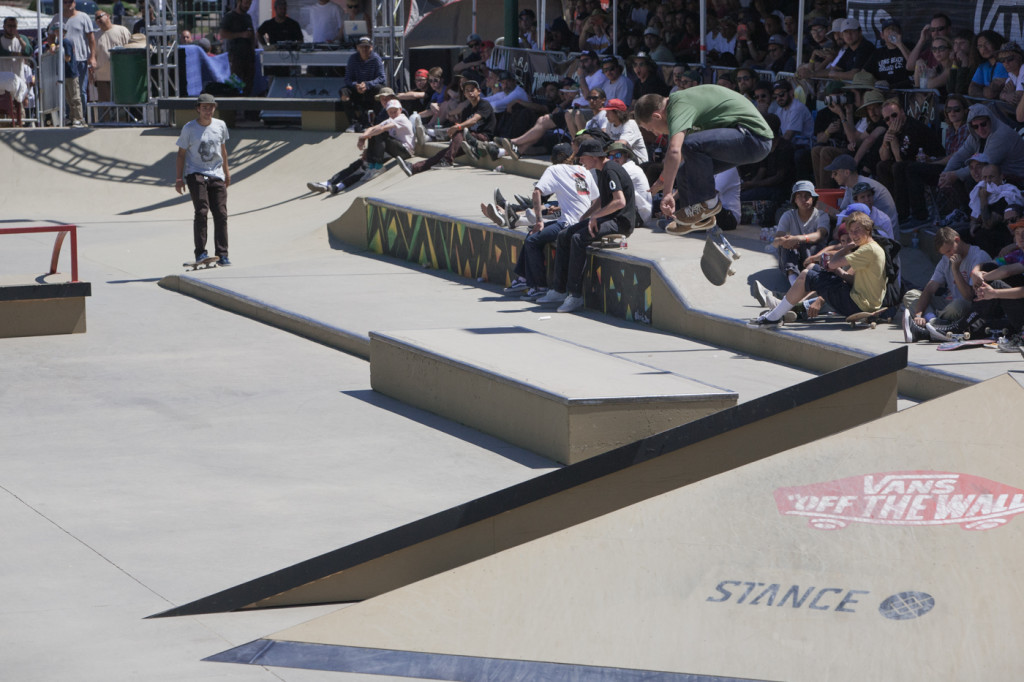 Kickflipping the wedge gap was no big thing for Yoshi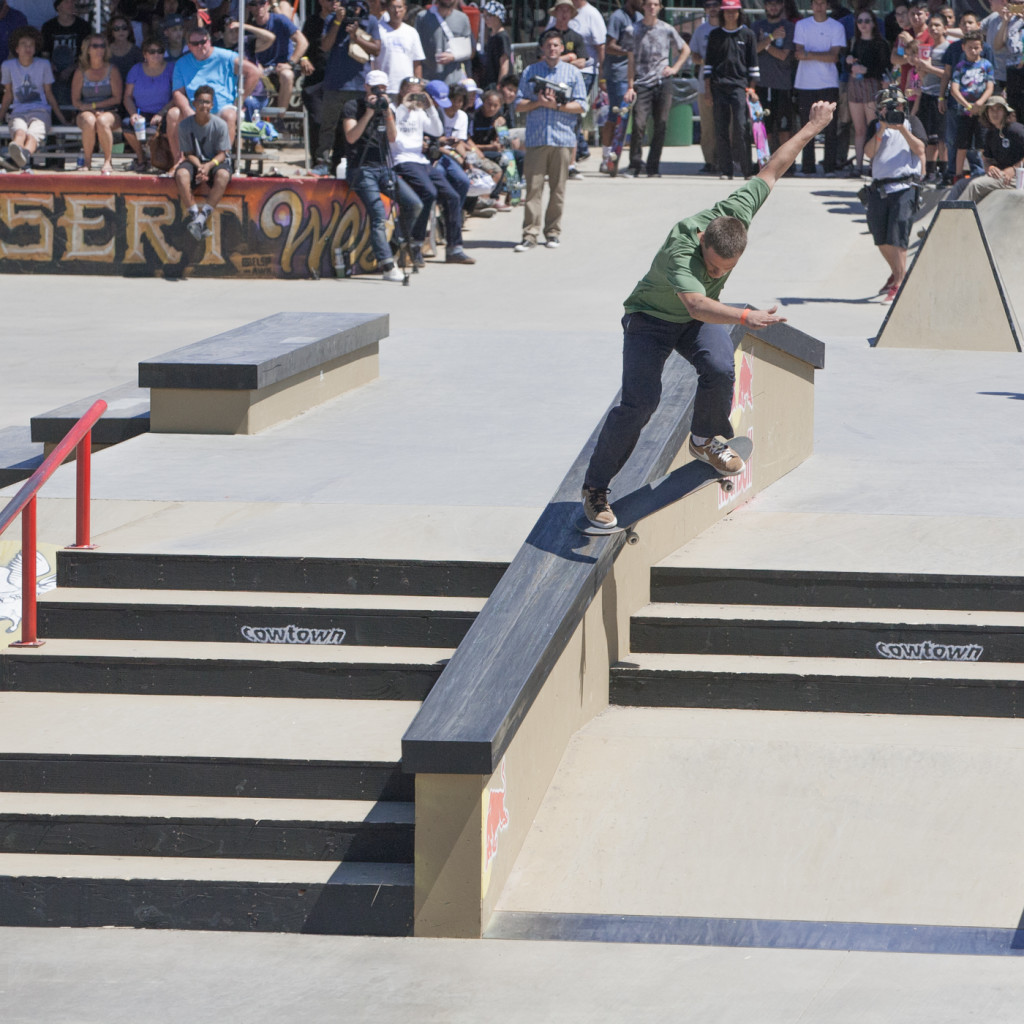 Krook pop out into the bank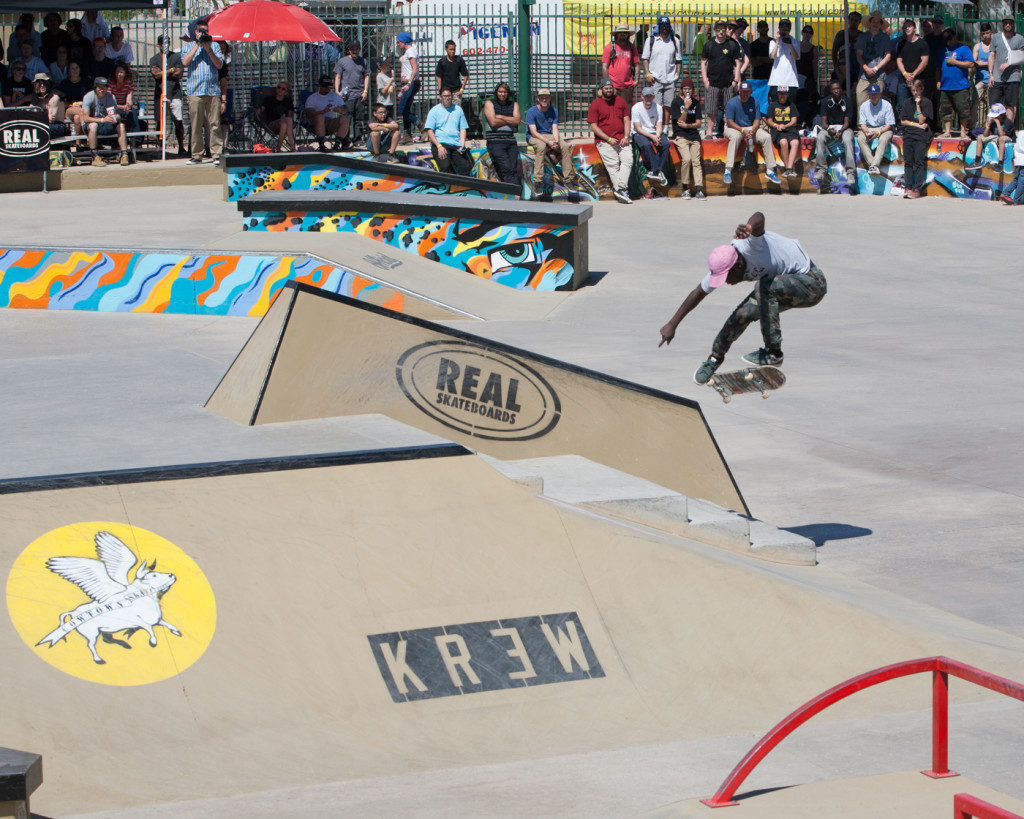 Zion Wright Bigflip on the Real set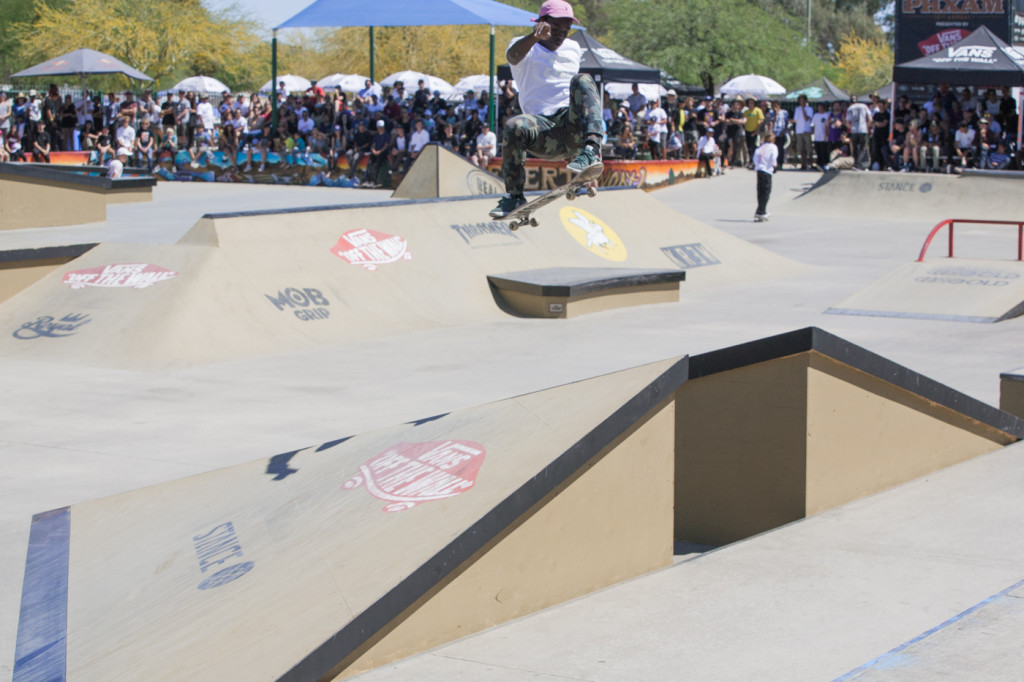 Boosty Front 3's are a Zion specialty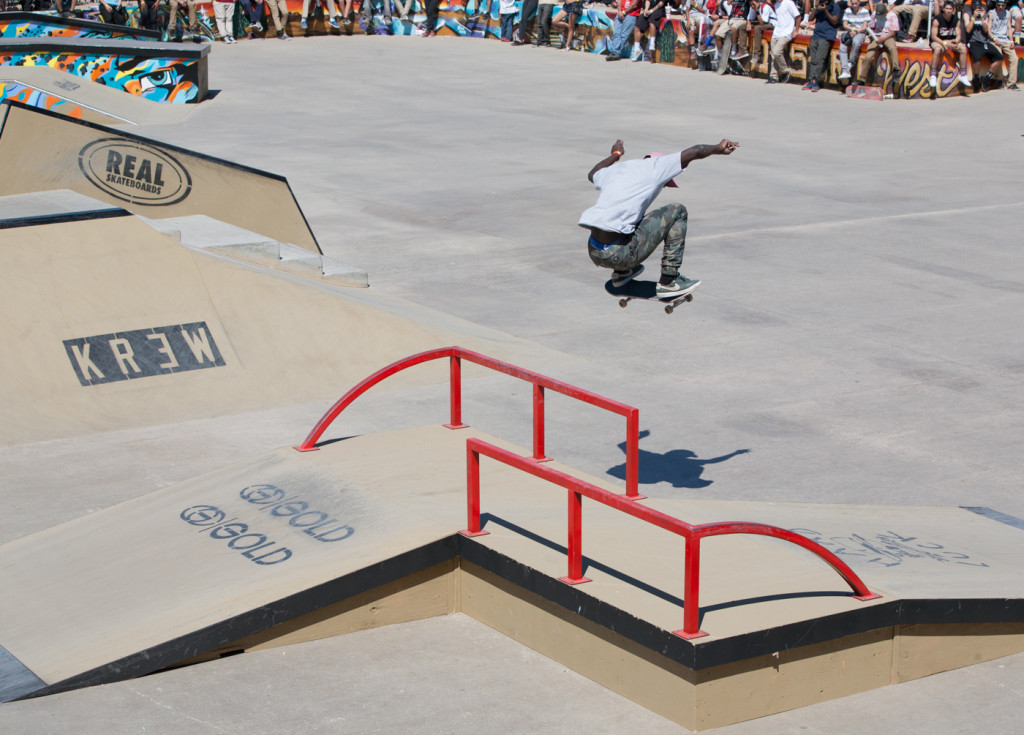 This massive frontside flip came in his last of 3 runs and set him up for the W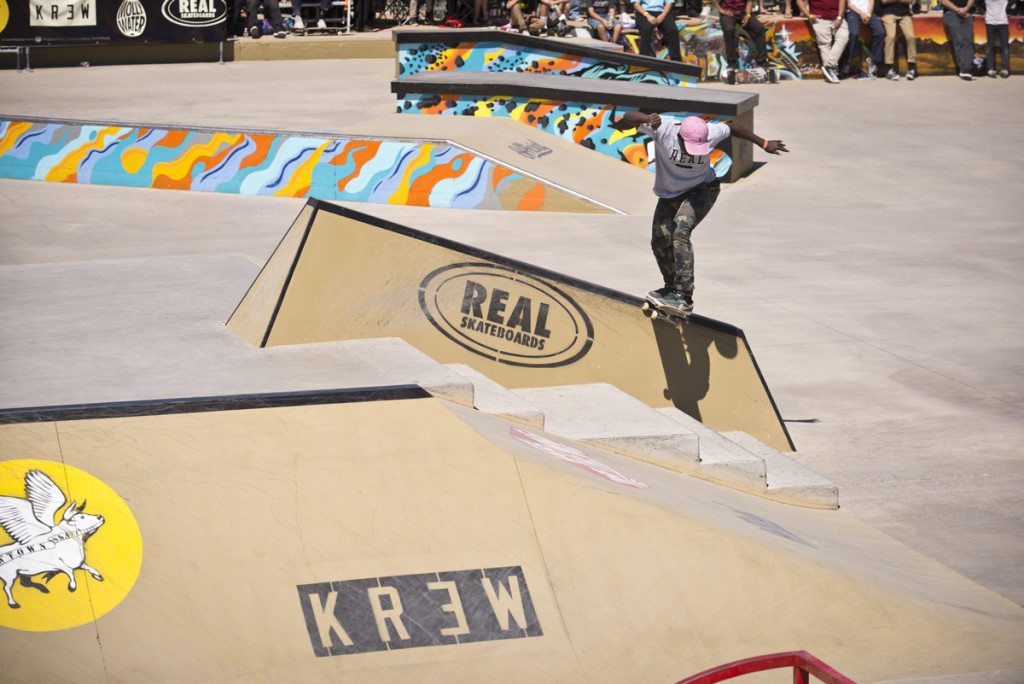 BS Tail. Every. Single. Try. Zion was on it all weekend.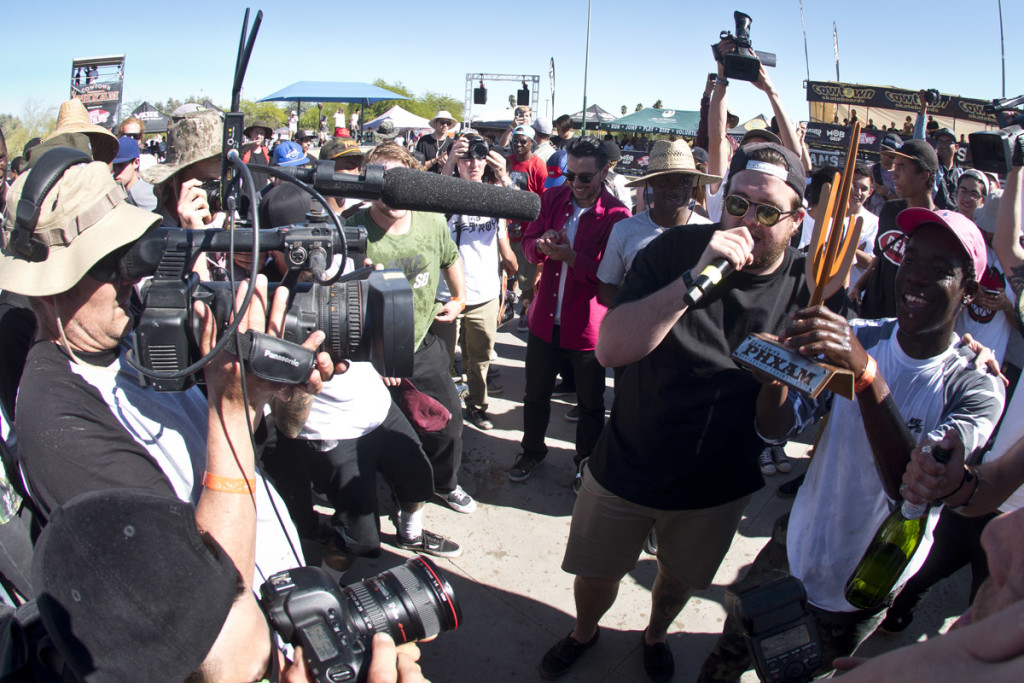 Zion Wright is your 2016 PHXAM Champion! This was Zion's first time out to PHXAM and as long as he isn't pro by next year, we definitely expect to see him battling it out in the finals in at PHXAM 2017!
PHXAM 2016 – Day 2 – Red Bull Best Trick
The Red Bull Best Trick took place on the double set with $2,500 up for grabs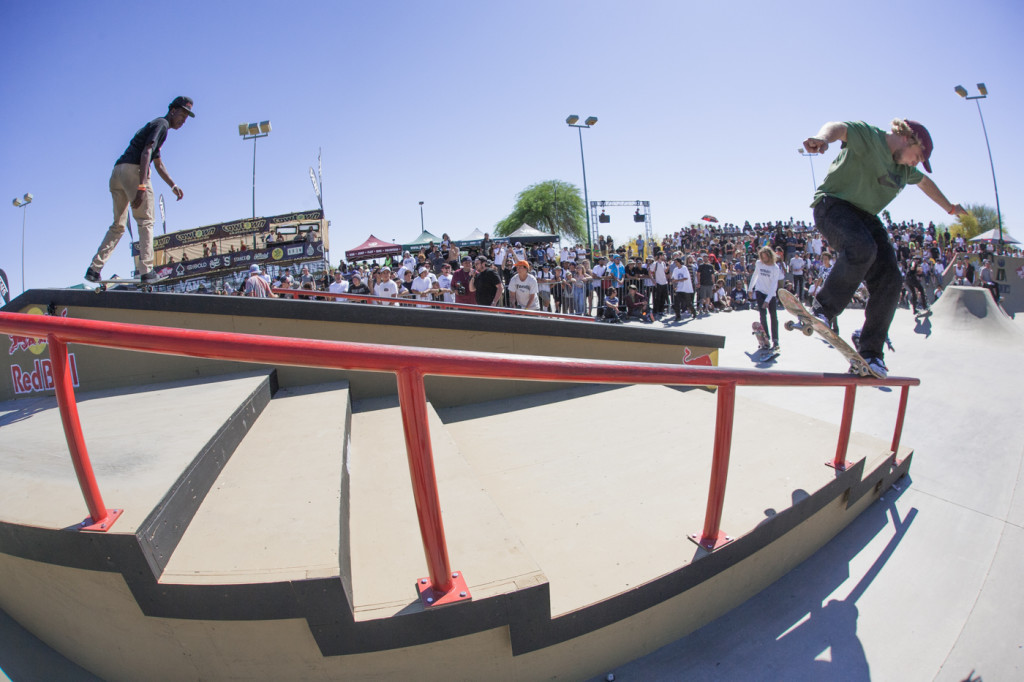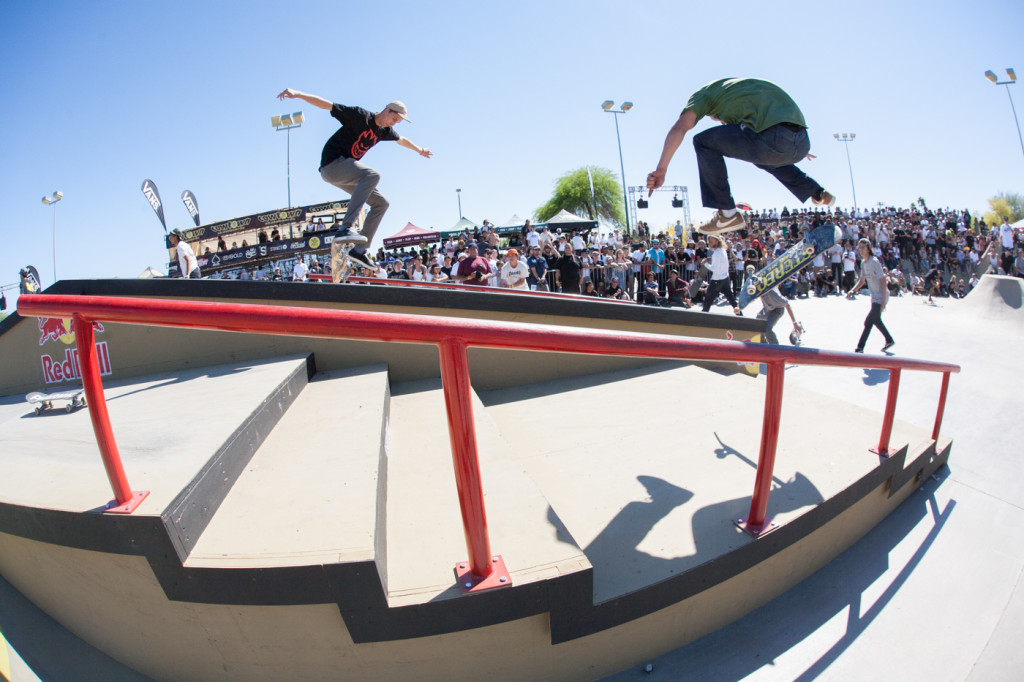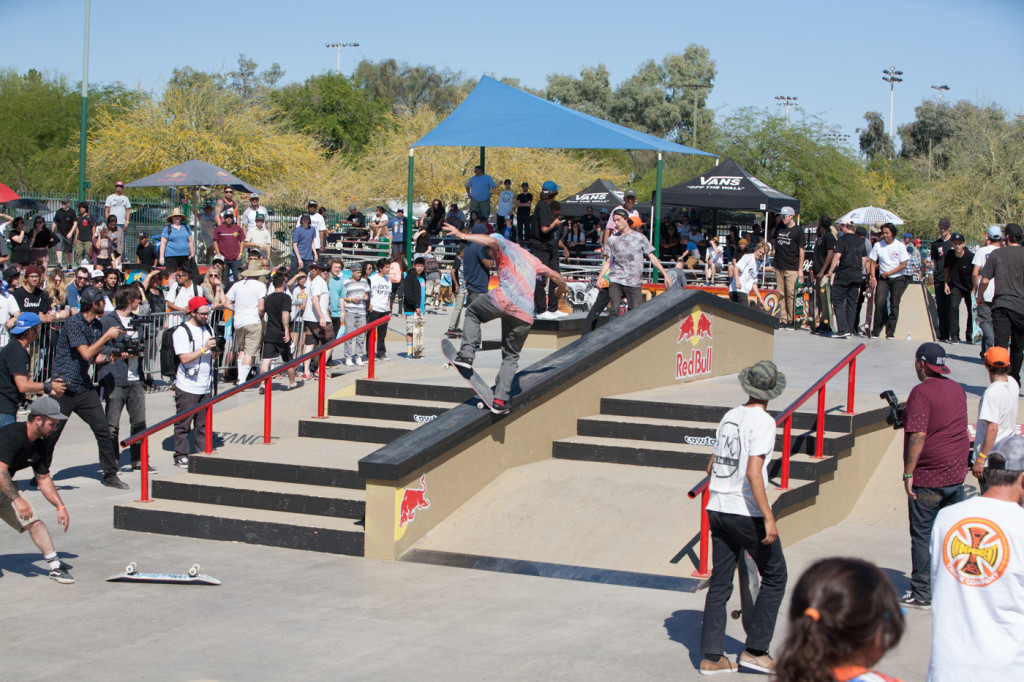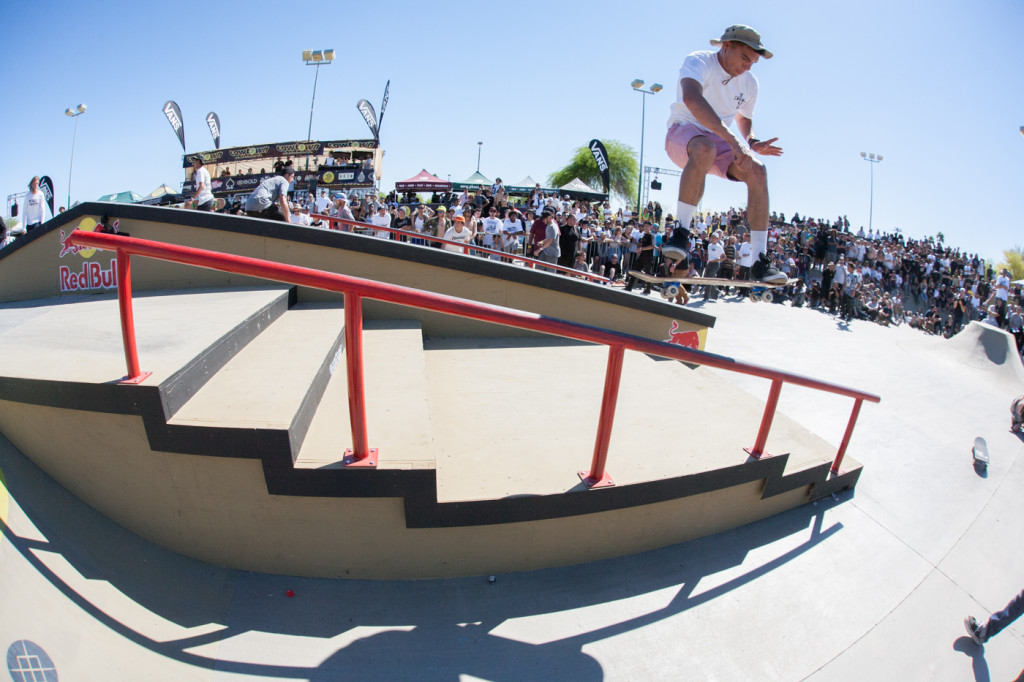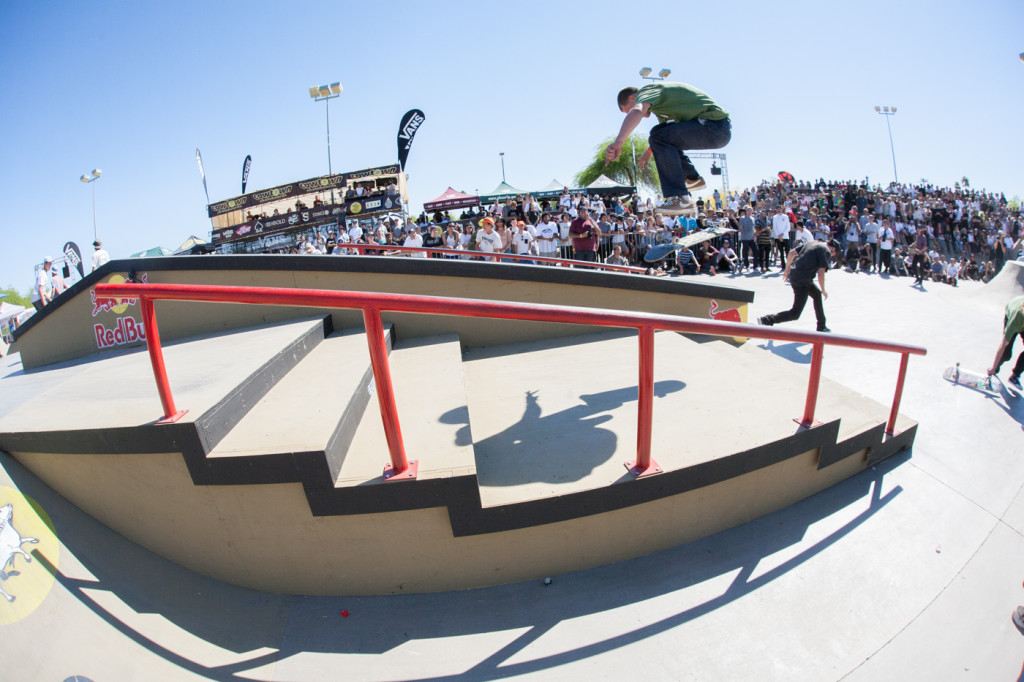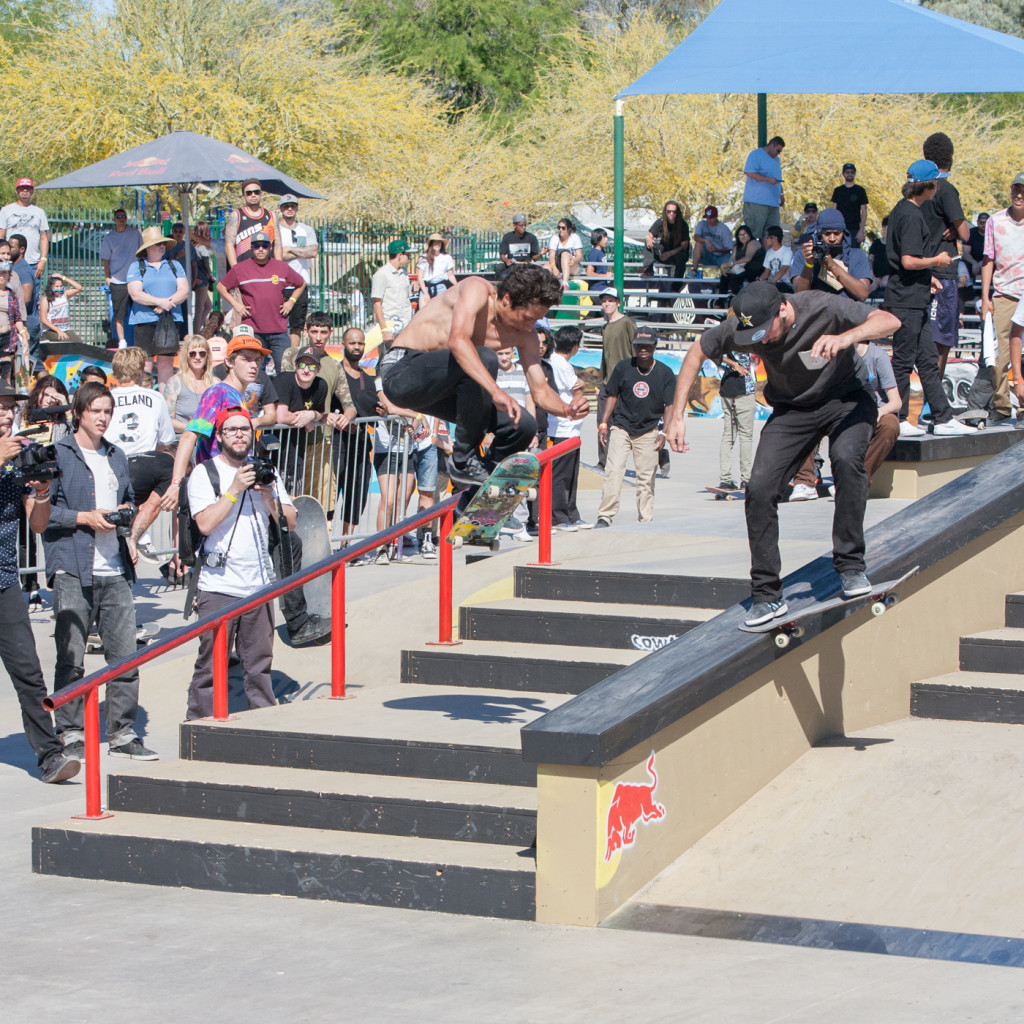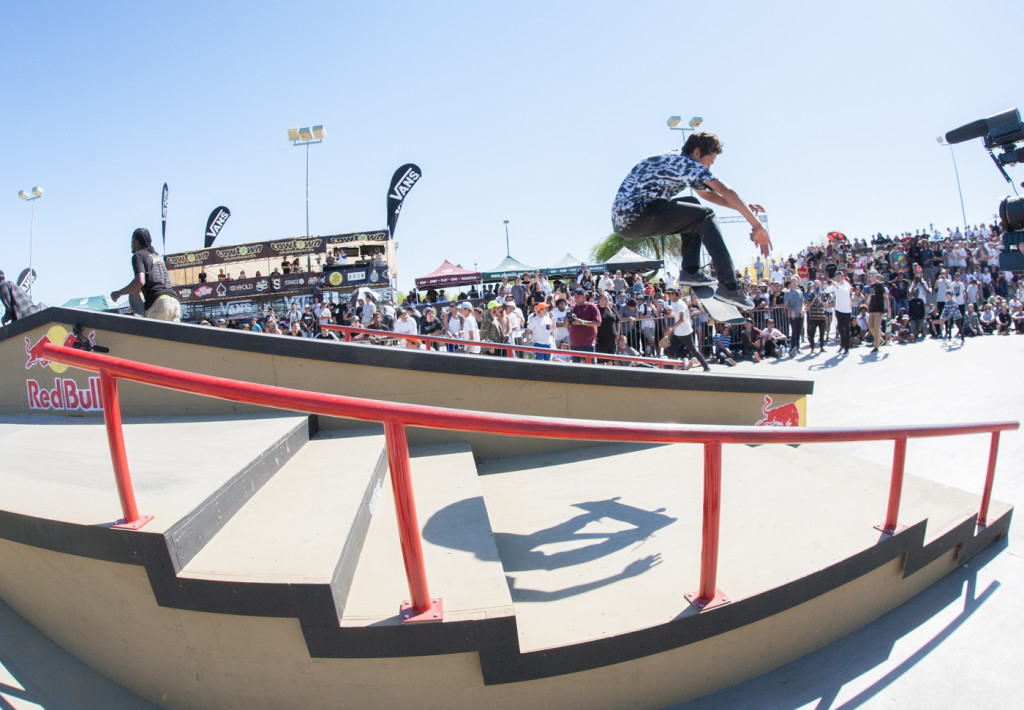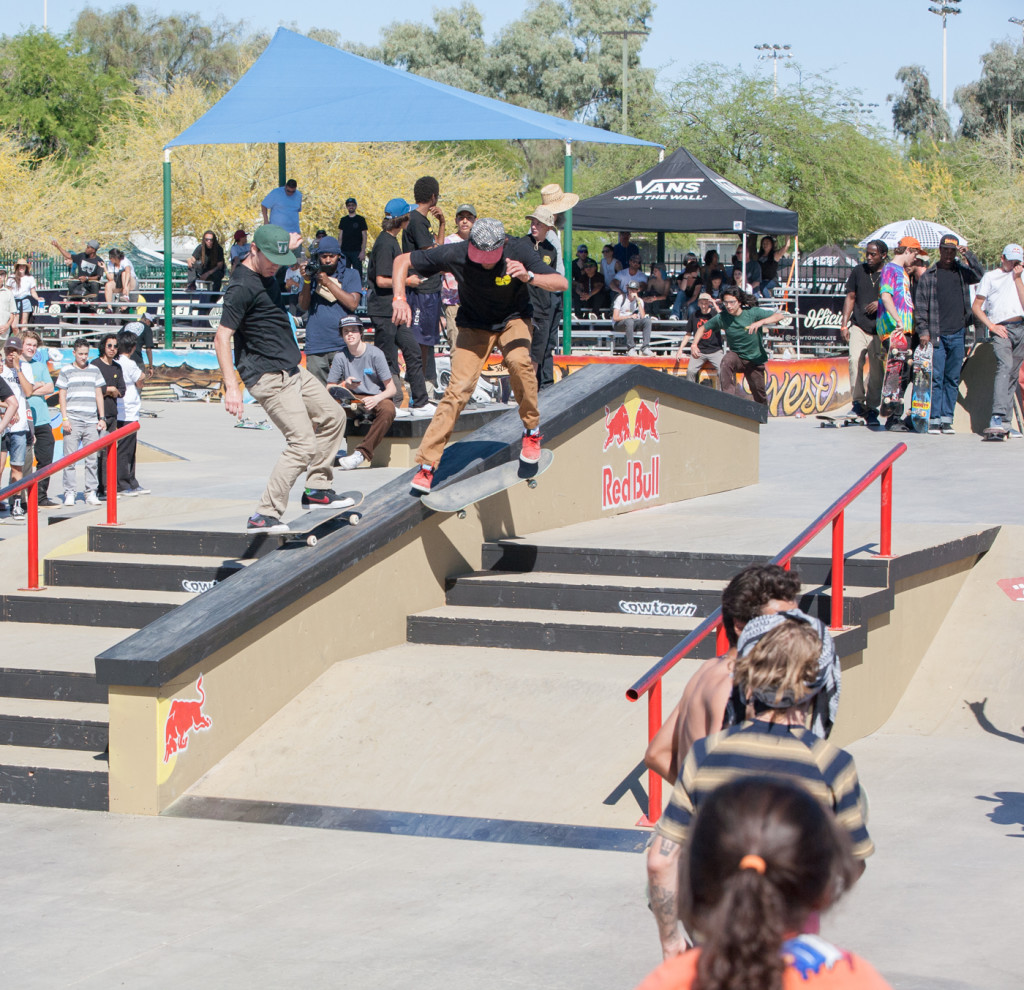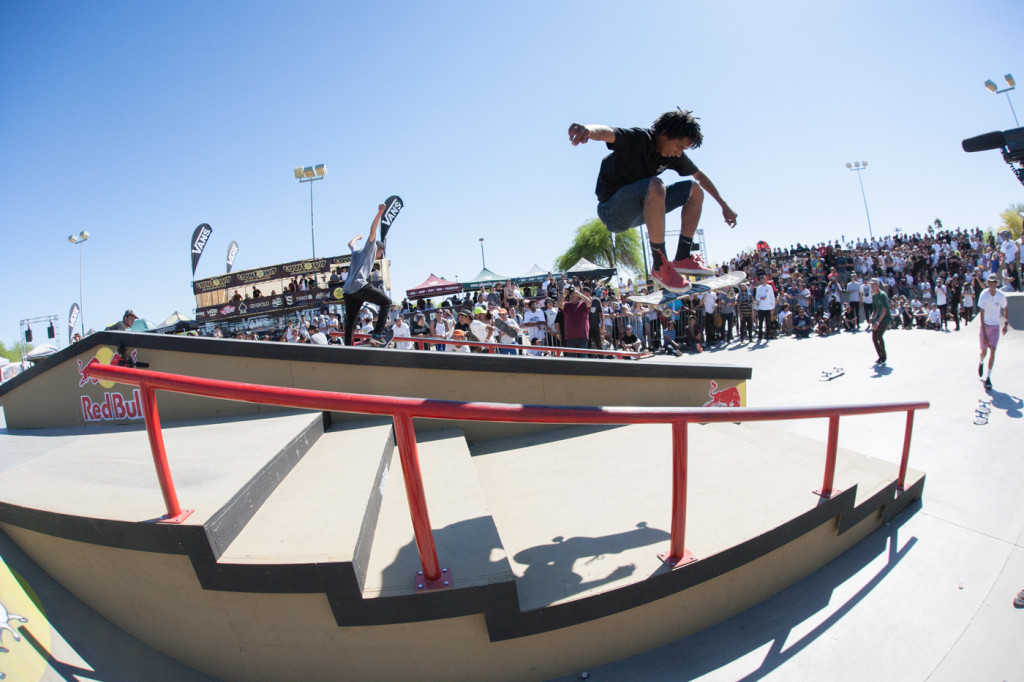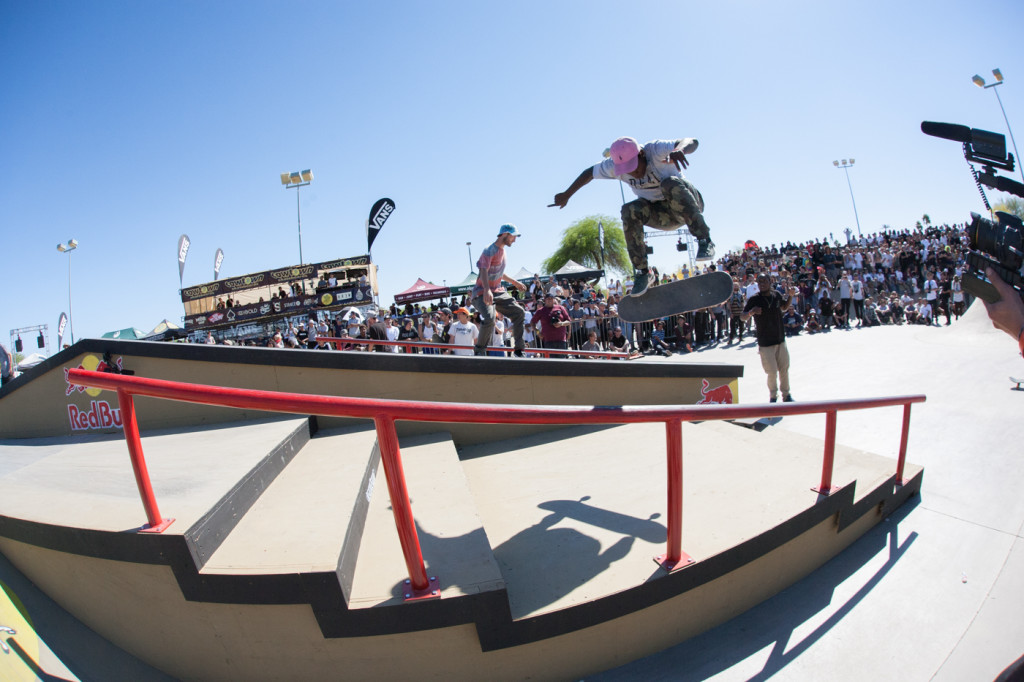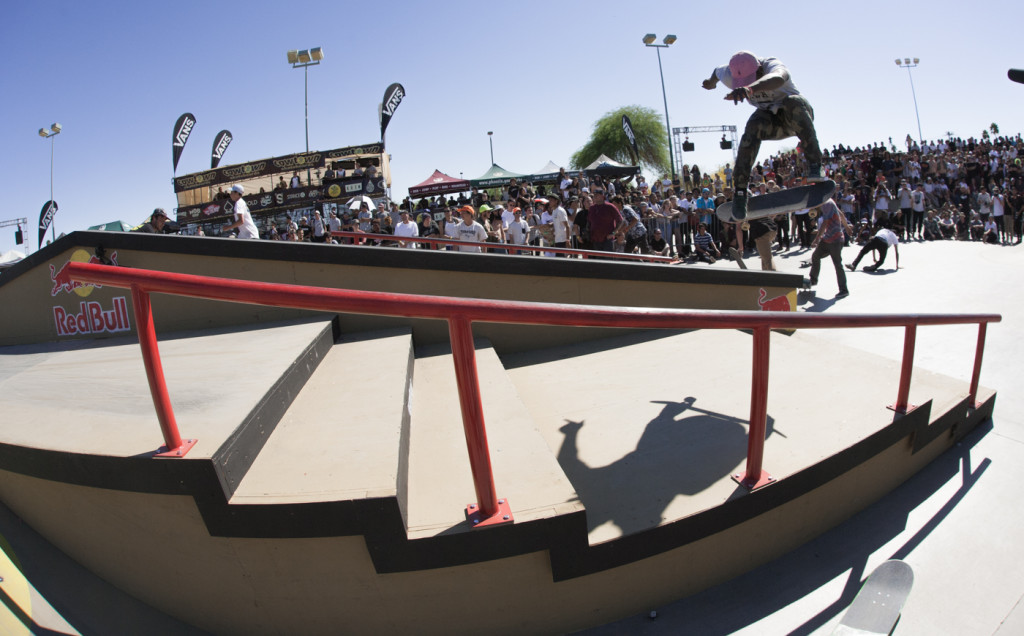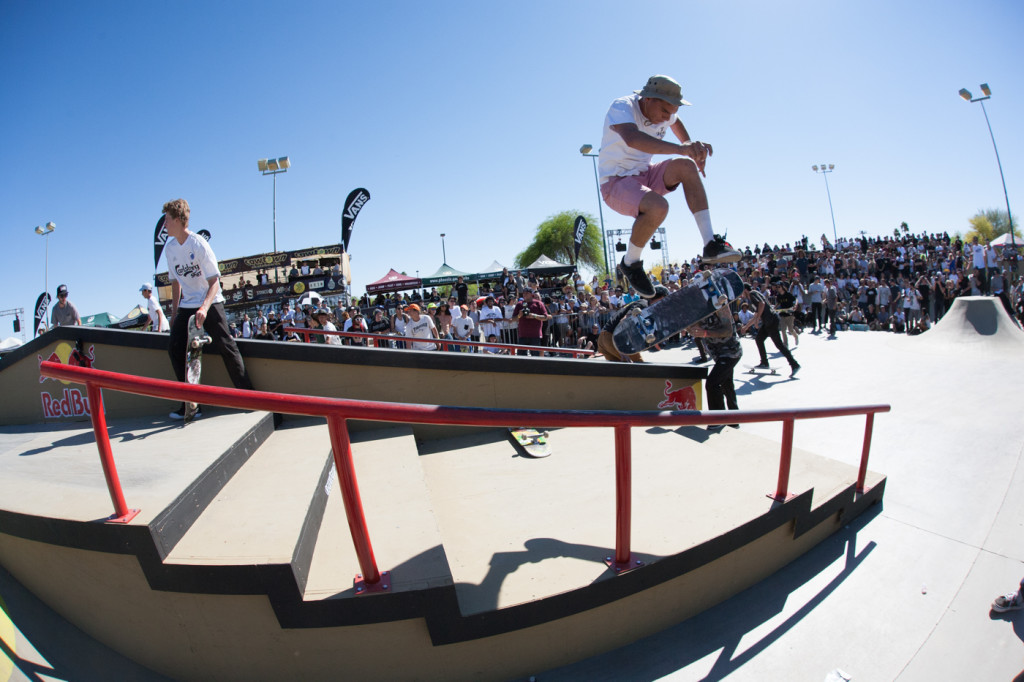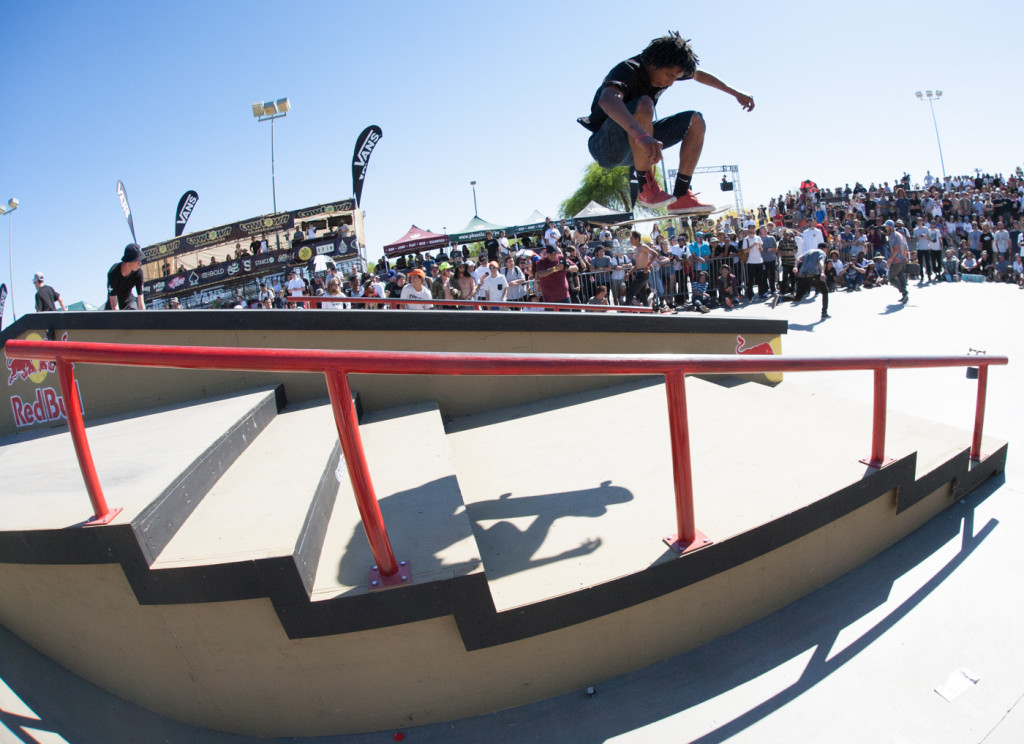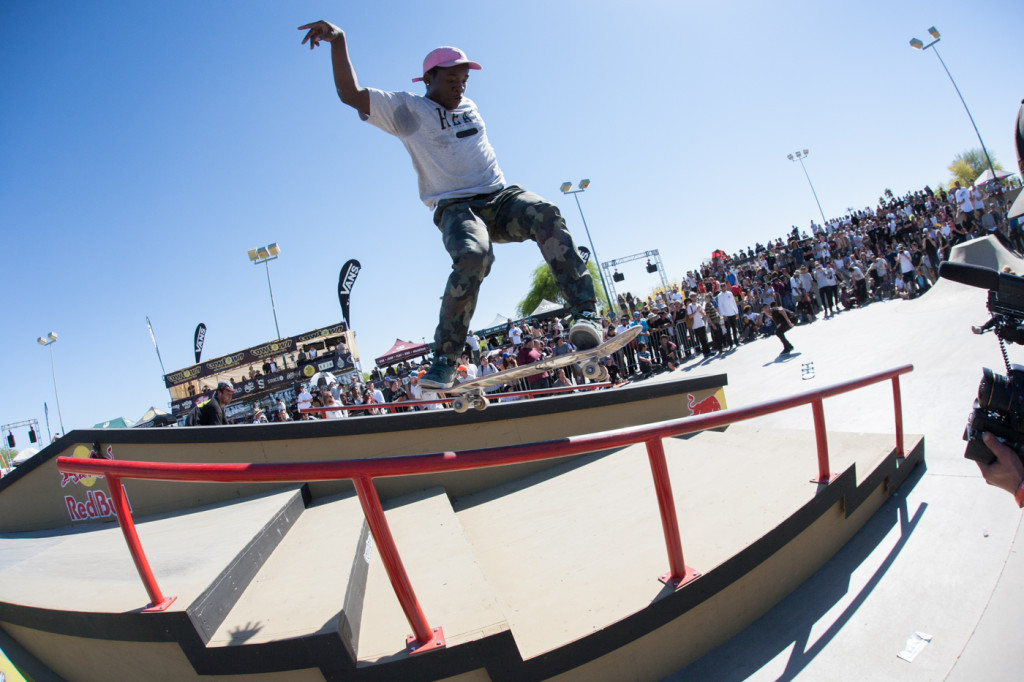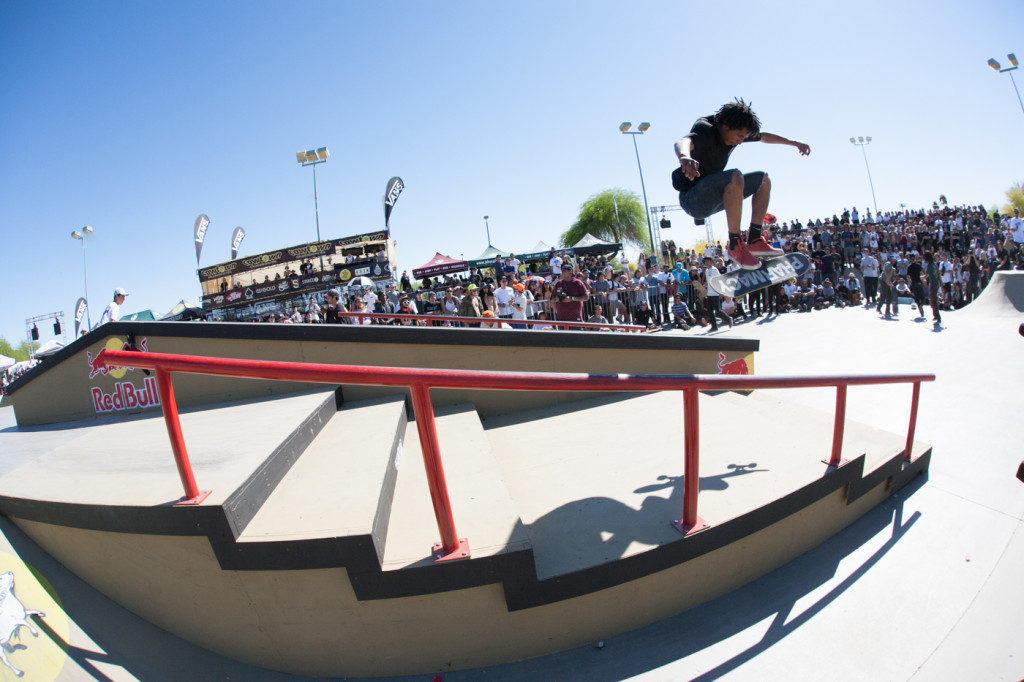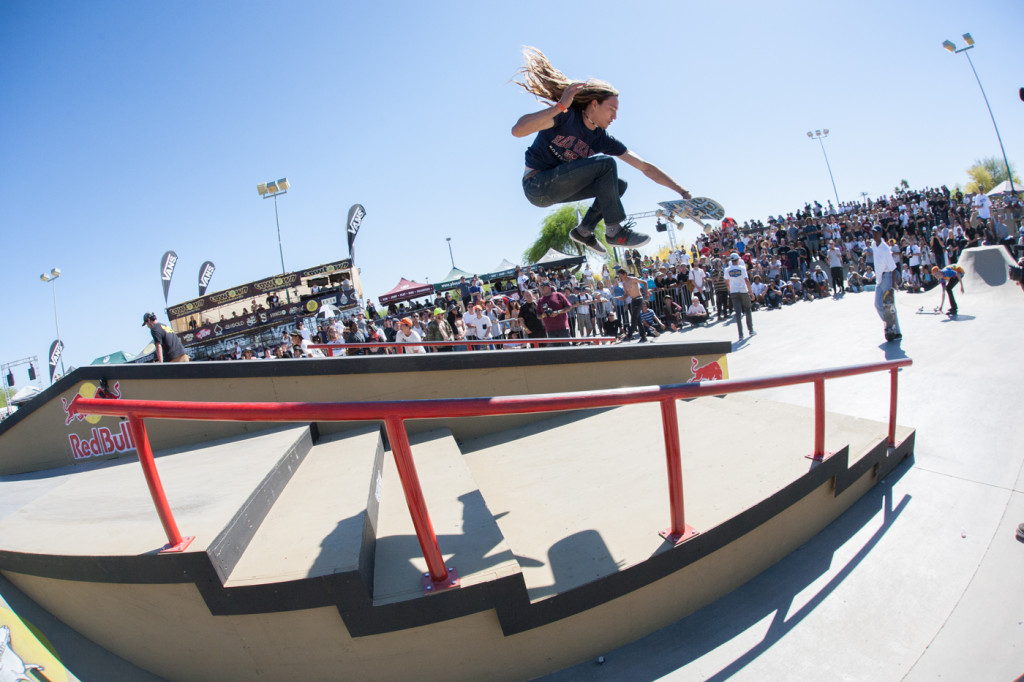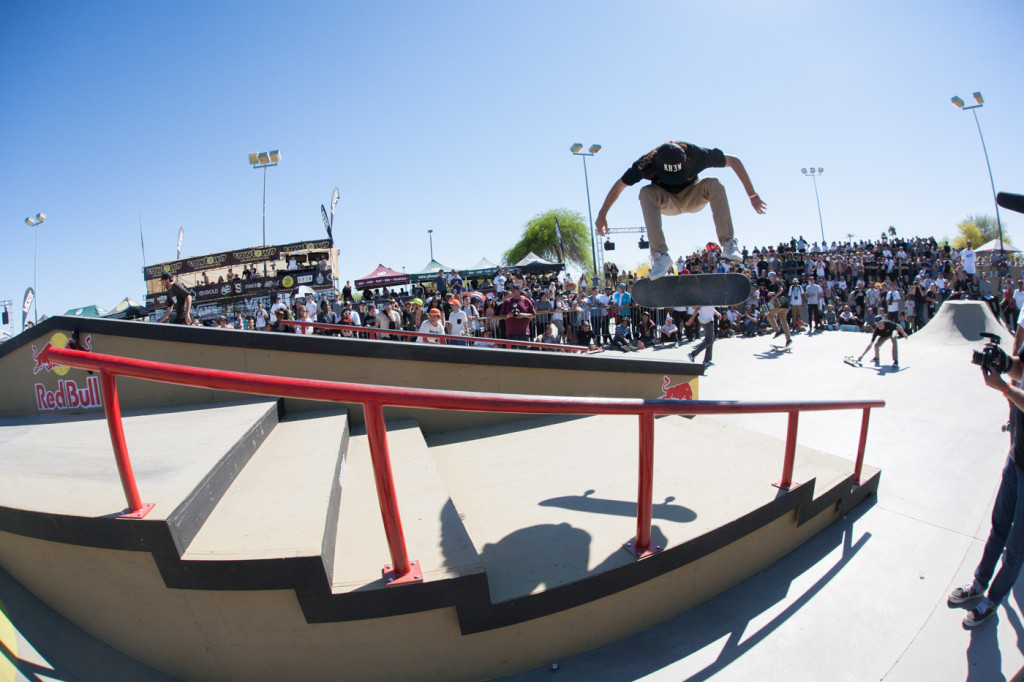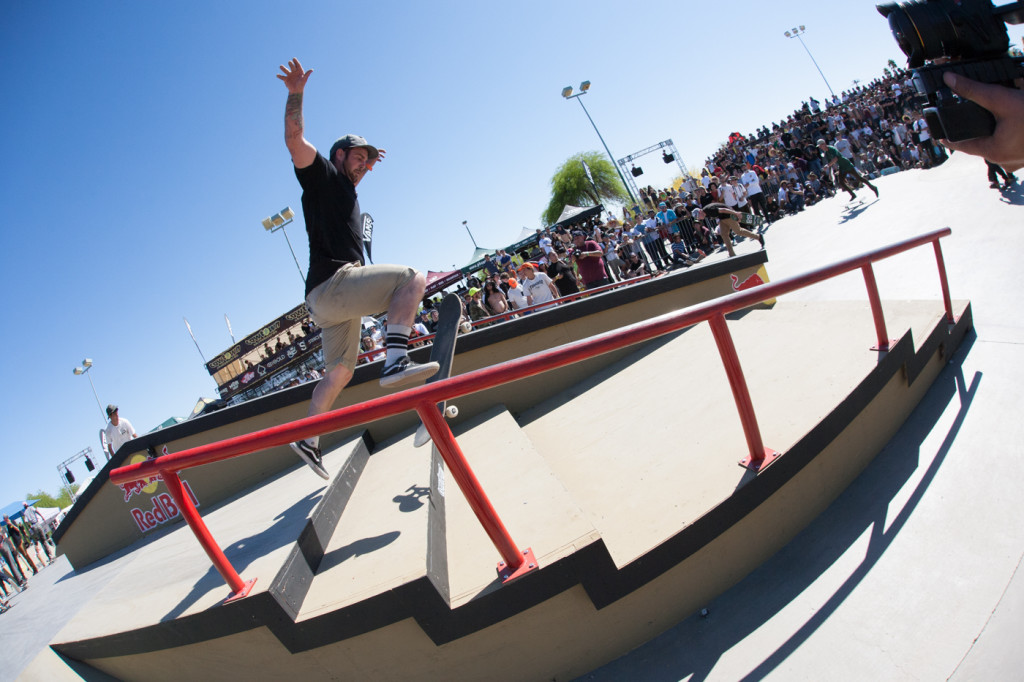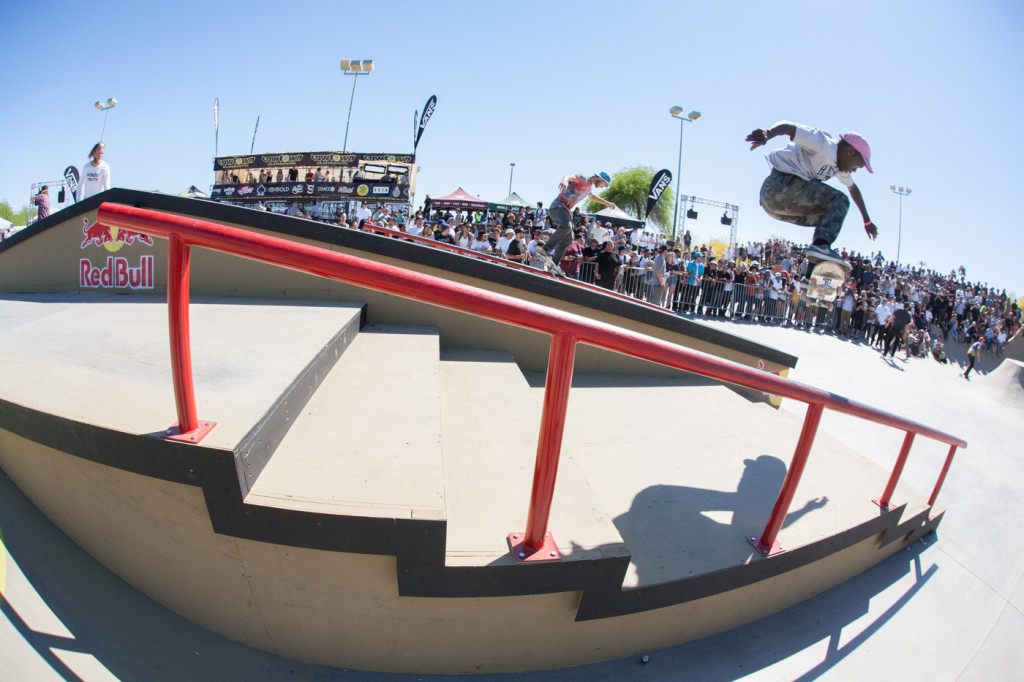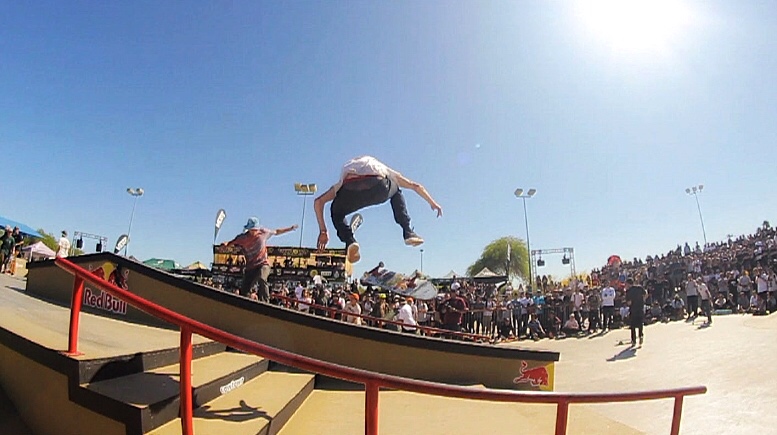 At the end of the day it was Josh Baldwin's 1st try Switch Inward Heel down the set that took home the $2,500 cash prize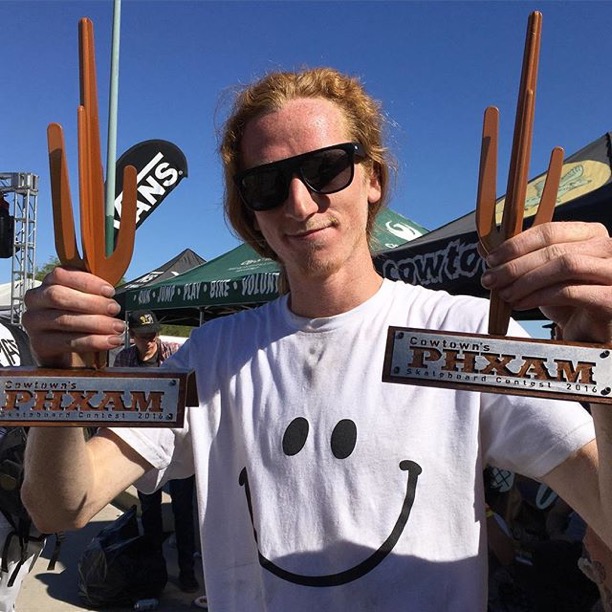 Josh also placed 10th overall in the contest and went home back to Las Vegas with not one but two PHXAM trophies
April 3rd 2016 – Day 2 Semi Finals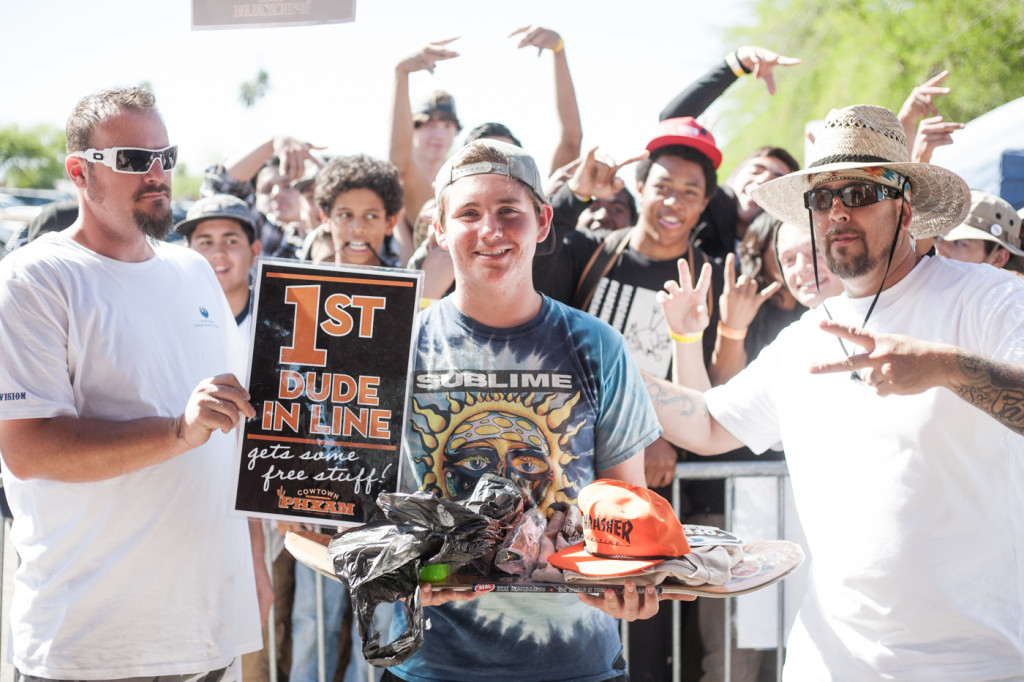 Gates opened at 11am at the park Sunday and this dude beat everyone to the punch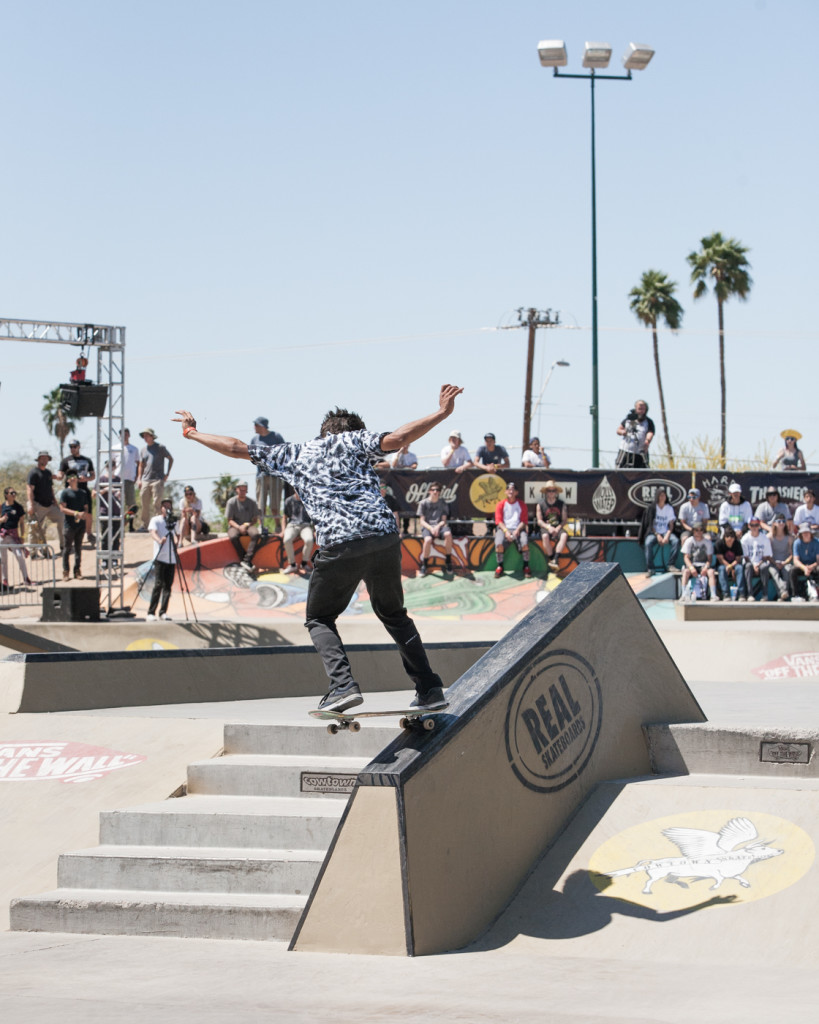 40 Semi Finalists started battling it out in 3 man jams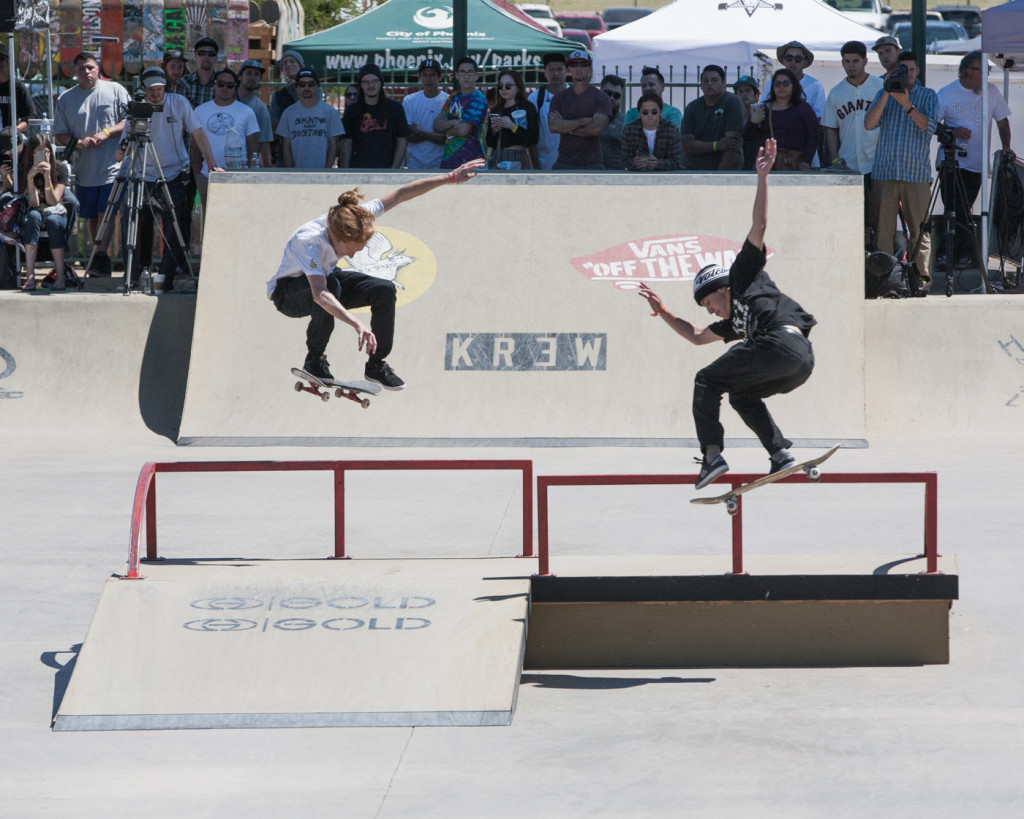 3 man jams means sometimes things get hectic and it makes for a lot of fun to watch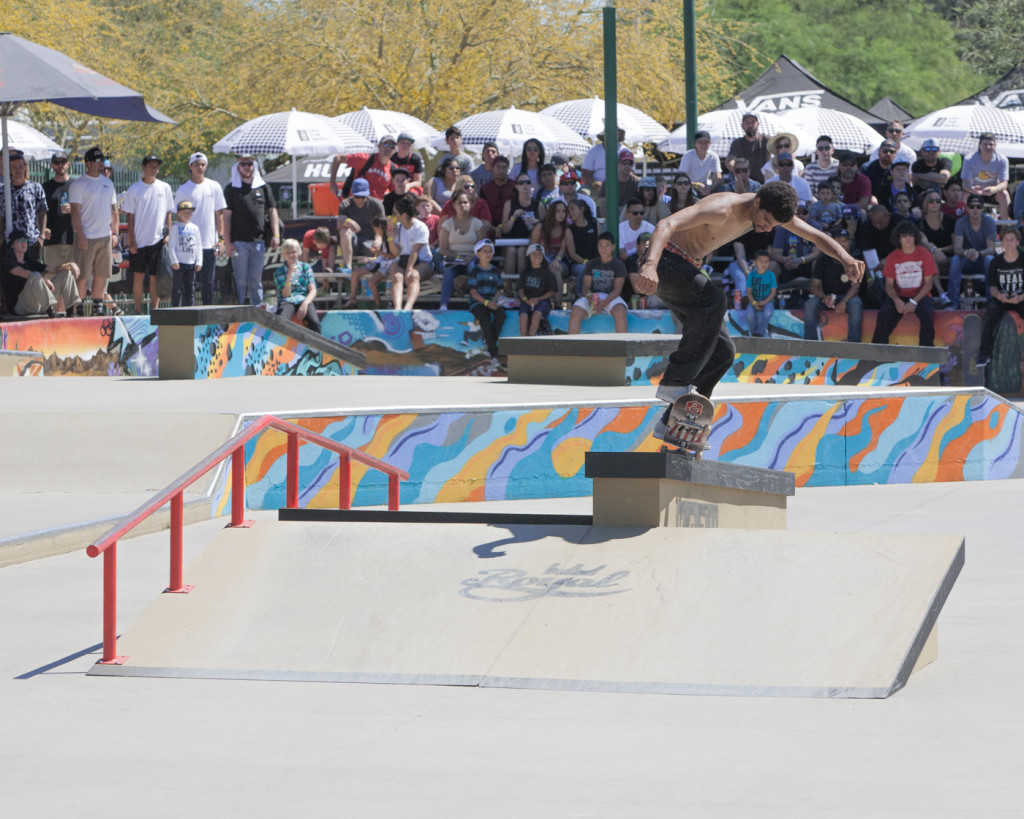 Corey Millet has been on one all weekend. Here he balances a back 5-0 from flat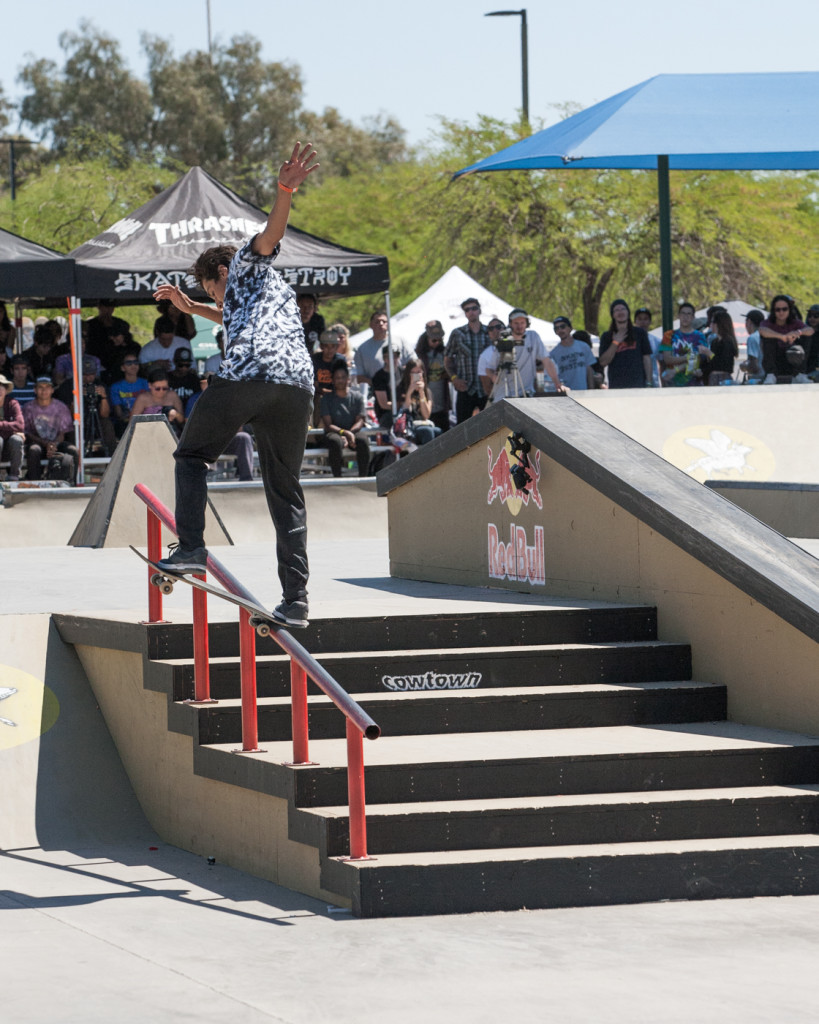 Front Blunts were definitely a popular trick on the Red Bull rails all weekend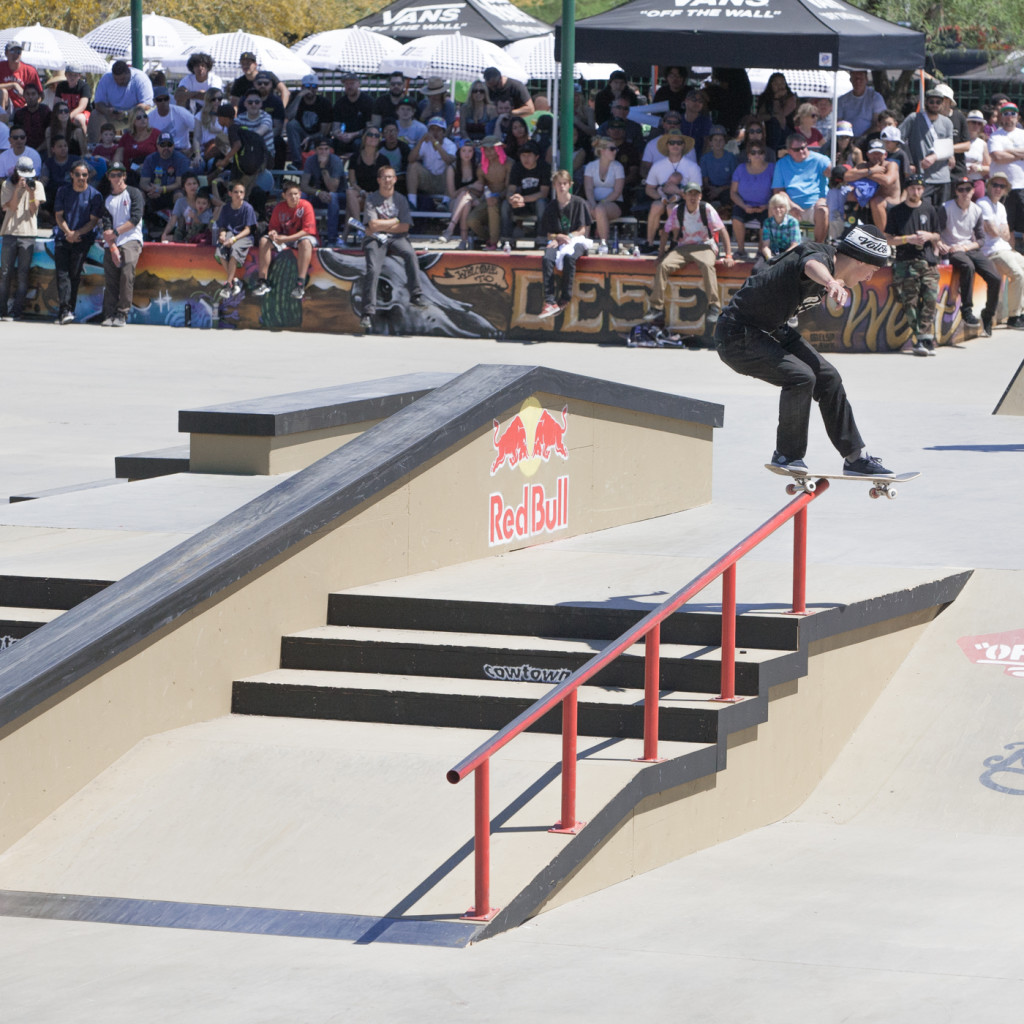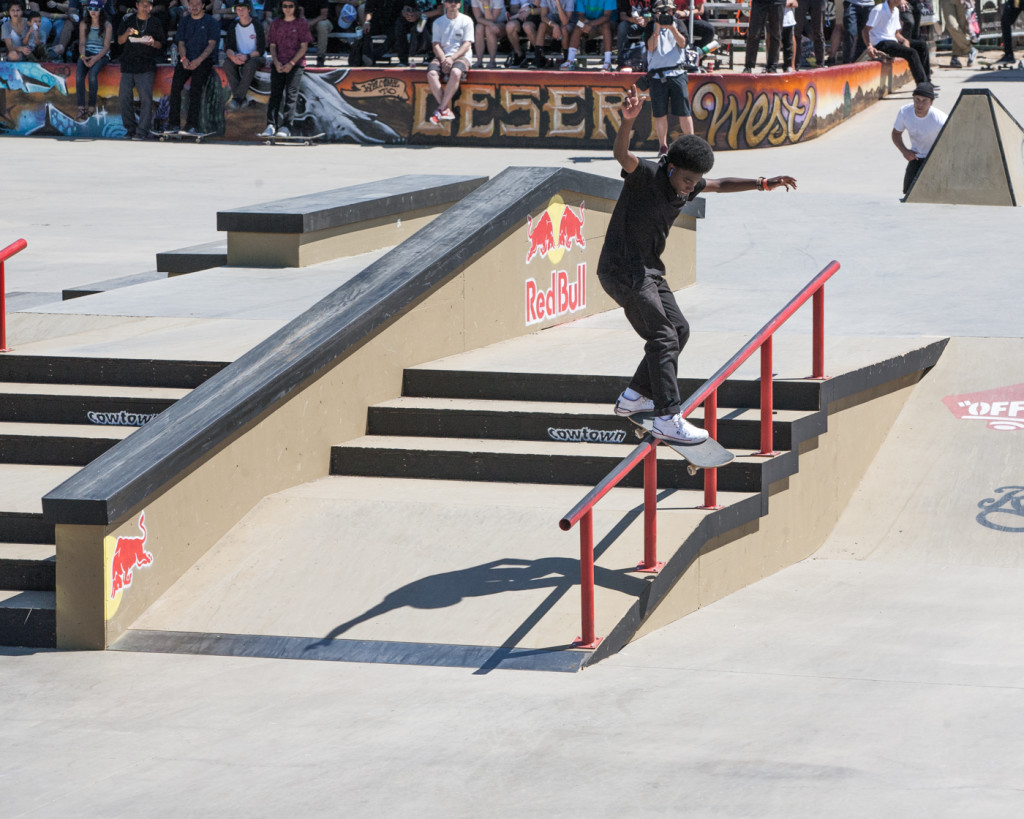 Blunts were a favorite on the rails, but front feebles were as well all weekend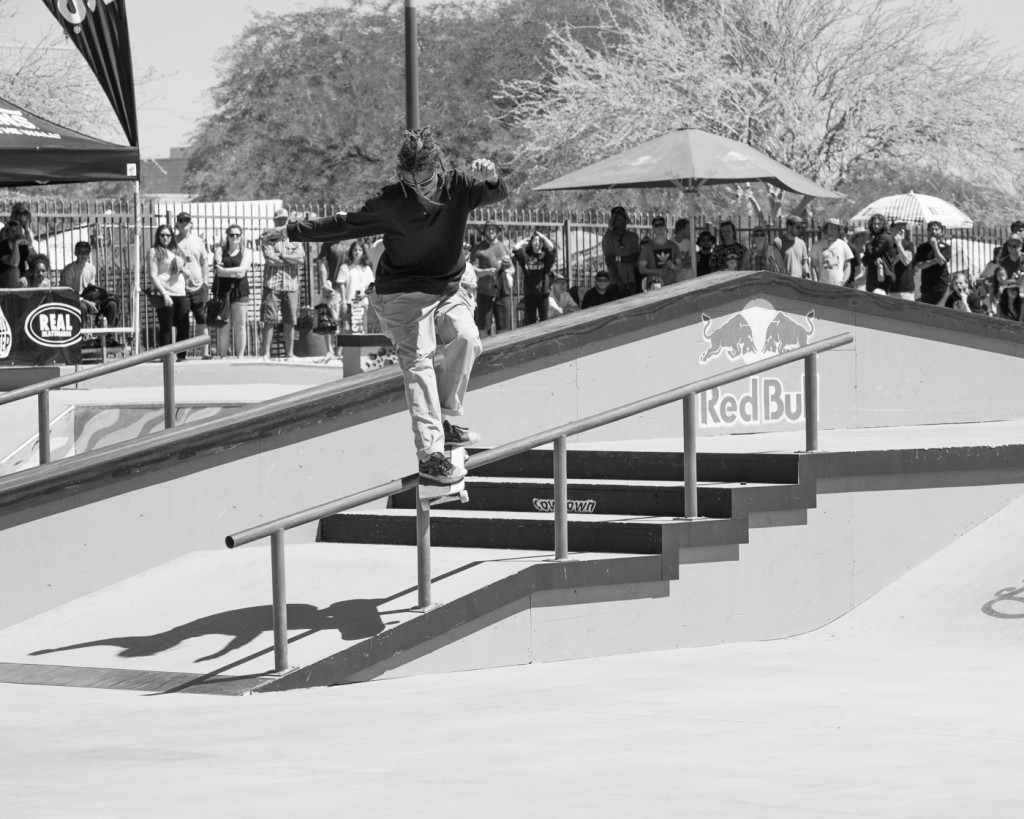 Look familiar?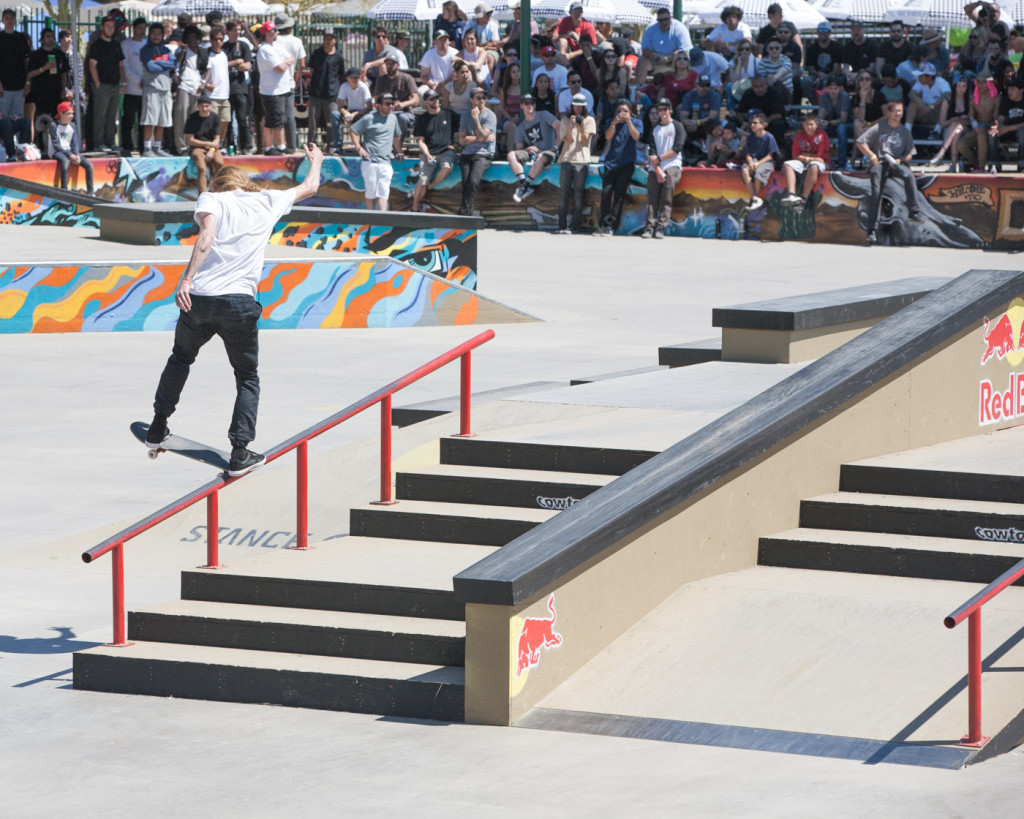 There seems to be a trend going on this year…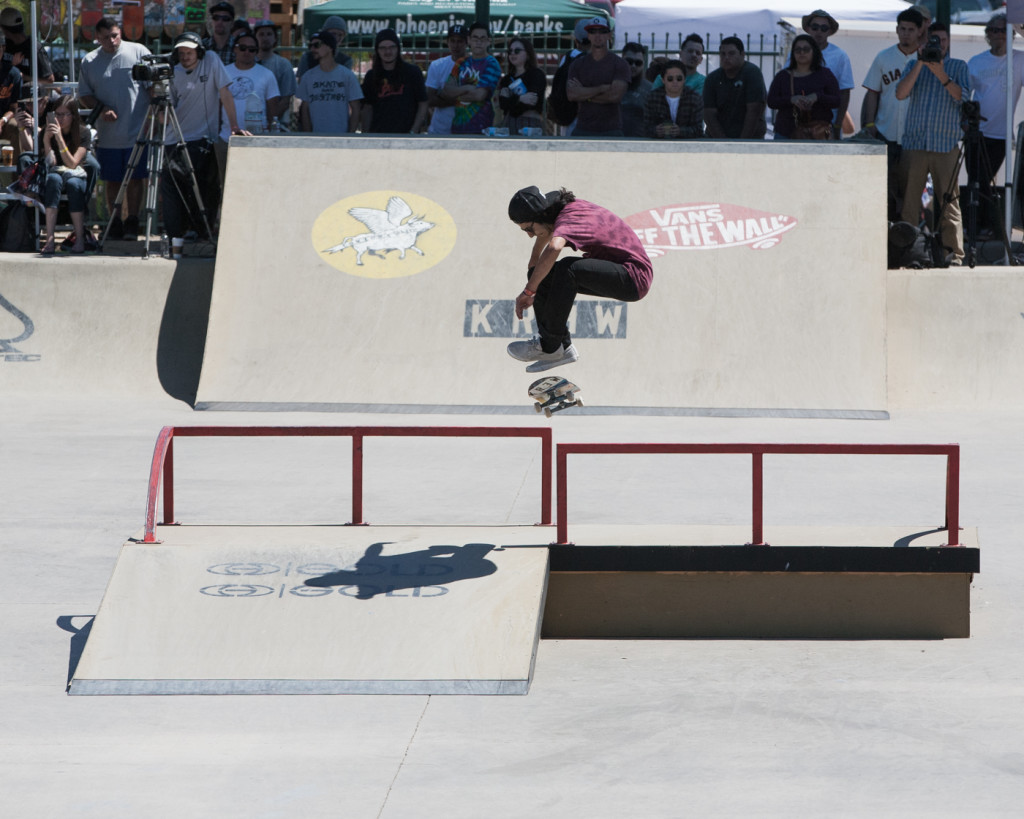 Took this Kickflip up and over and into a 50-50 down the bank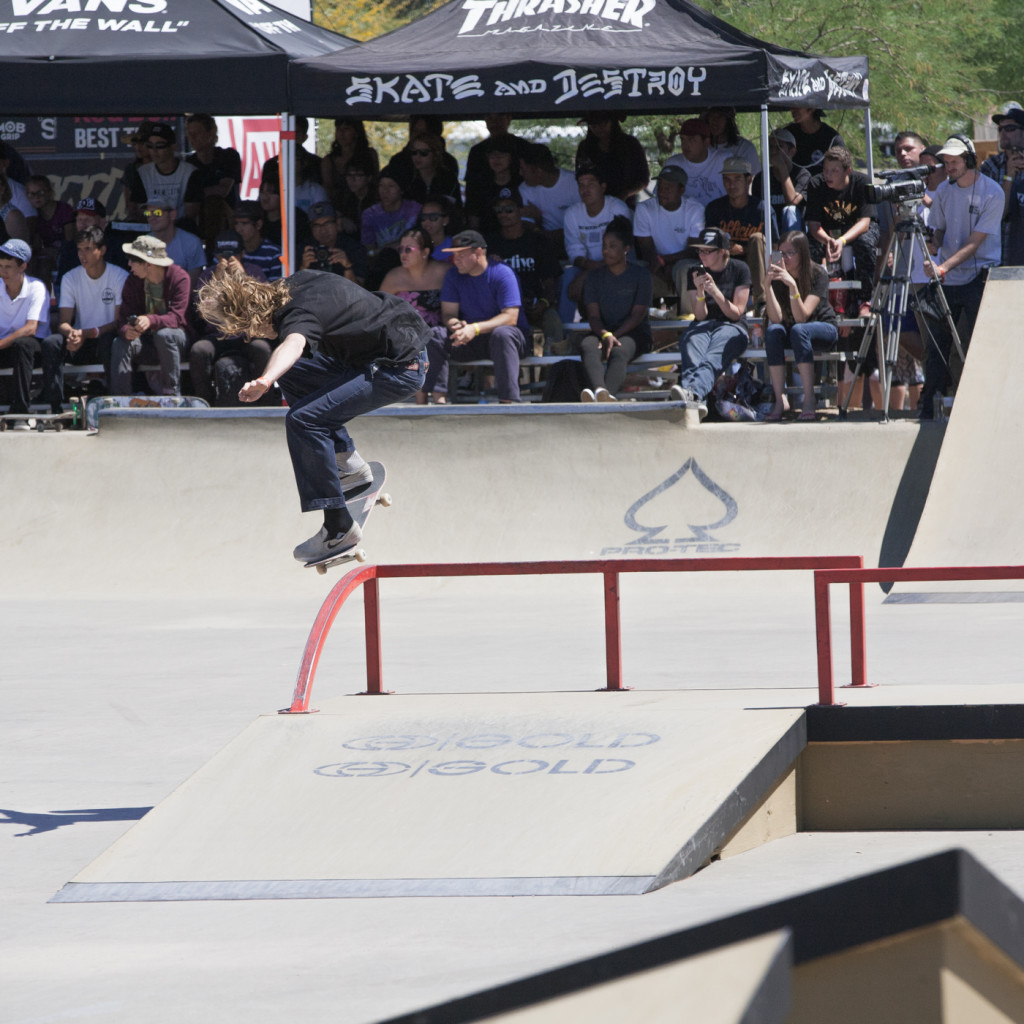 This fun obstacle saw a lot of action this weekend like this switch pole jam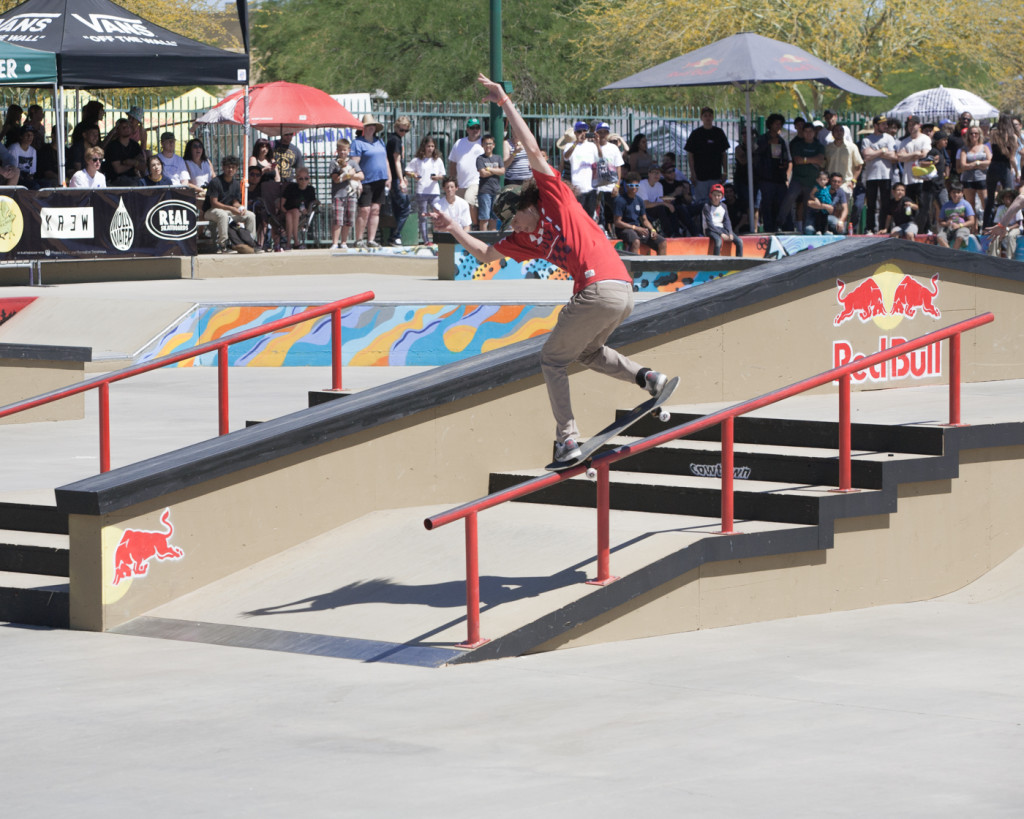 Thomas Turner doing all he can to hold onto this Overkrook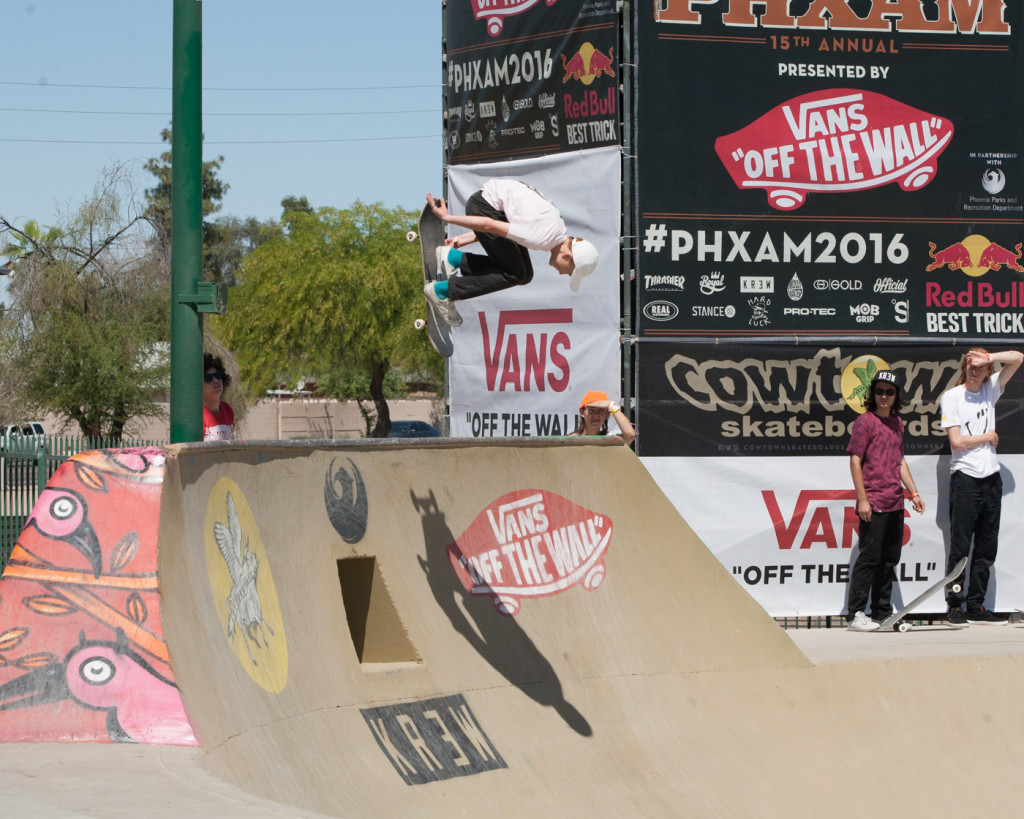 Roman Pabich has been charging the whole park and this photo came out amazing. Yes, he landed this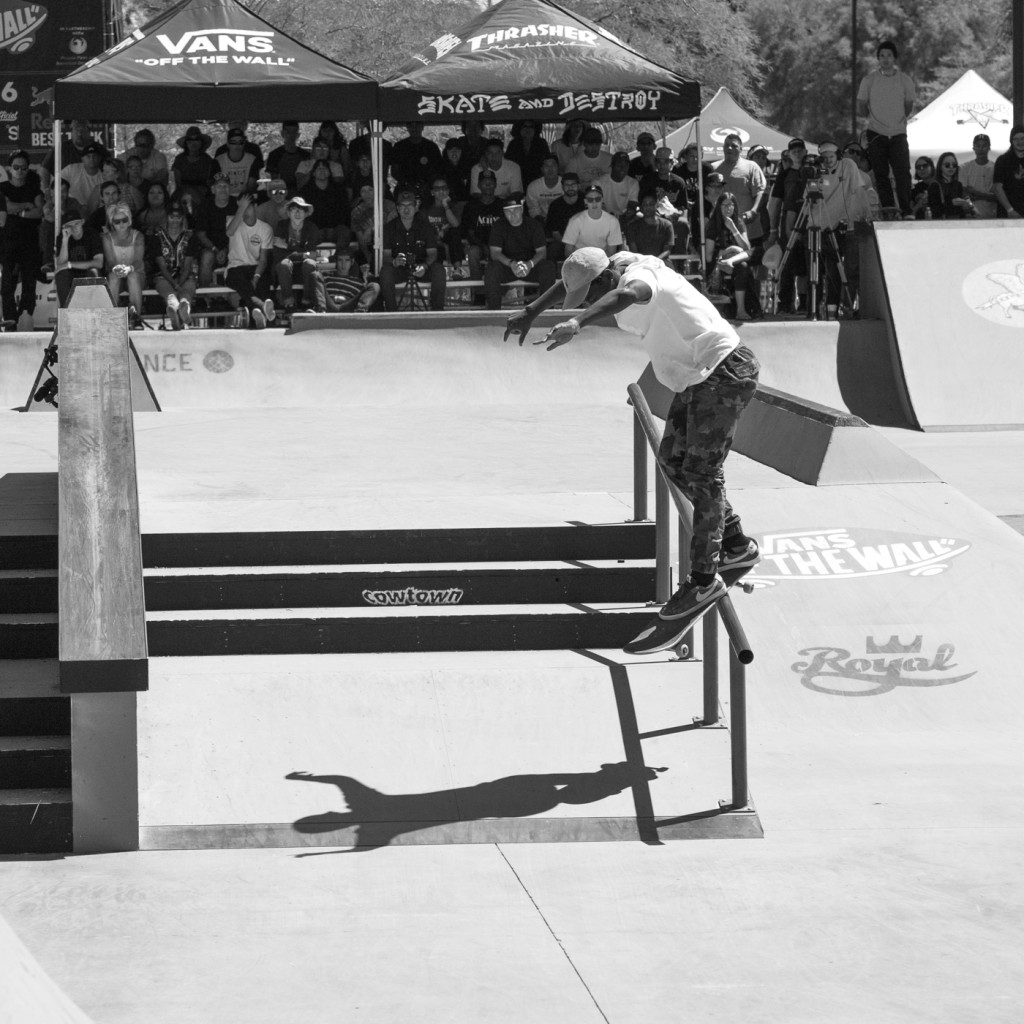 Zion Wright dipped with style on the effortless Back Smith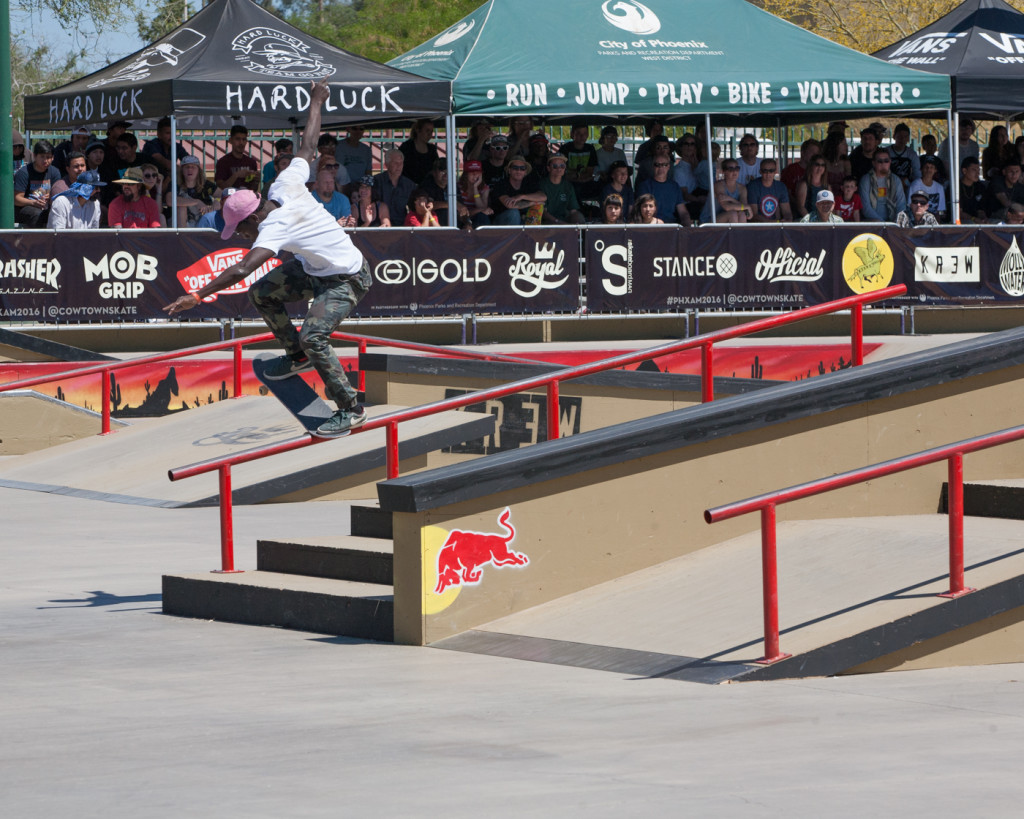 Front Noseblunt Zion Wright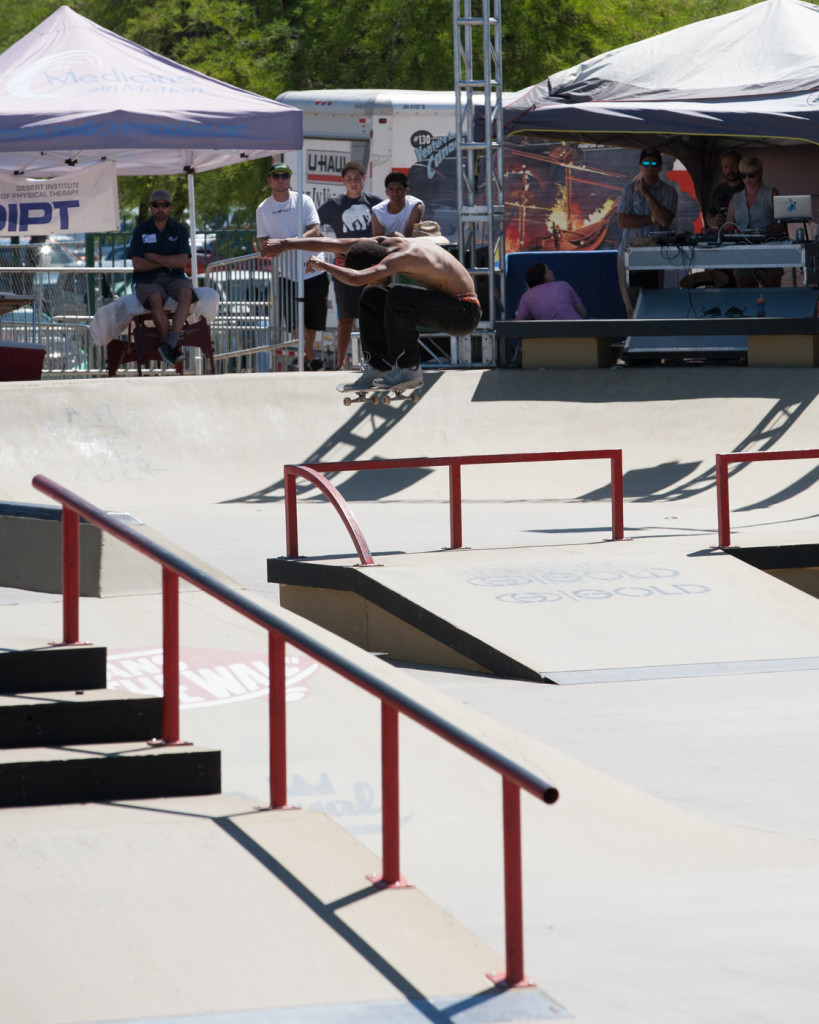 Corey Millet making the bump to bar look miniature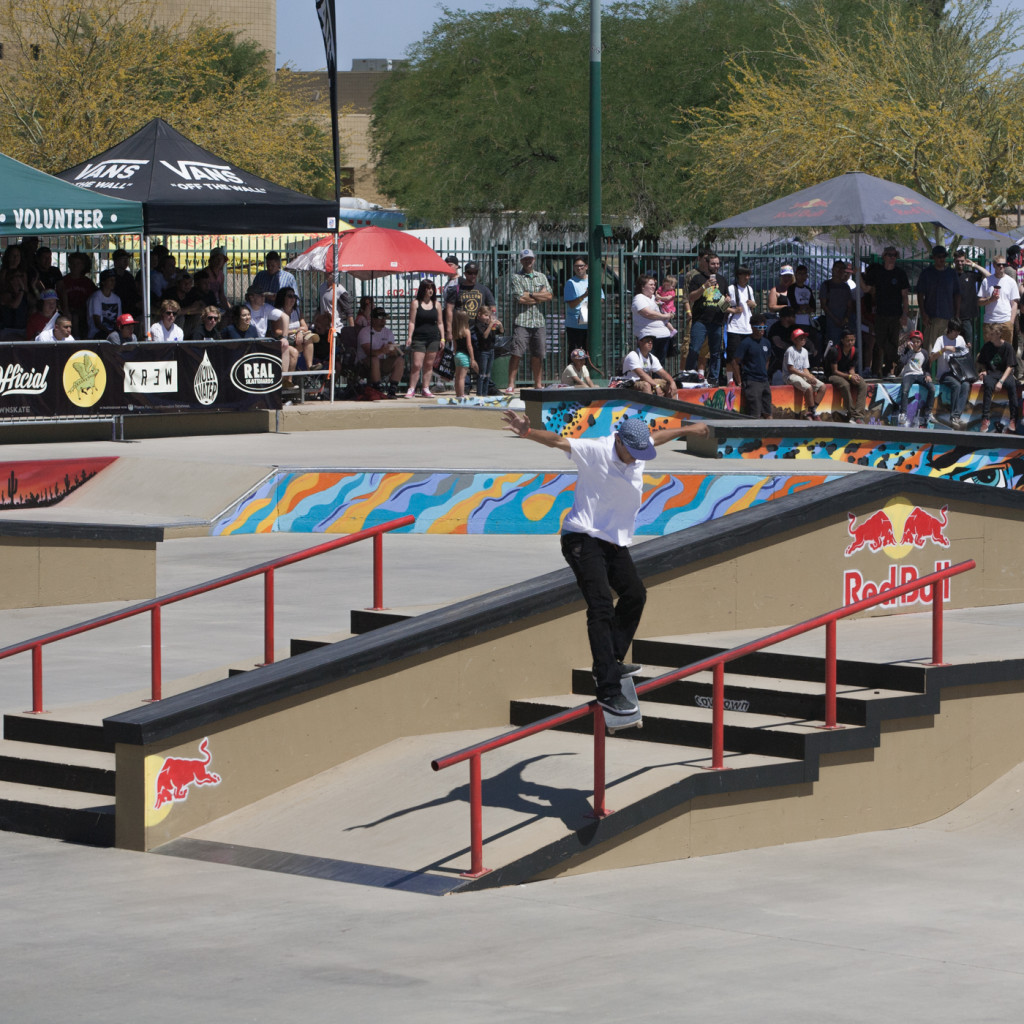 Alex Midler Front Feeble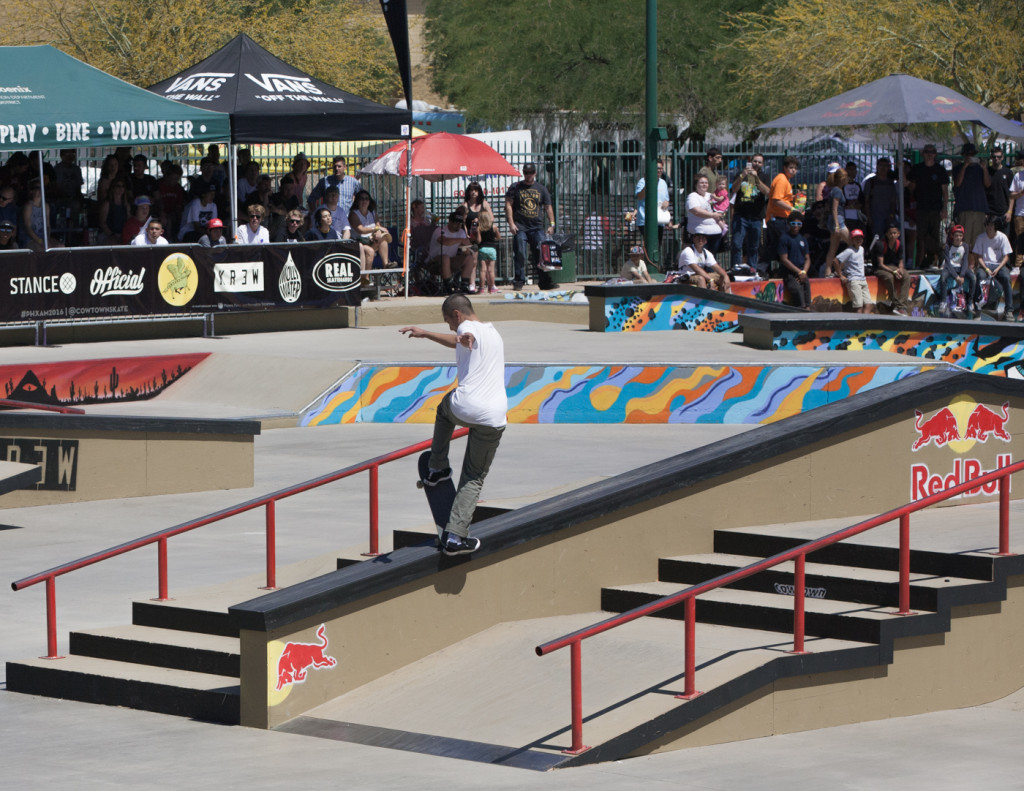 Jesus Algeria took this front blunt to the finish line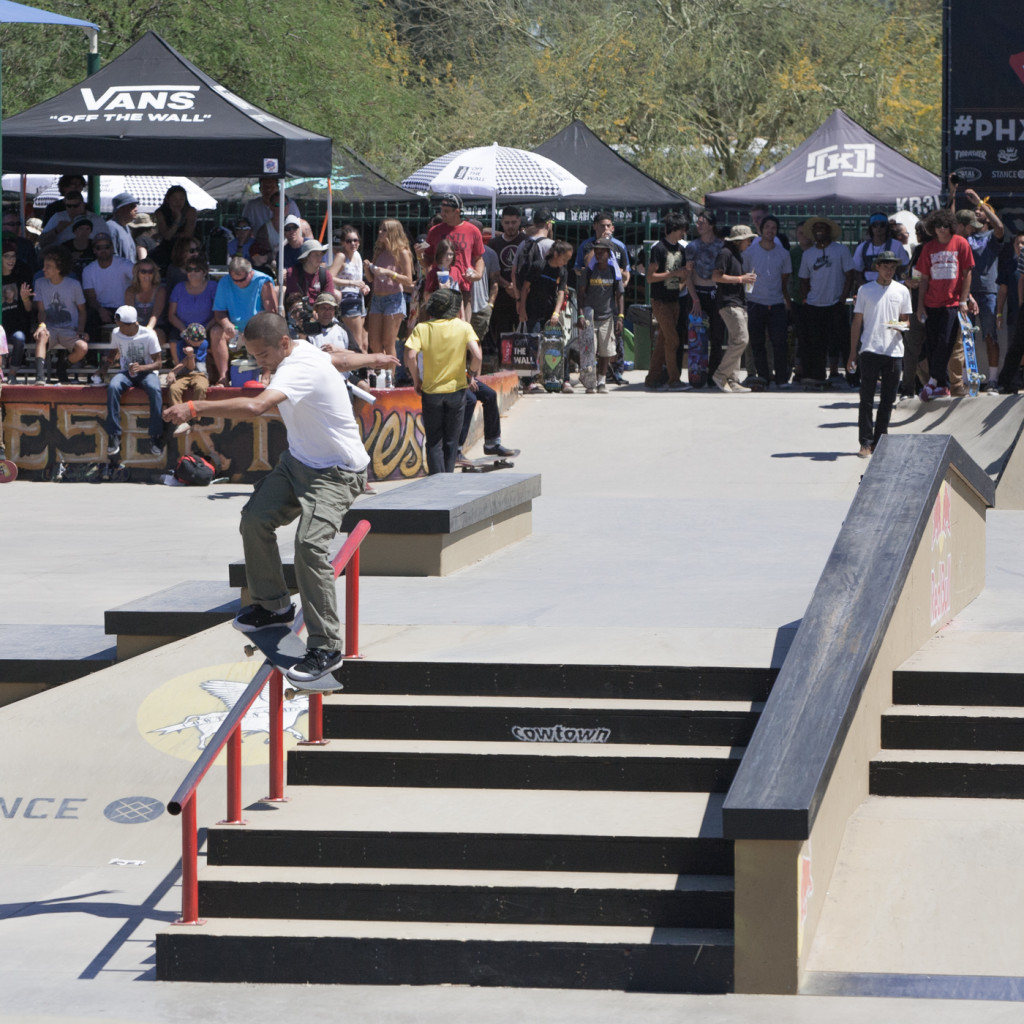 Front Smith down the most popular rail in the park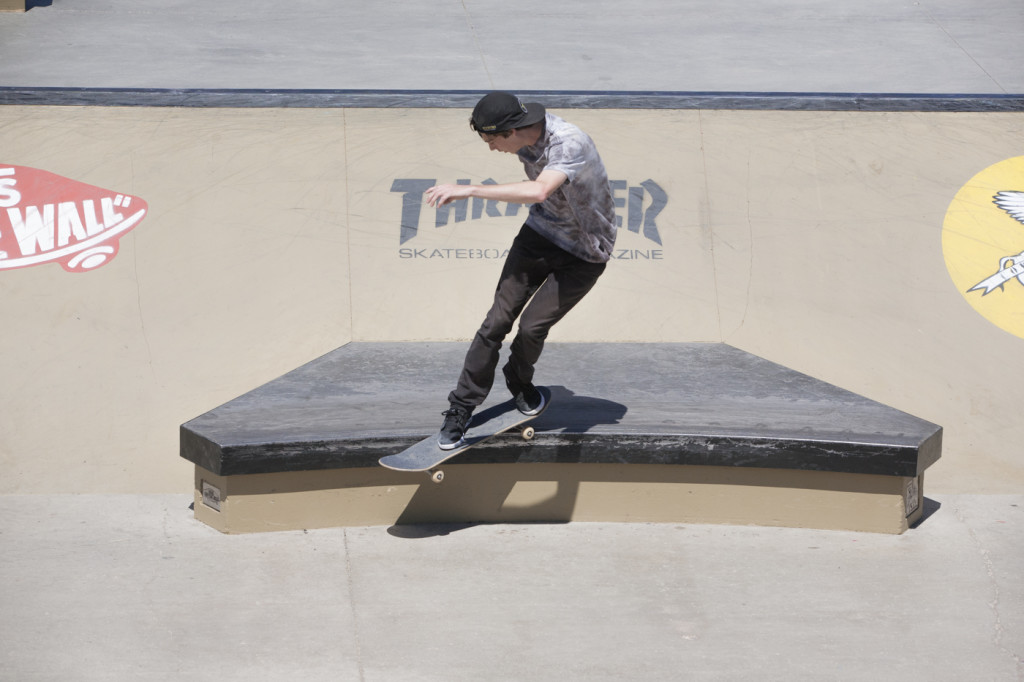 A rare trick on the China Bank ledge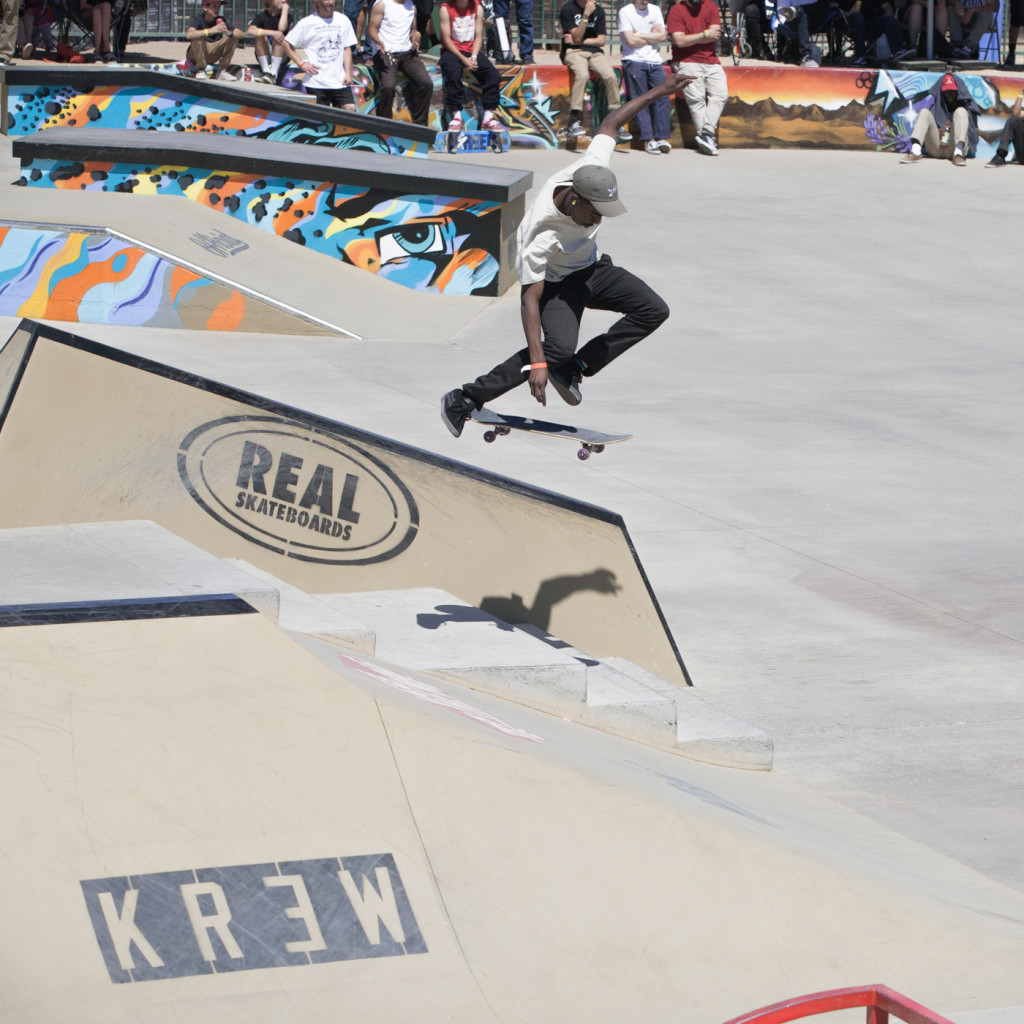 Berronte Ramirez with a ridiculously stylish hard flip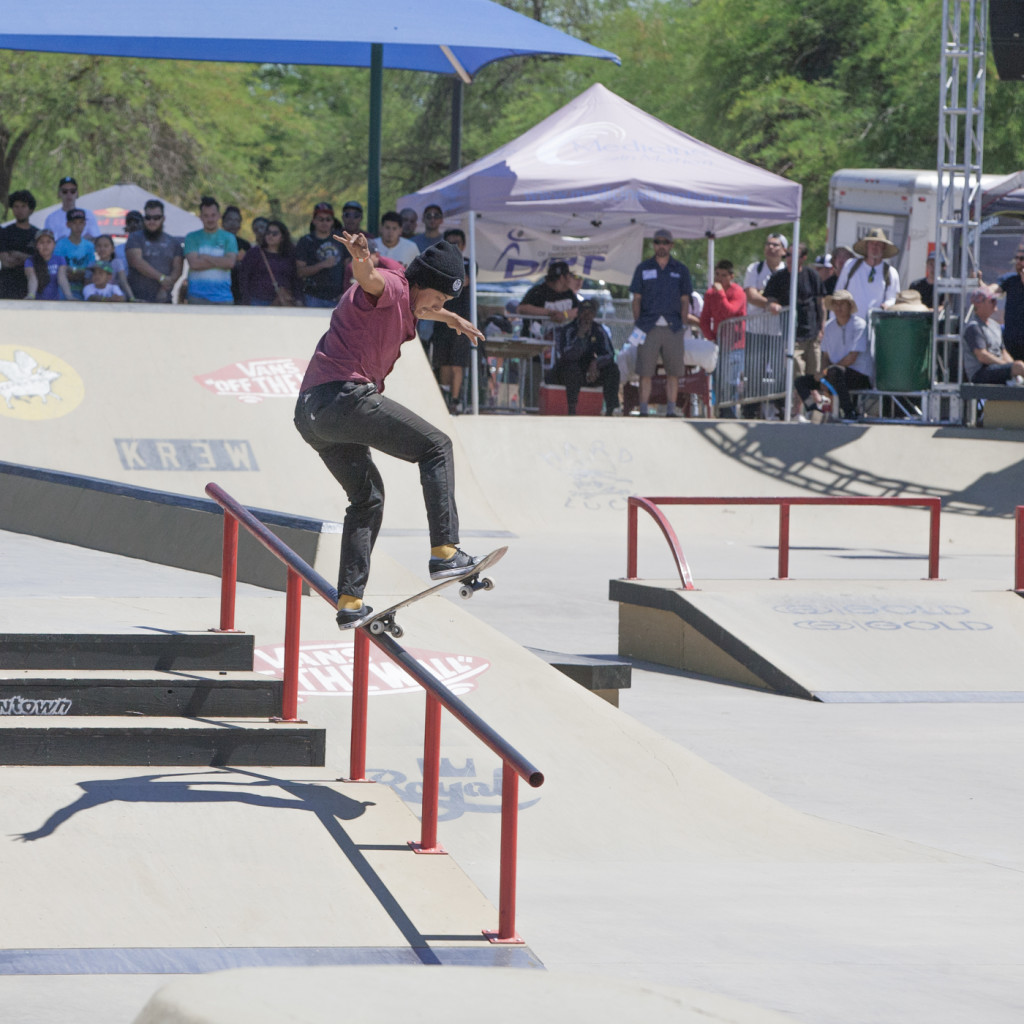 Bryant Chapo brought the Salad grind back to PHXAM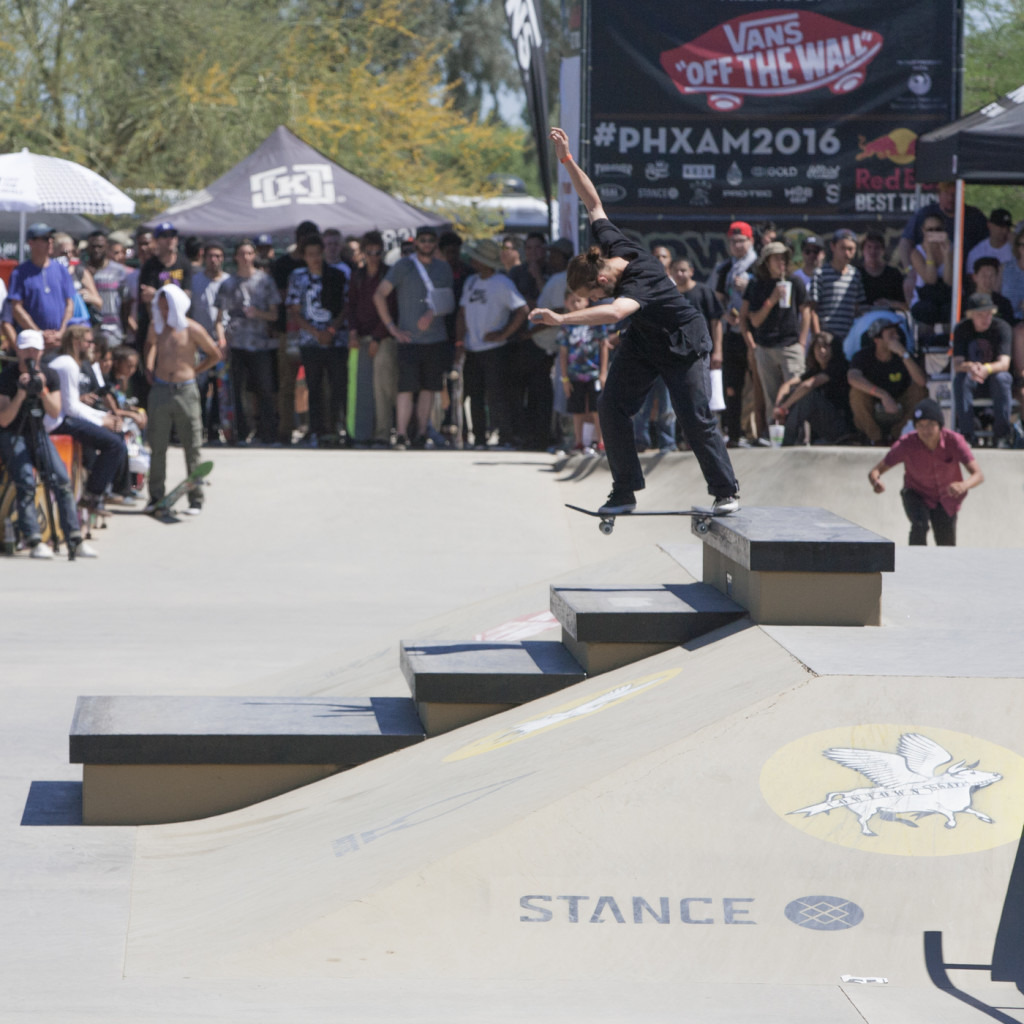 Kevin Braun did this Back Tail every try in every one of his runs this weekend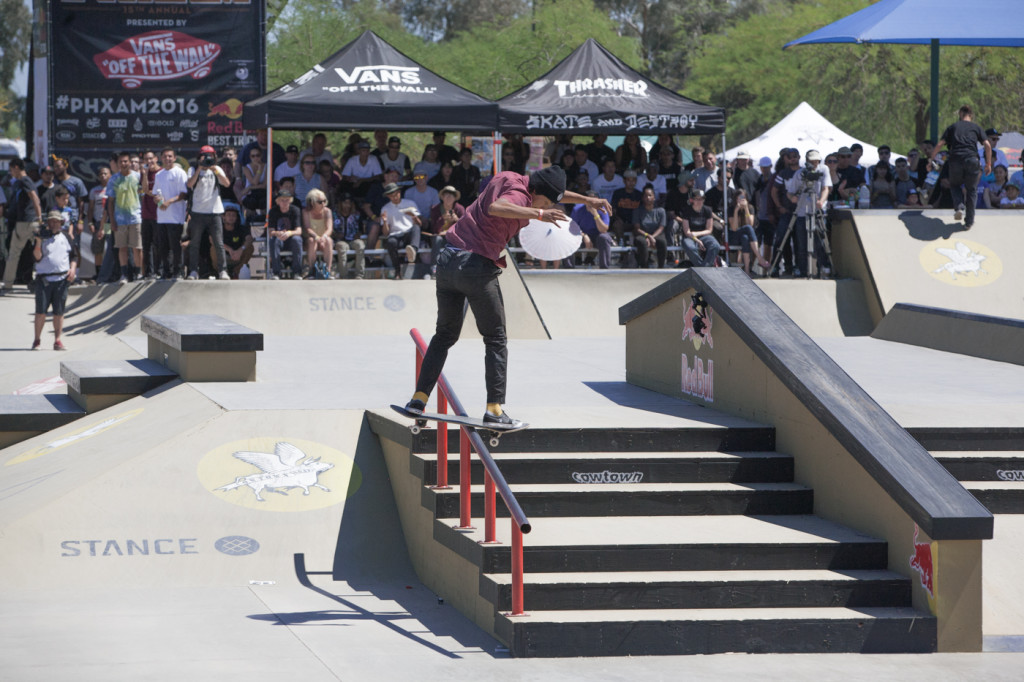 Bryant Chapo finished 1st in the Semi's without missing tricks and hitting all the obstacles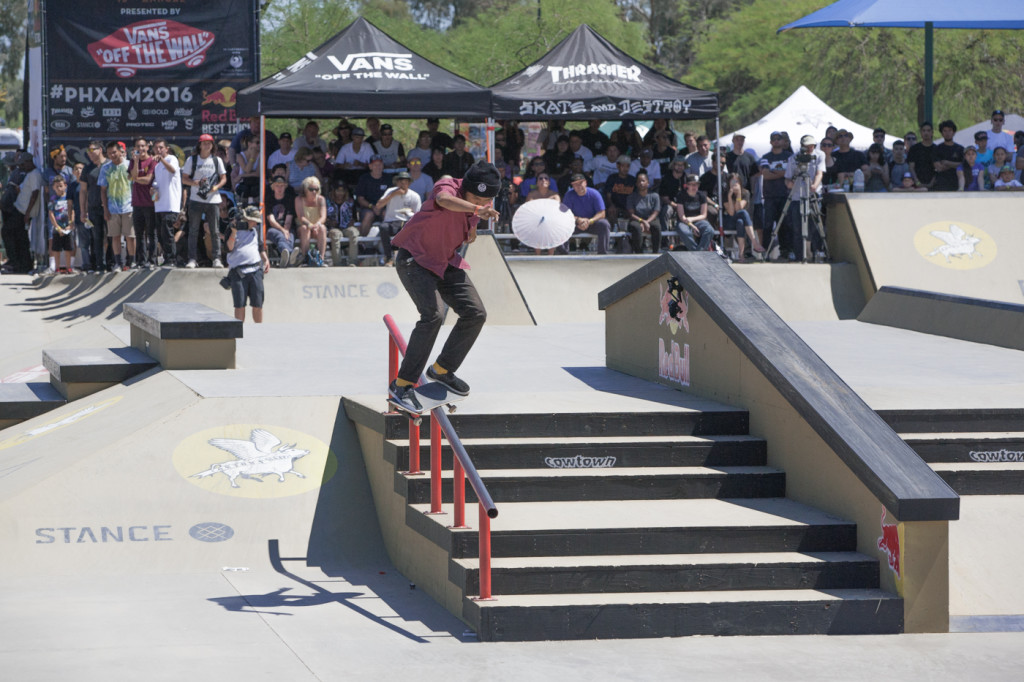 He did favor this rail though, and did a 5-0 kick flip out on it to end his run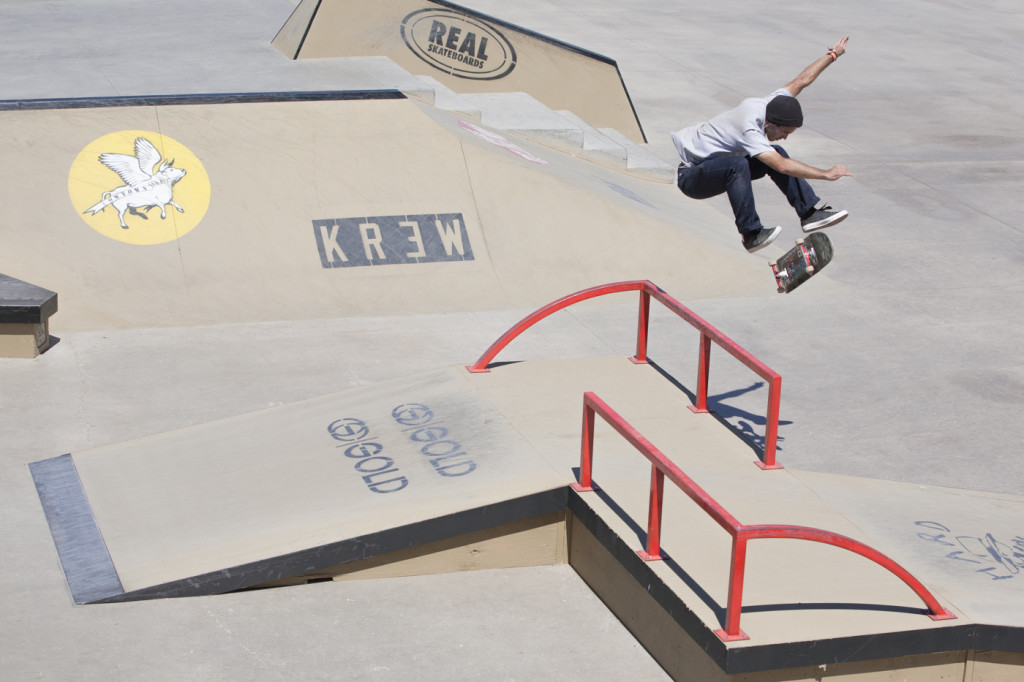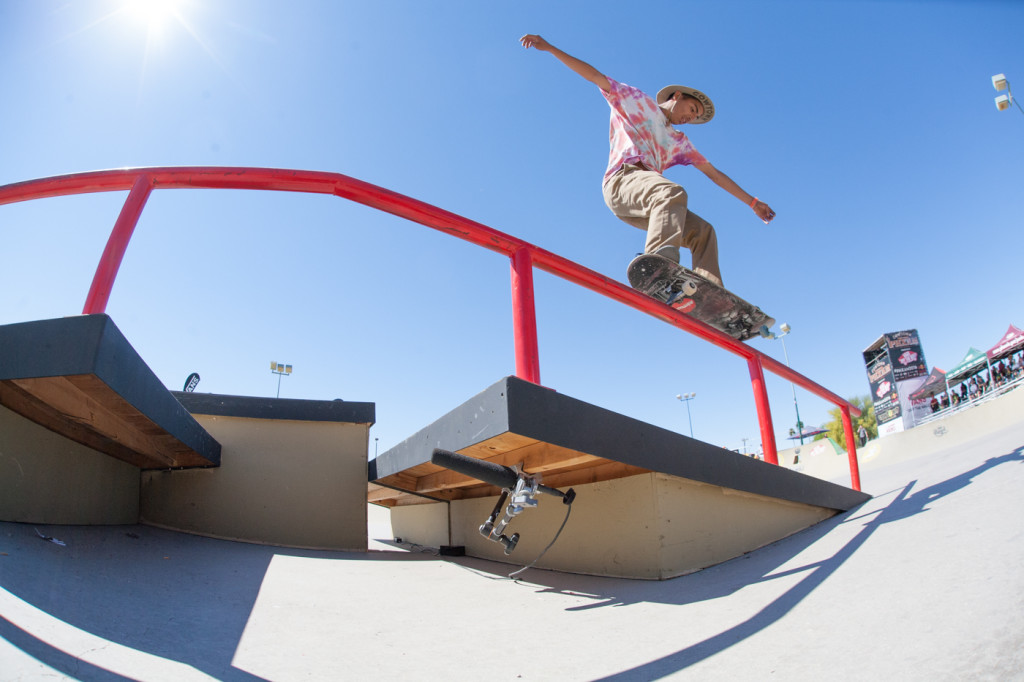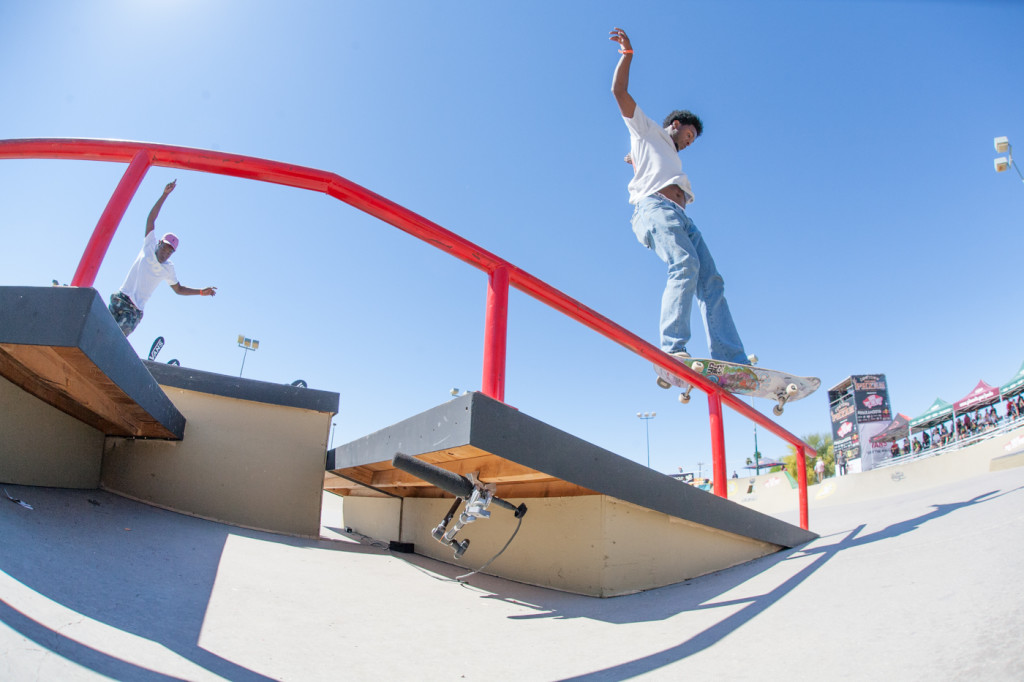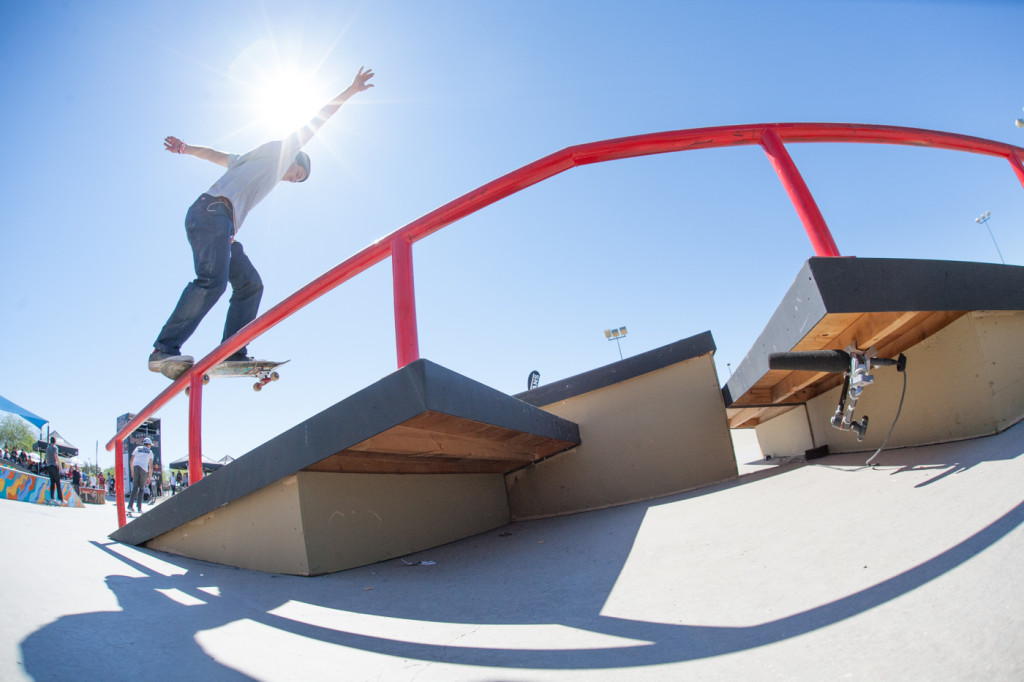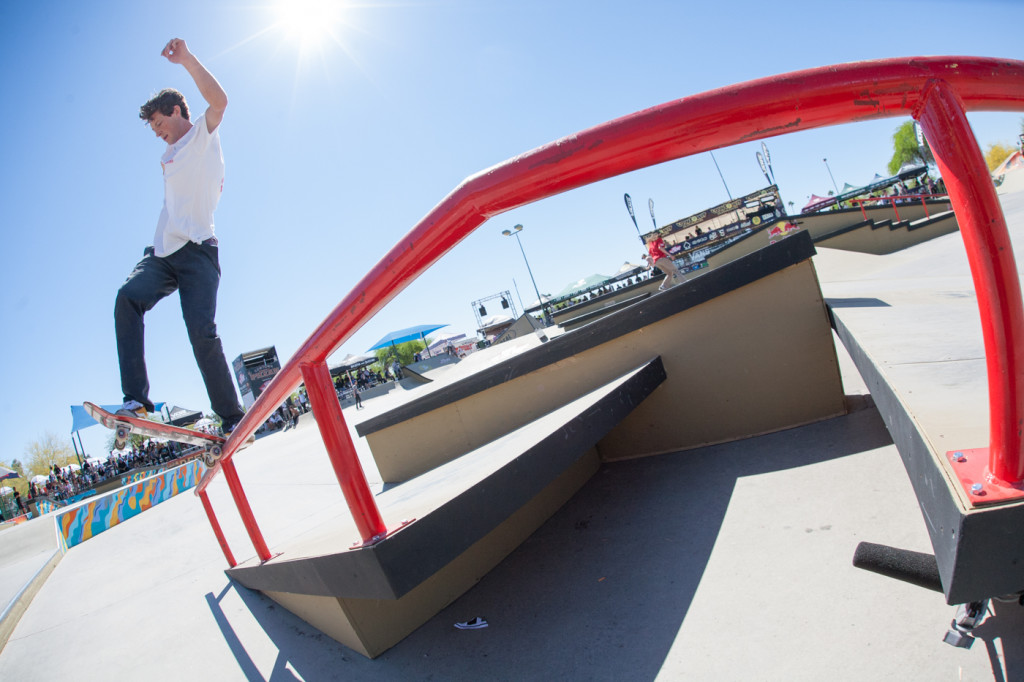 Michael Eddie sits on this gap to front blunt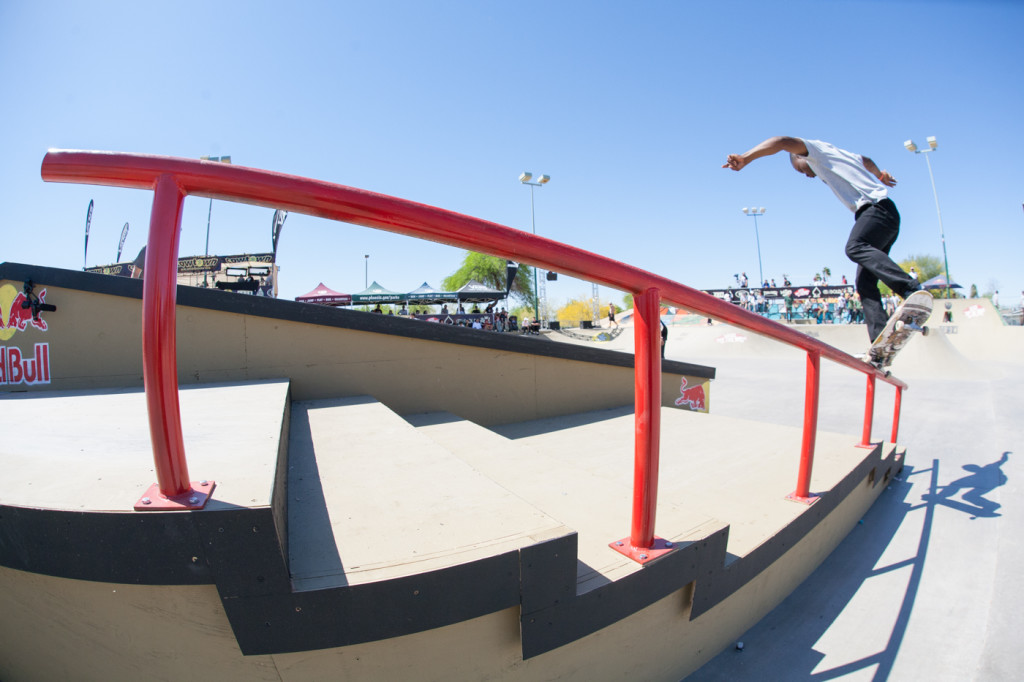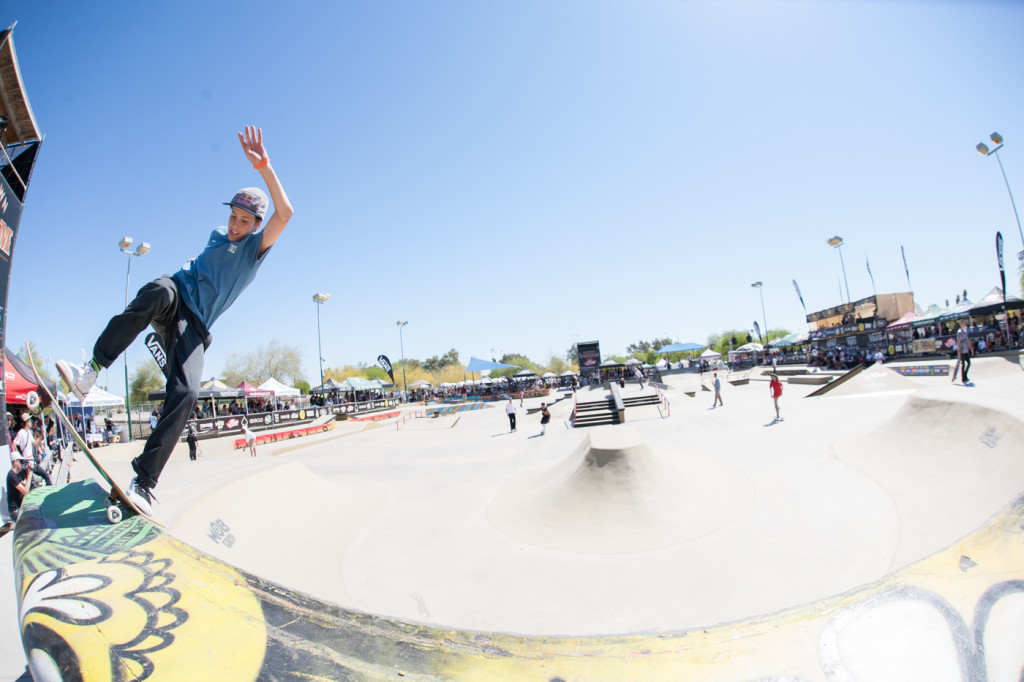 Jagger Eaton in the deep end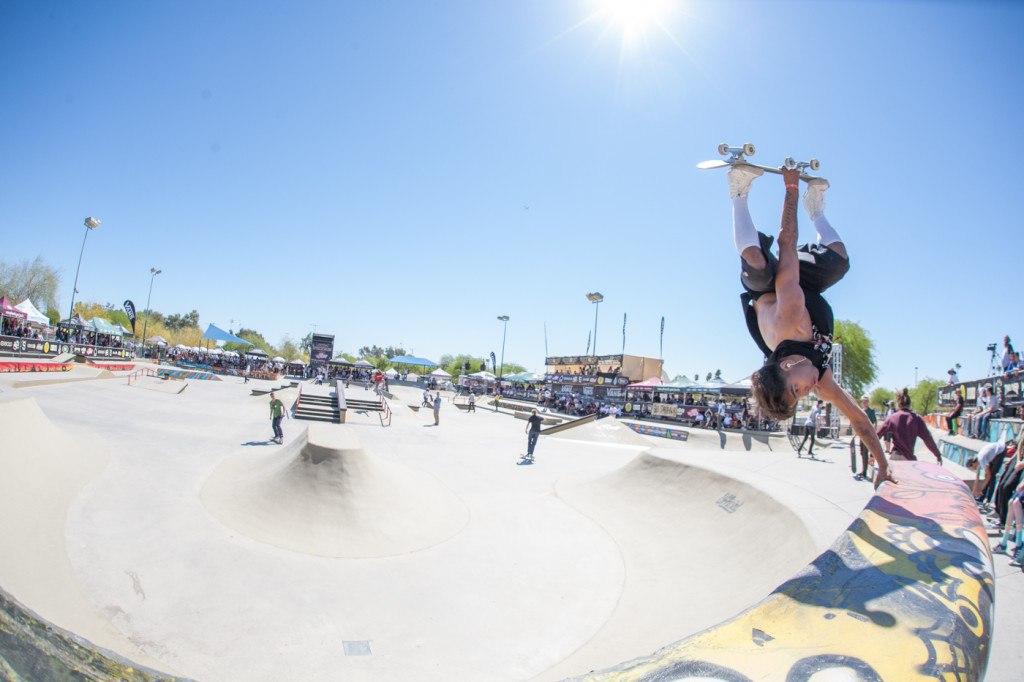 Adrian Hernandez gets upside down on the back wall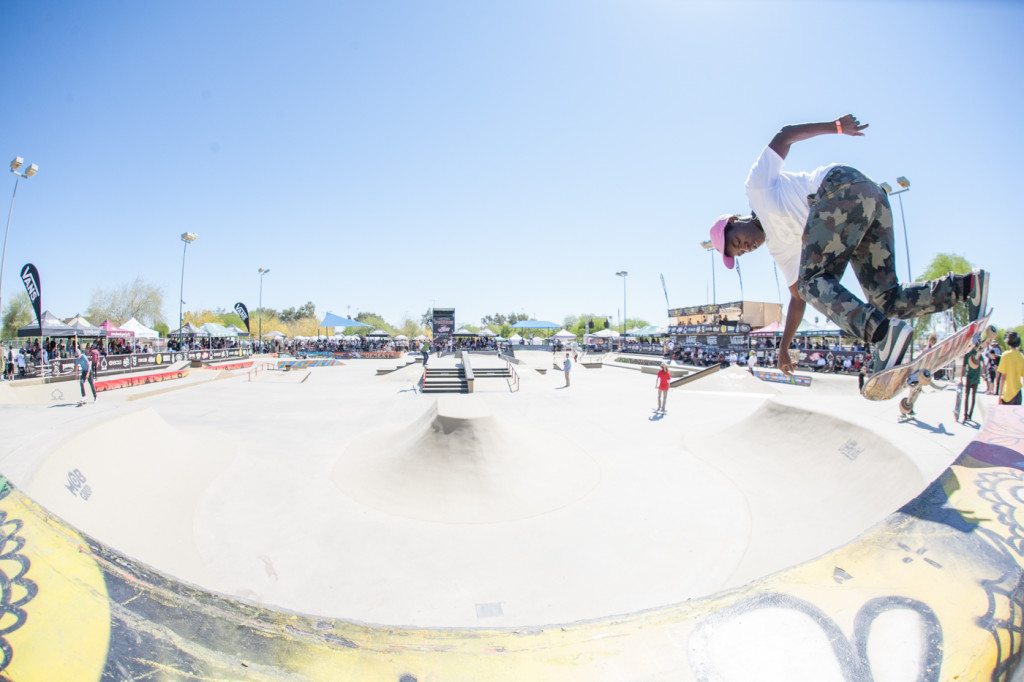 Zion did it all, technical wizardry and blasting on the big trannies
Lefty was a crowd favorite and killed in in his semi's run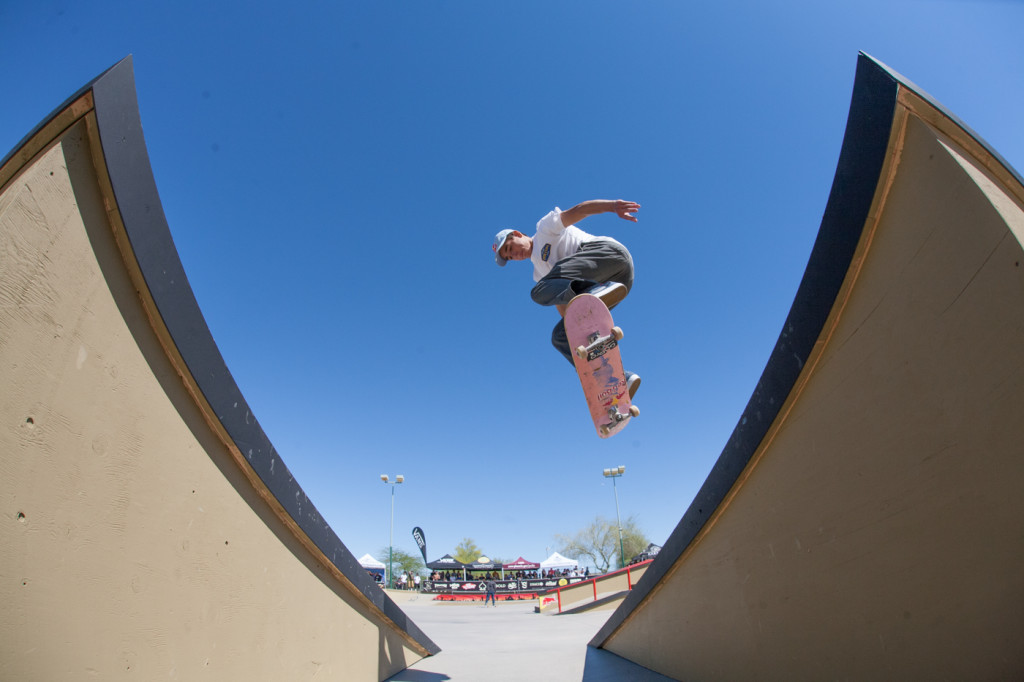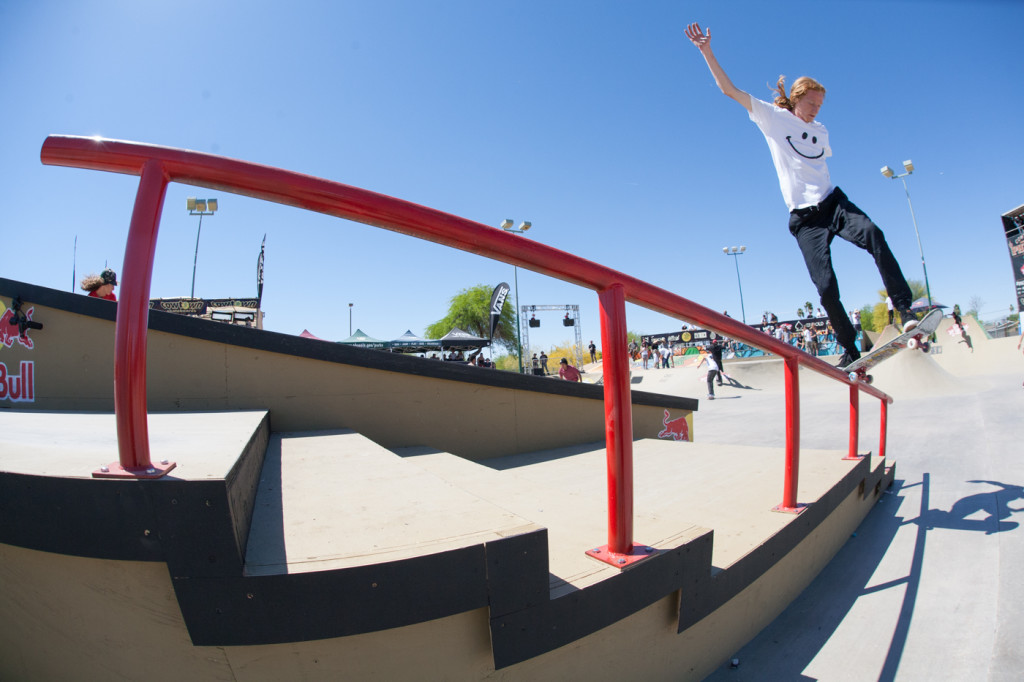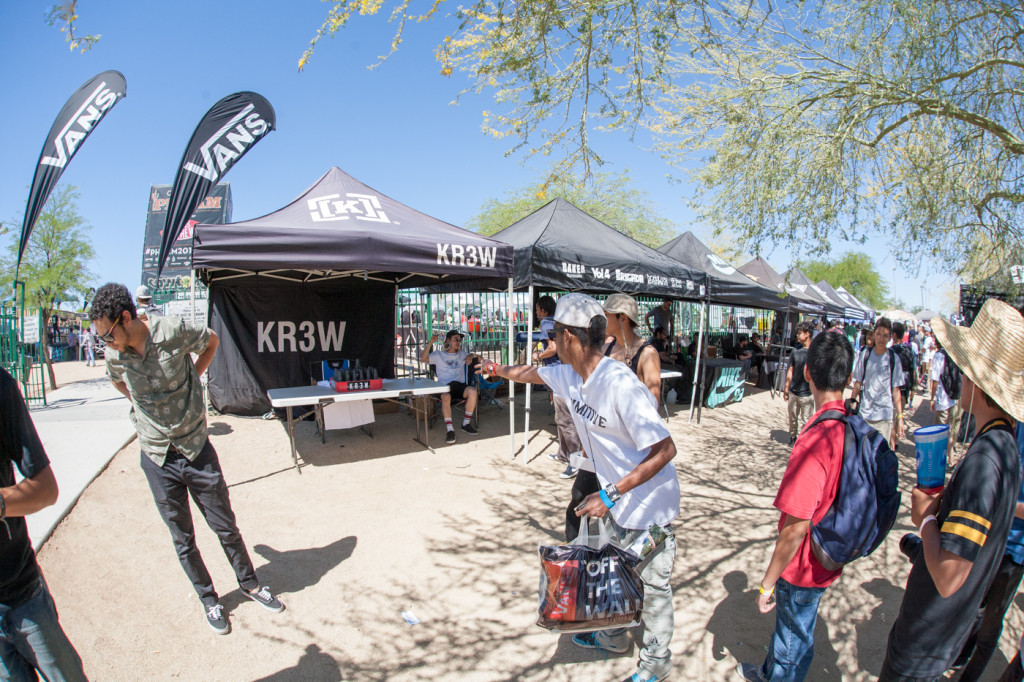 A quick break in the action for some fun and games in Tent City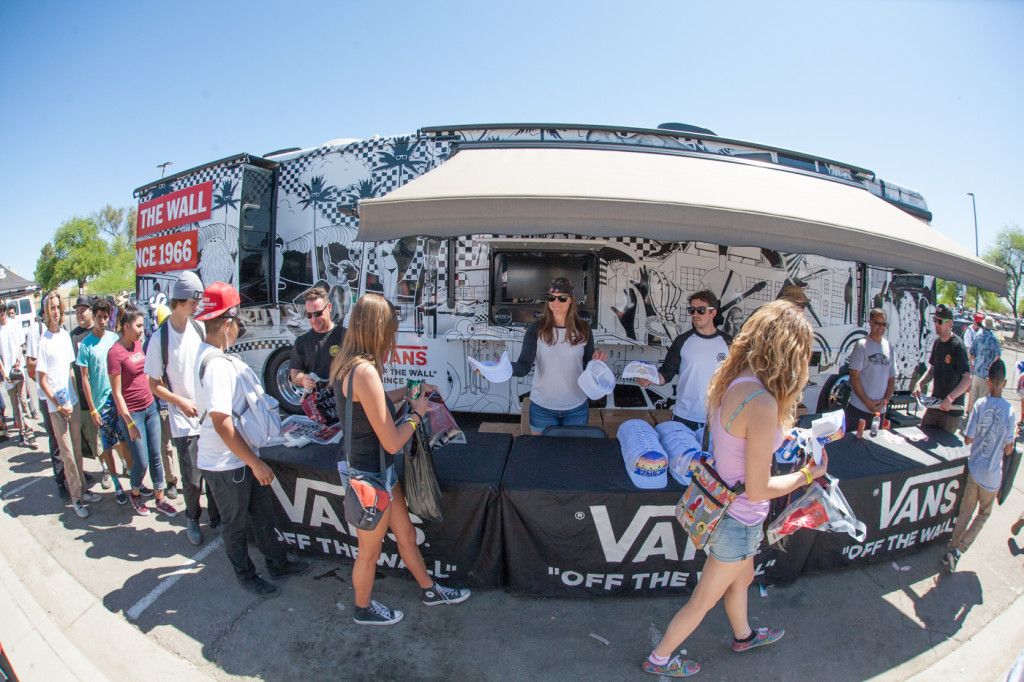 Vans hooked up free goods all weekend long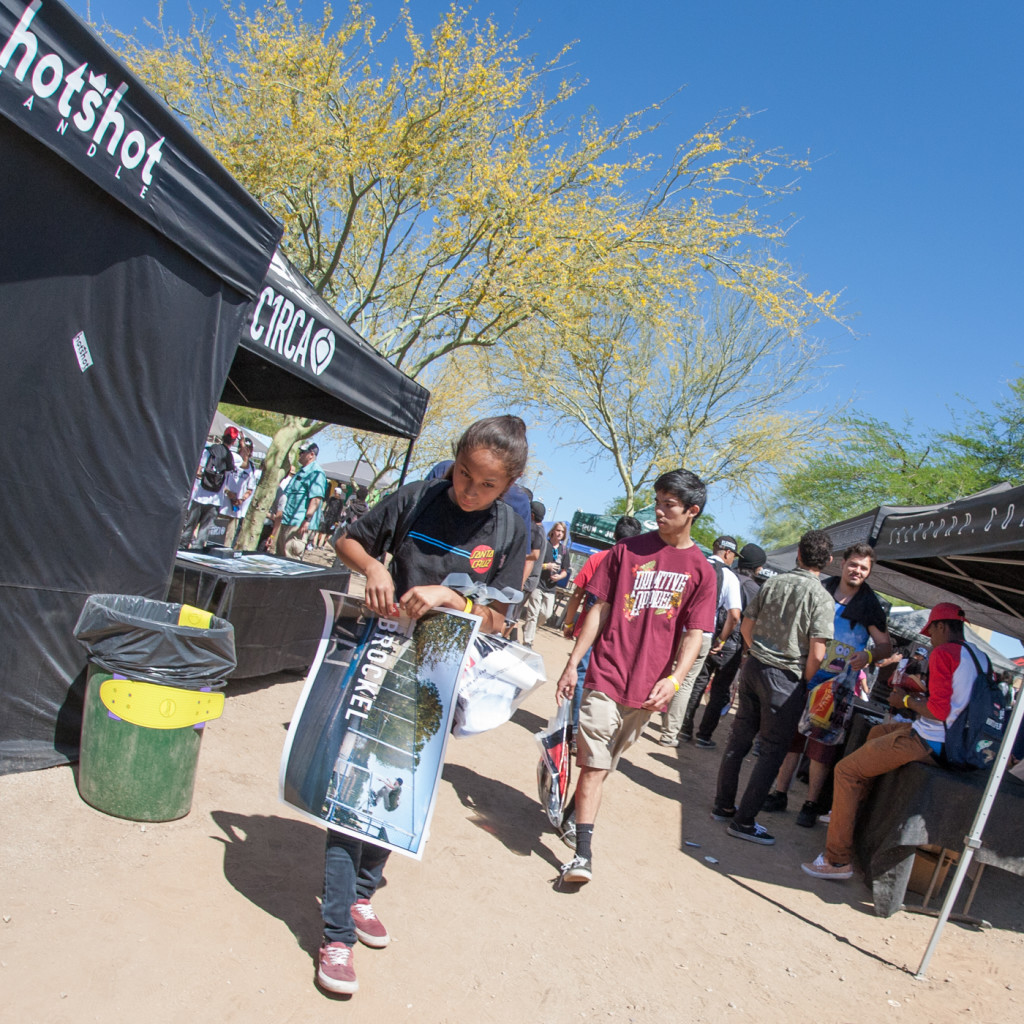 Scored a sick Robbie Brockel poster at the C1RCA tent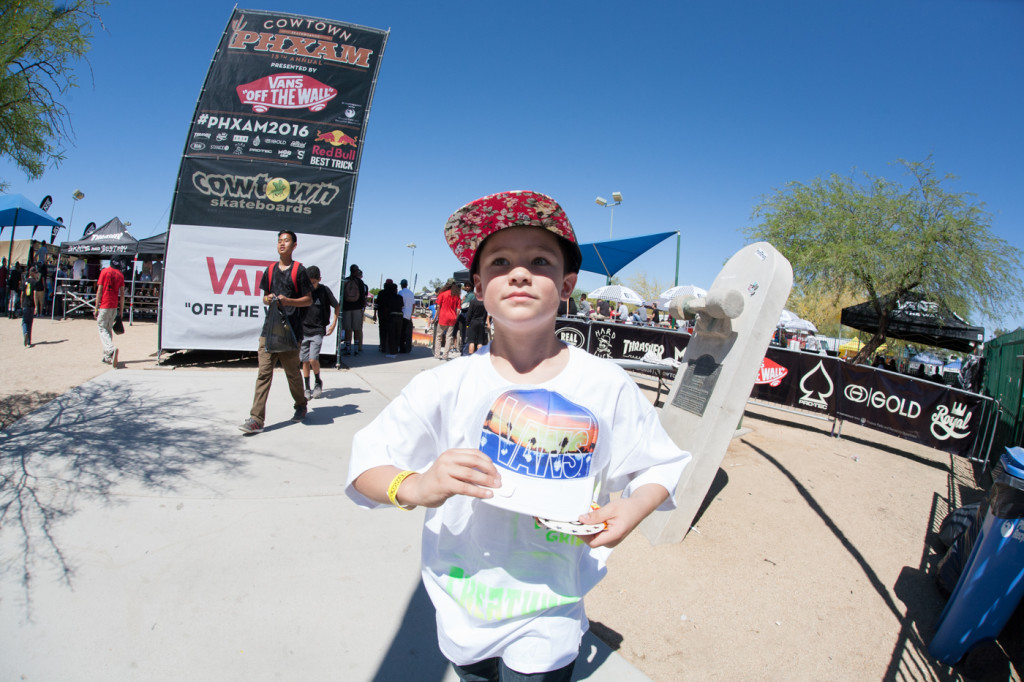 Lil dude is stoked on the new Vans hat he came up on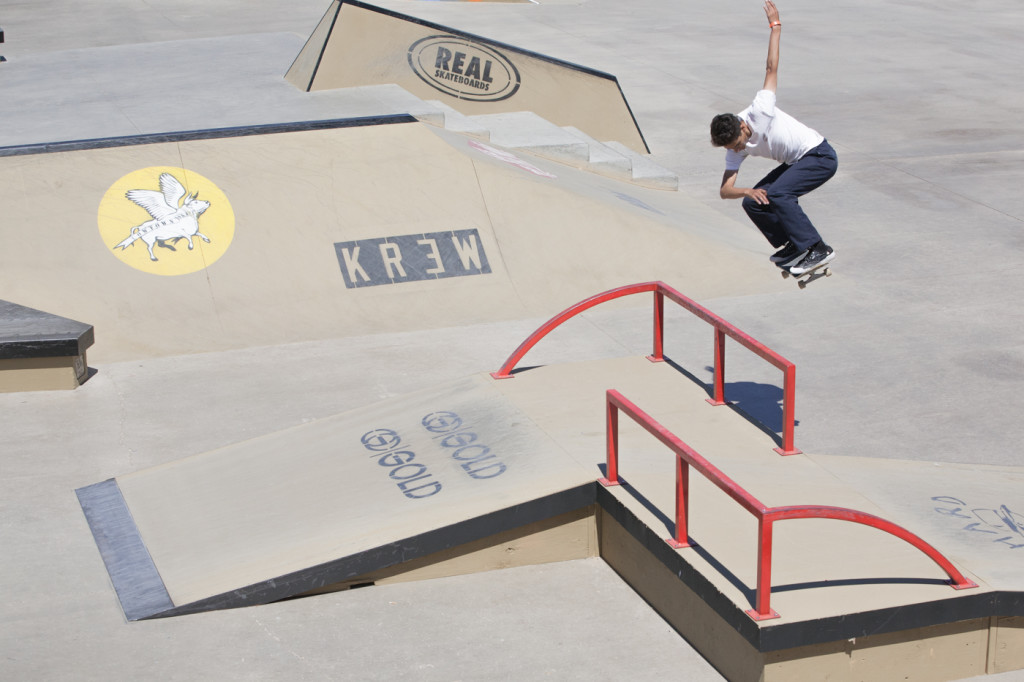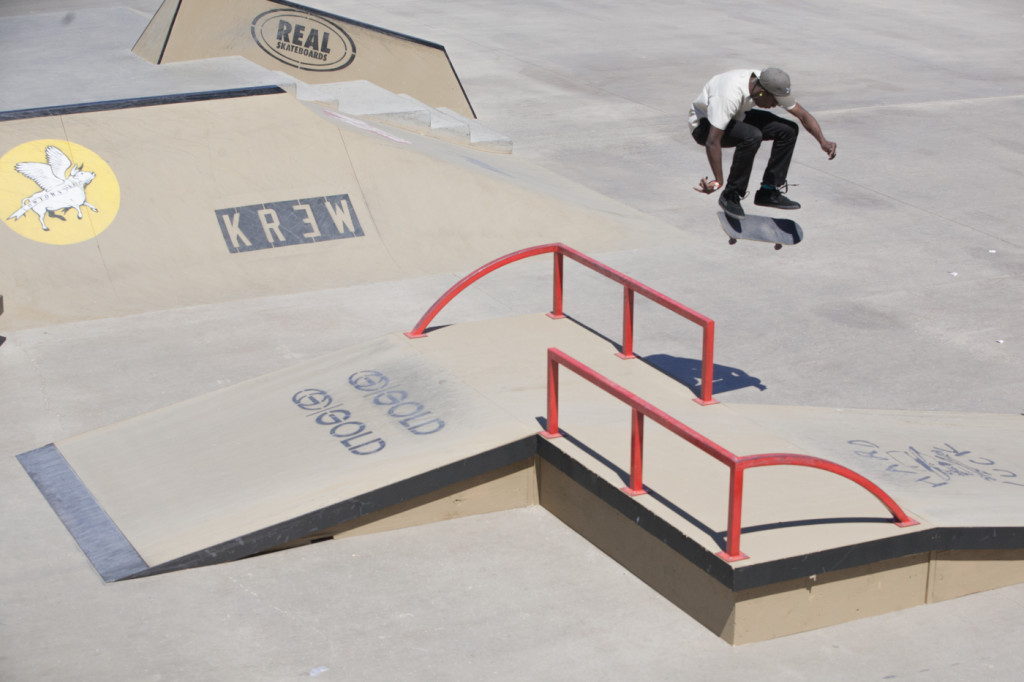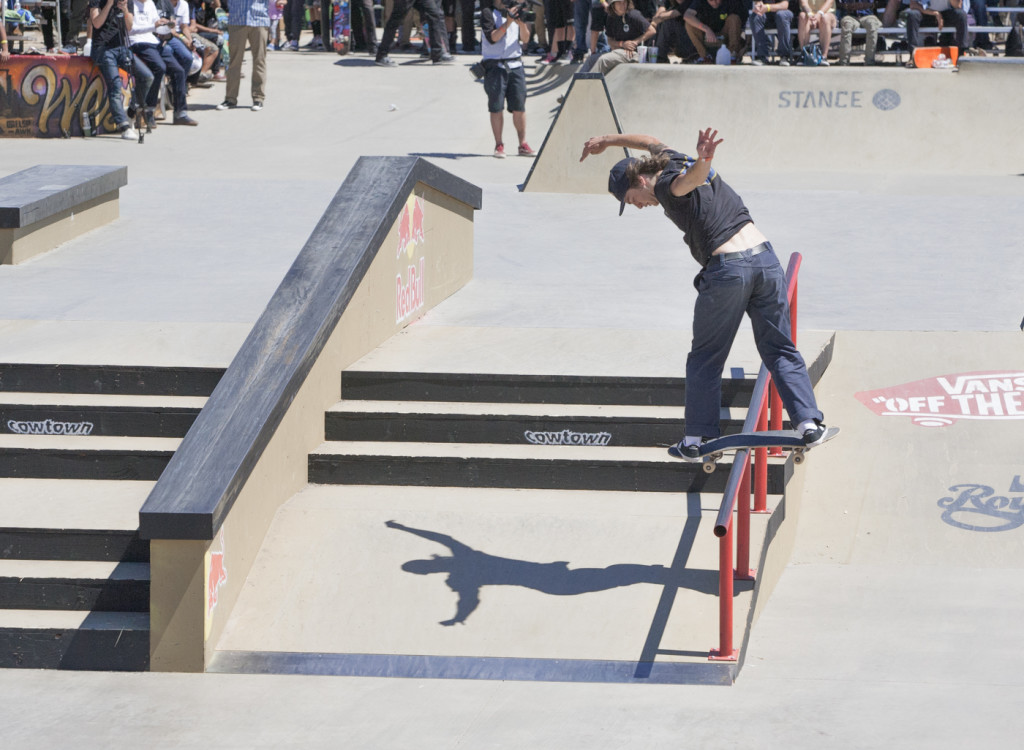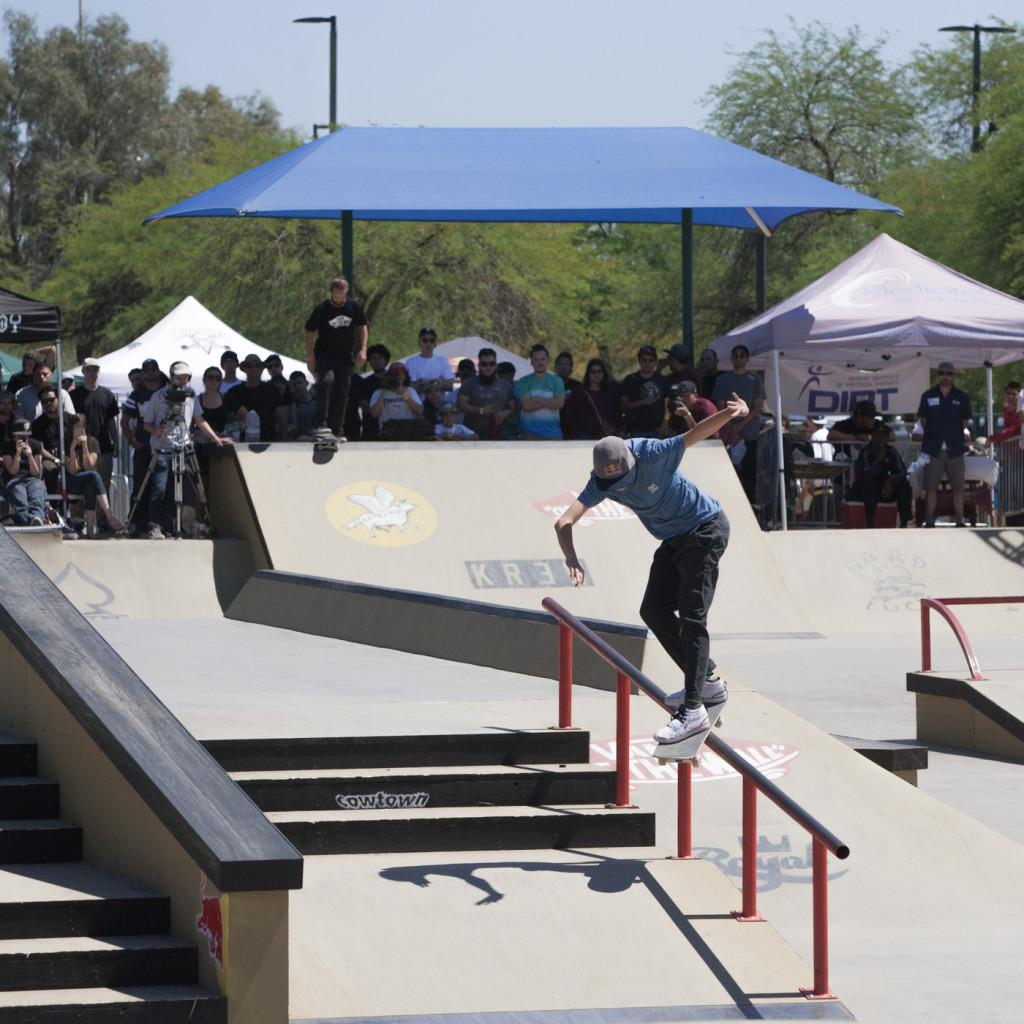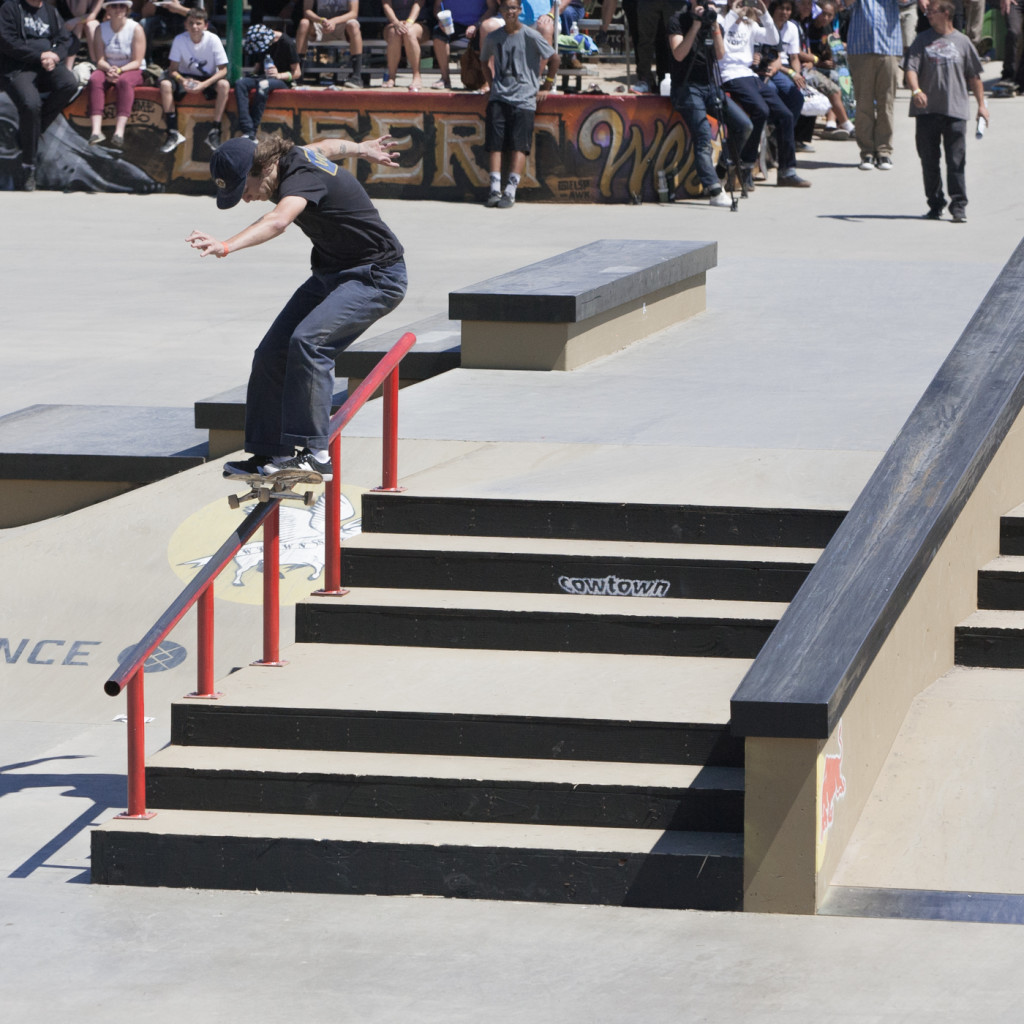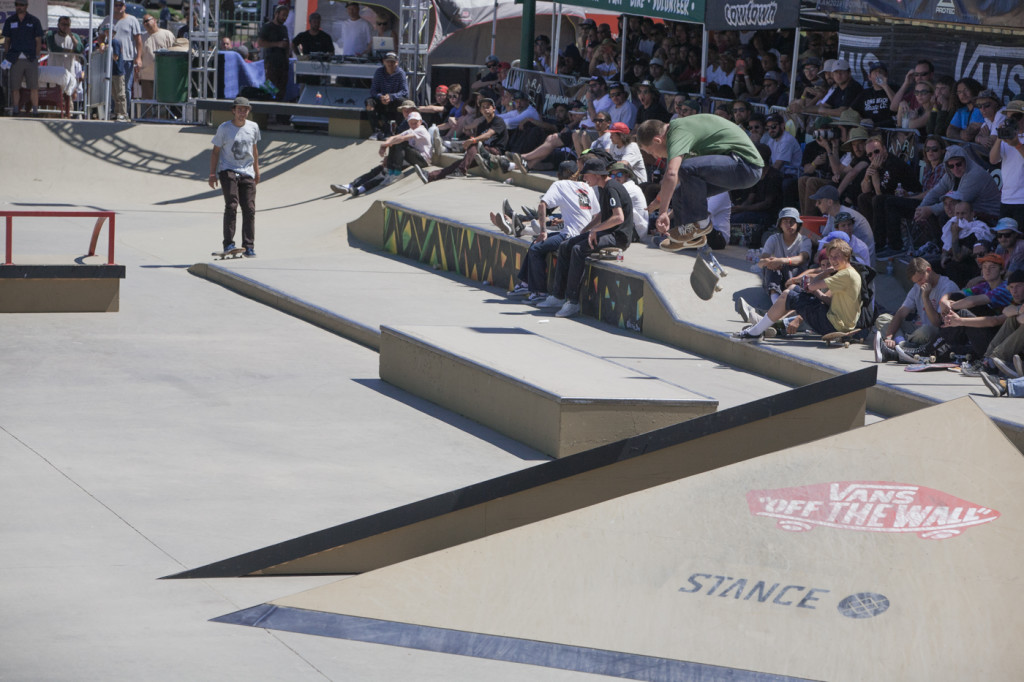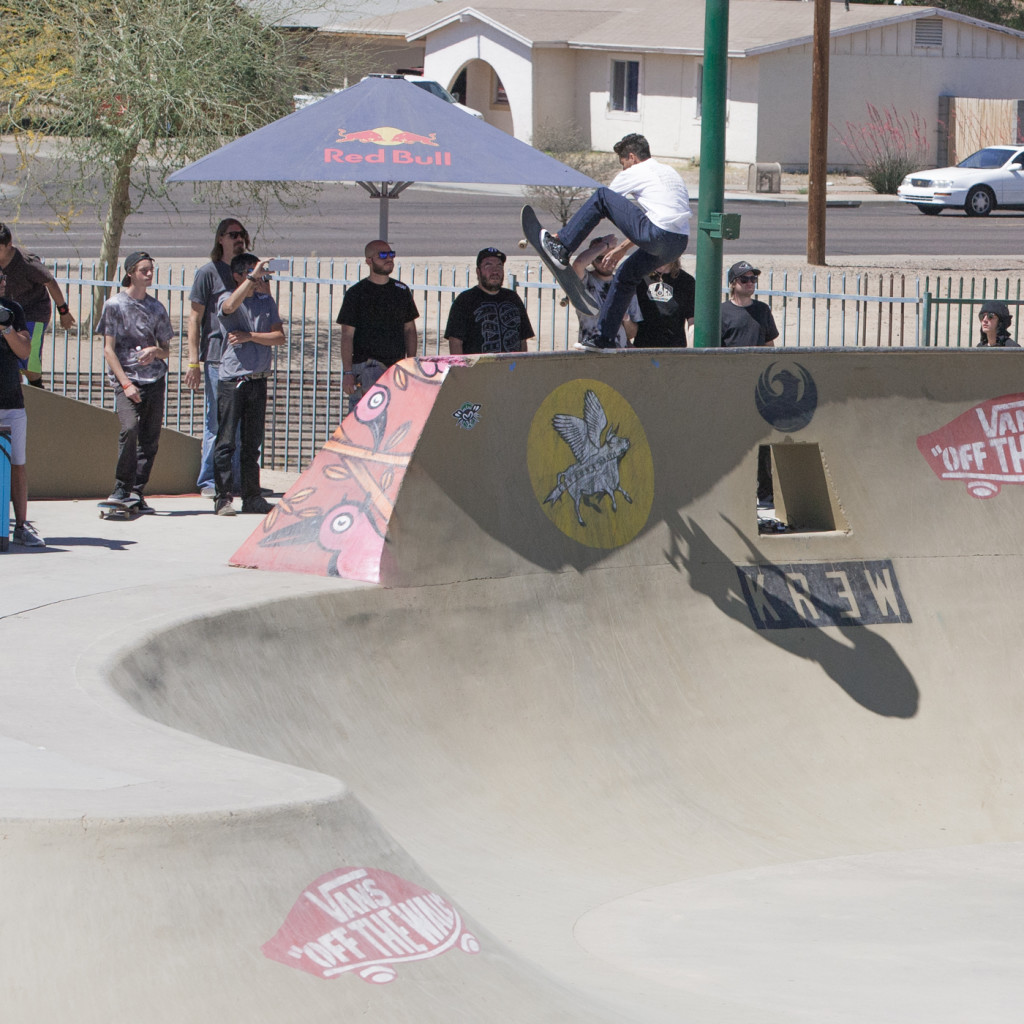 April 2nd 2016 – Day 1 – Qualifiers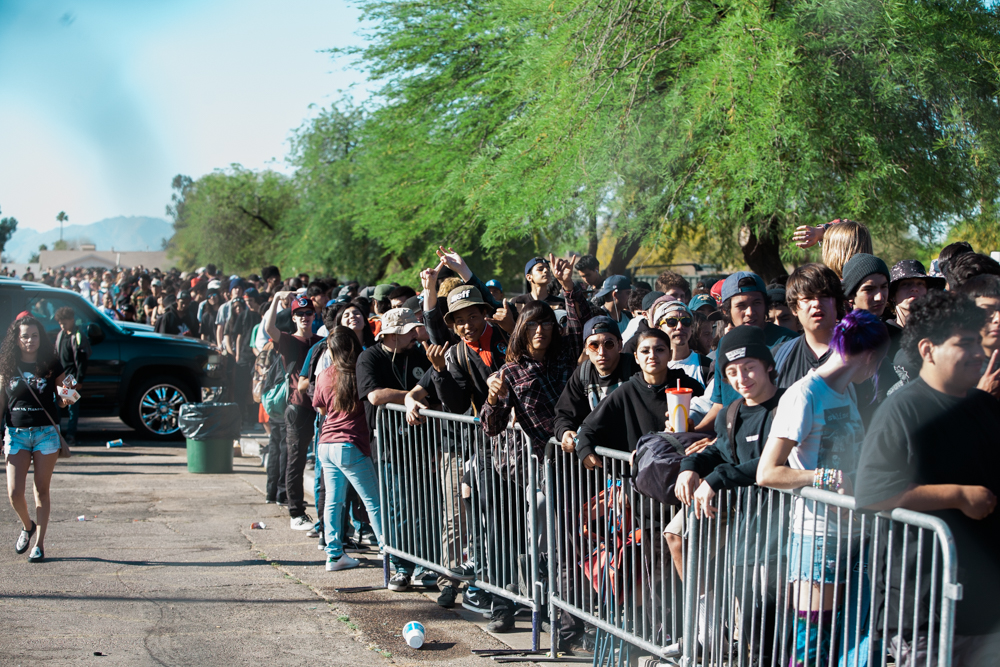 The line to get into PHXAM 2016 was one for record books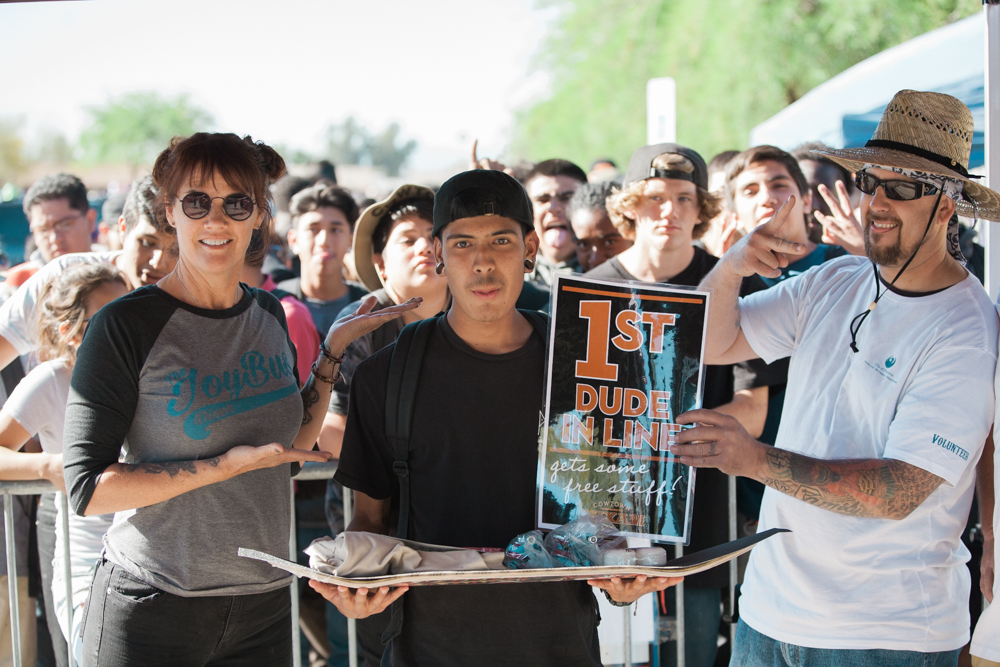 Dedication. This homie camped out over night to secure his spot as the 1st dude in line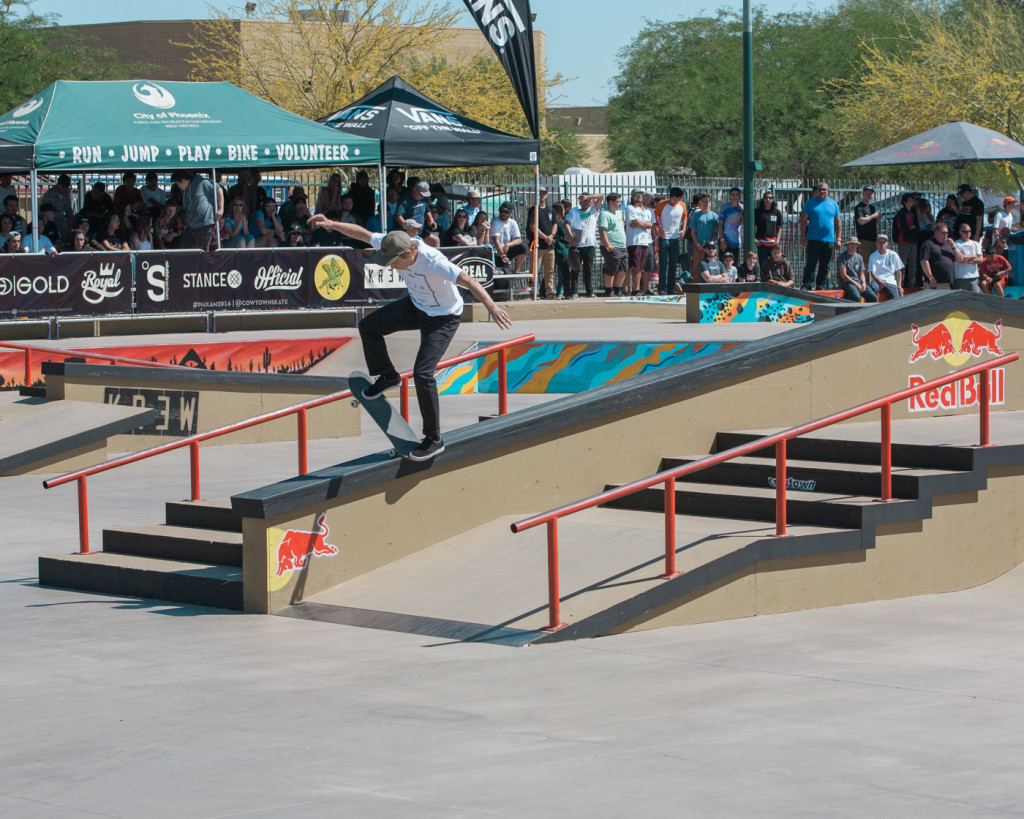 Andy Boggs took the long way down with this back blunt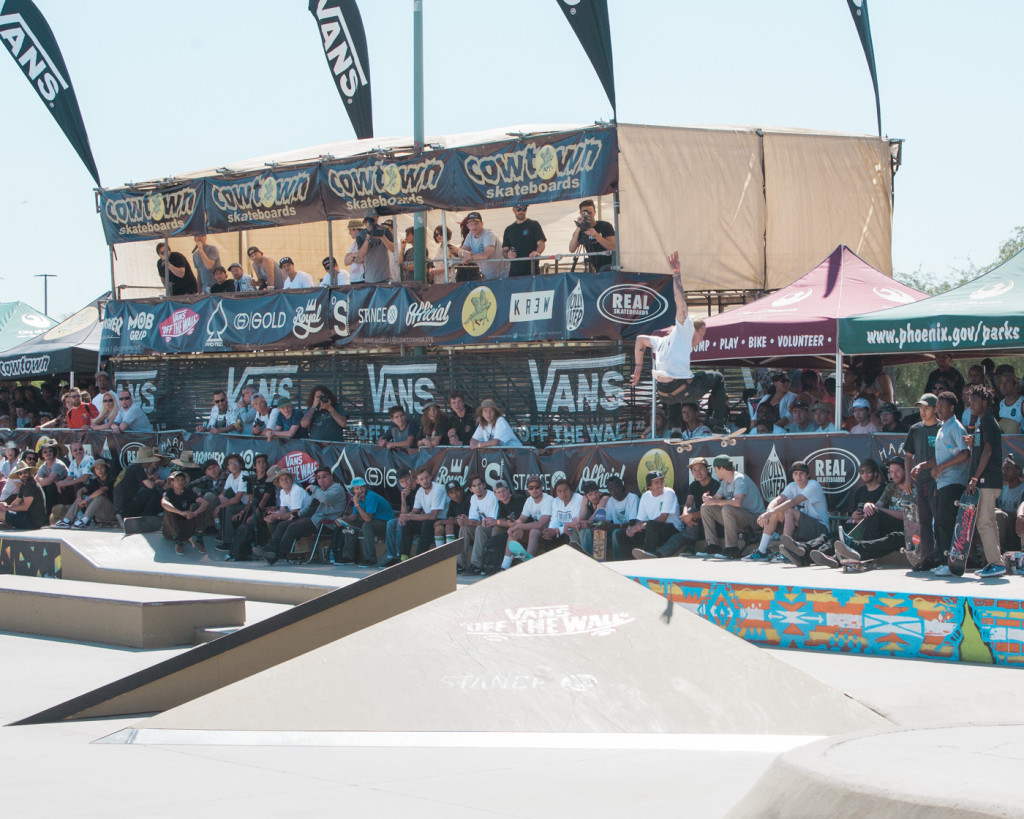 This gap is super gnarly in person. Don't try this at home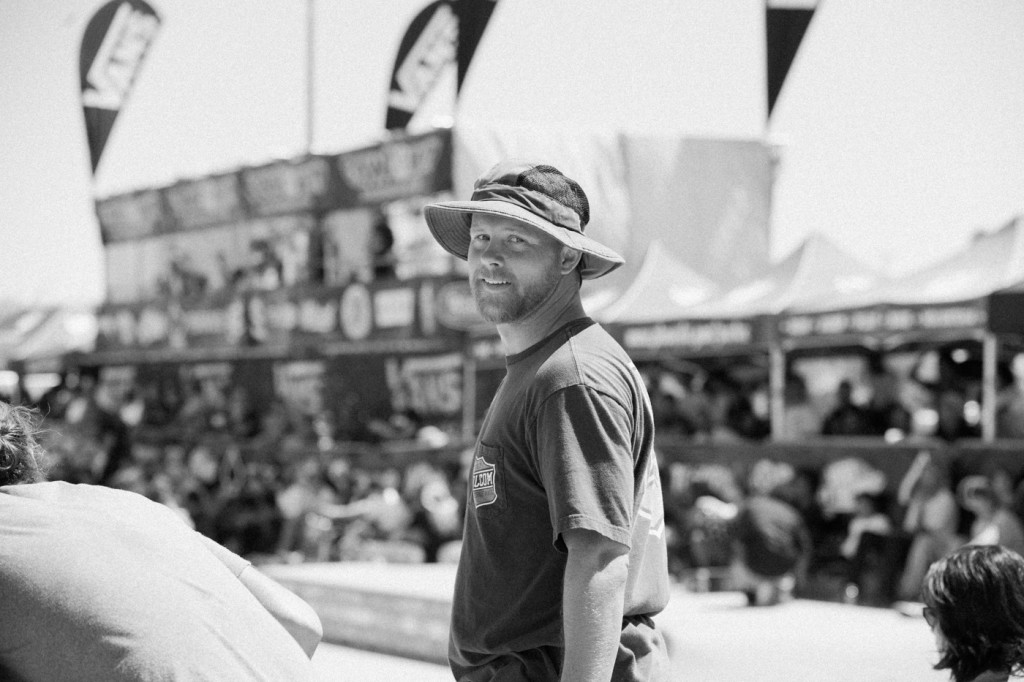 PHXAM's official Dad Andrew Forrest taking in the action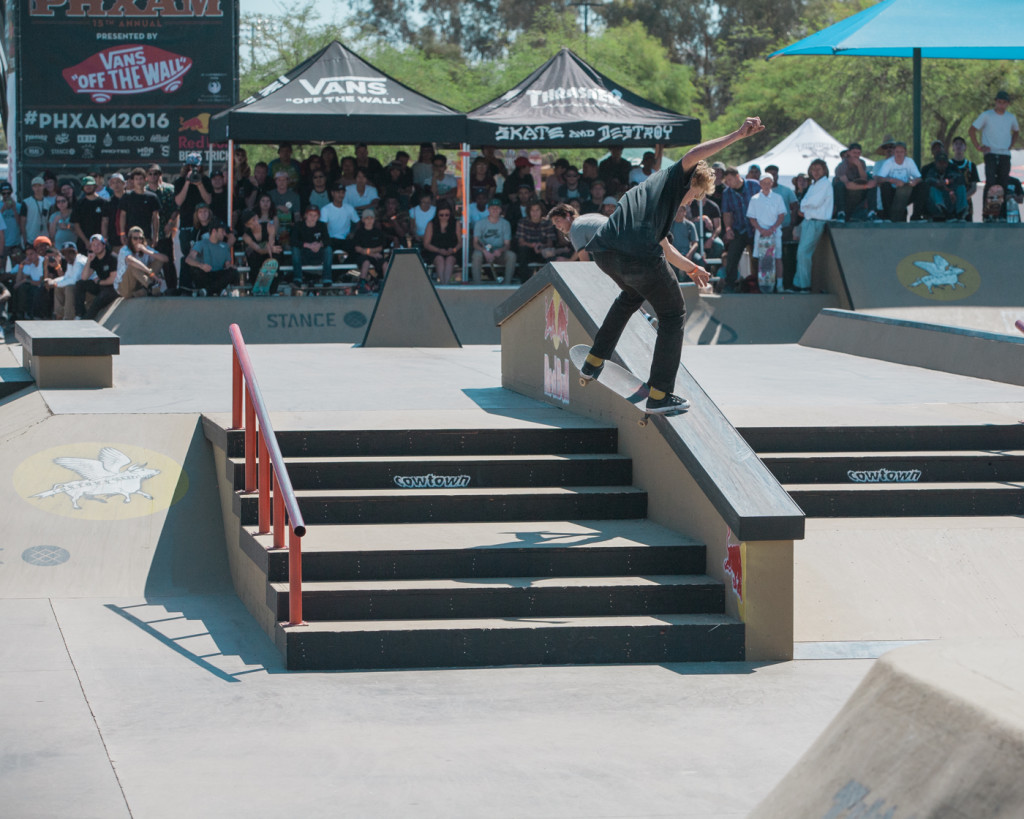 Proper Front Krook down the extra long Red Bull prop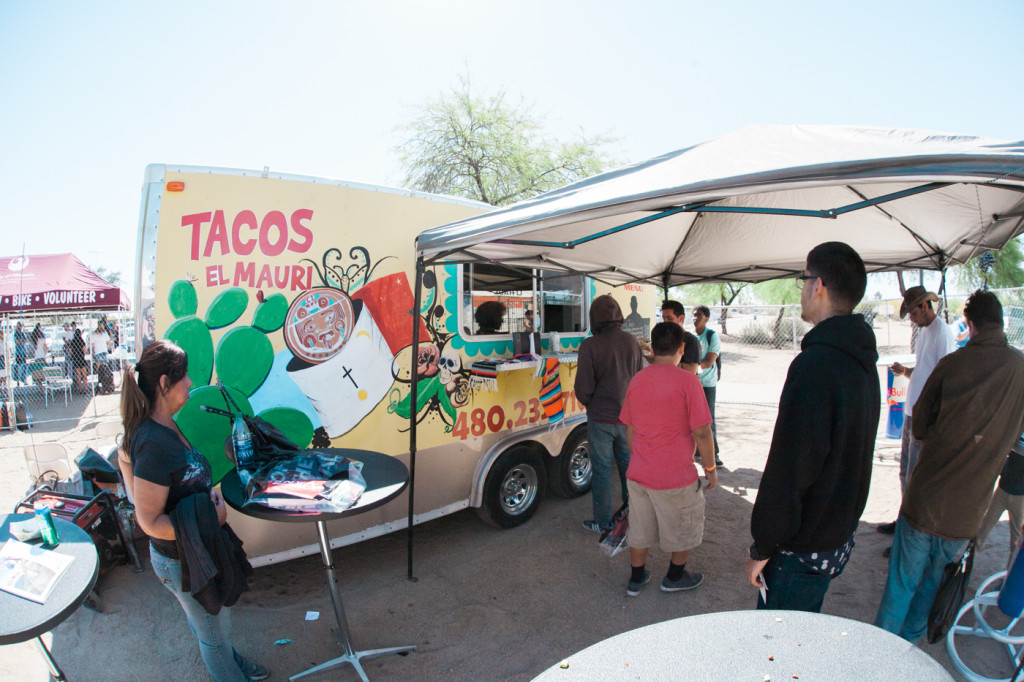 Proper grub at Tent City in Desert West for all our locals to enjoy
Corey Mallet dips this front feeble in plenty of style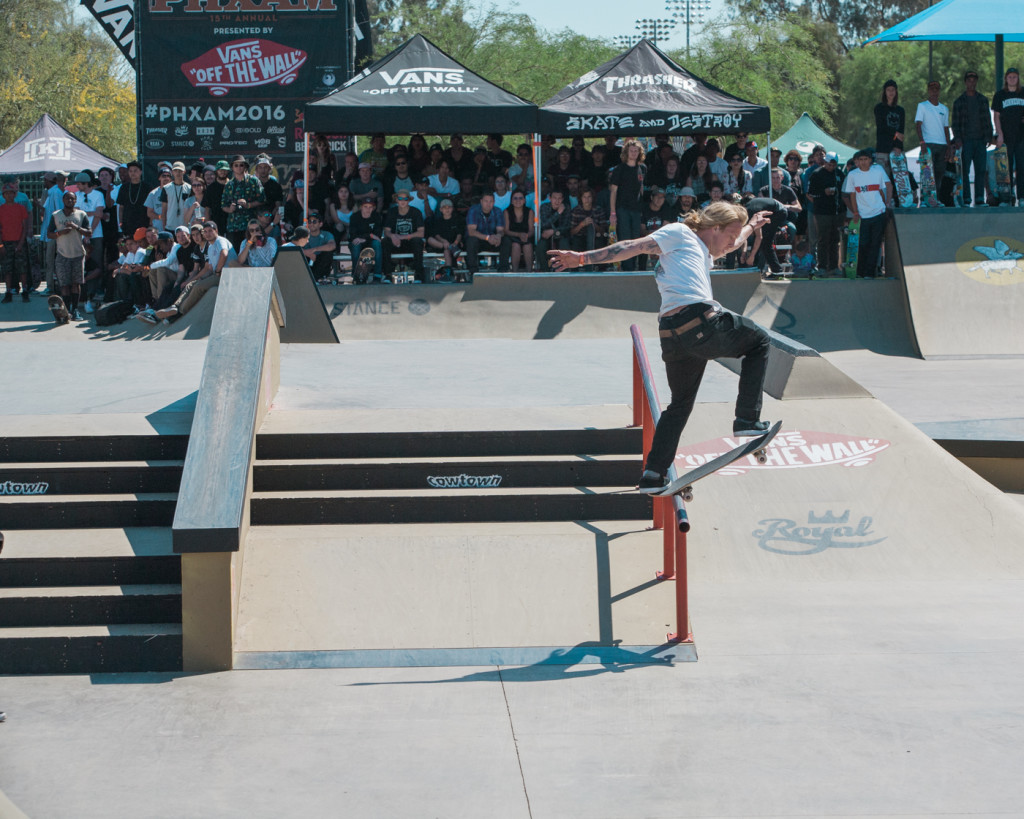 Cody Jacobson attacked the course with speed his whole run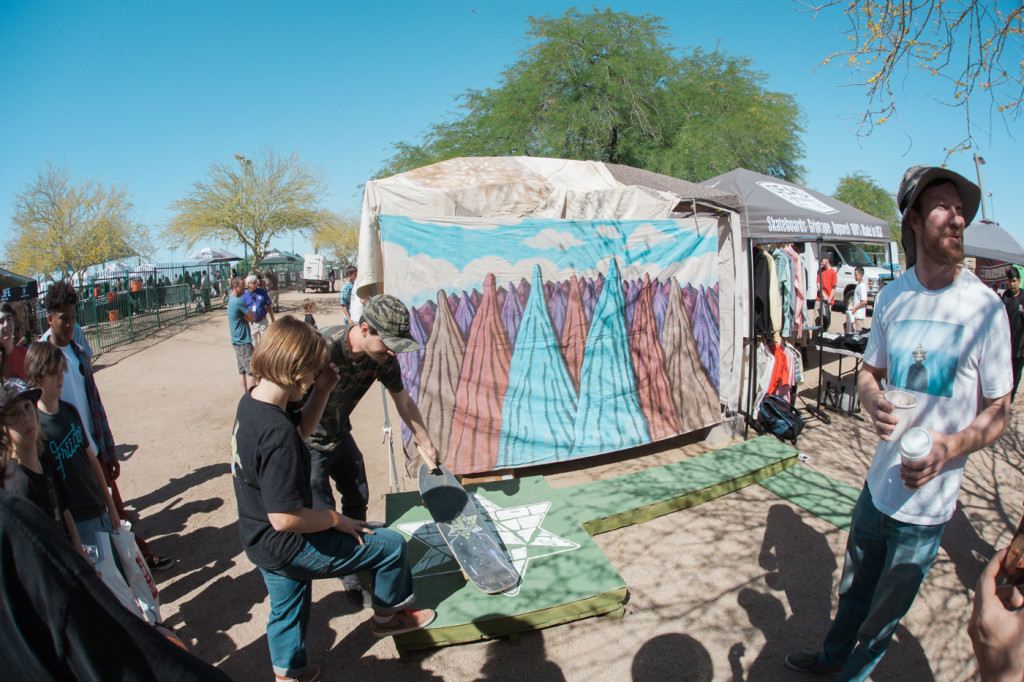 The Pyramid Country booth had the best game of the day for sure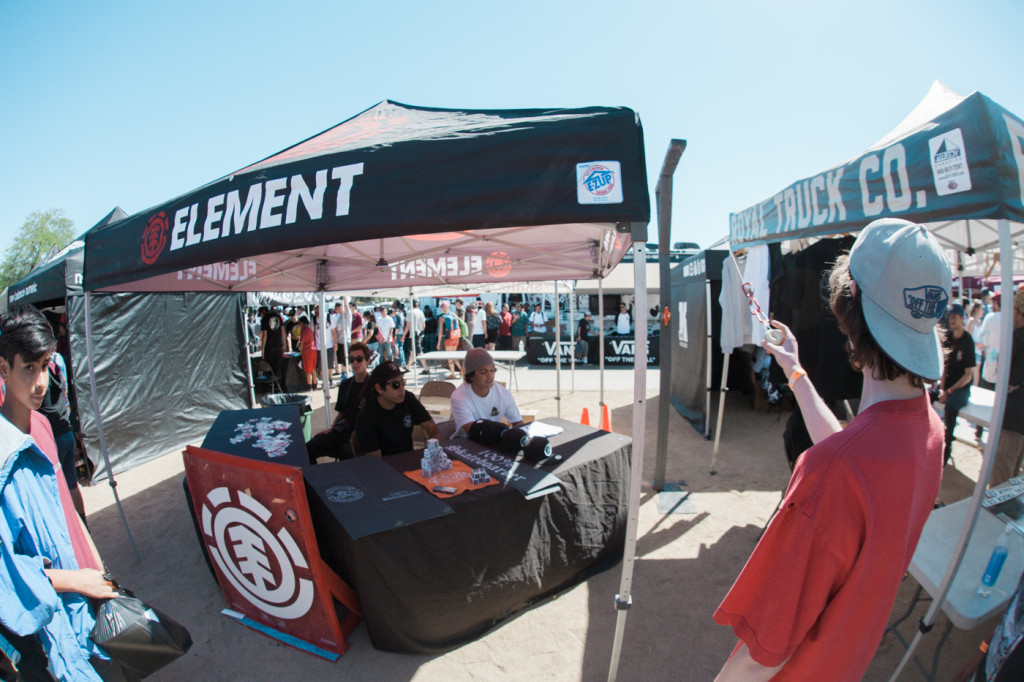 Element booth playing the classic wheel game for prizes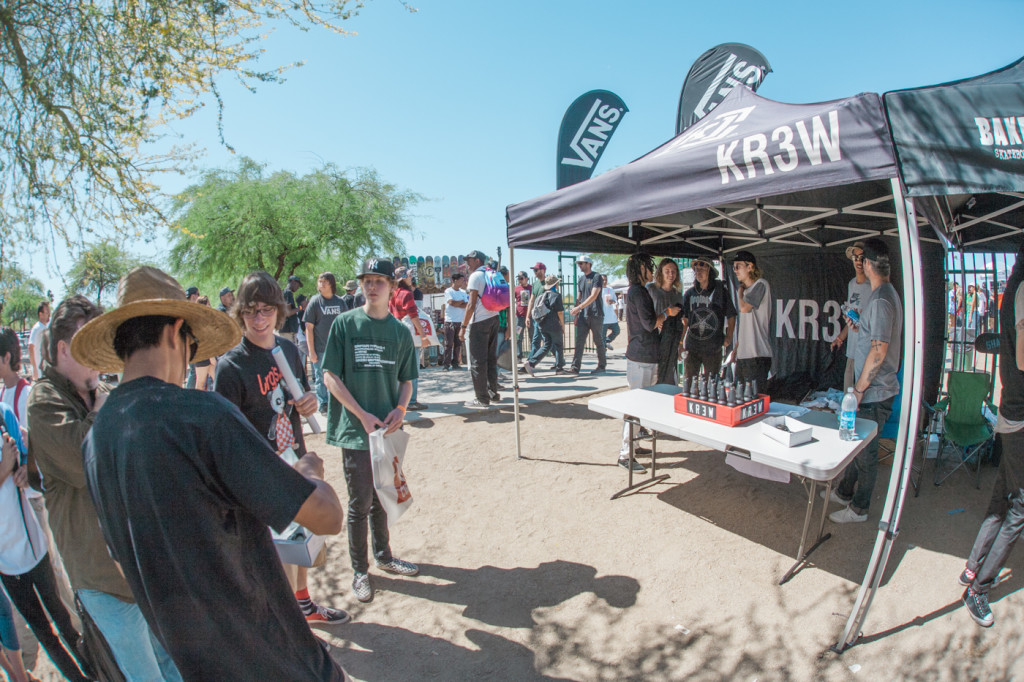 The Kr3w tent had a sick setup with a ring the bottle game and free goodies for all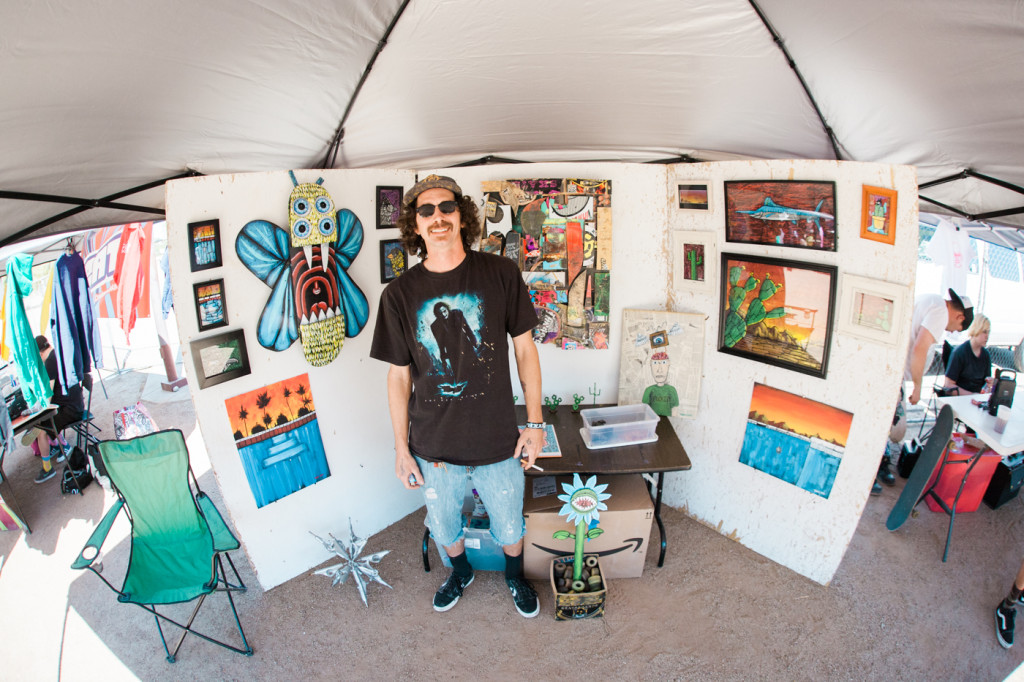 Desert West local Hippie Steve was showing off his recycled skateboard art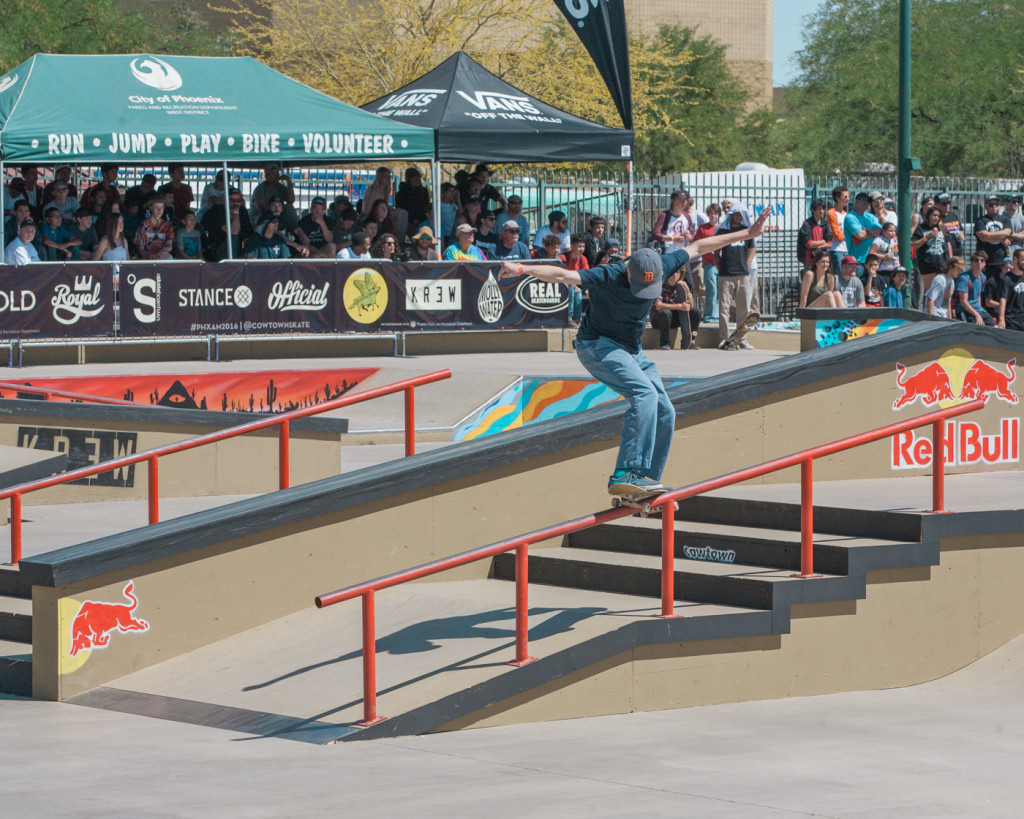 Back on the course, Aaron Goure had to work for this Front Willie but he got it just before the run ended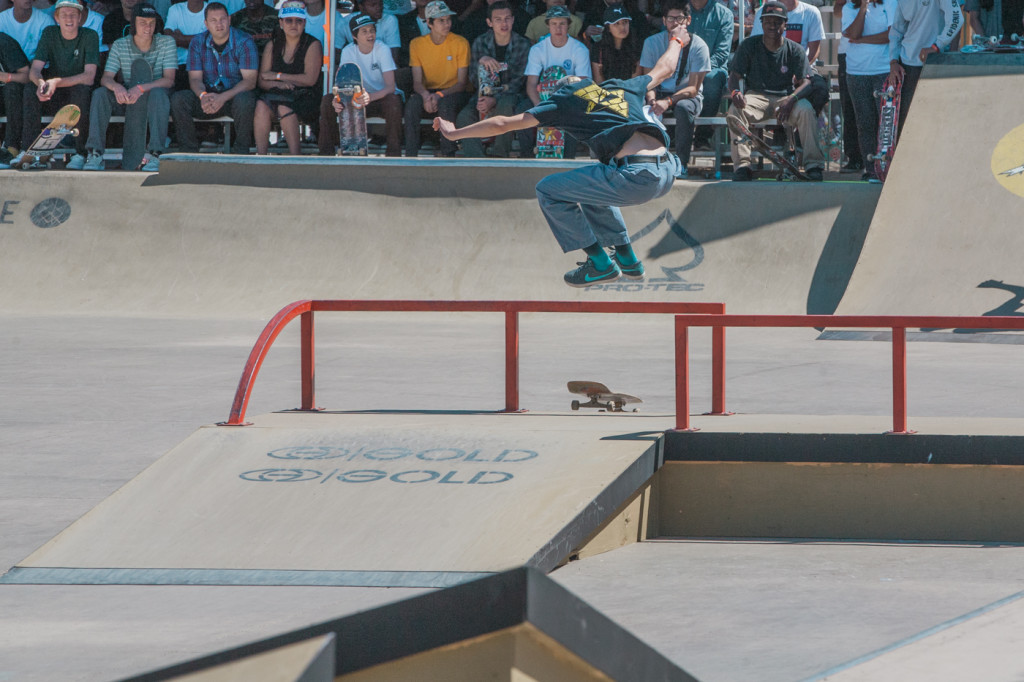 Proper Hippie Jump through the Gold Wheels Bump To Bar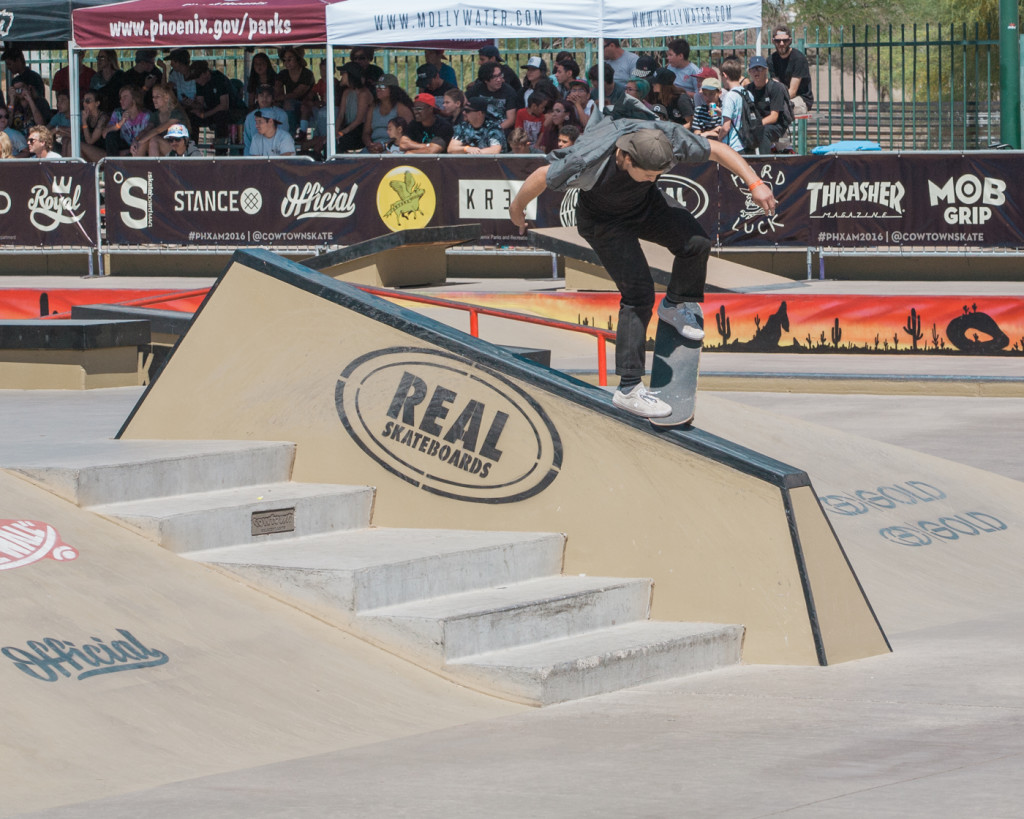 Hanging on to this Noseblunt on the Real Hubba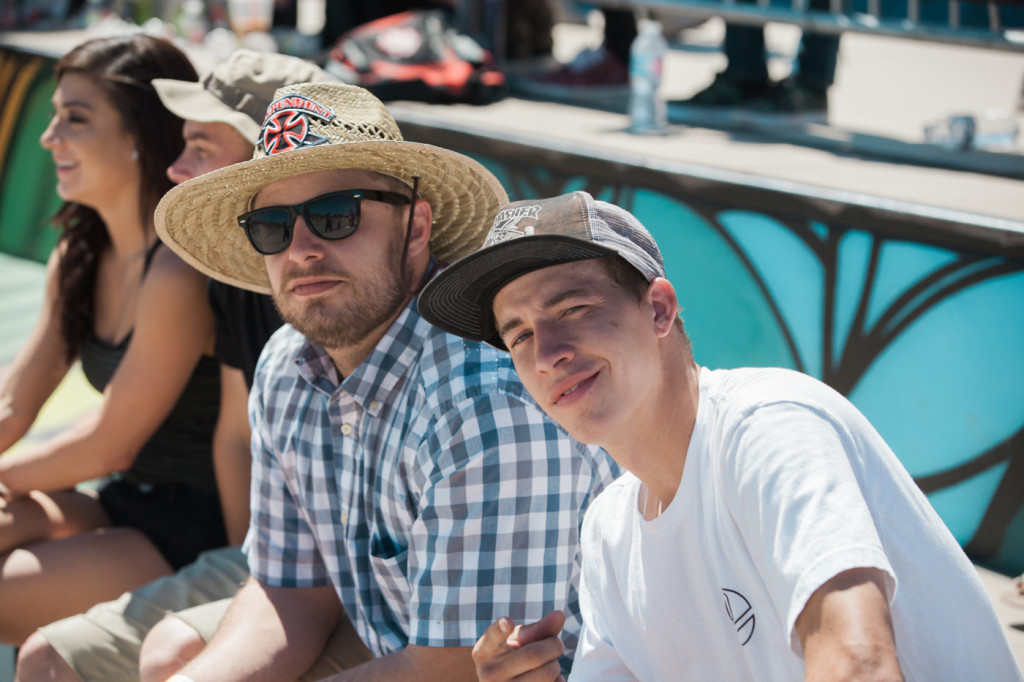 Rayce Davis enjoying the action from the sidelines before his jam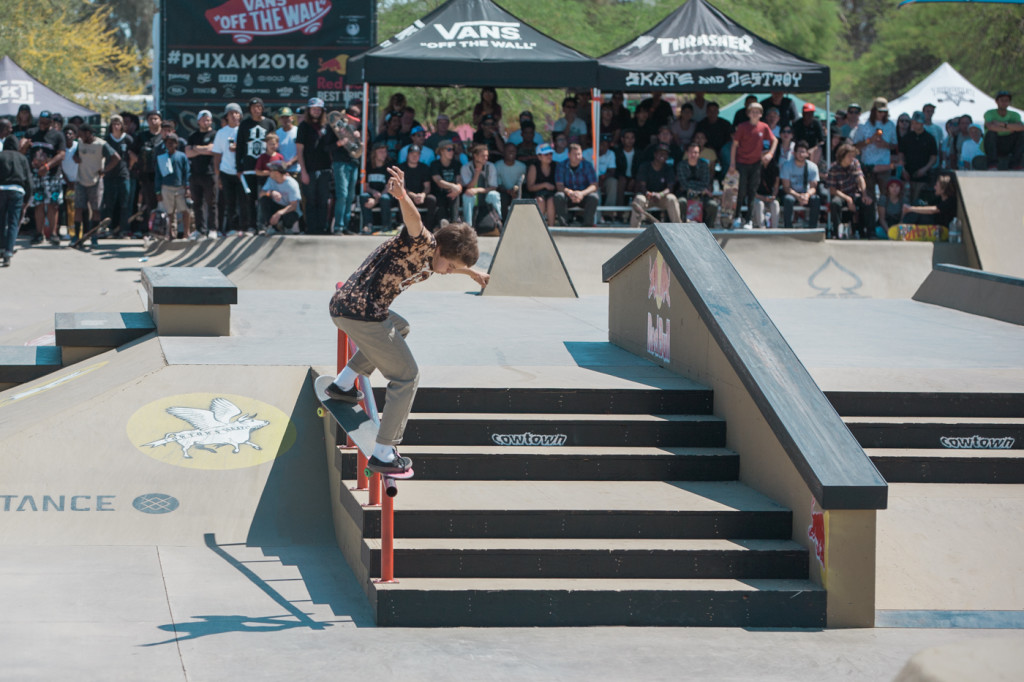 The Sheckler blood is pure skateboarding. Kane locks into this Overkrook with ease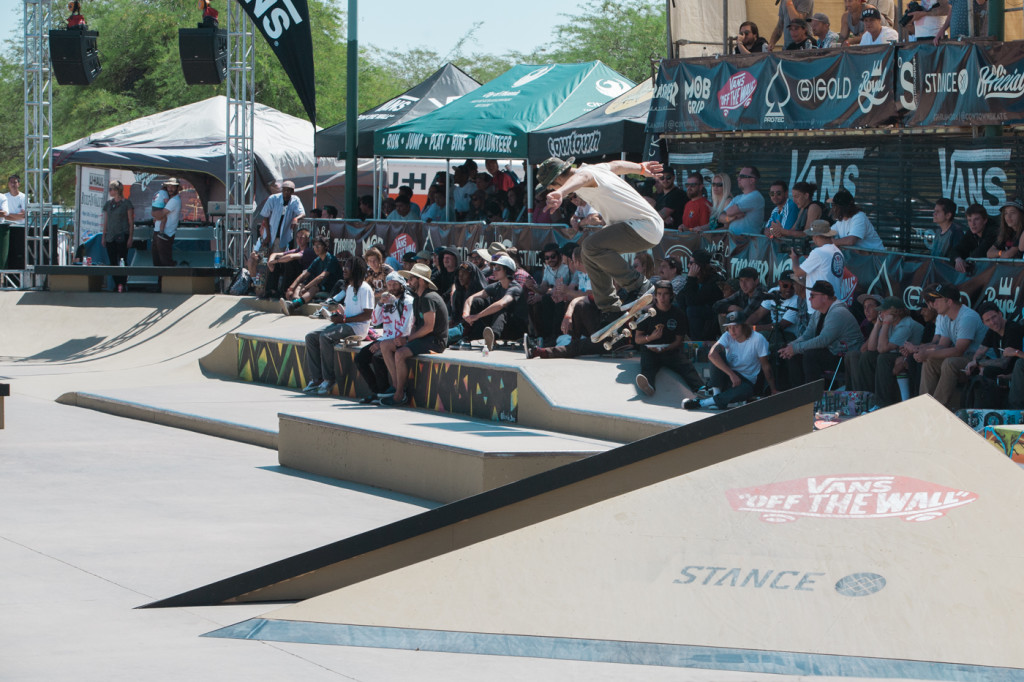 This wedge gap is becoming one of our favorite new obstacles of this new course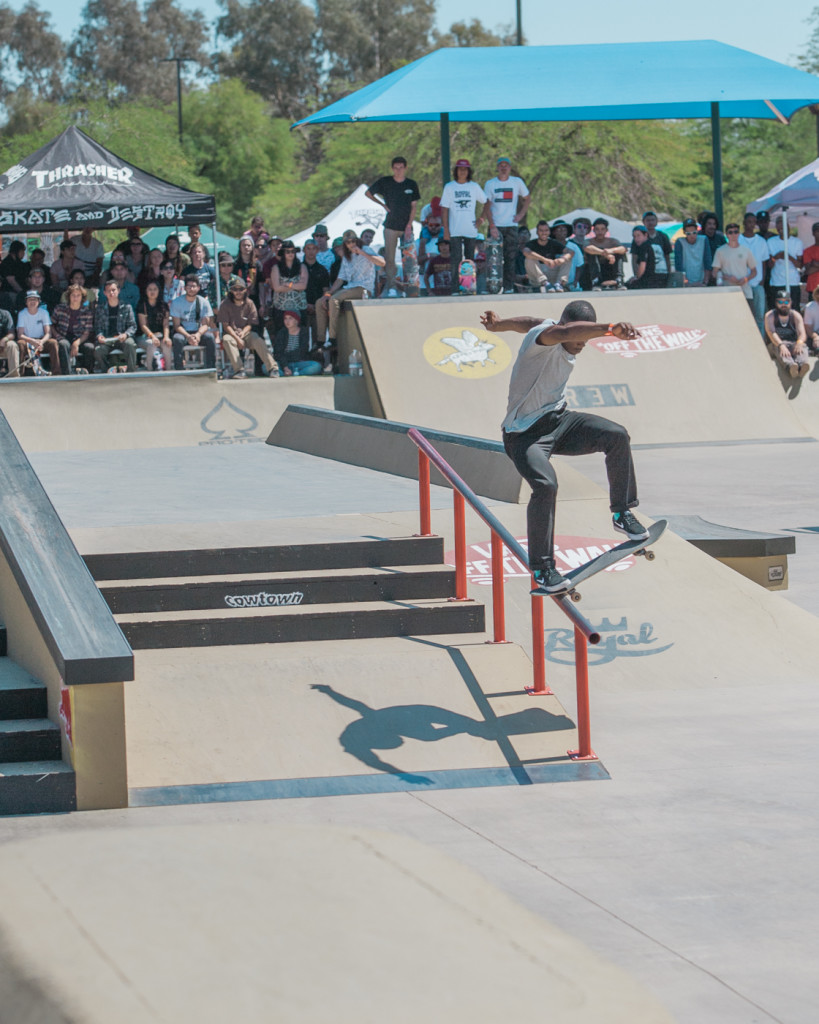 Dashawn Jordan absolutely destroyed the course in his qualifier run with what seemed to be zero effort while doing trick after trick like this flawless noseblunt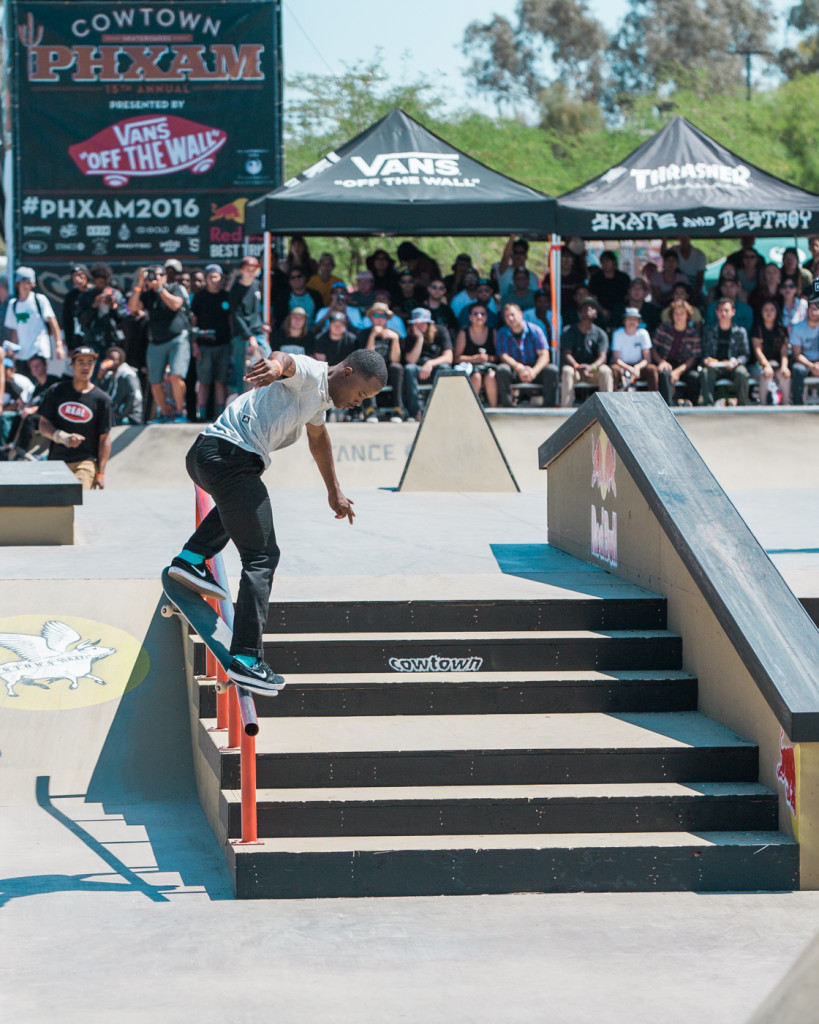 Dashawn with a signature overwork on the Red Bull double set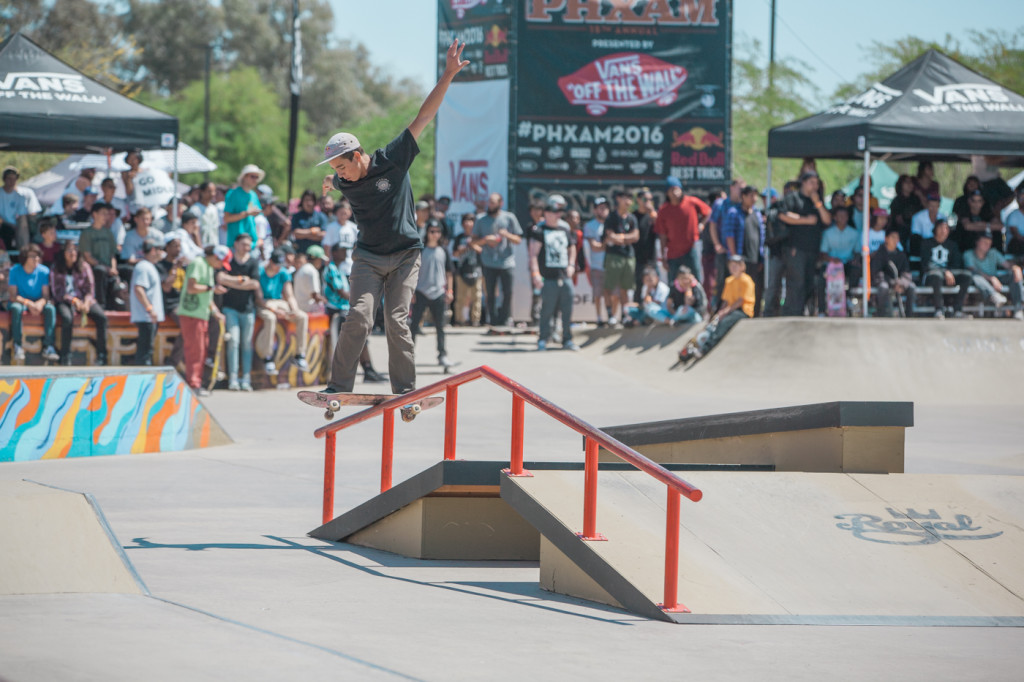 Alex Midler gapping to front board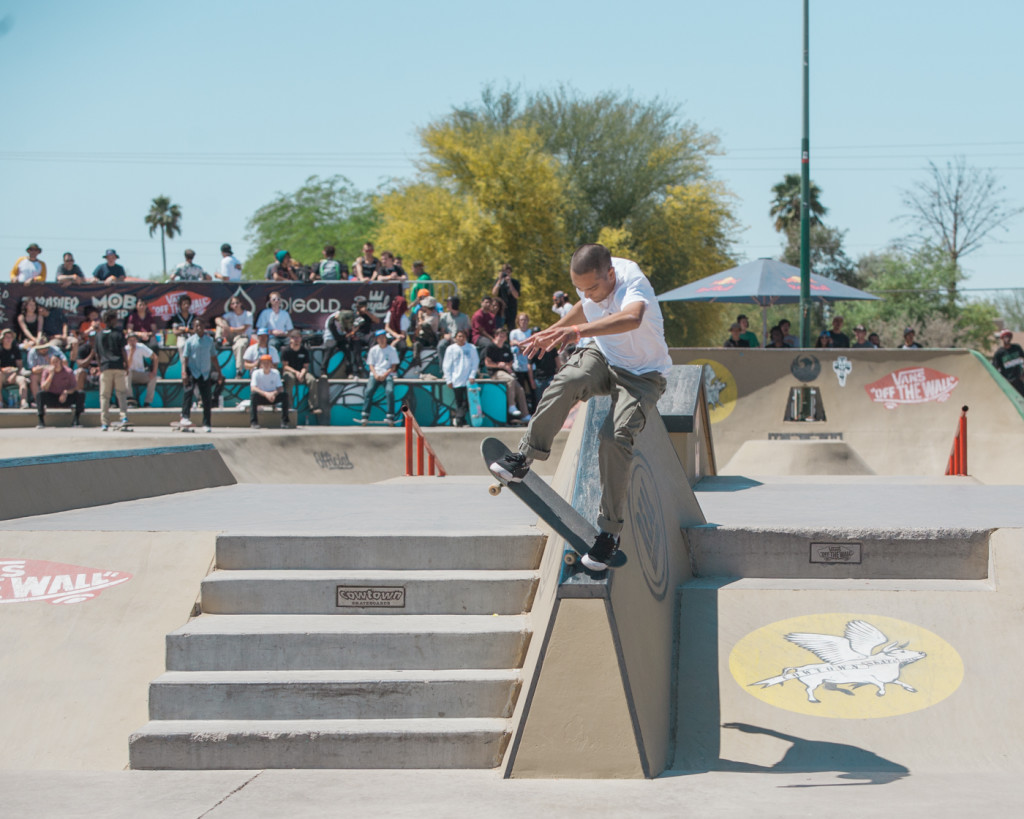 Thomas Dritsas with a wallie blunt on the Real hubba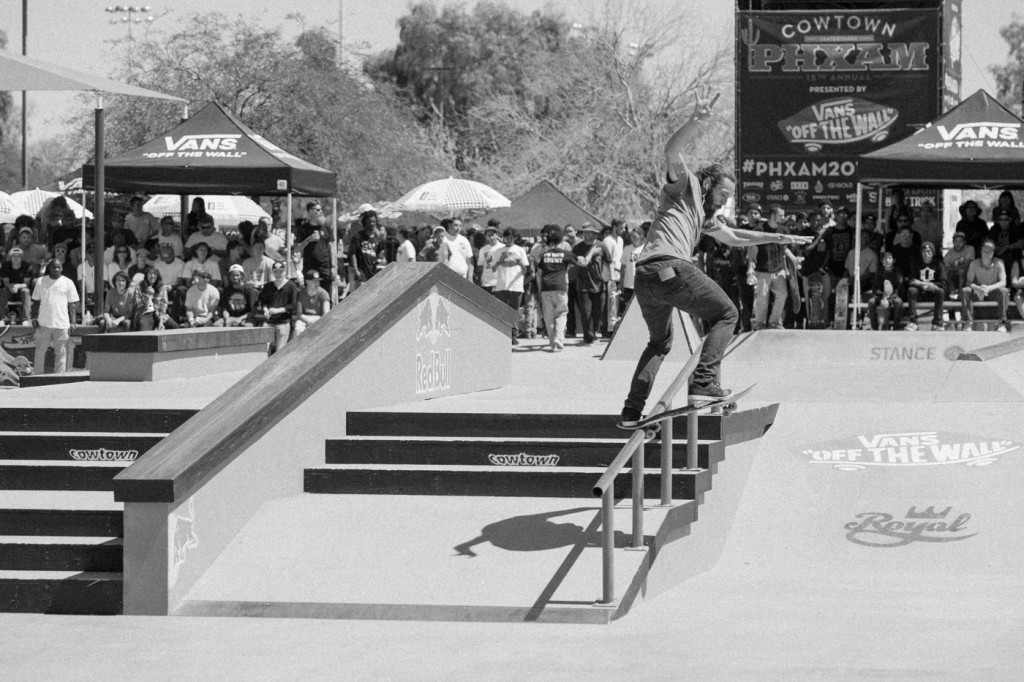 These Red Bull rails are long but Dakota Camp sat on this front blunt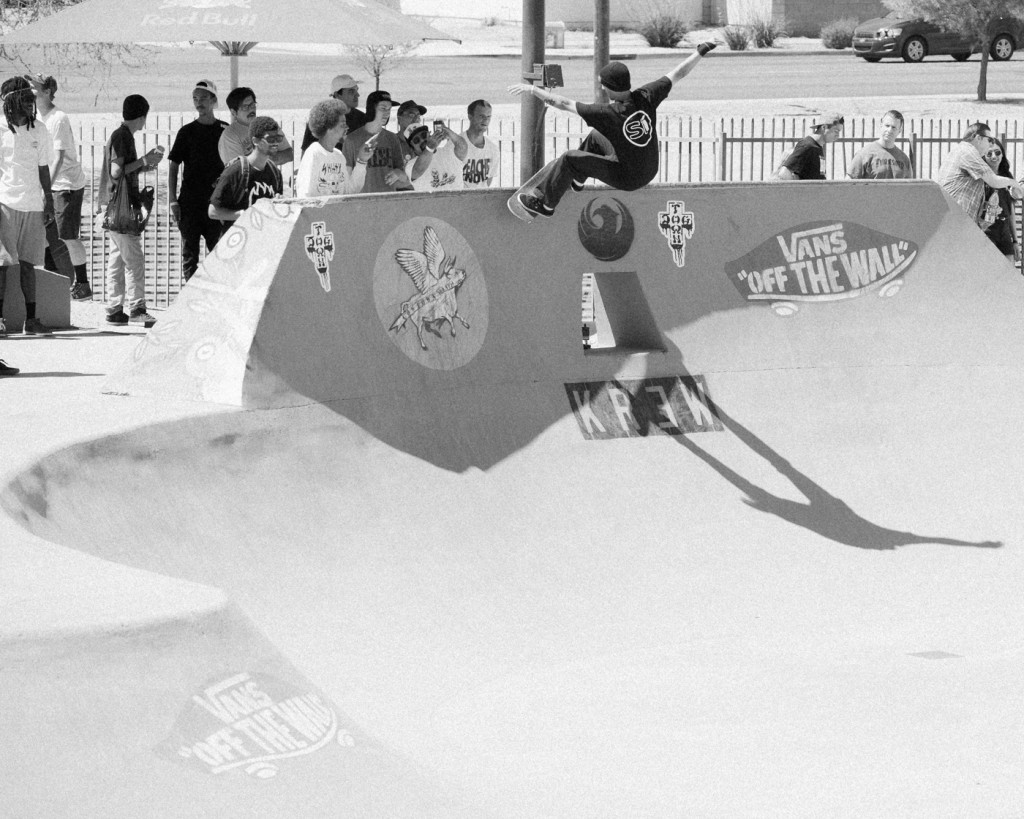 The back wall over the keyhole at D-West is no joke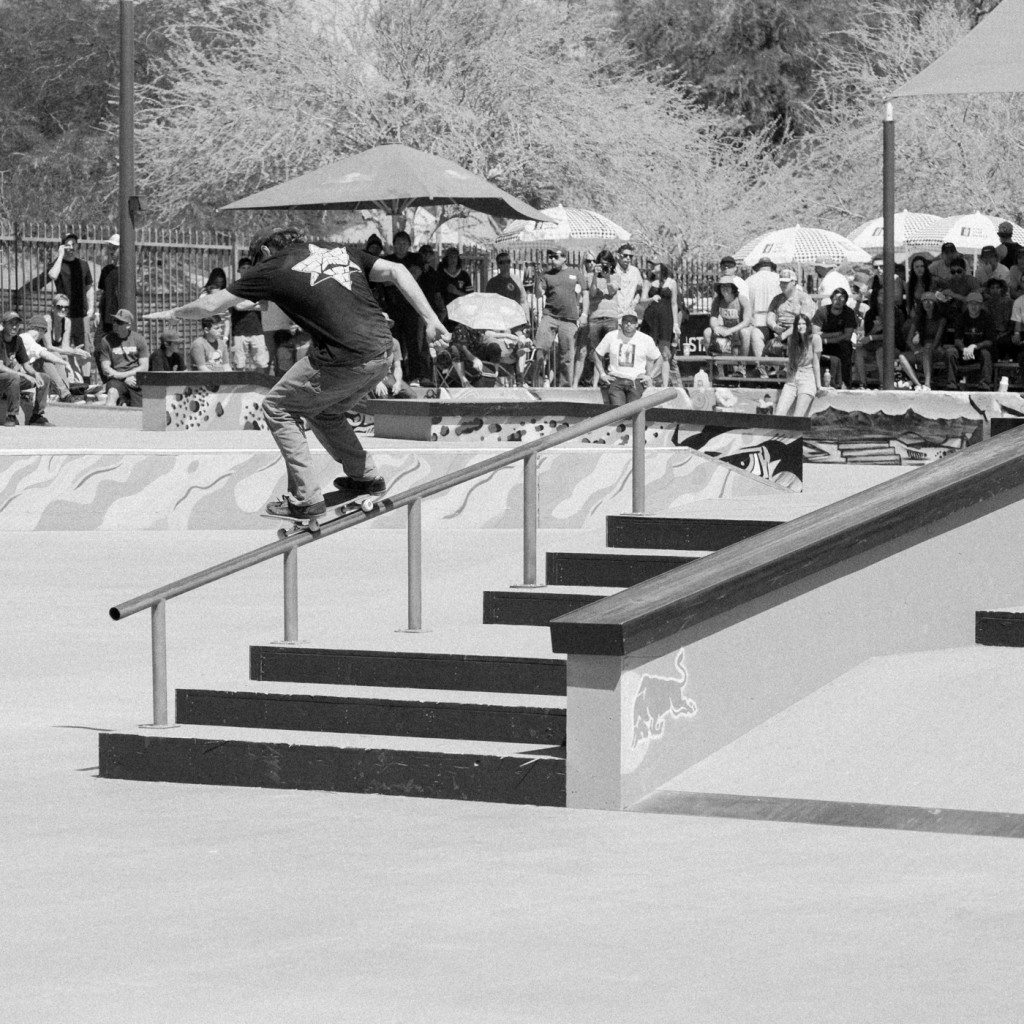 Shaun Gregoire balances out a proper 50-50 before exiting 180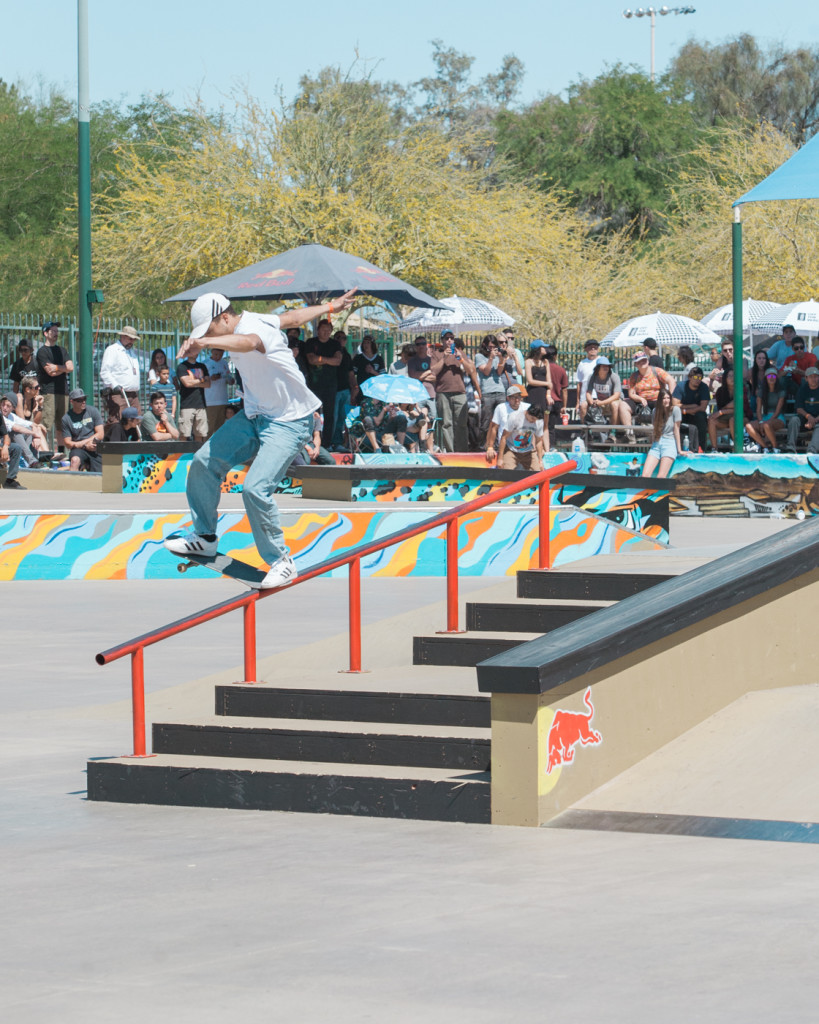 Jalen Noel made everything look ridiculously easy as seen with this stylish Noseblunt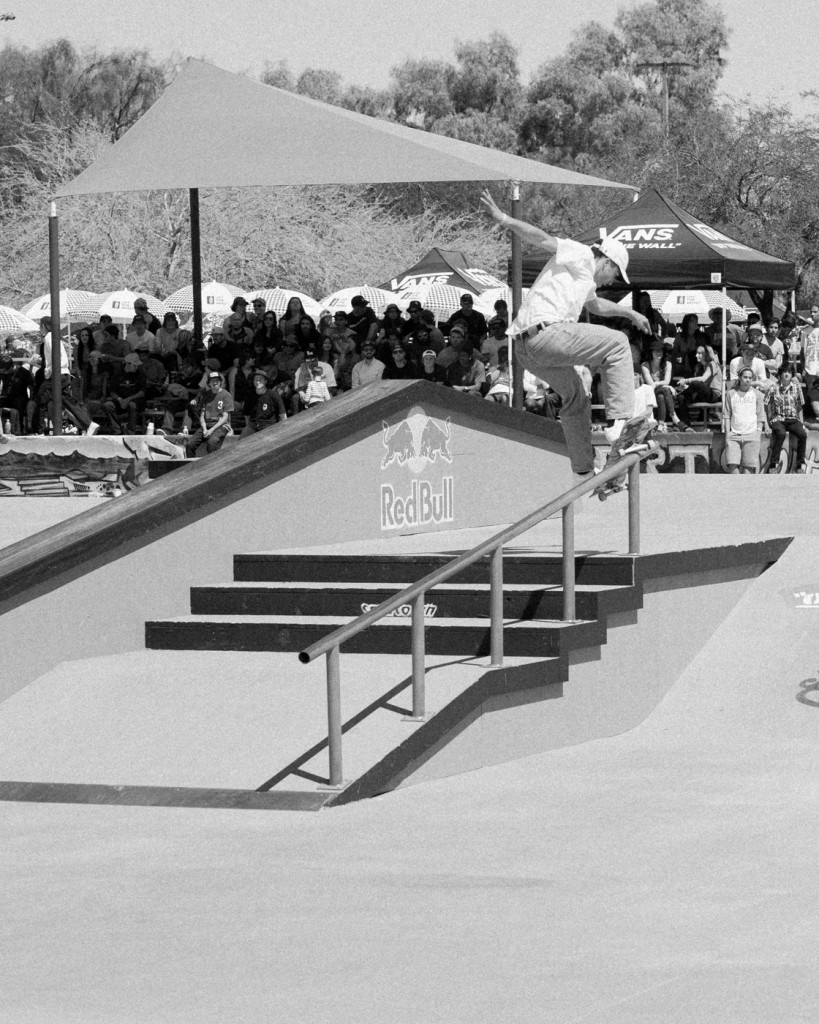 Jalen also likes to take a different approach to things. Going upppppp.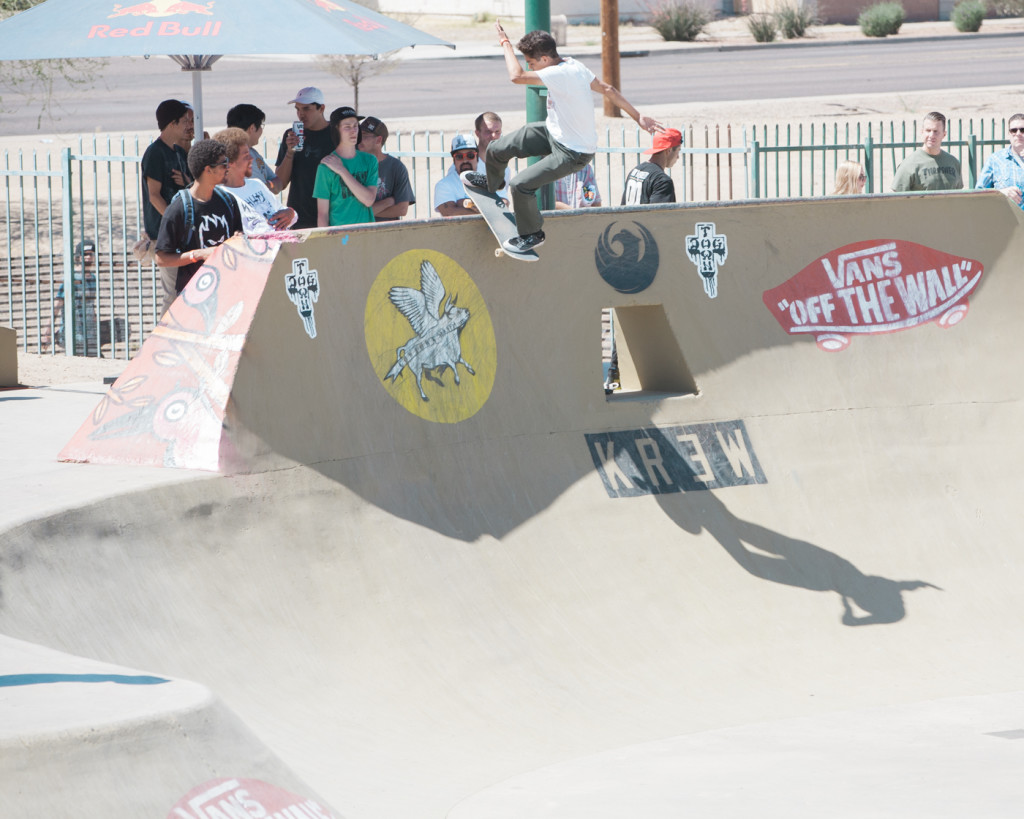 Nick Michel handling a proper lisped over the keyhole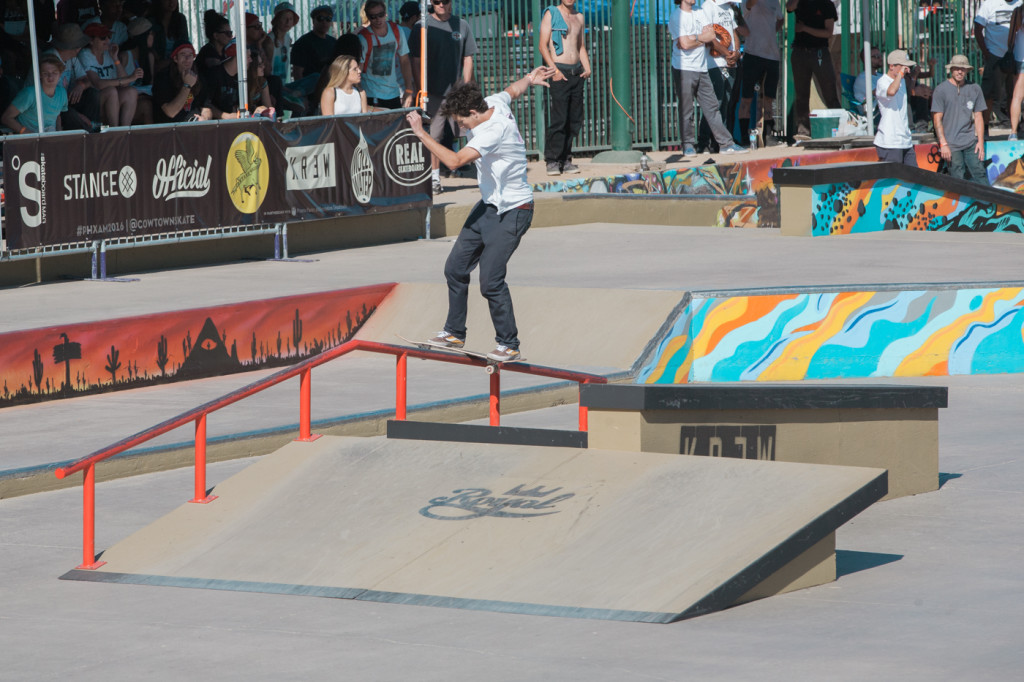 Michael Eddie Bigspin Front Boardslide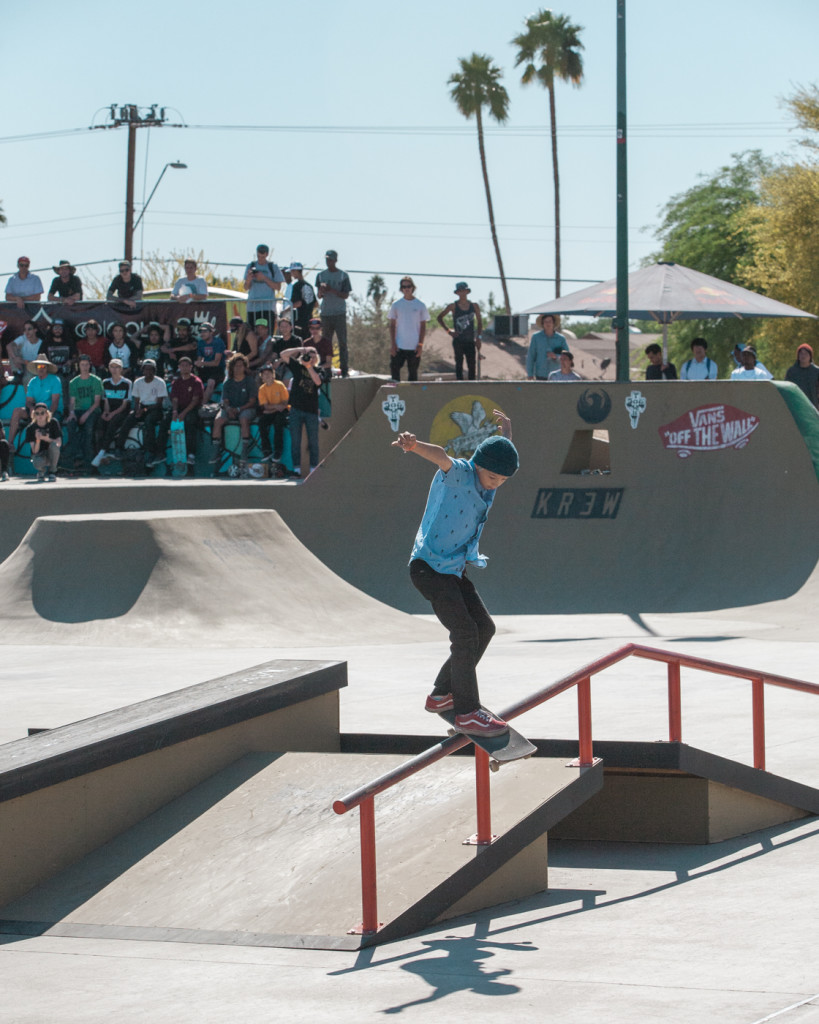 10 year old Lazer Crawford with a gap to front feeble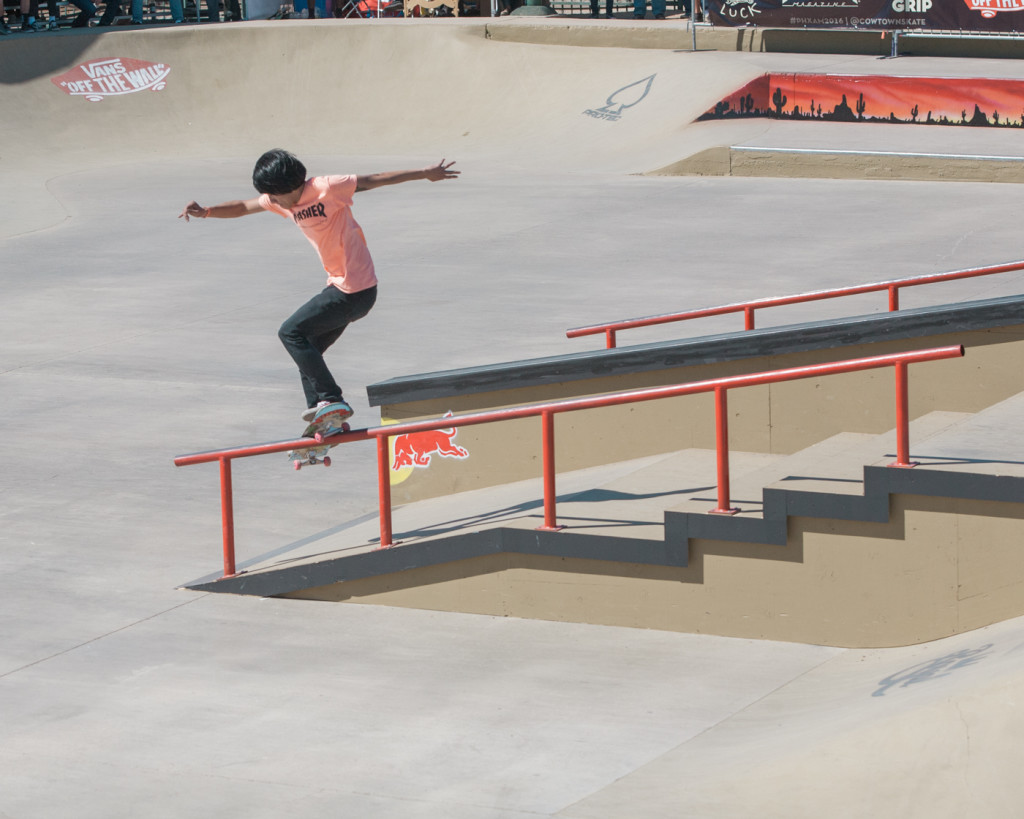 Wang Guo Hua from Hangzou China was ripping all day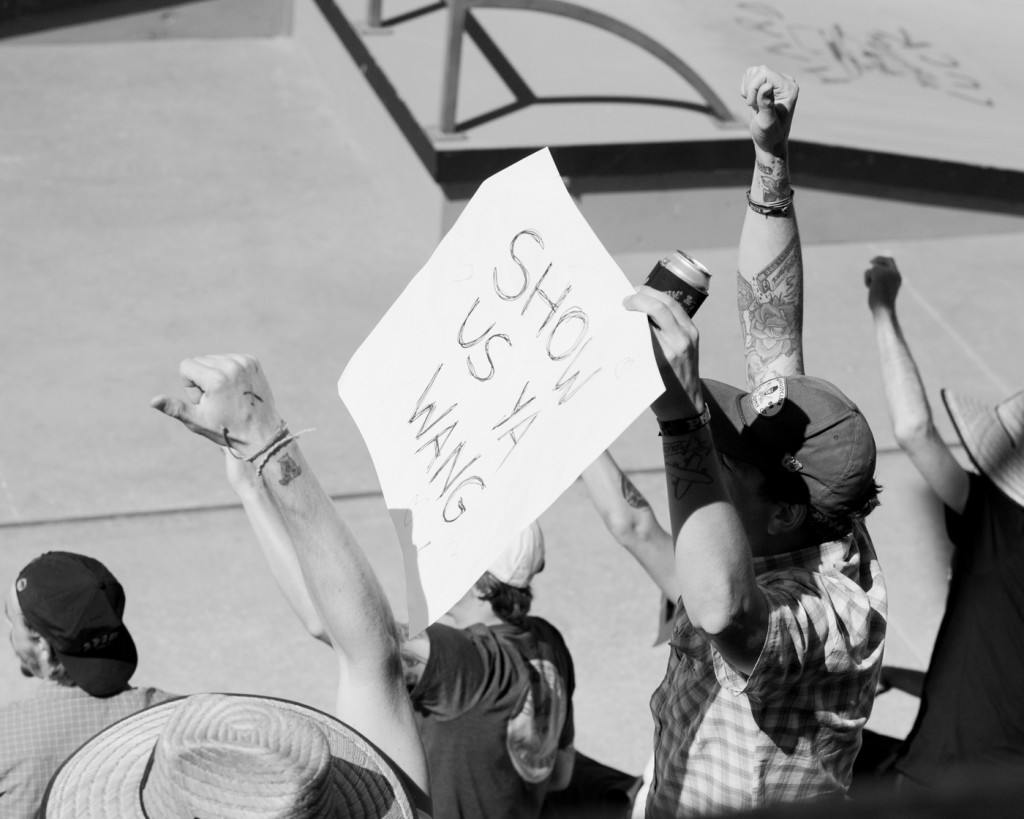 Wang was the 2016 crowd favorite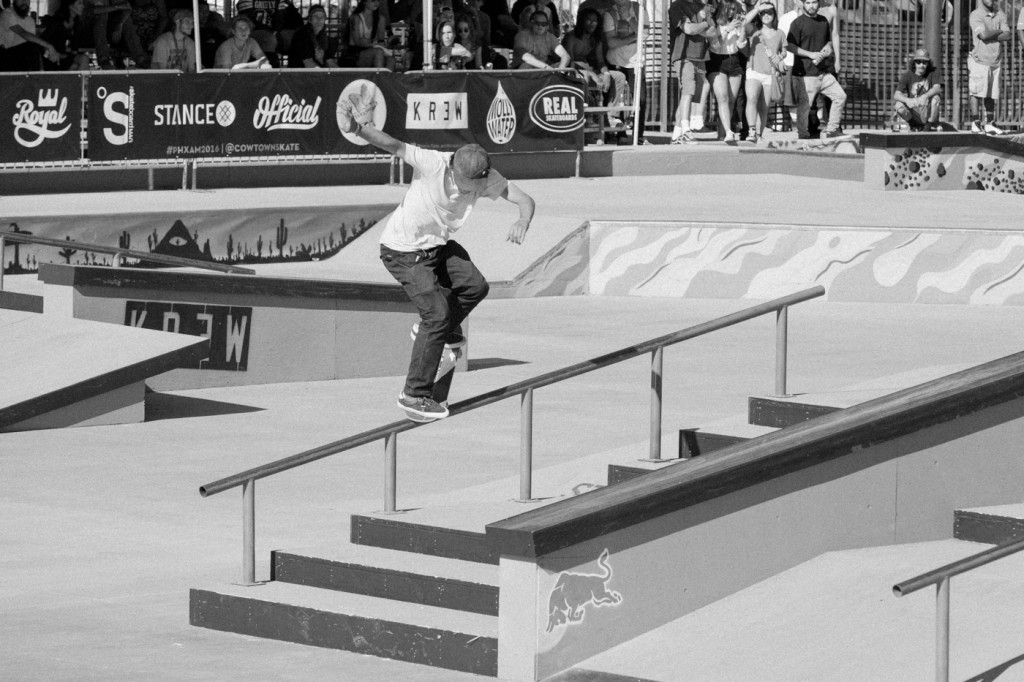 Proper mystery overkrook on the Red Bull double set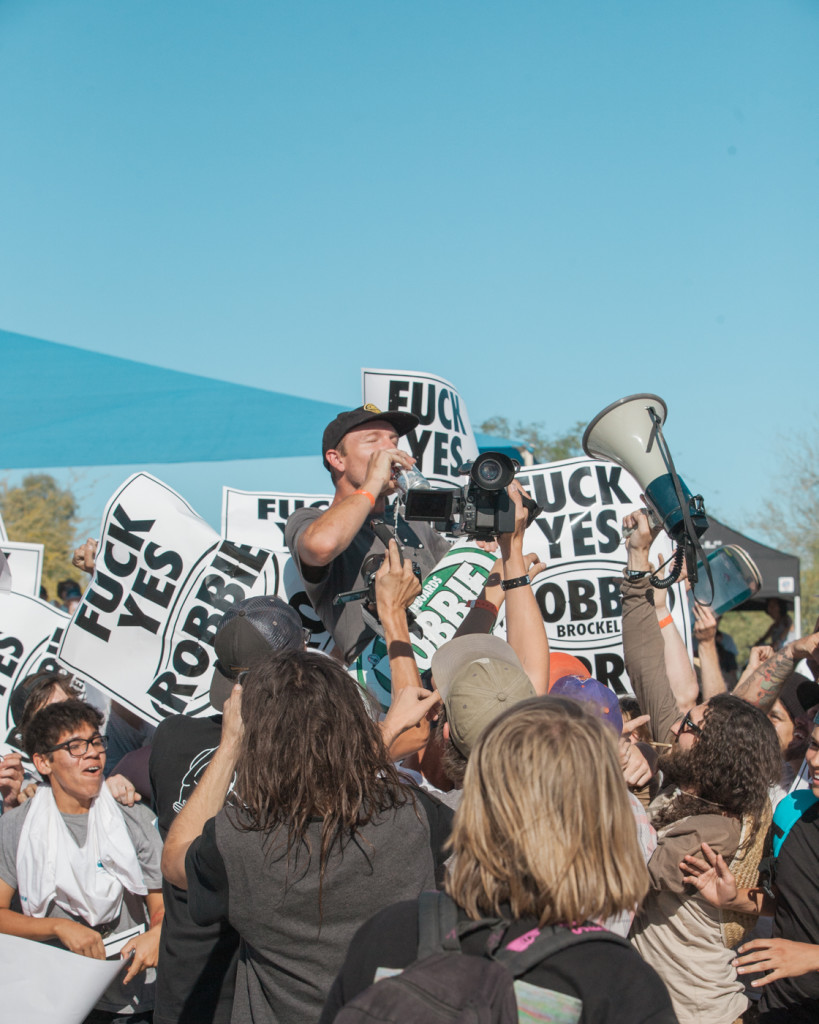 ROBBIE IS PRO! He was scheduled in the last run of the day, but that jam happened to have just him, Late Nite, and Justin Modica and mid way through the run the entire park swamped him surprising him with his first ever pro boards from REAL!
After a perfect day out at the park it was time for the PHXAM After Party presented by KR3W and Drunk Dom & Roaches kicked things off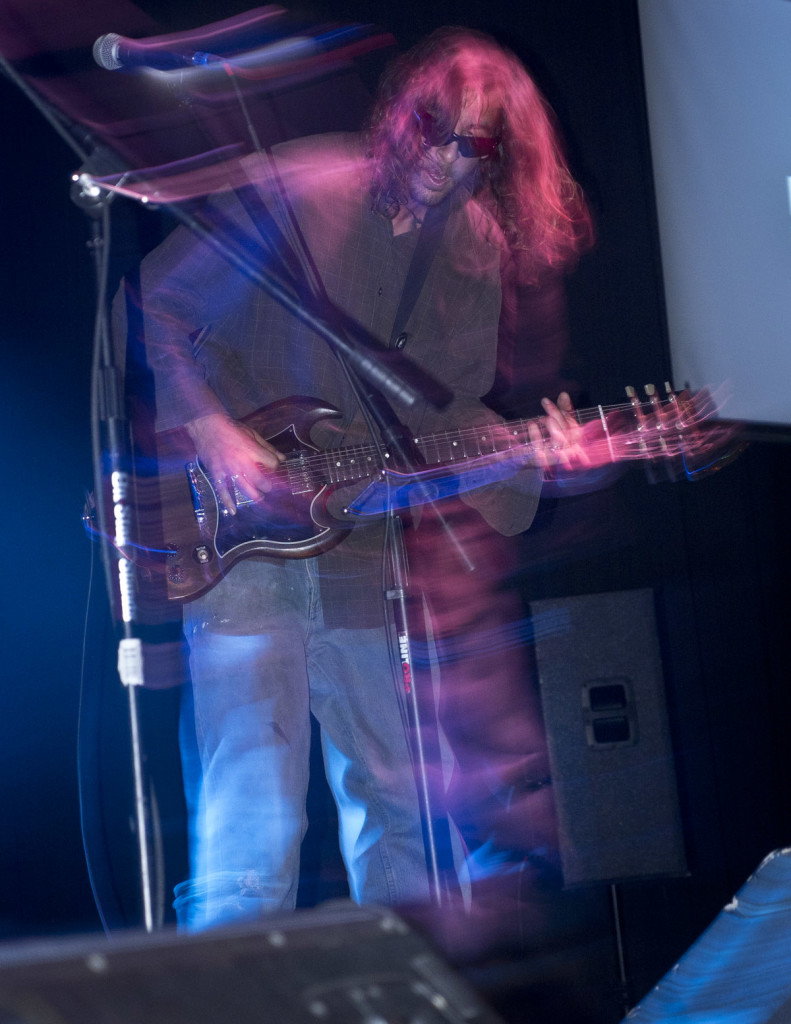 Figgy and Nuge's band Arctic got things going before the Pyramid Country video premiere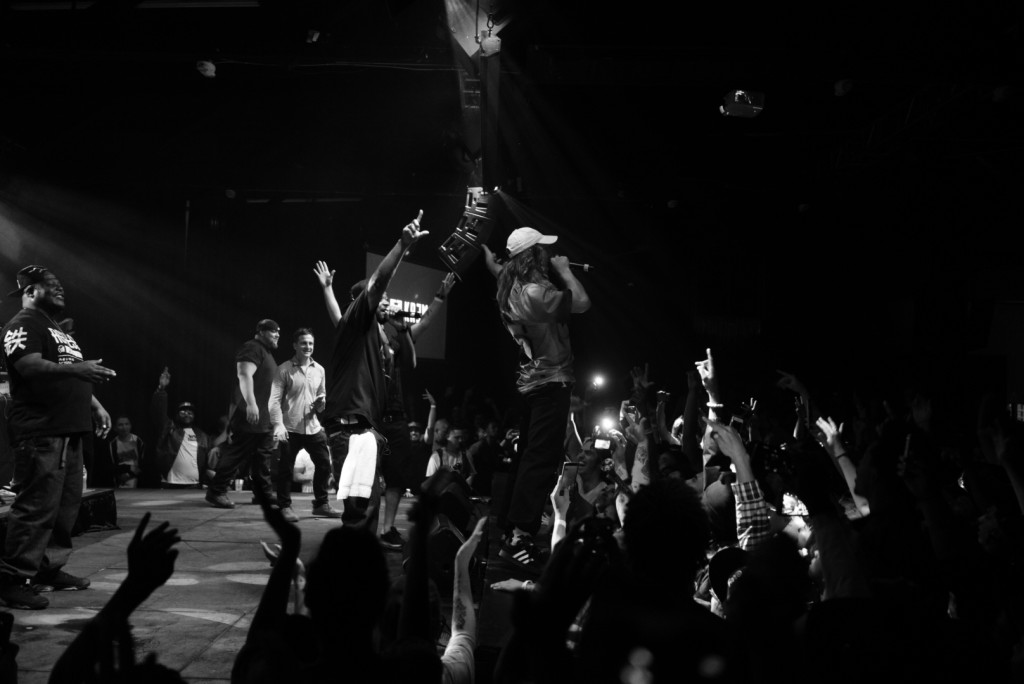 Ghostface Killah had surprises up his sleeve all night with an epic set and even called up this dude from the crowd who took The Pressroom to 11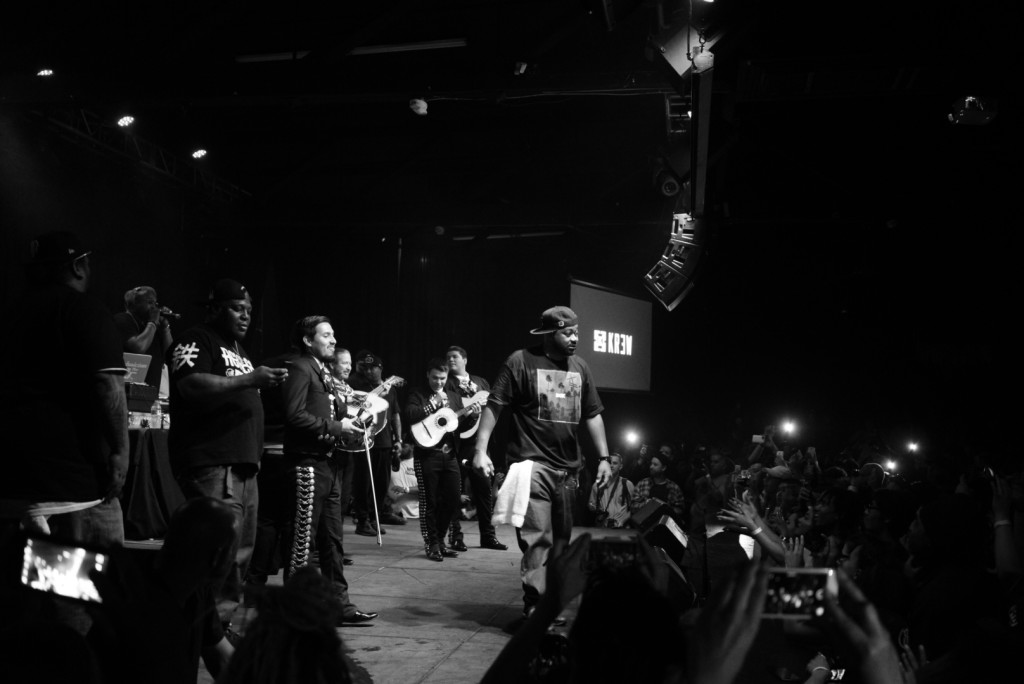 Ghost also brought out fellow WU member Killa Priest for the rest of his set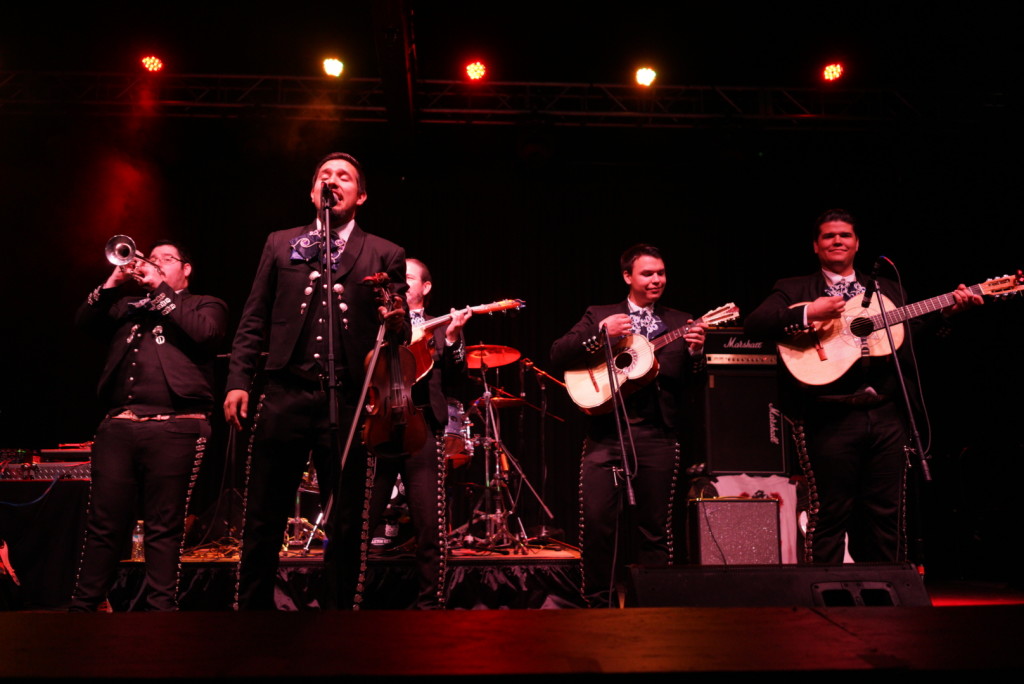 The final surprise of the night was the Mariachi Caballeros getting called onto the stage to perform hits with Ghostface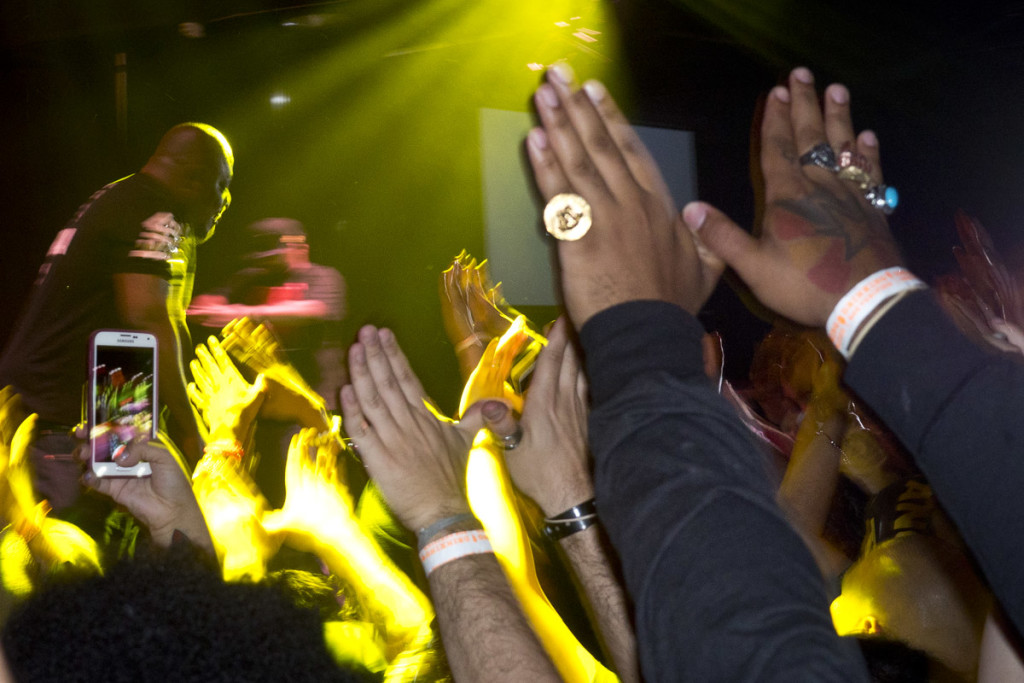 This after party was one we won't soon forget!
---
PHXAM Photo Gallery 2015
March 29th 2015 -Day 2 – FINALS TOP 12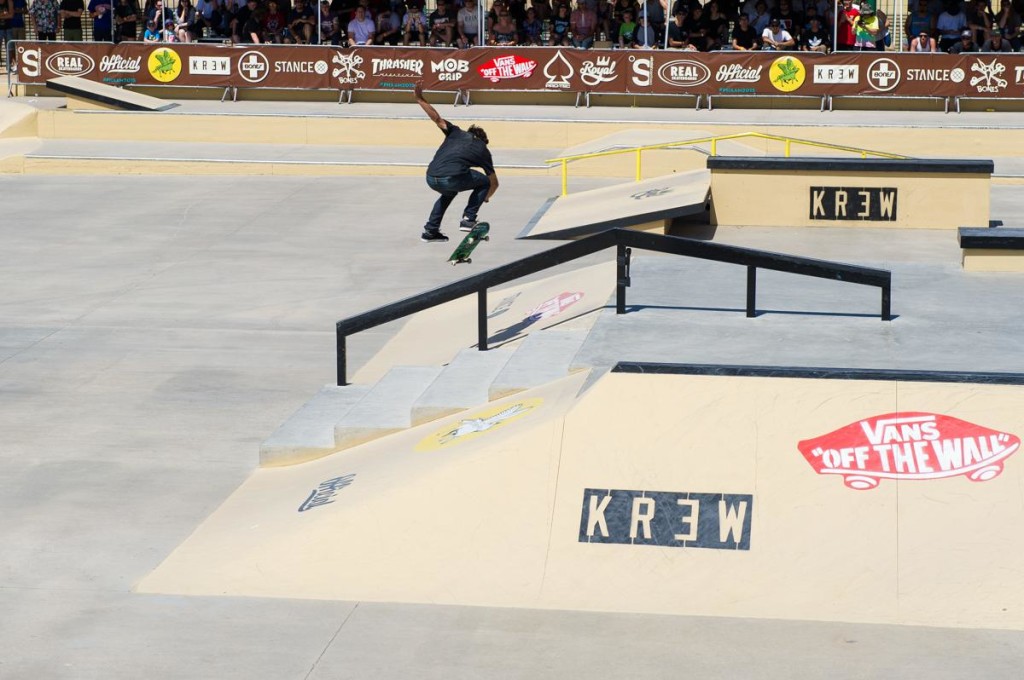 12th place finisher Mickey Papa – Kickflip BS Lipslide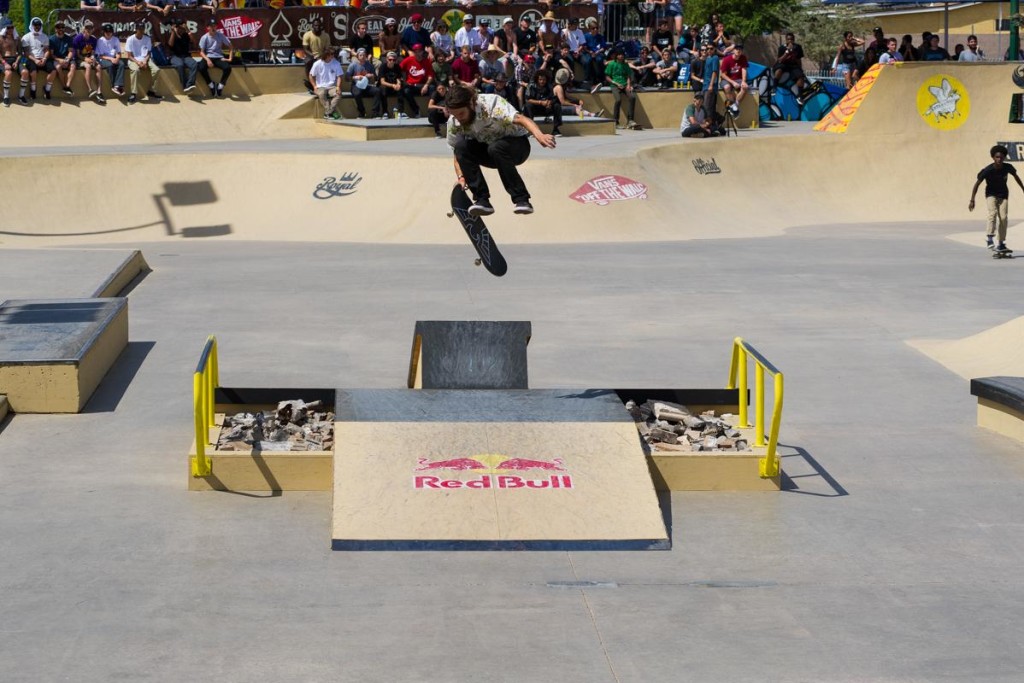 11 place finisher JS Lapierre – Impossible Tailgrab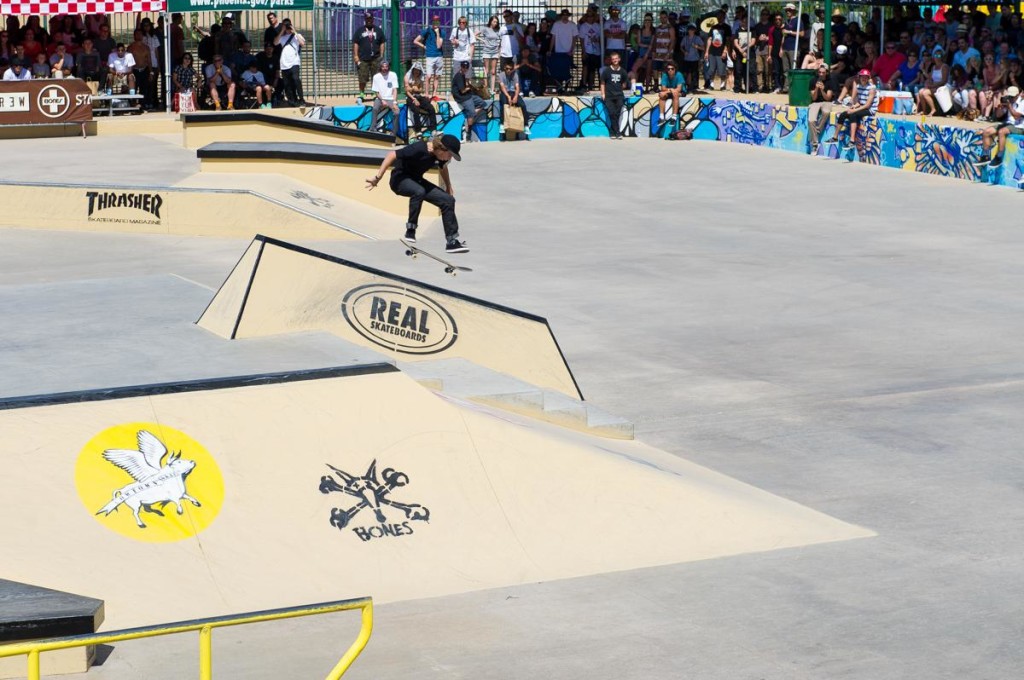 10th place – Chase Webb – Kickflip 50-50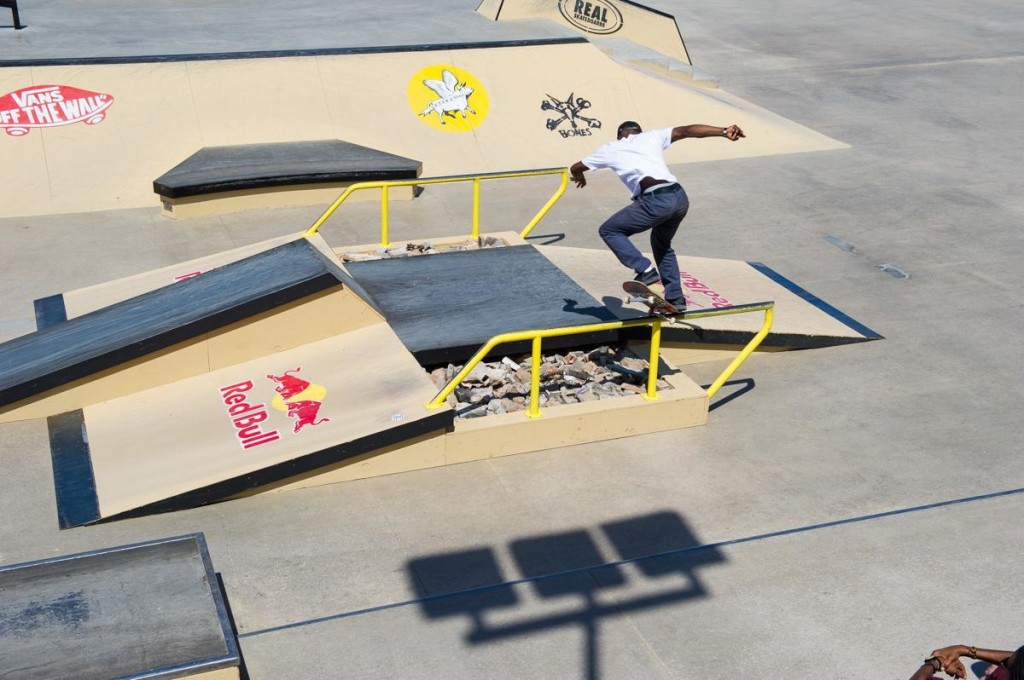 9th place – Dashawn Jordan – Frontside Krook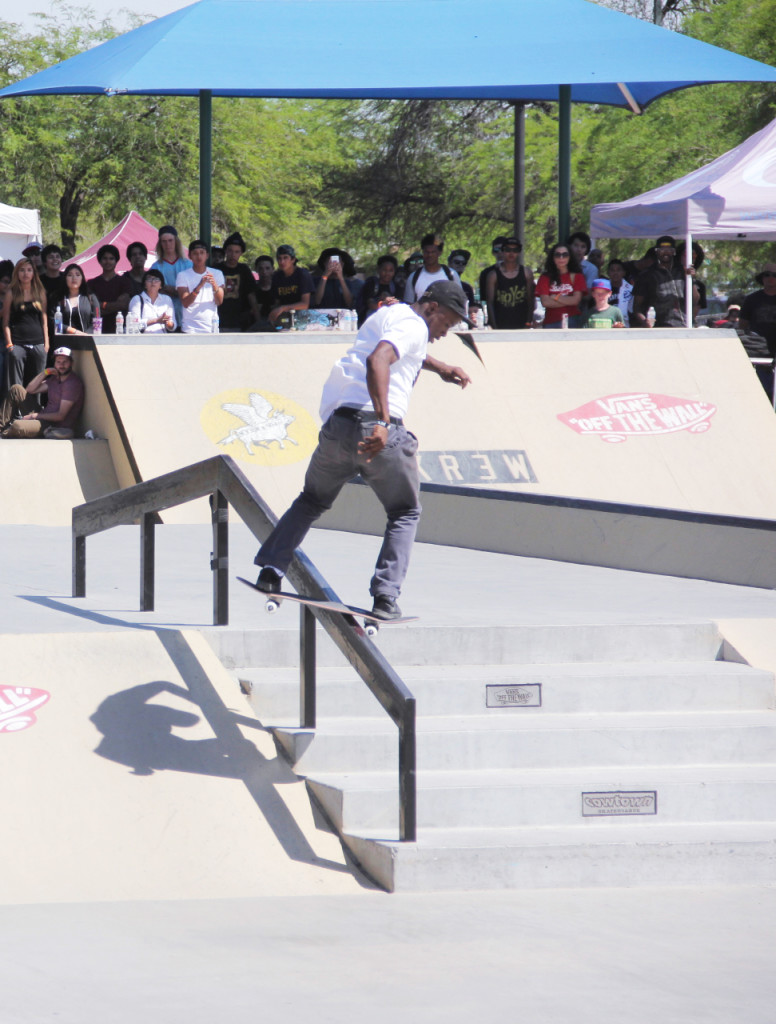 Dashawn Jordan – 360 Flip Frontside Boardslide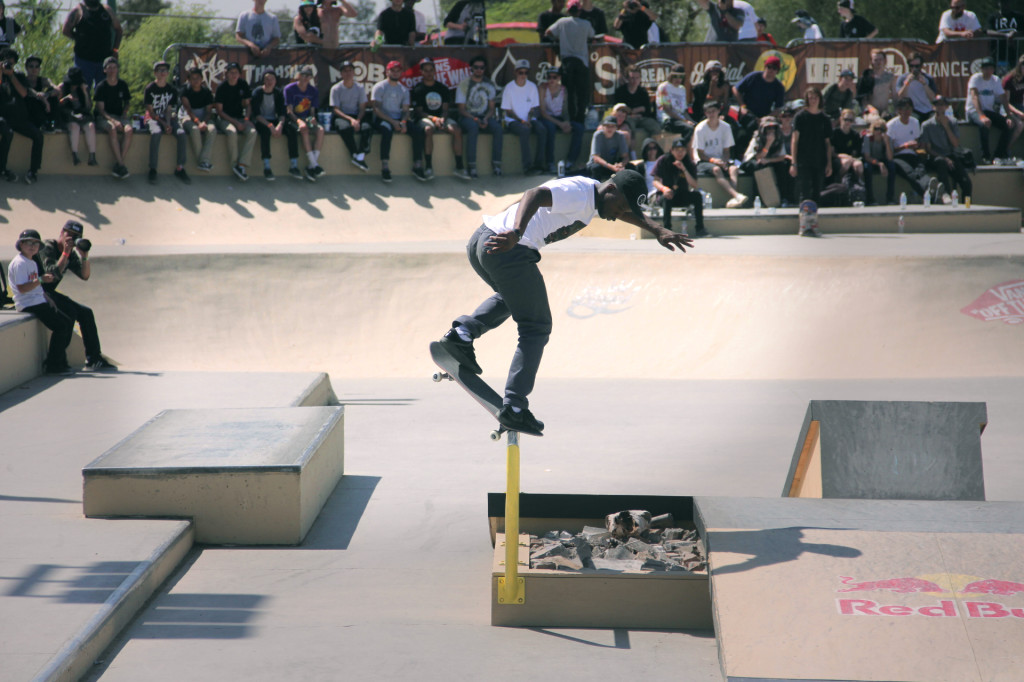 Dashawn Jordan – Overkrook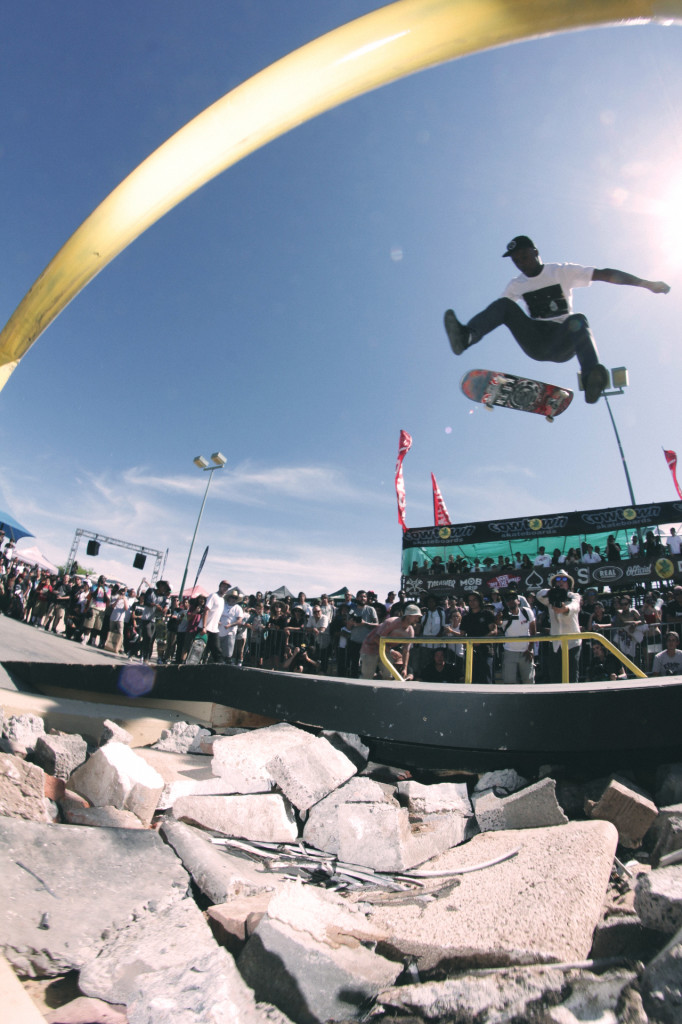 Dashawn Jordan – Lazer Flip to flat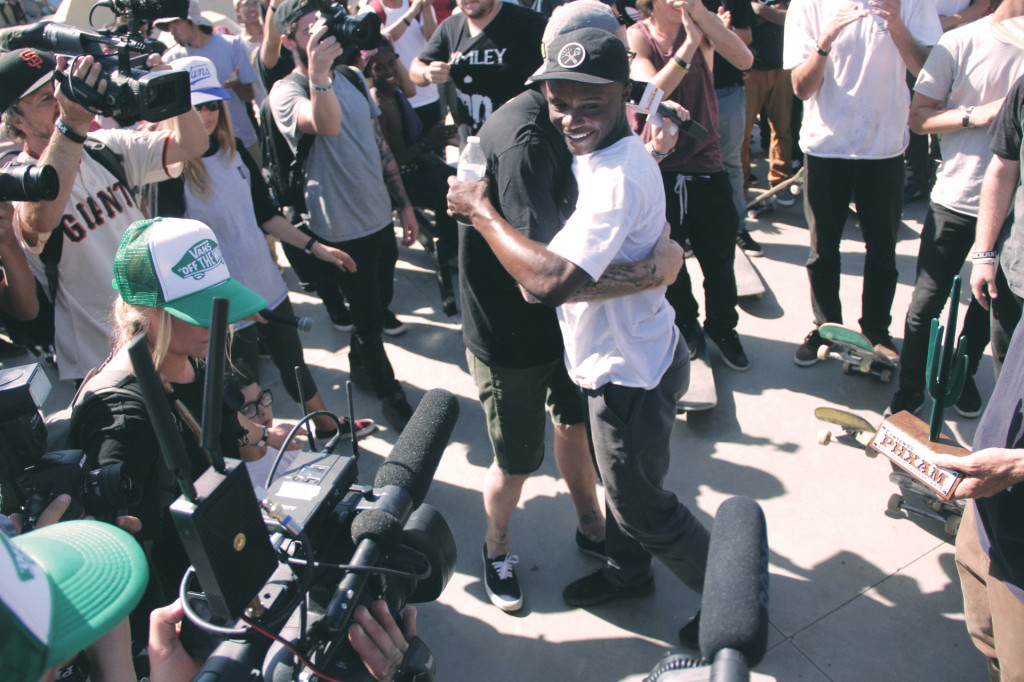 Dashawn Jordan – Winner – Red Bull's Best Trick $2500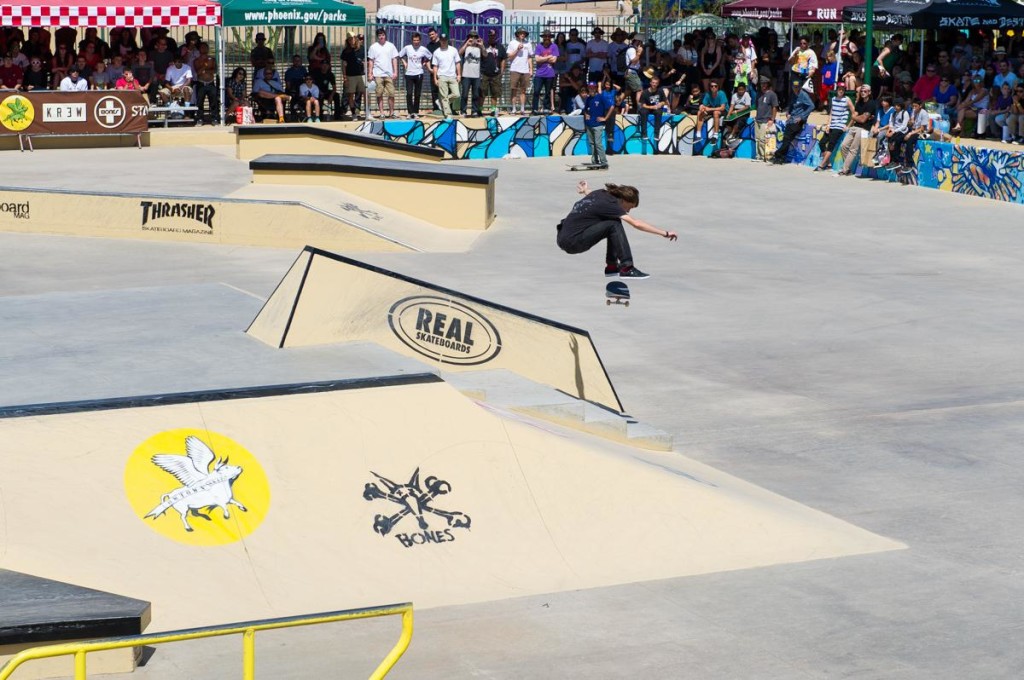 8th place – Tyson Bowerbank – Frontside Heelflip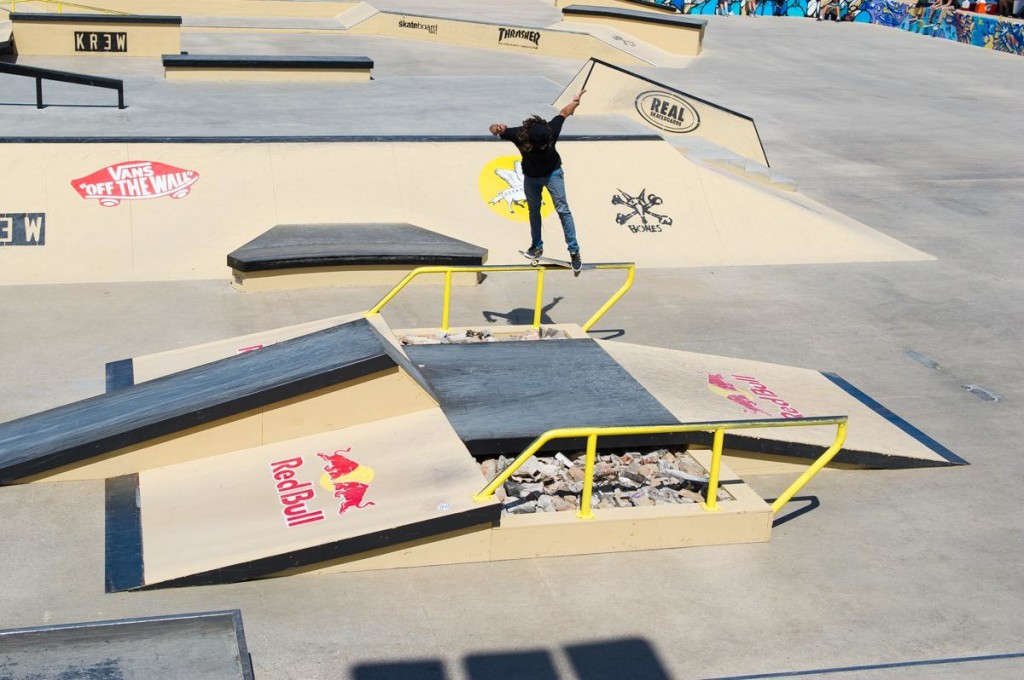 7th place – Maurice Jordan – Switch Back Smith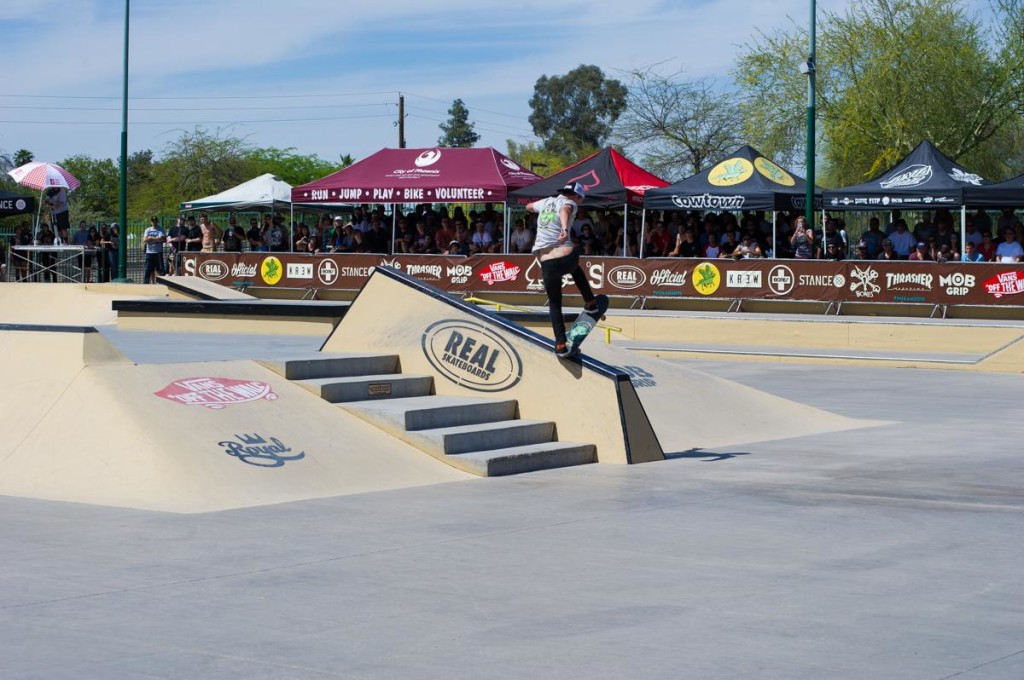 6th place – Dalton Dern – Front Blunt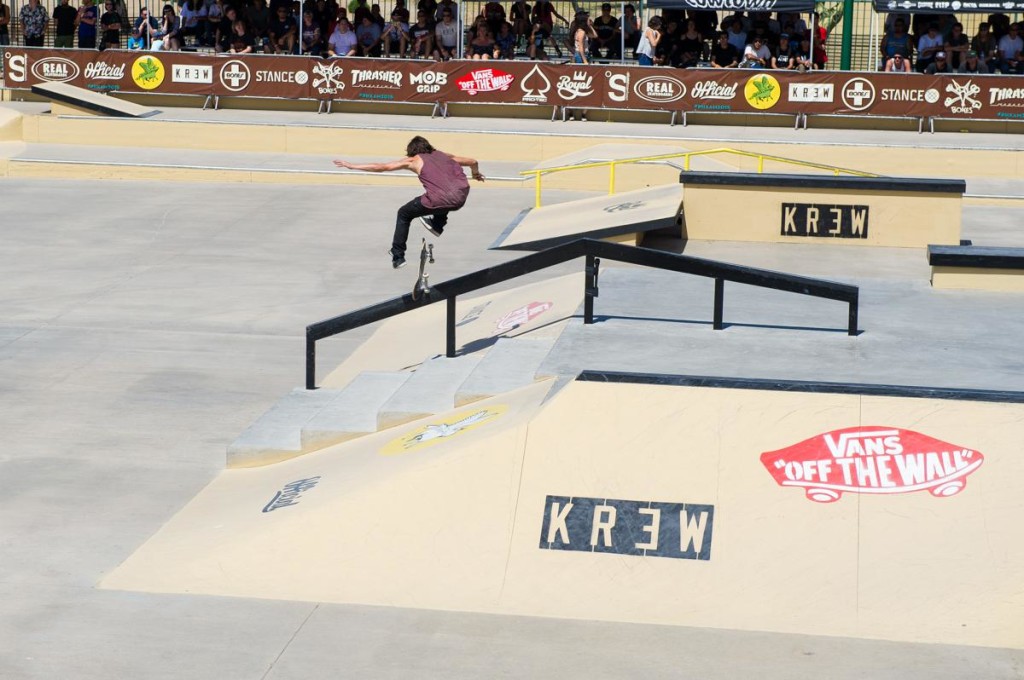 5th place – Noe Solis – 360 Flip Lipslide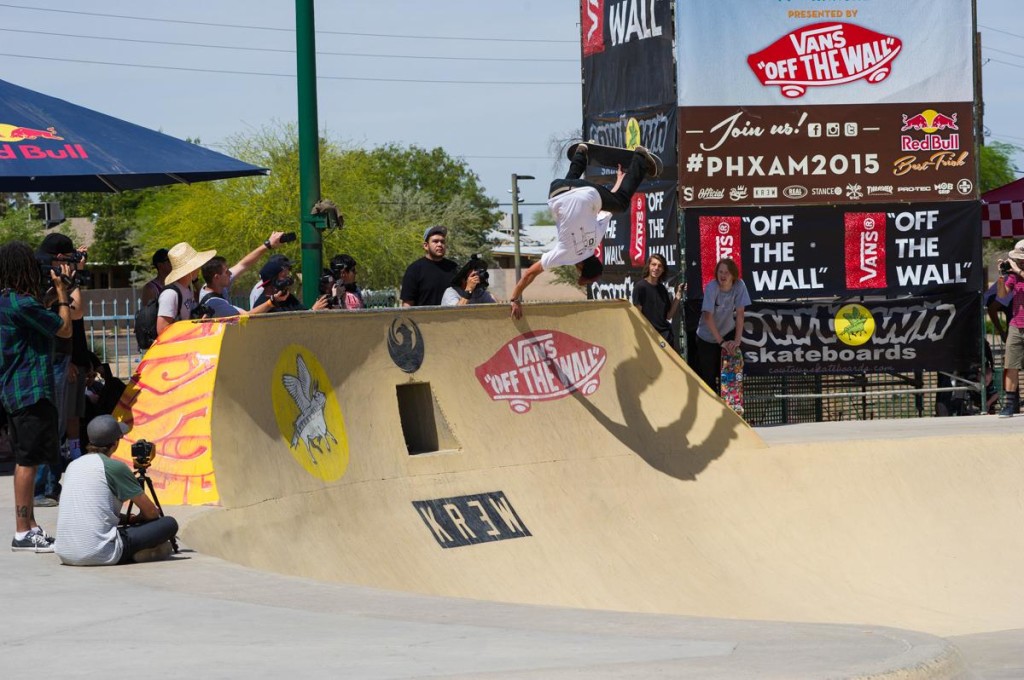 4th Place – Robbie Brockel – Invert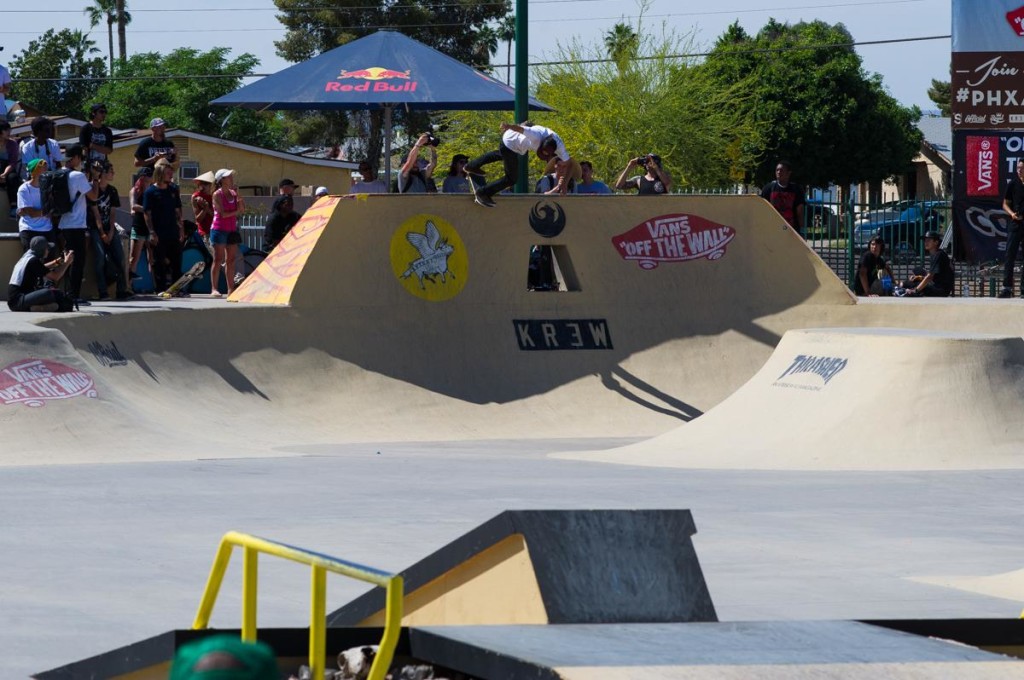 4th place – Robbie Brockel – Backside Lipslide over the Keyhole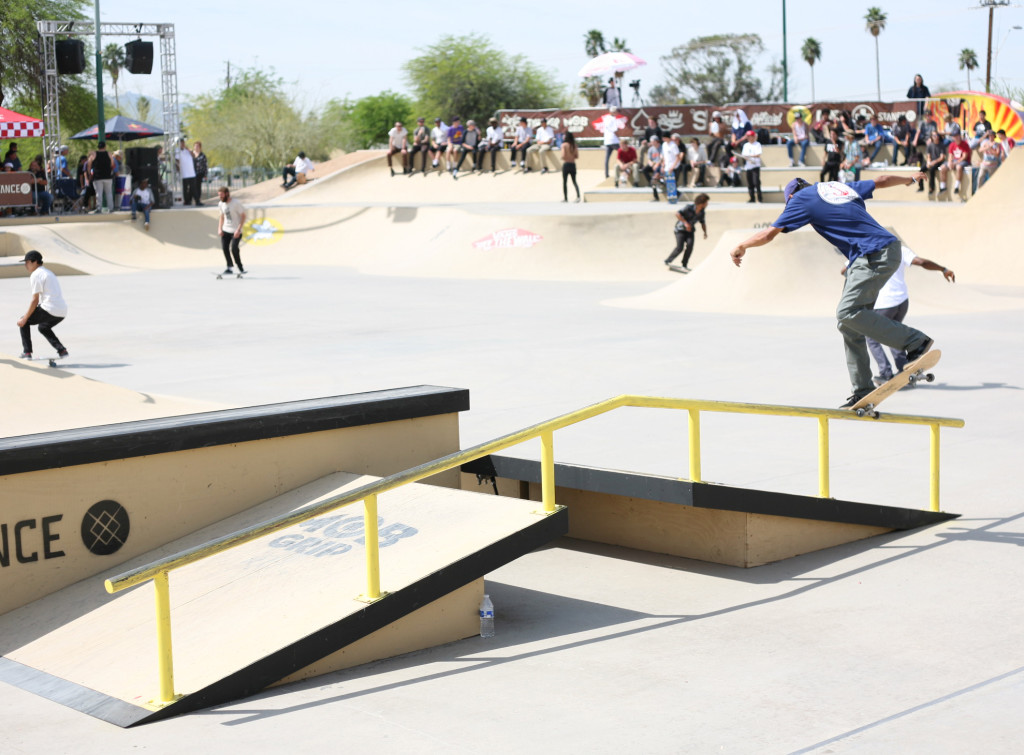 3rd place – Ivan Monteiro – Backside Noseblunt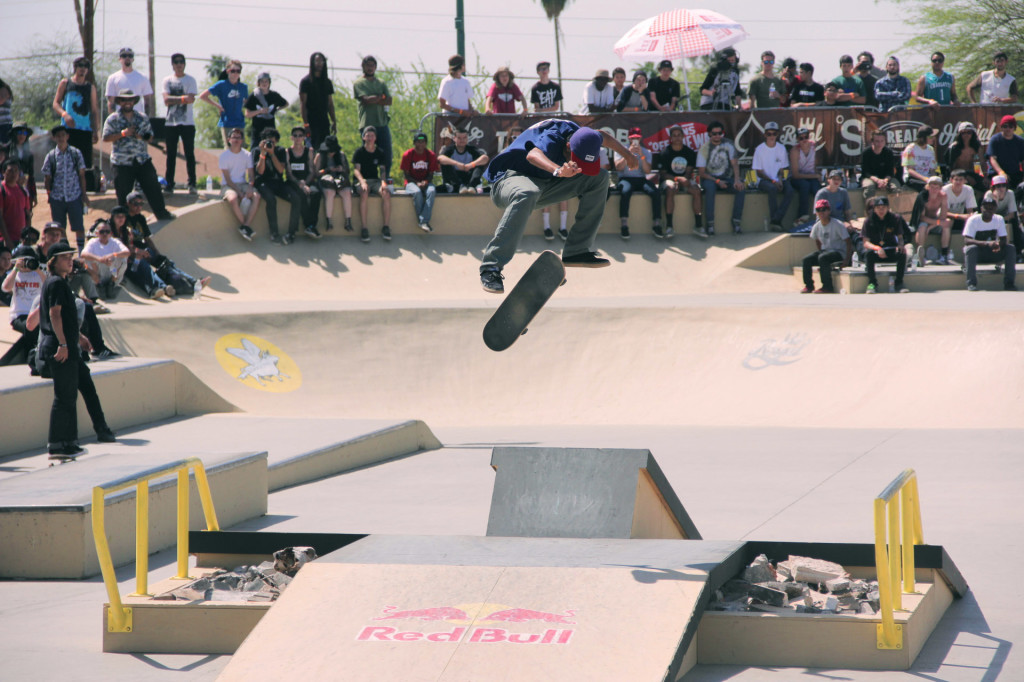 Ivan Moteiro – 360 Flip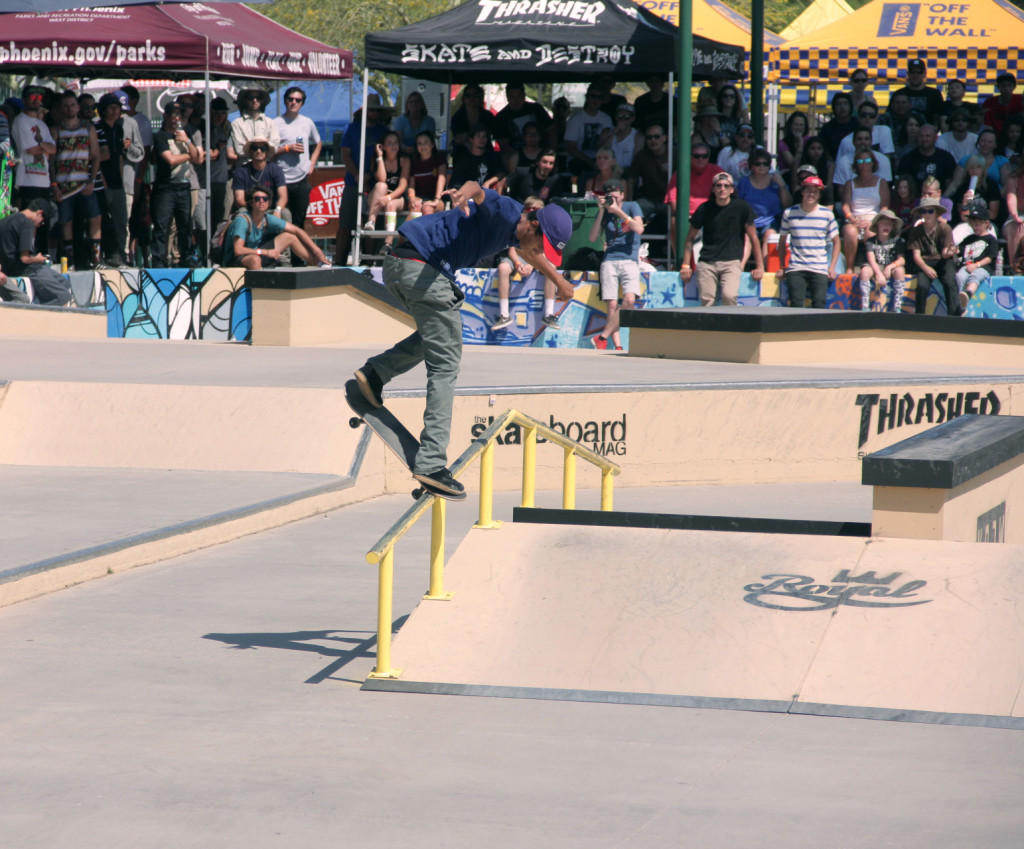 Ivan Monteiro – Backside Noseblunt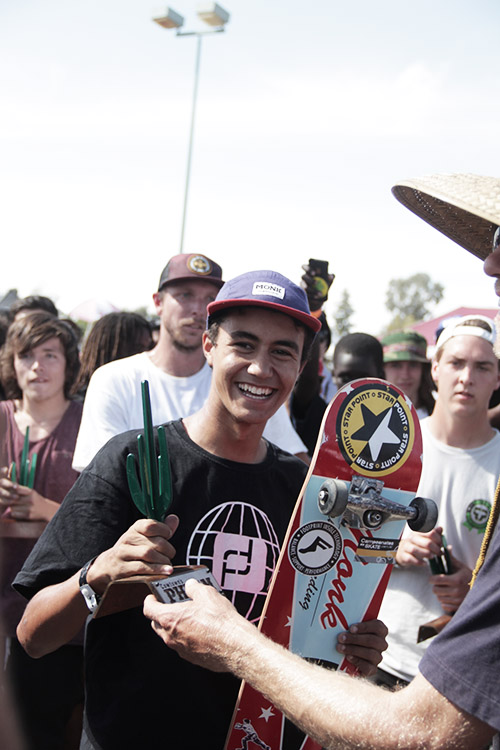 3rd place and $1,000 – Ivan Monteiro of San Paolo Brazil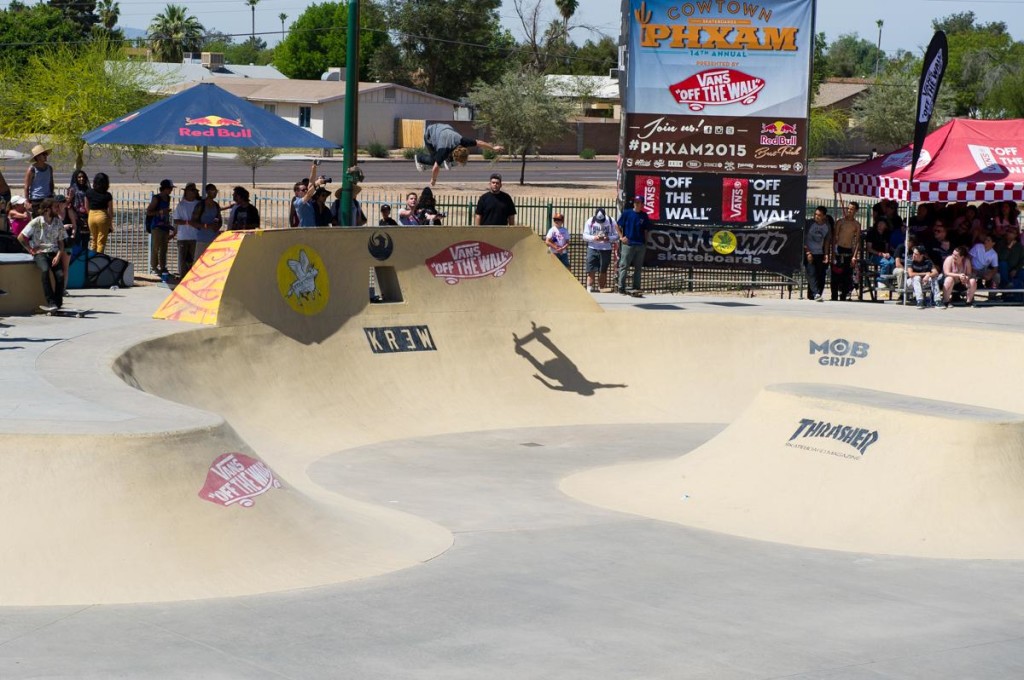 2nd place – Jamie Foy – Backside Ollie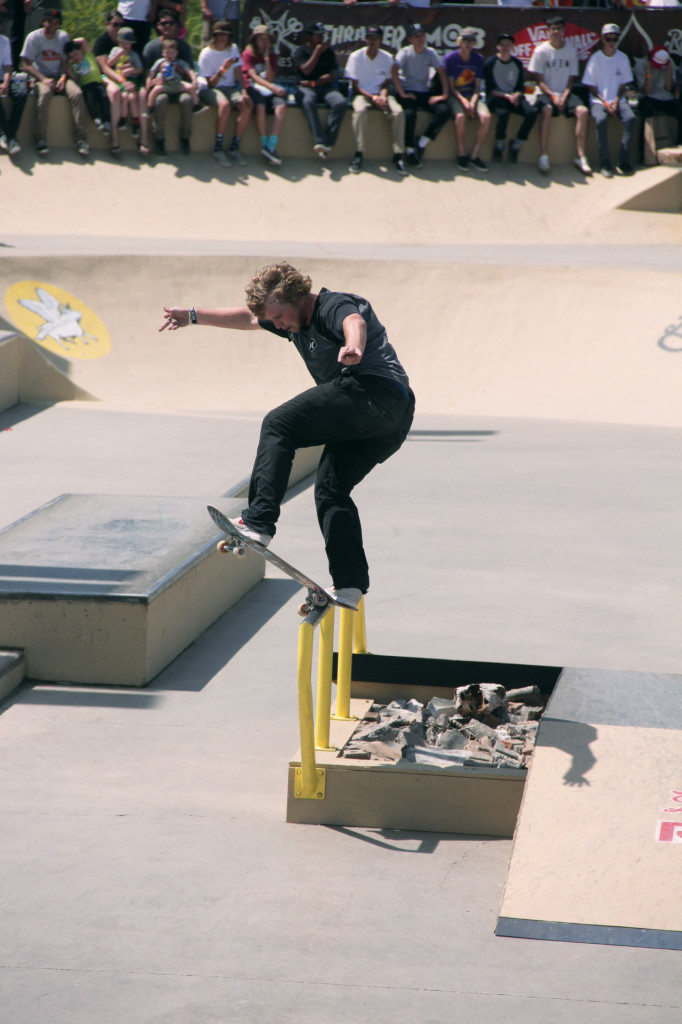 Jamie Foy – Frontside Bluntslide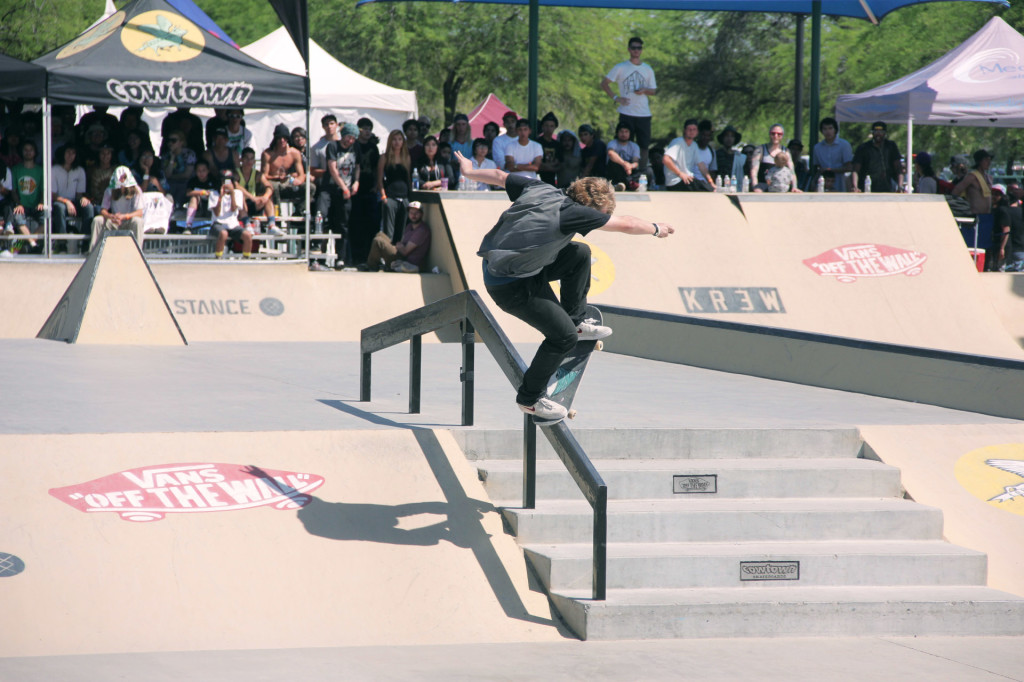 Jamie Foy – Fakie 5-0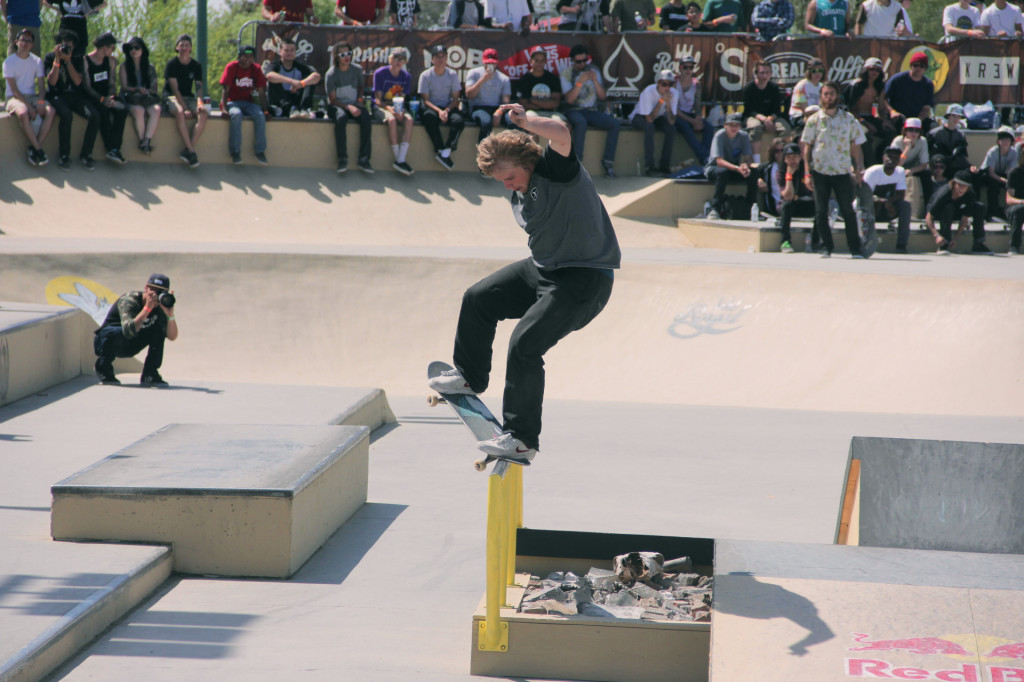 Jamie Foy – Nosegrind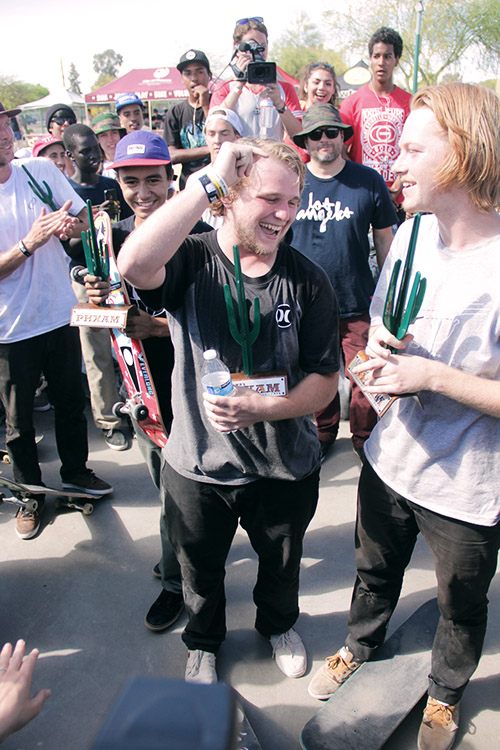 2nd place and $2,000 – Jamie Foy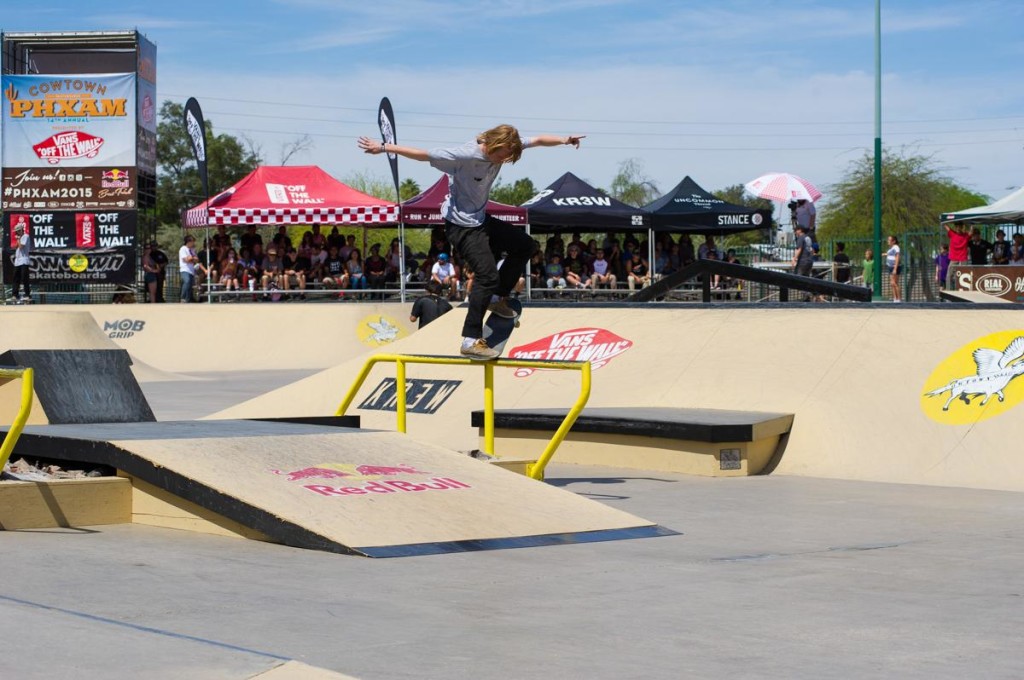 1st place – Jack Olson – 180 Switch Krook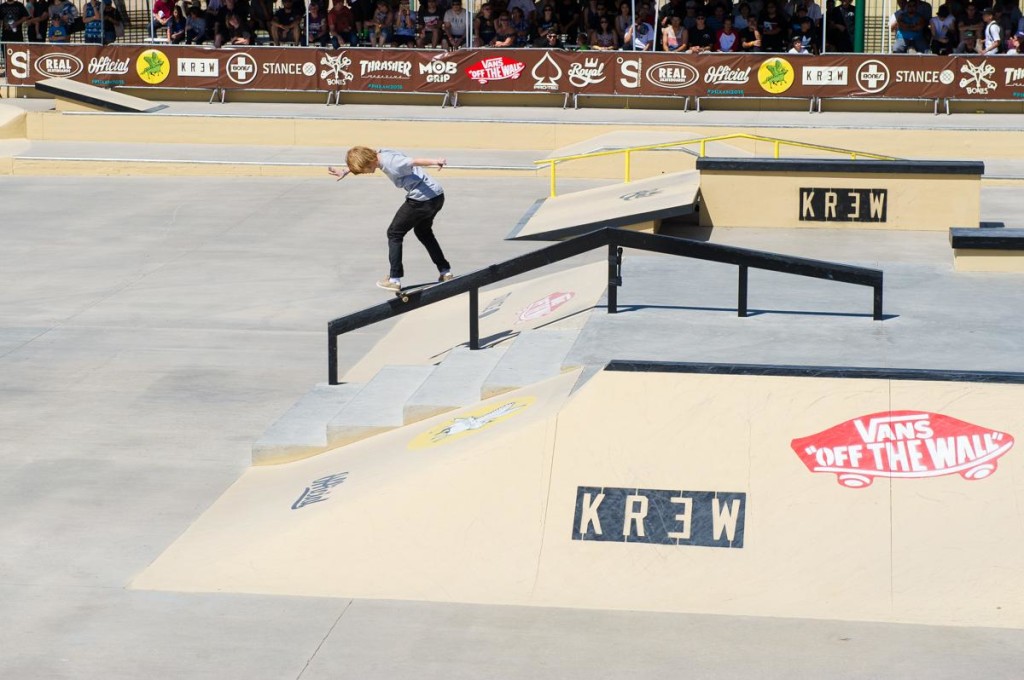 1st place – Jack Olson – Switch Hurricane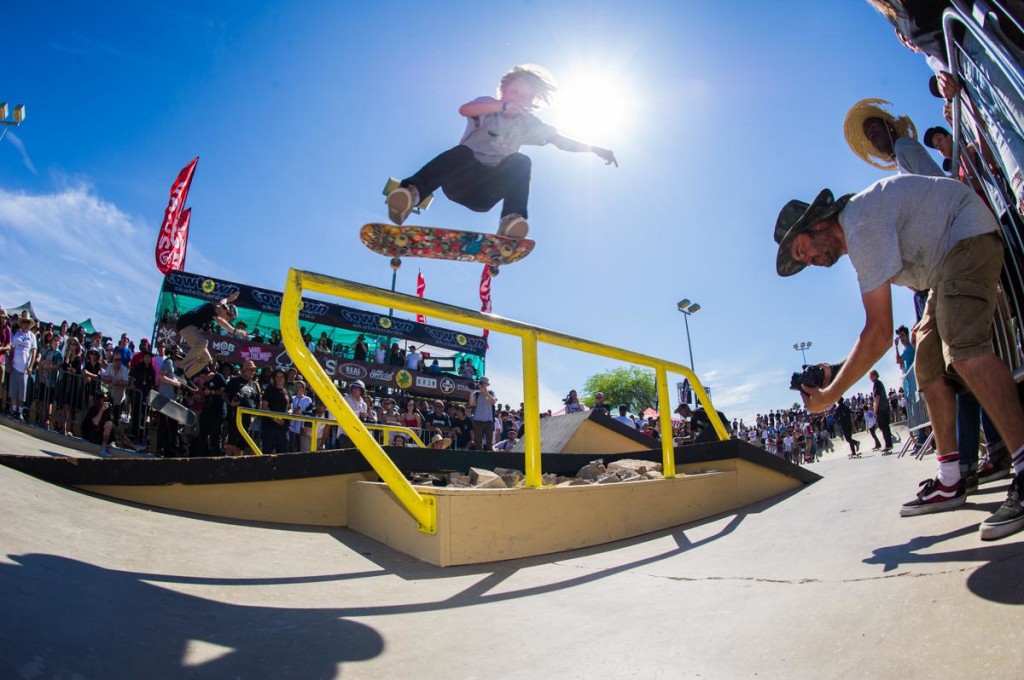 1st place – Jack Olson – Switch Frontside Flip Lipslide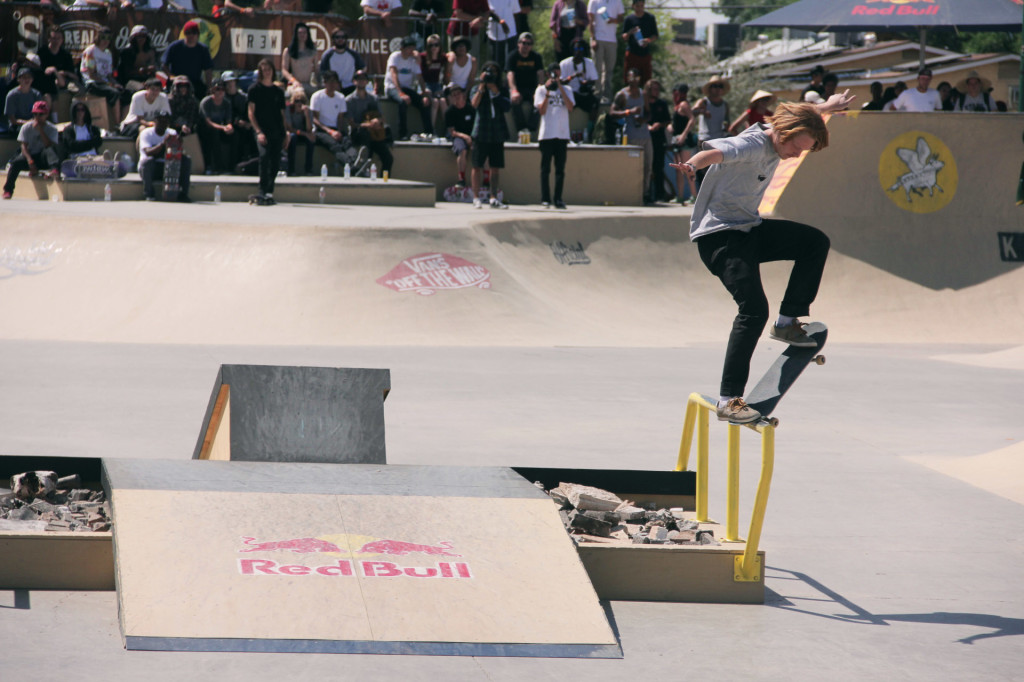 Jack Olson – Switch Nosegrind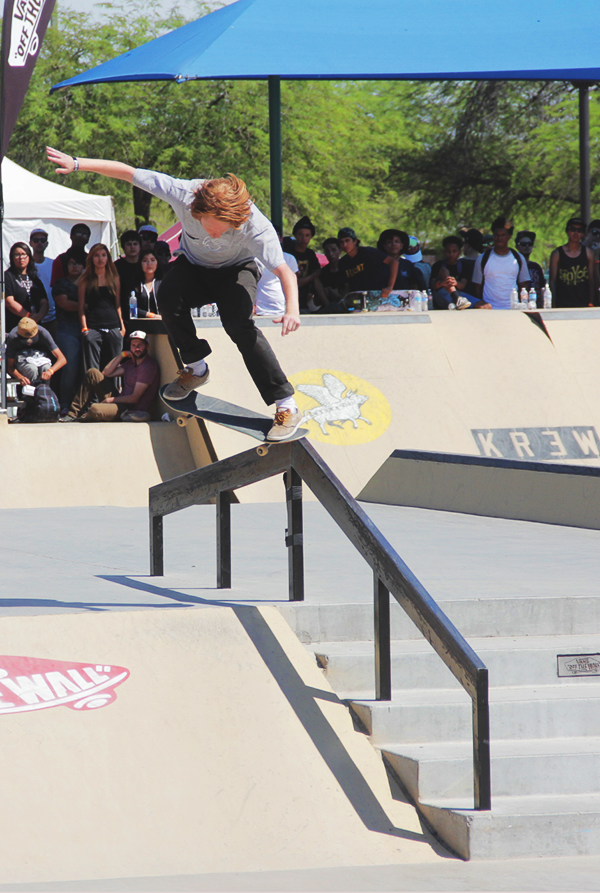 Jack Olson – Krook Pop Out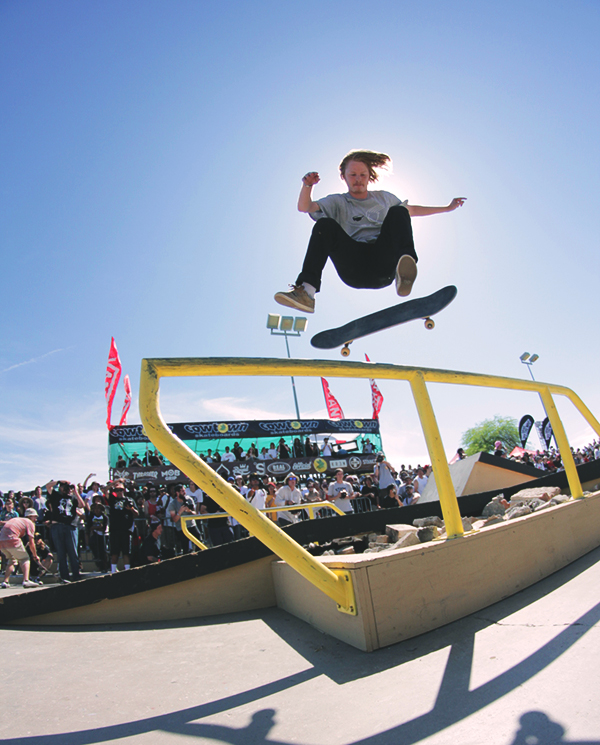 Jack Olson – Switch Flip Lipslide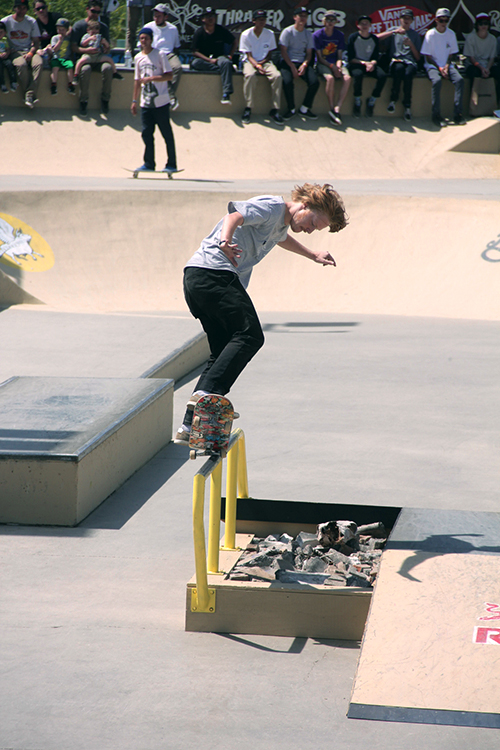 Jack Olson – Switch Back 5-0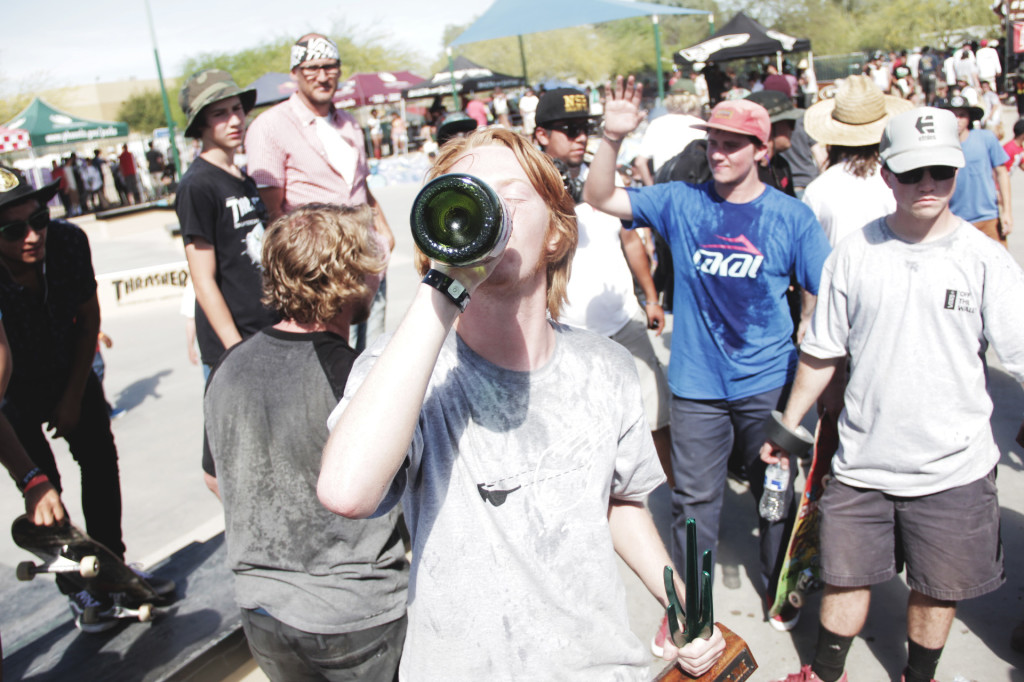 Overall winner – 2015 – Jack Olson $3,000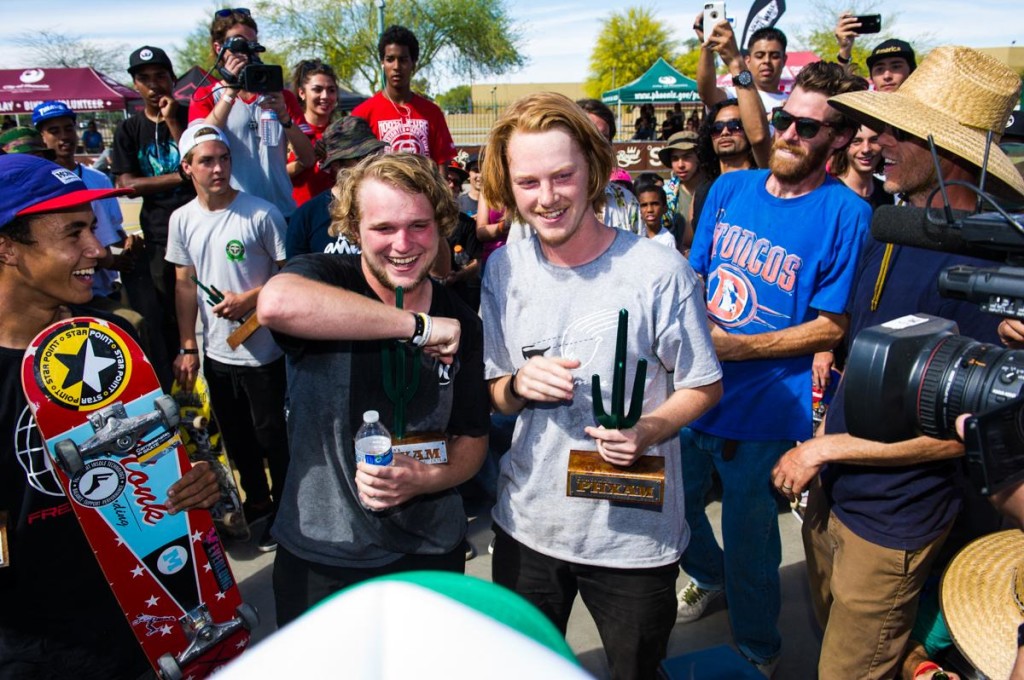 PHXAM 2015's top 3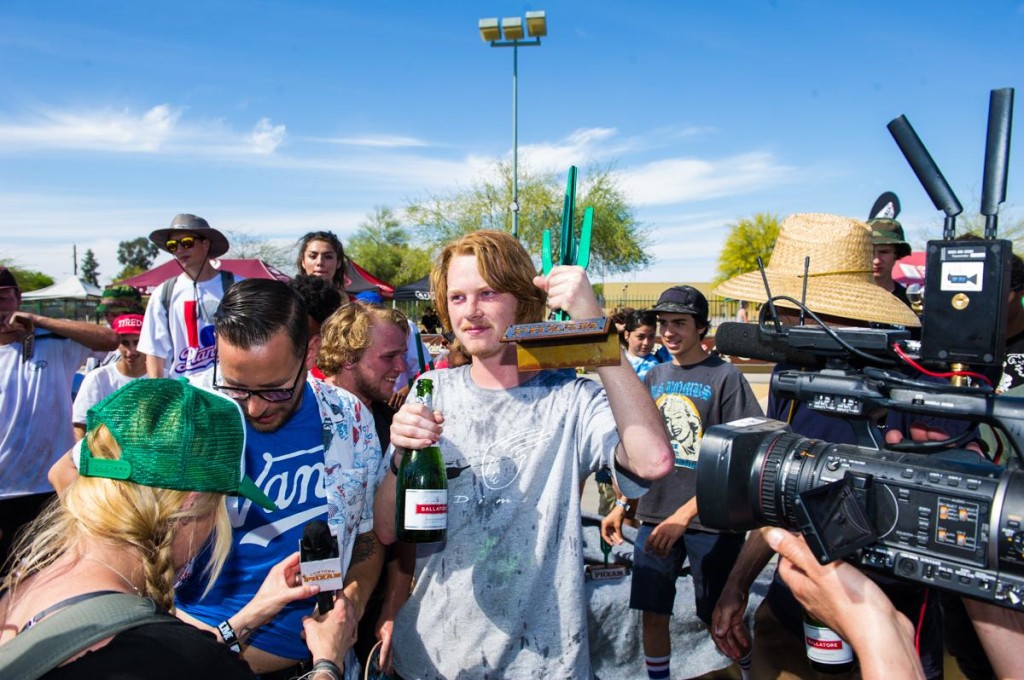 Congrats Jack!
---
2015 – Day 2 – Semi Finals – March 29th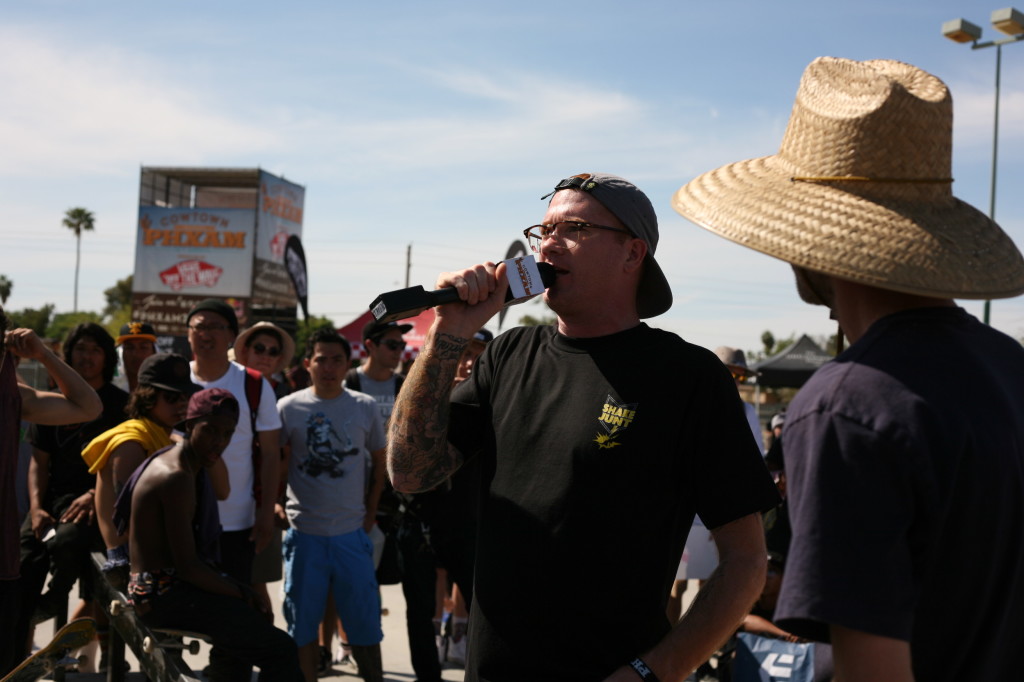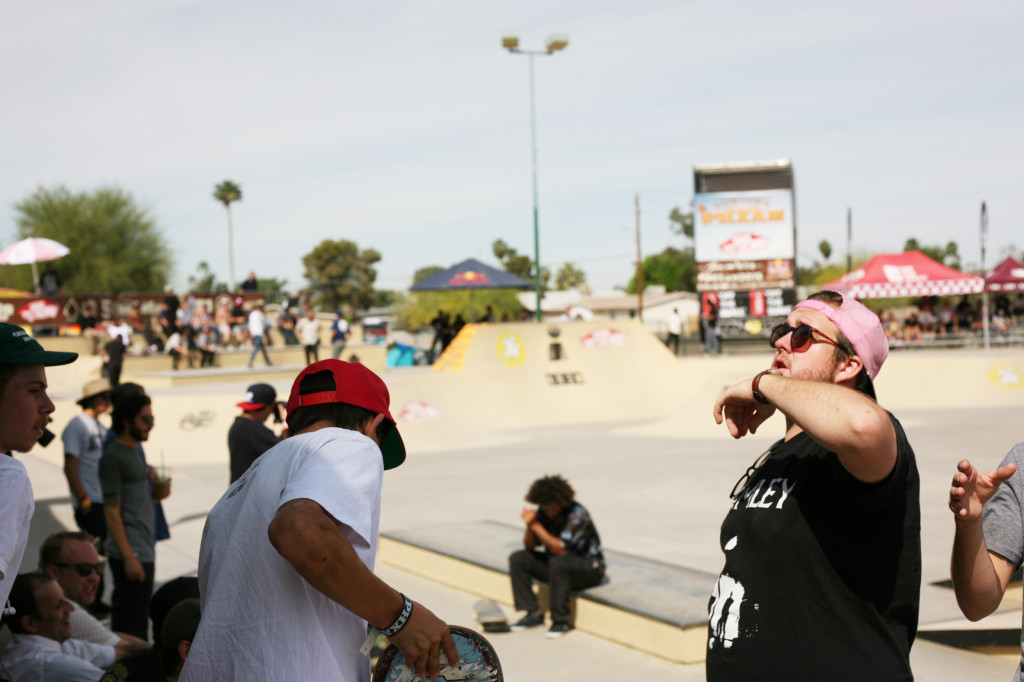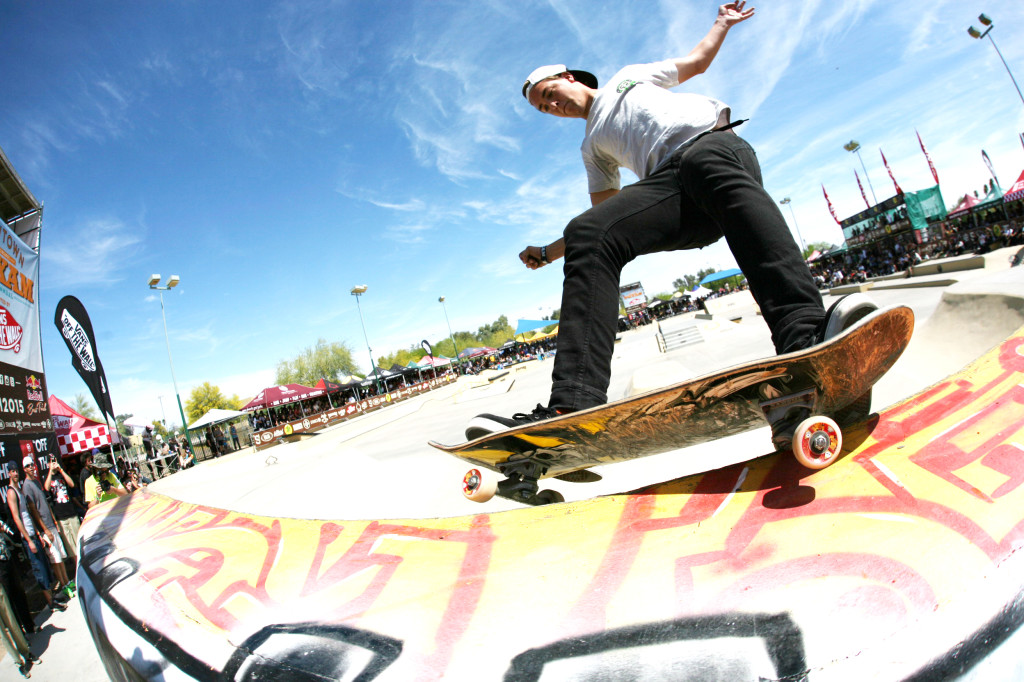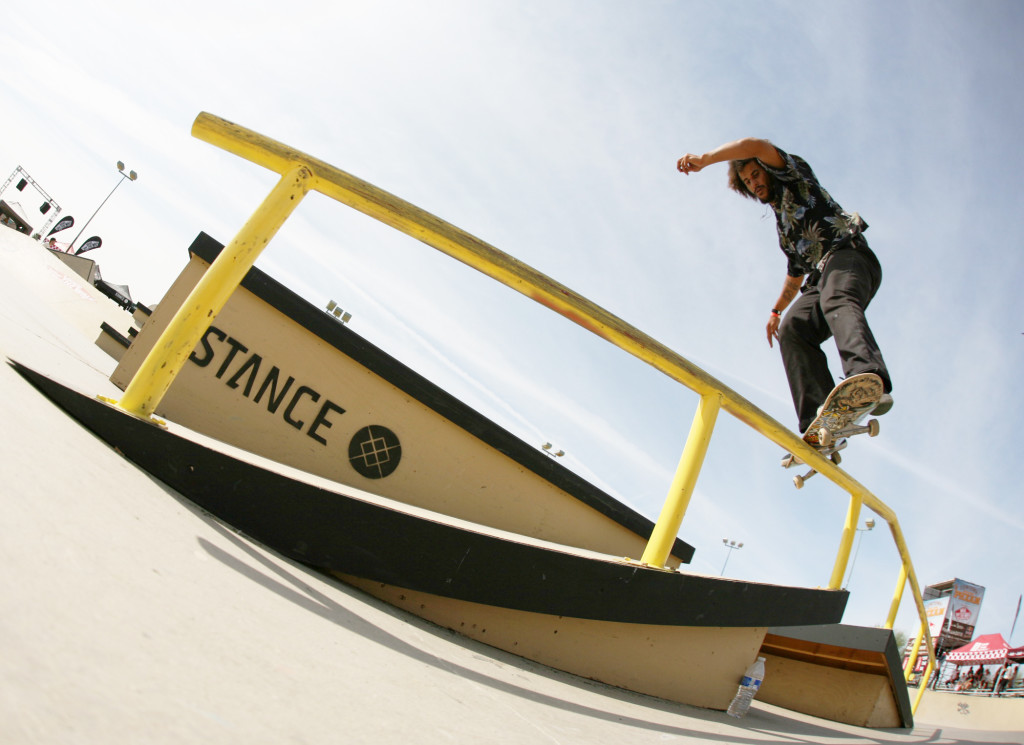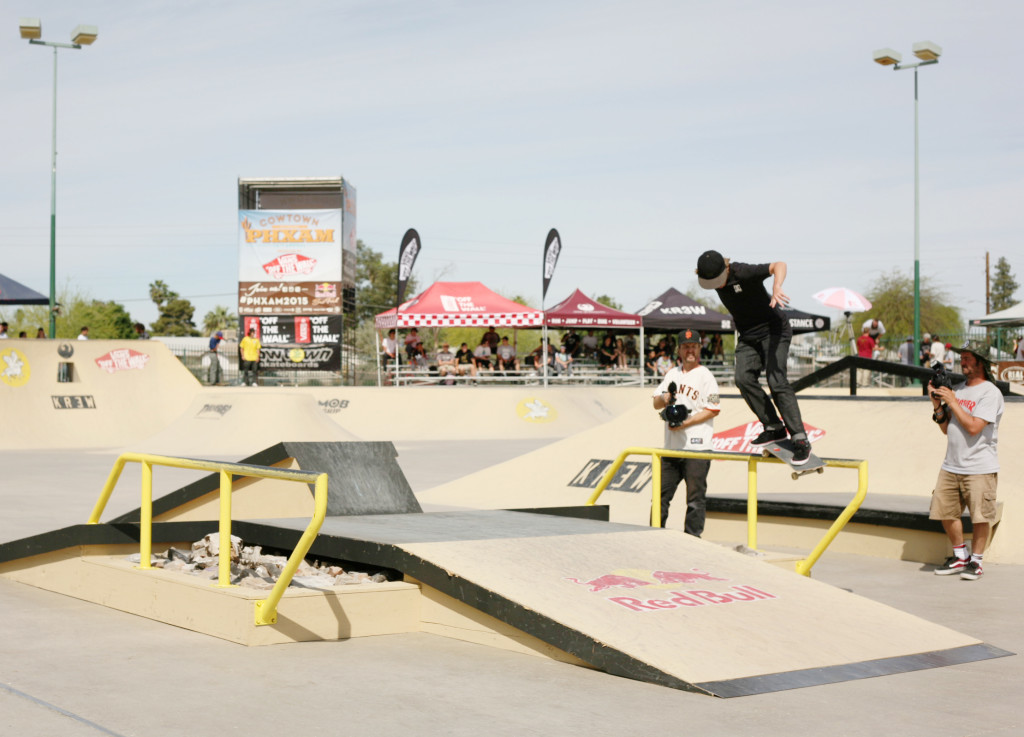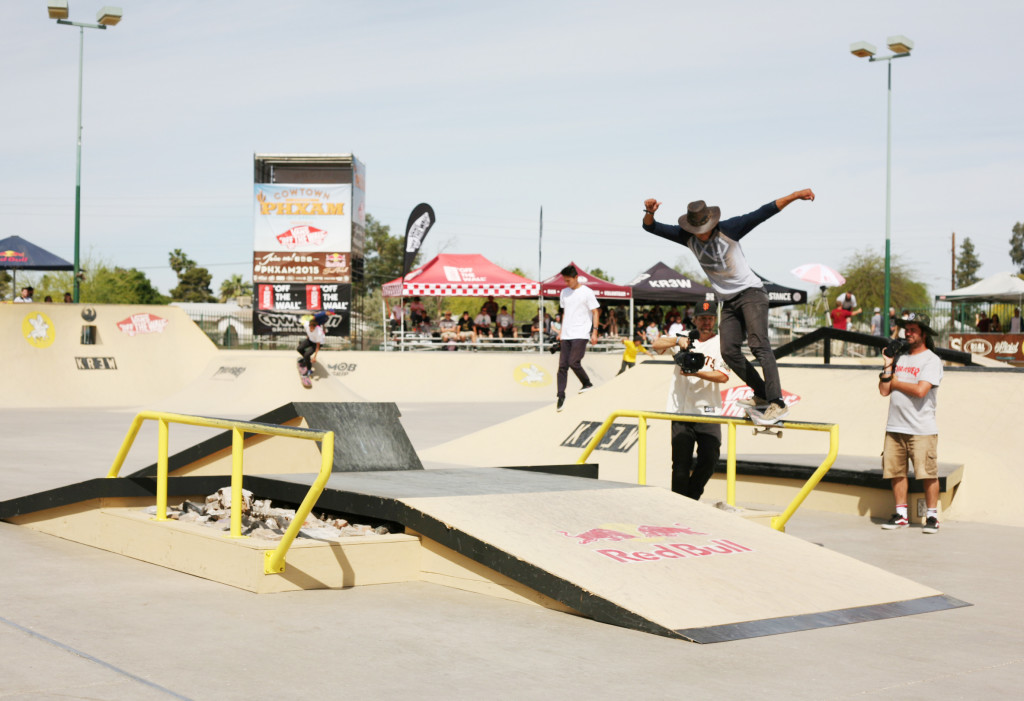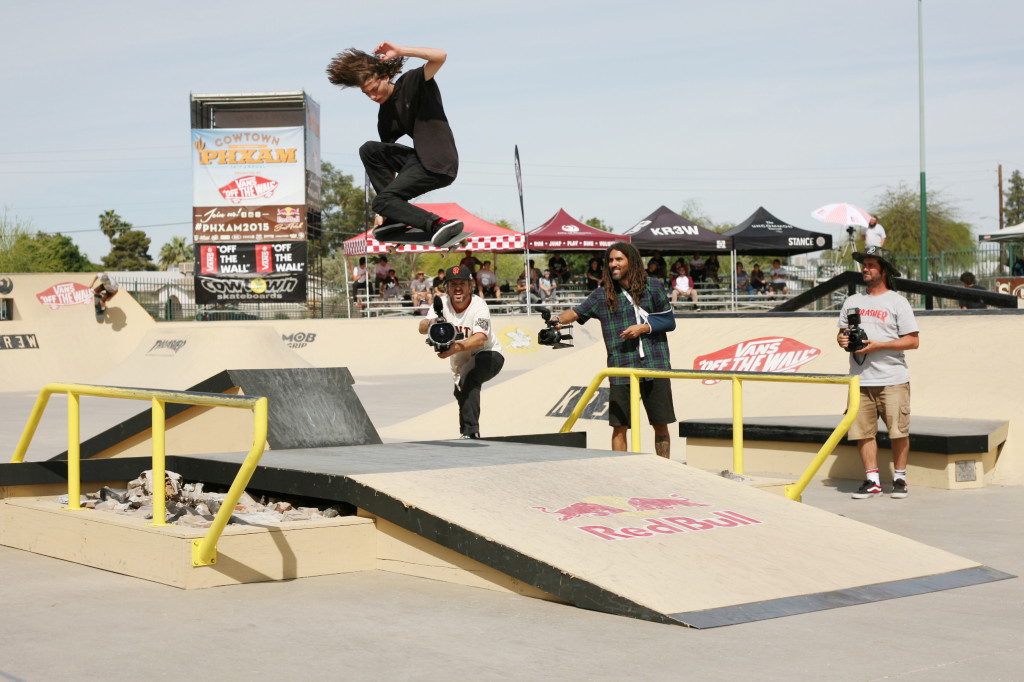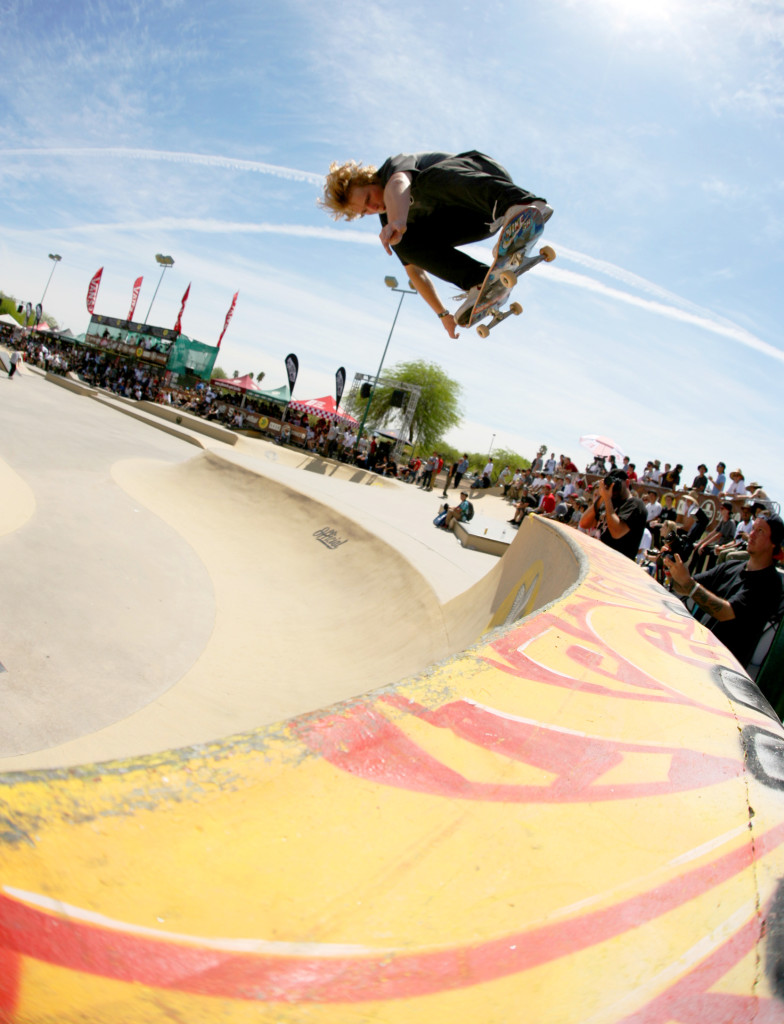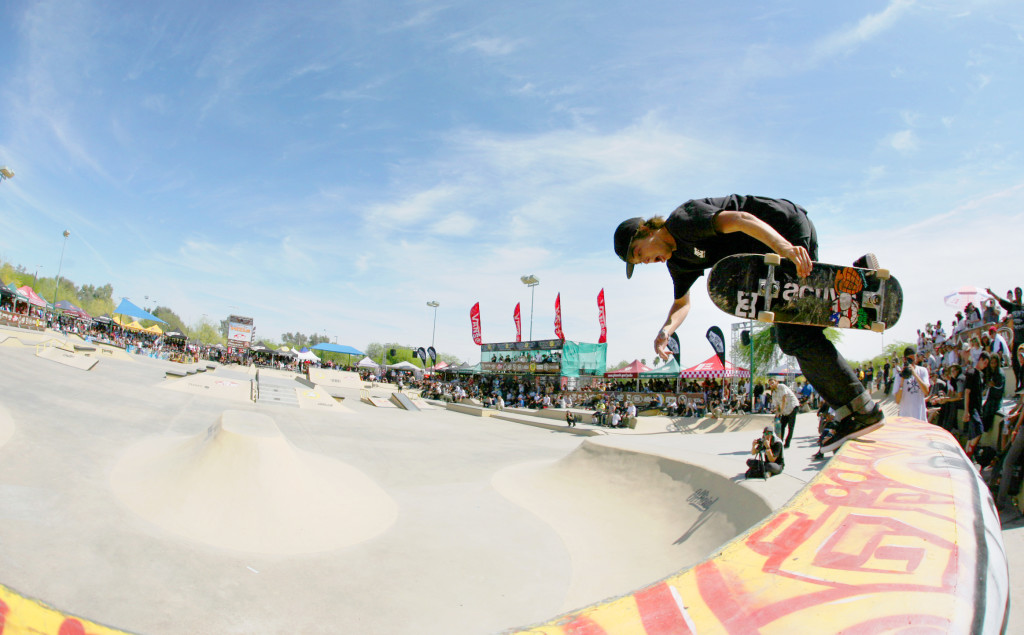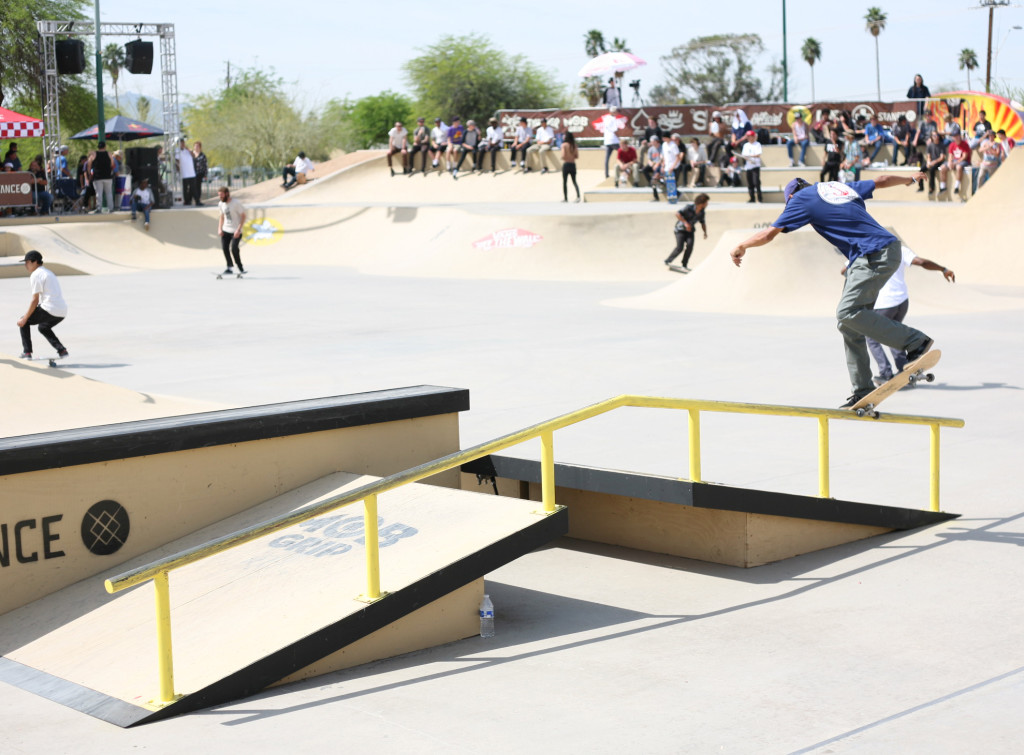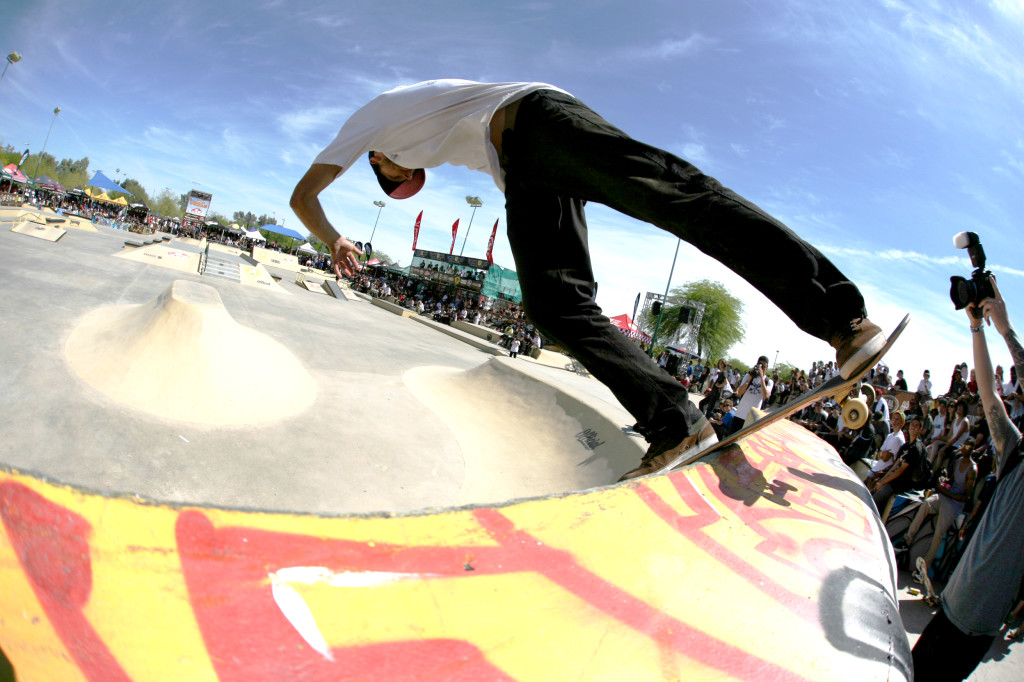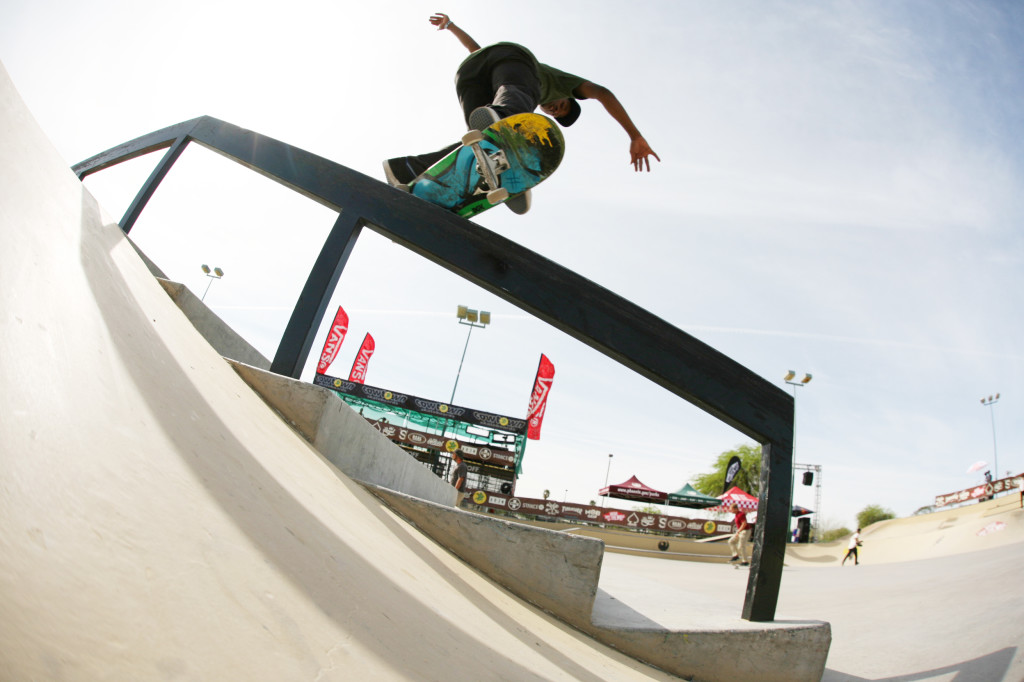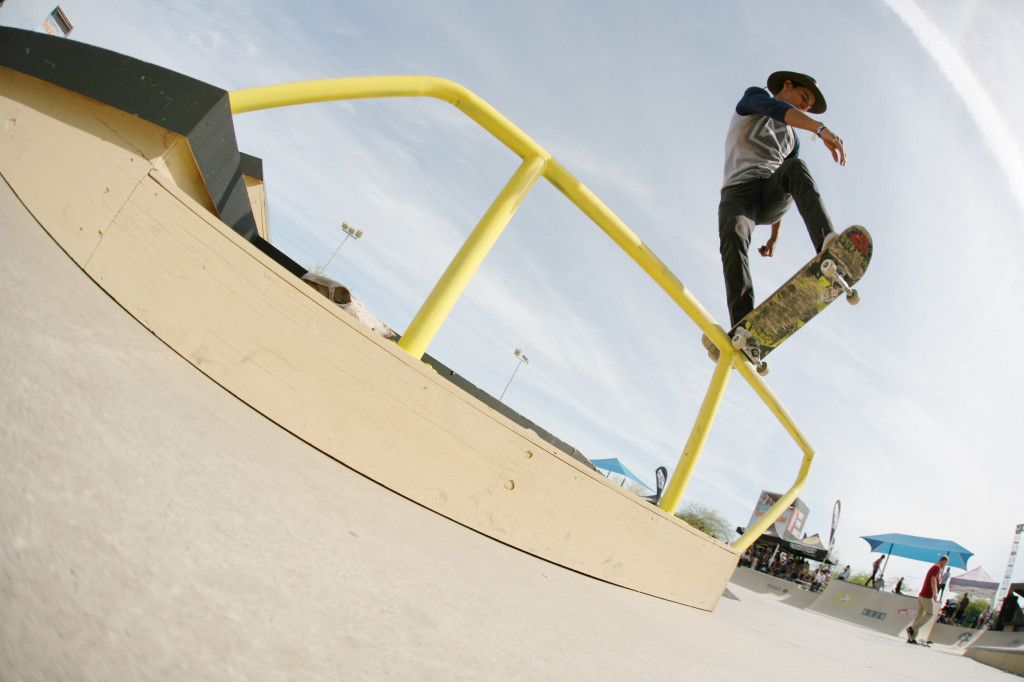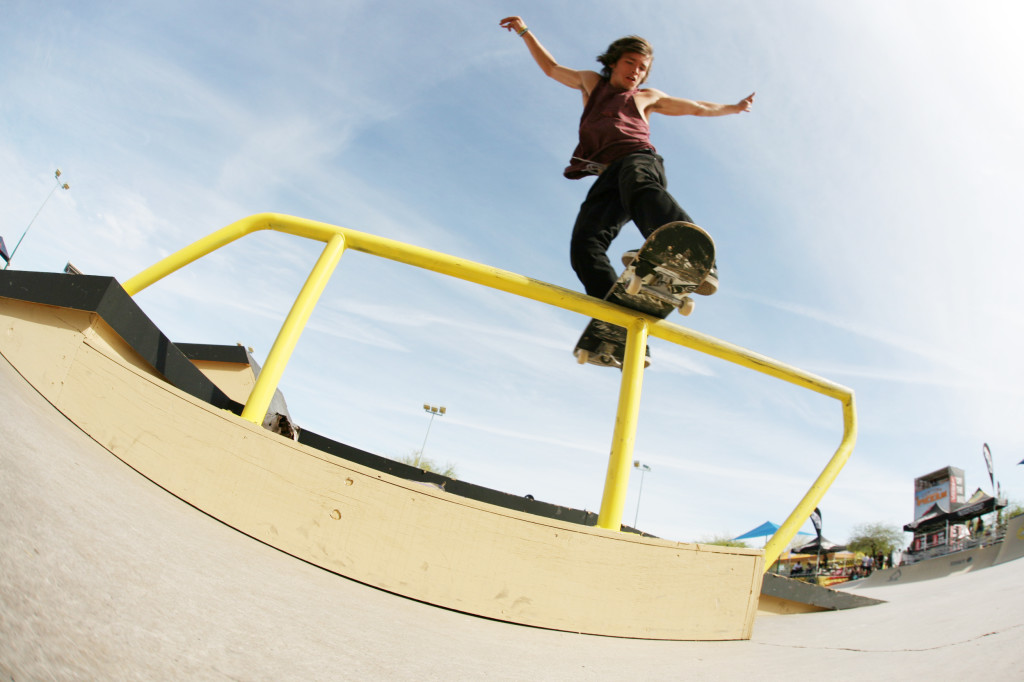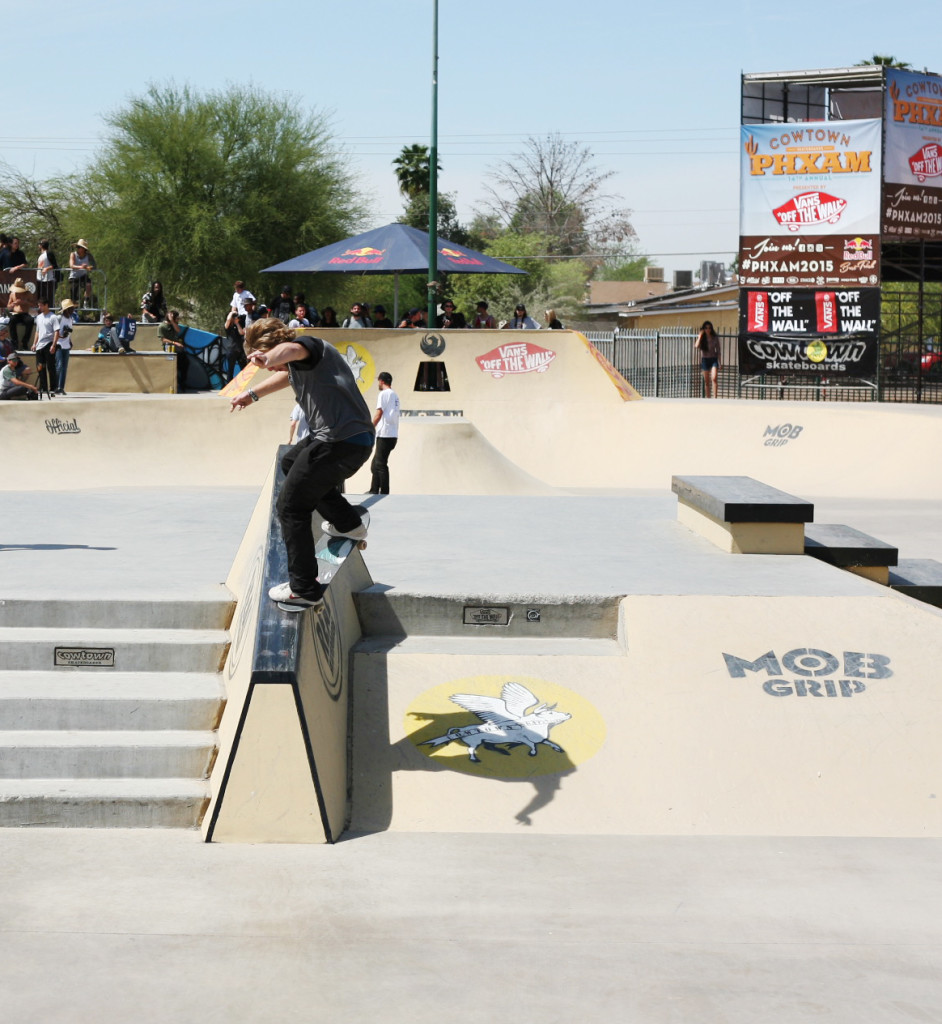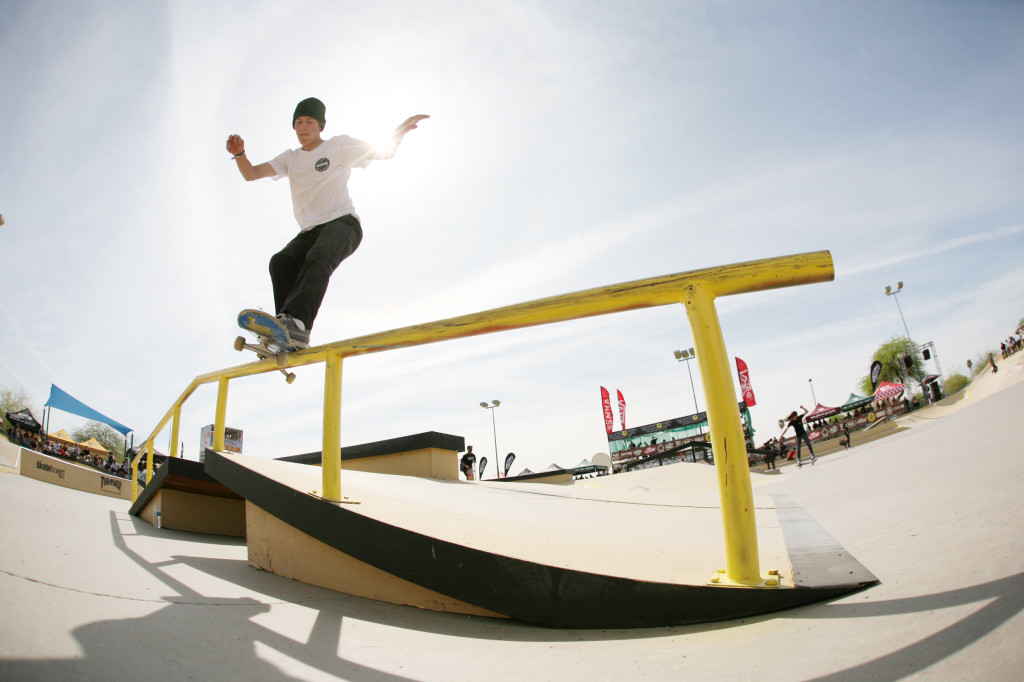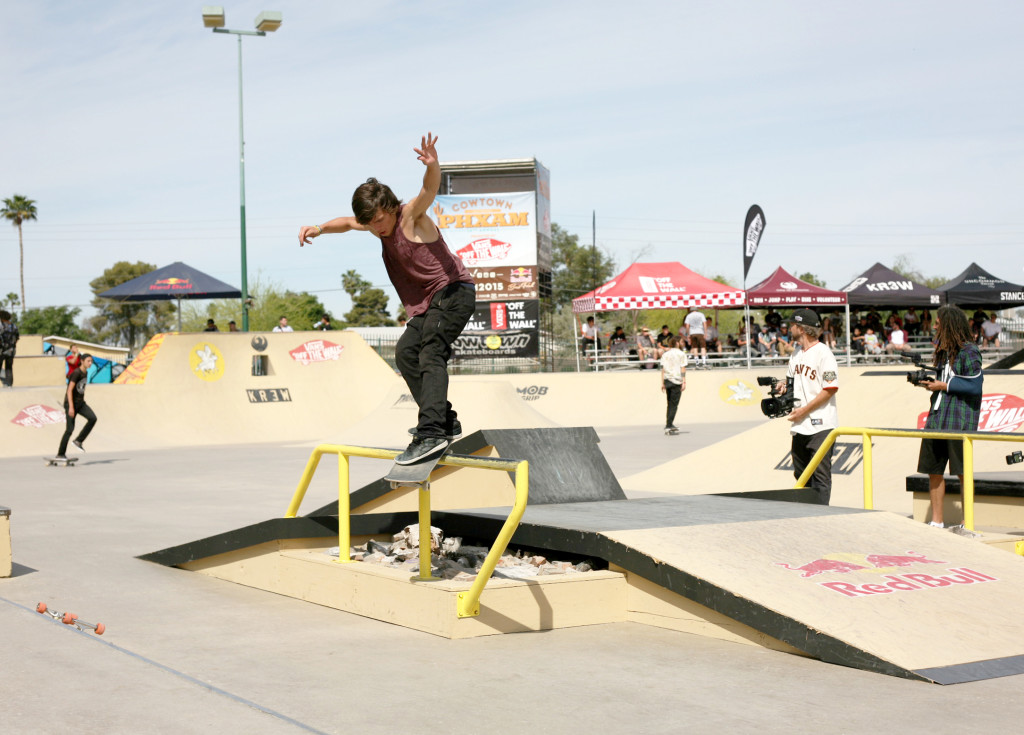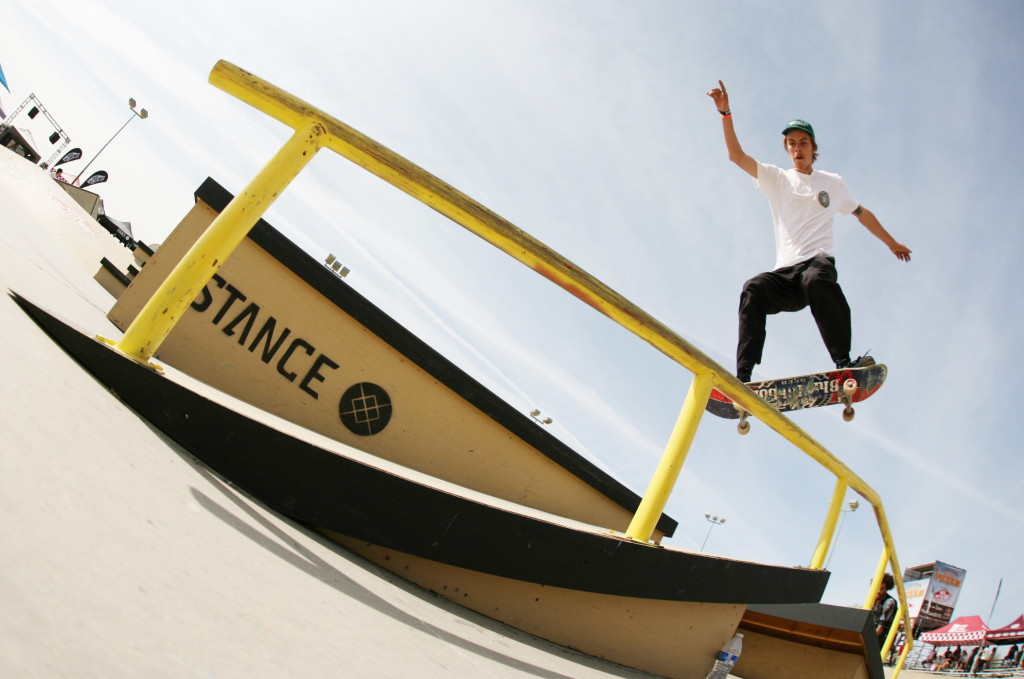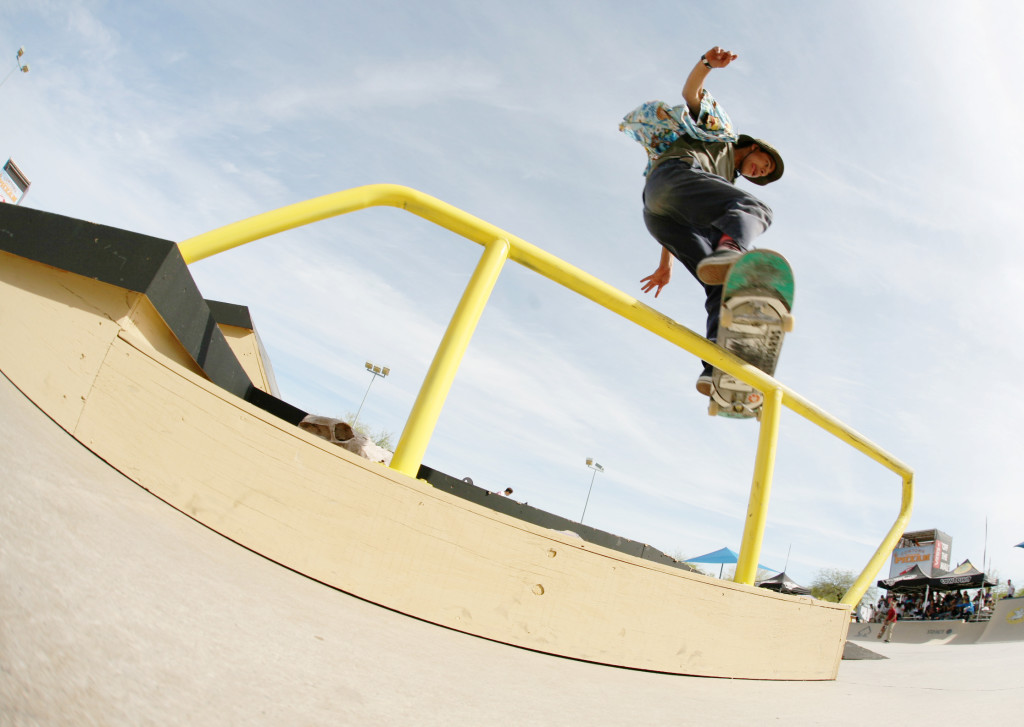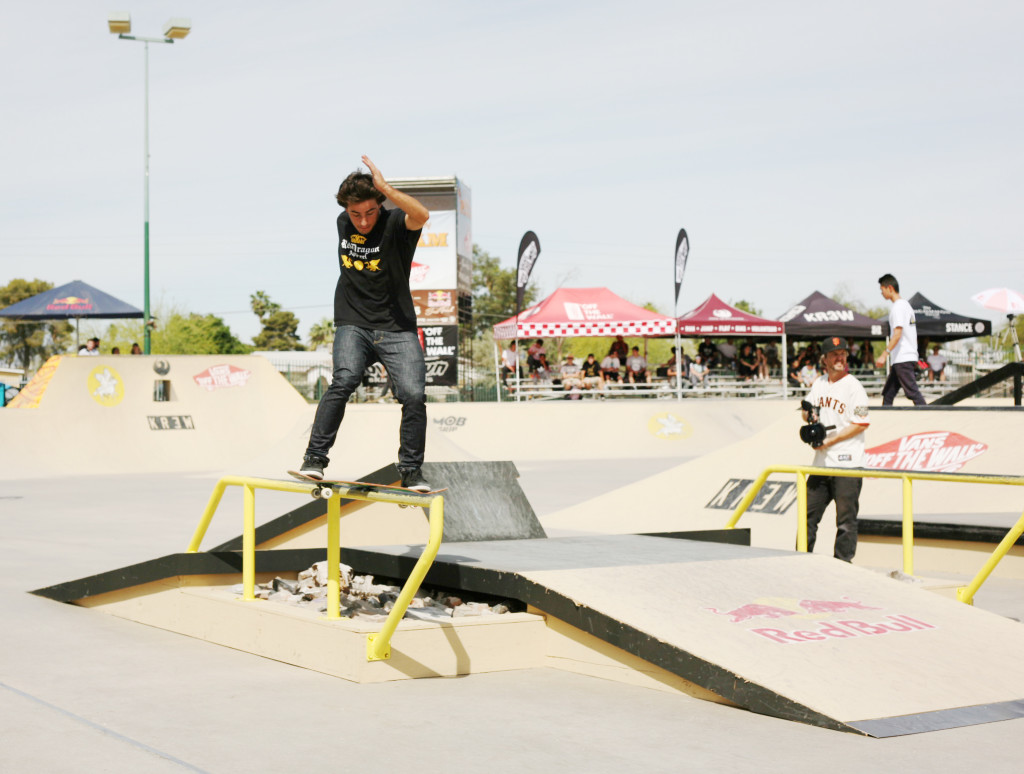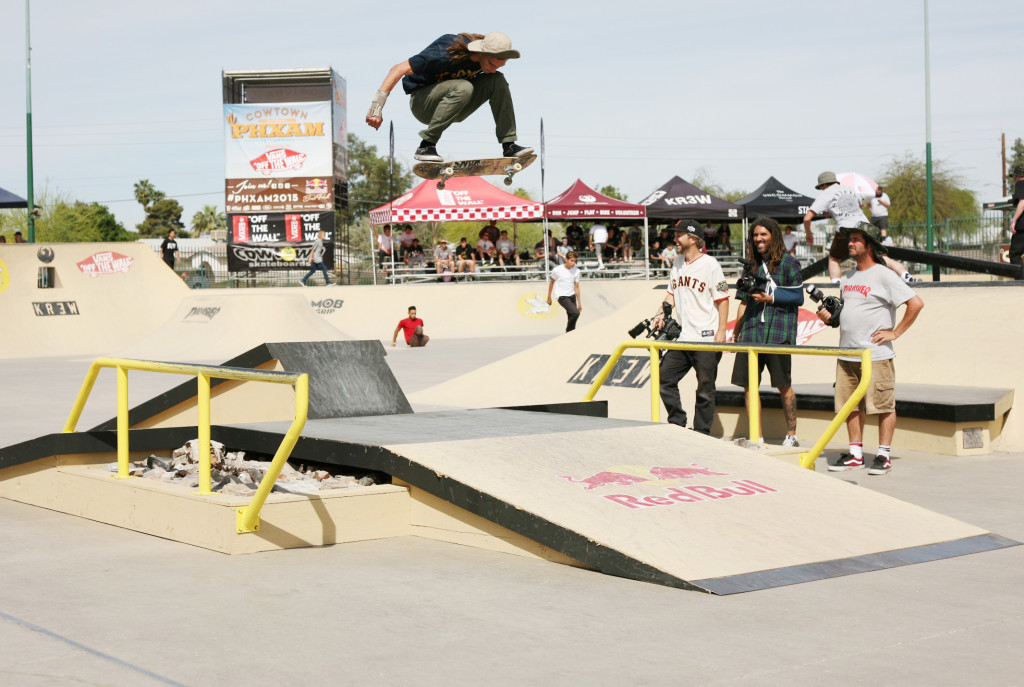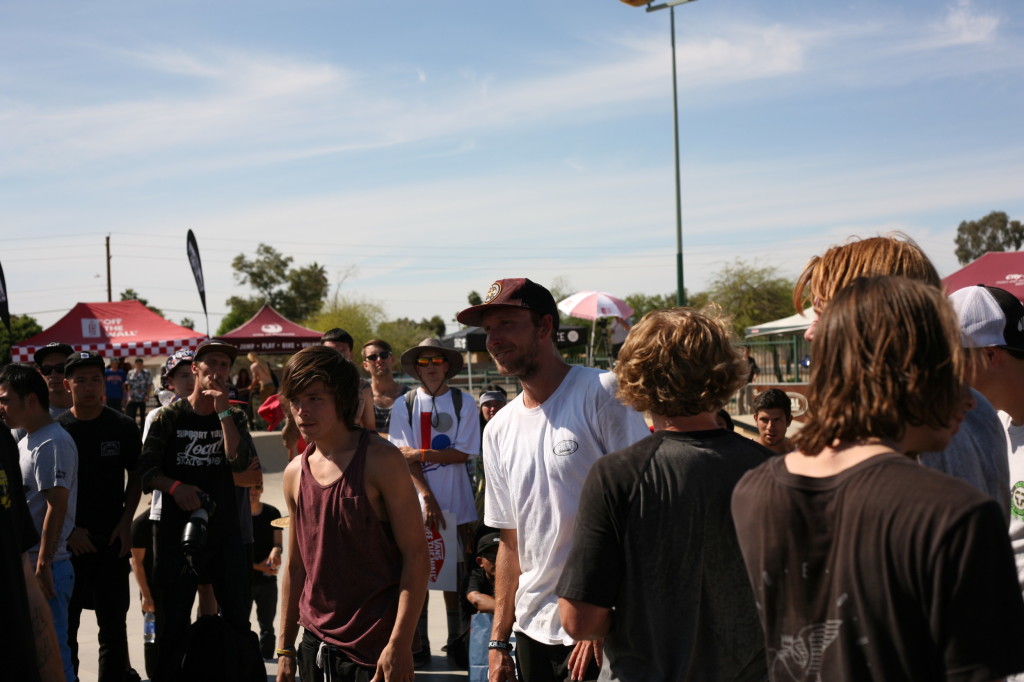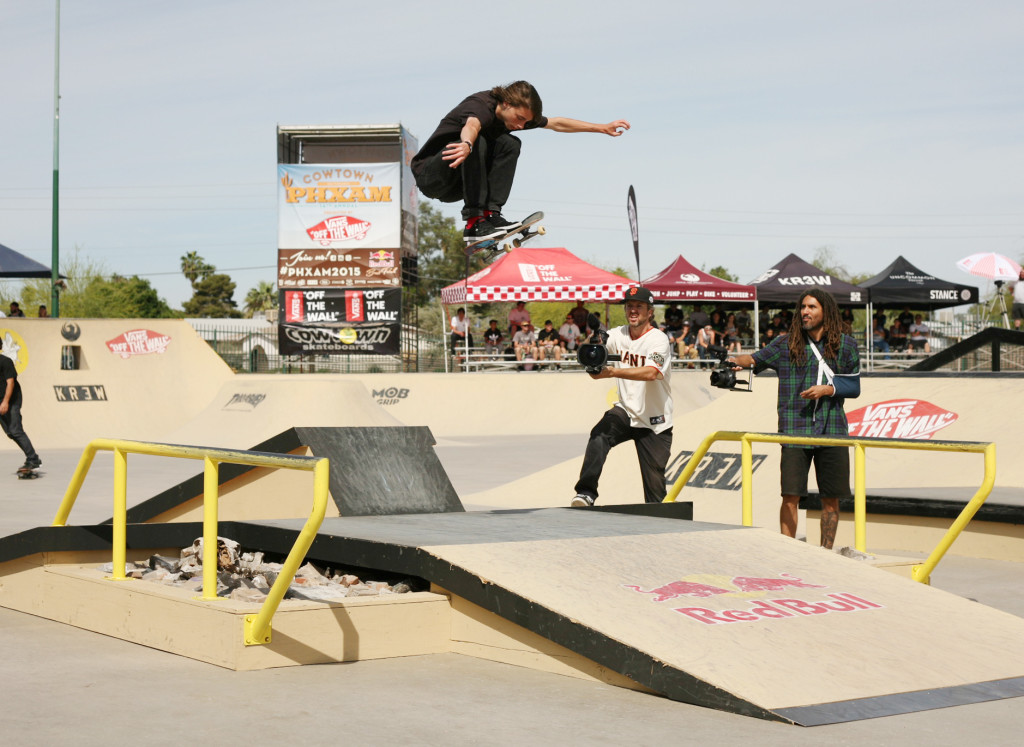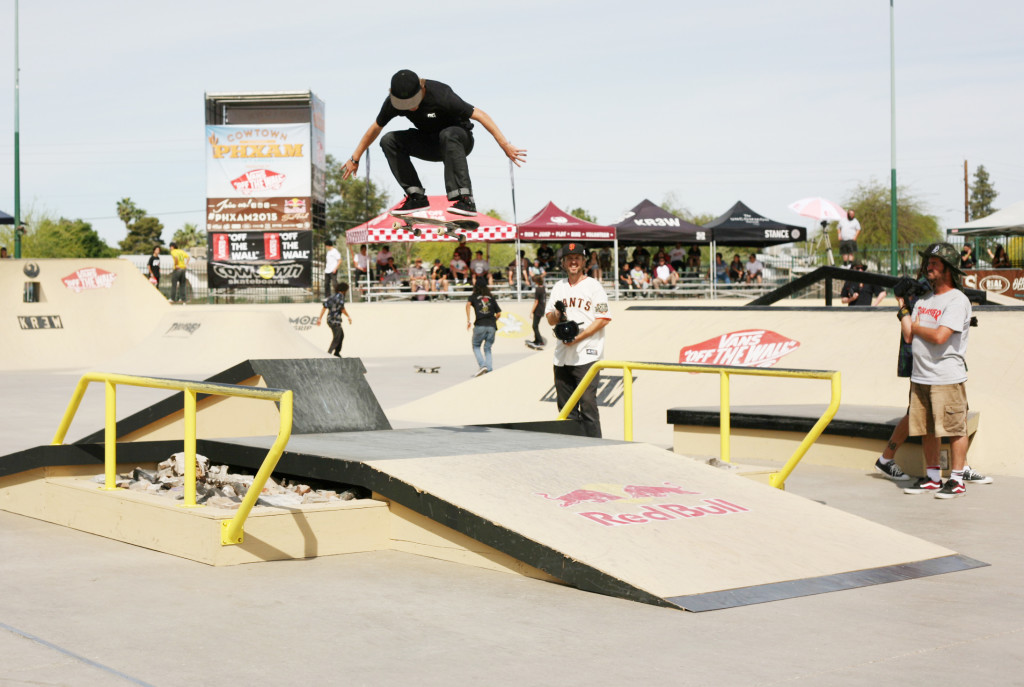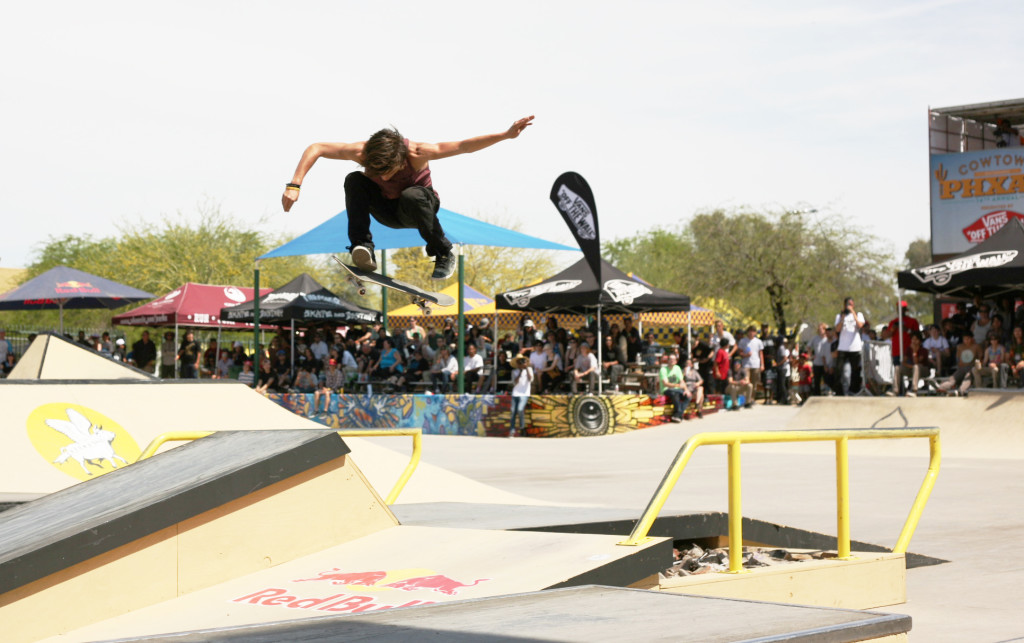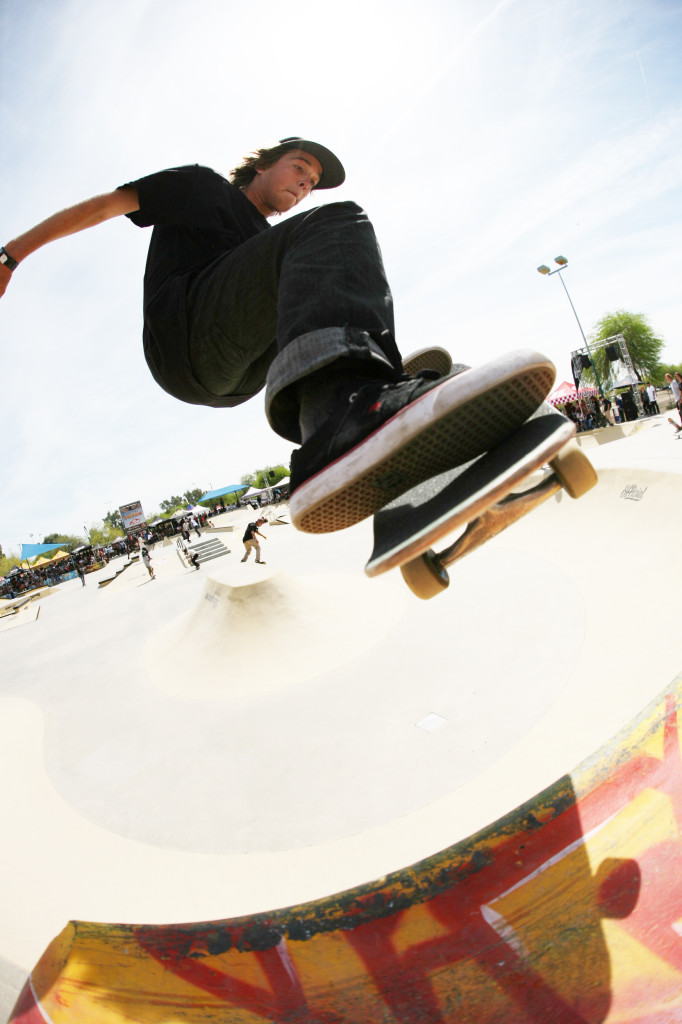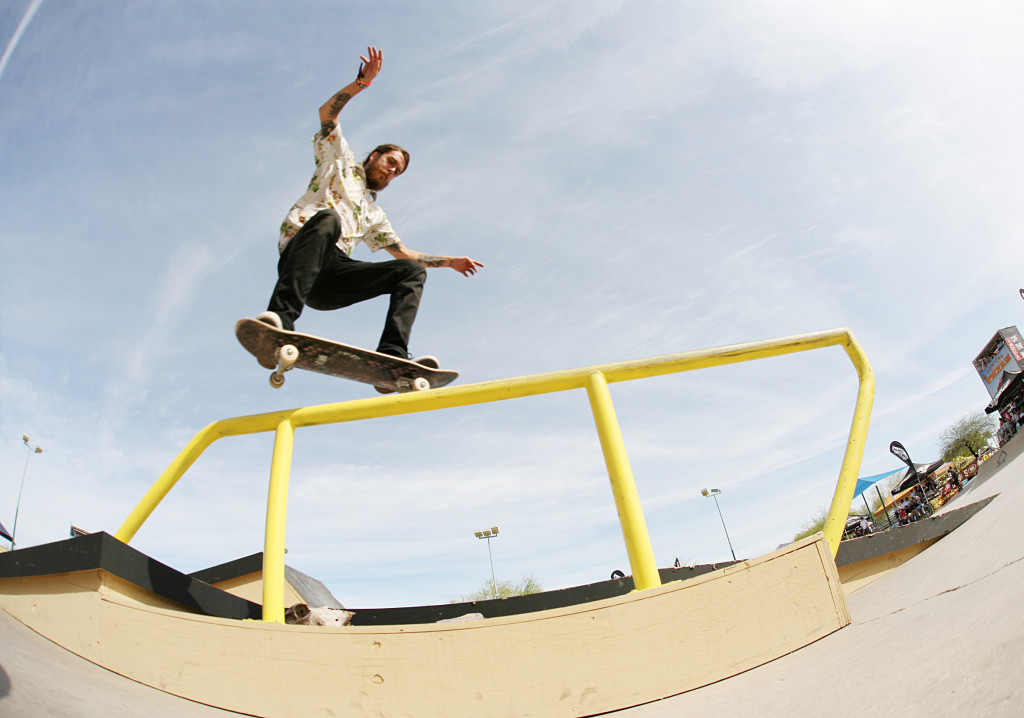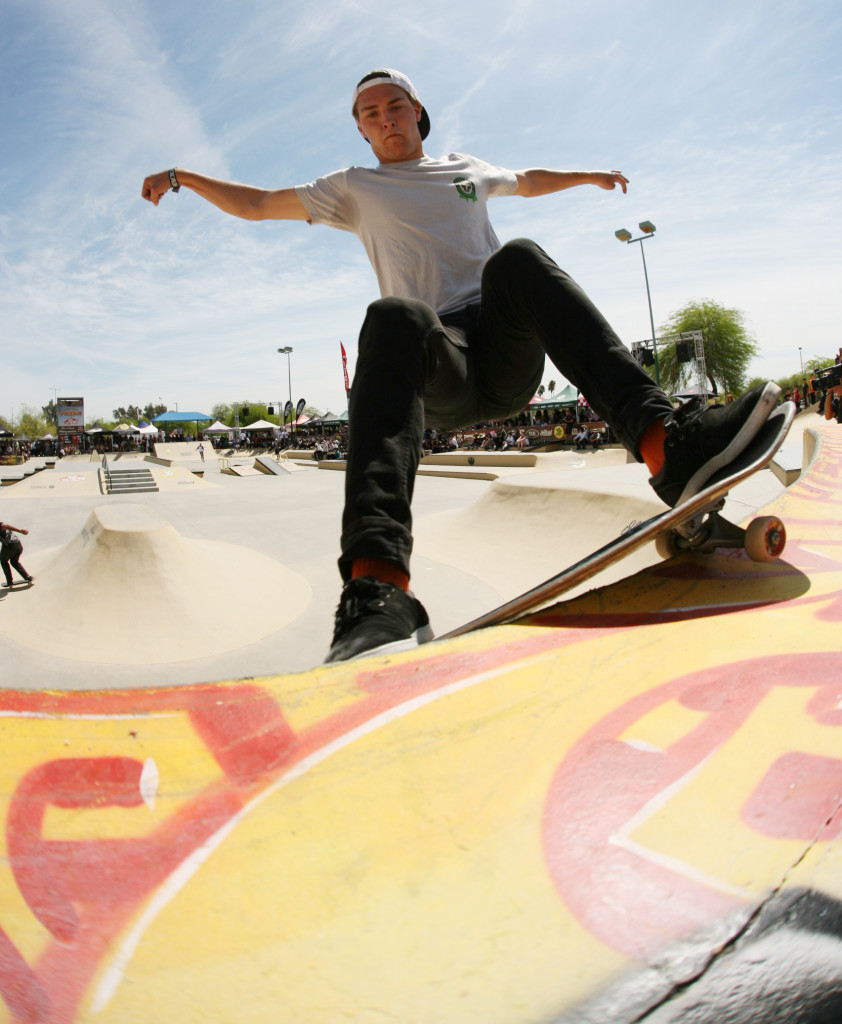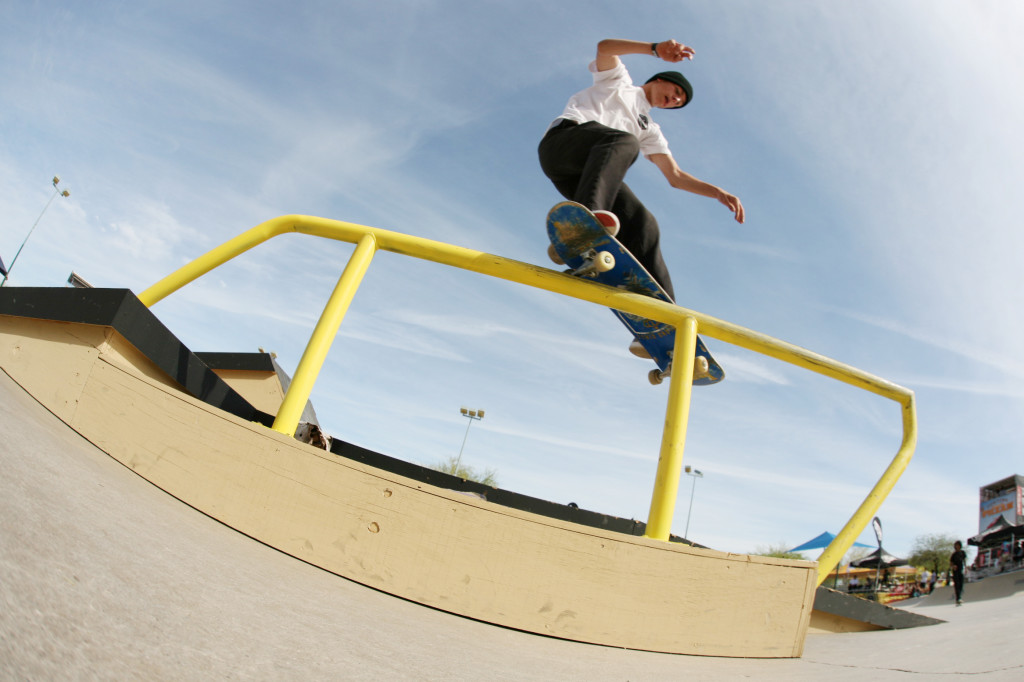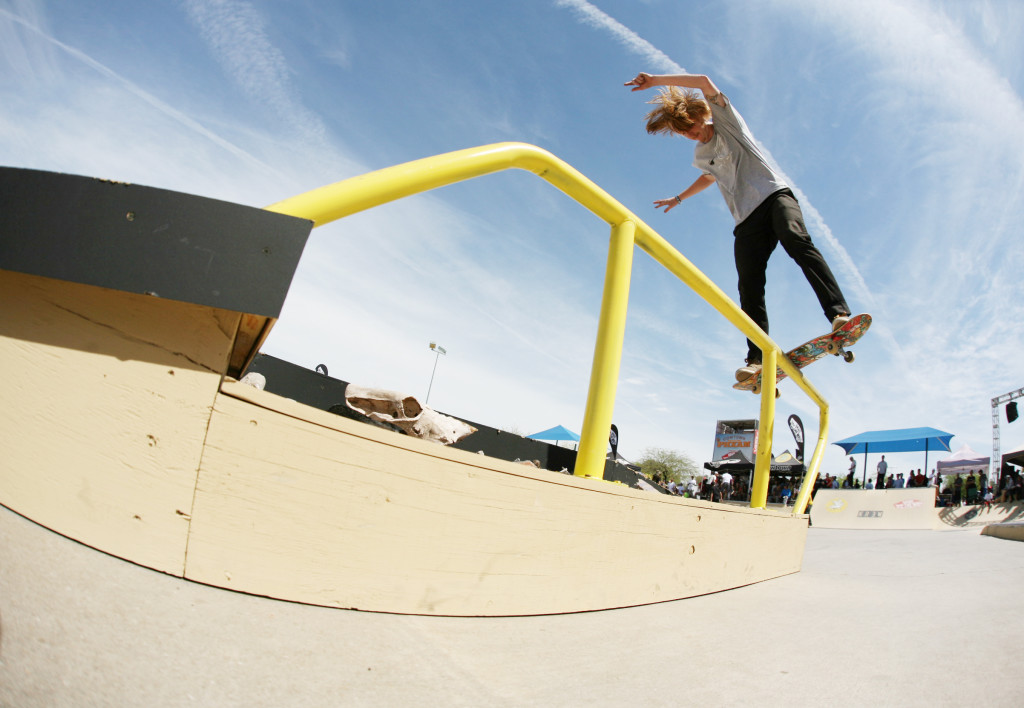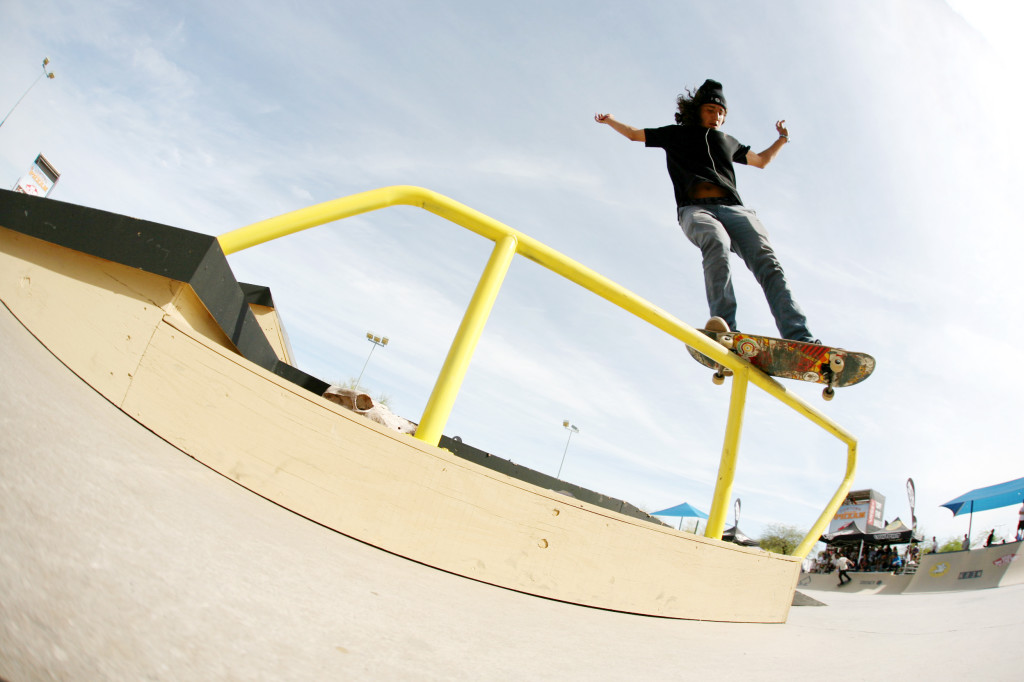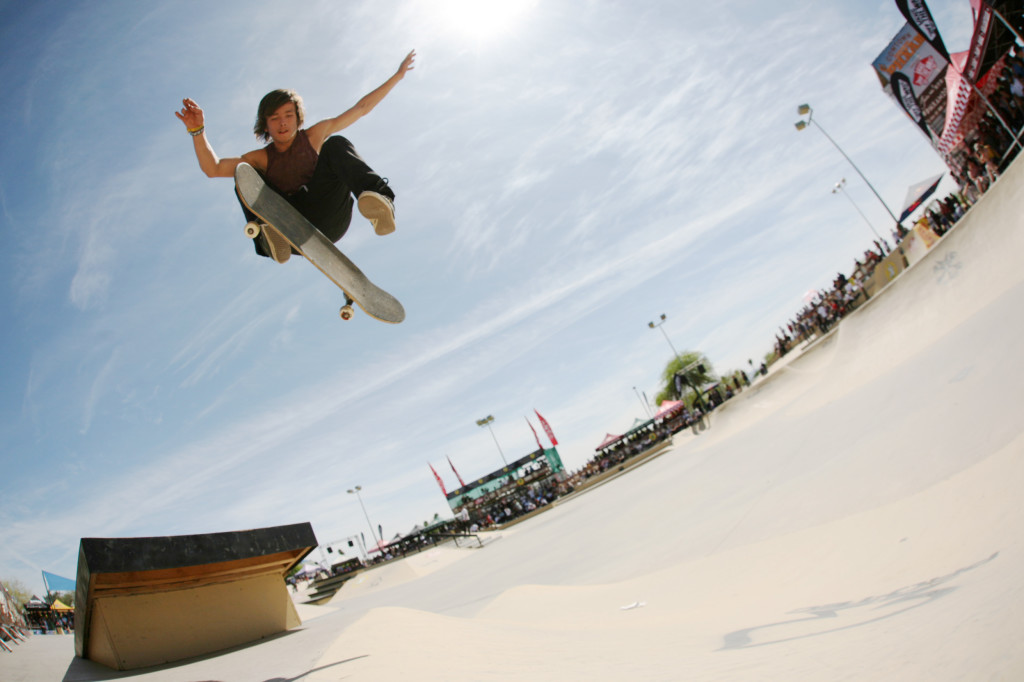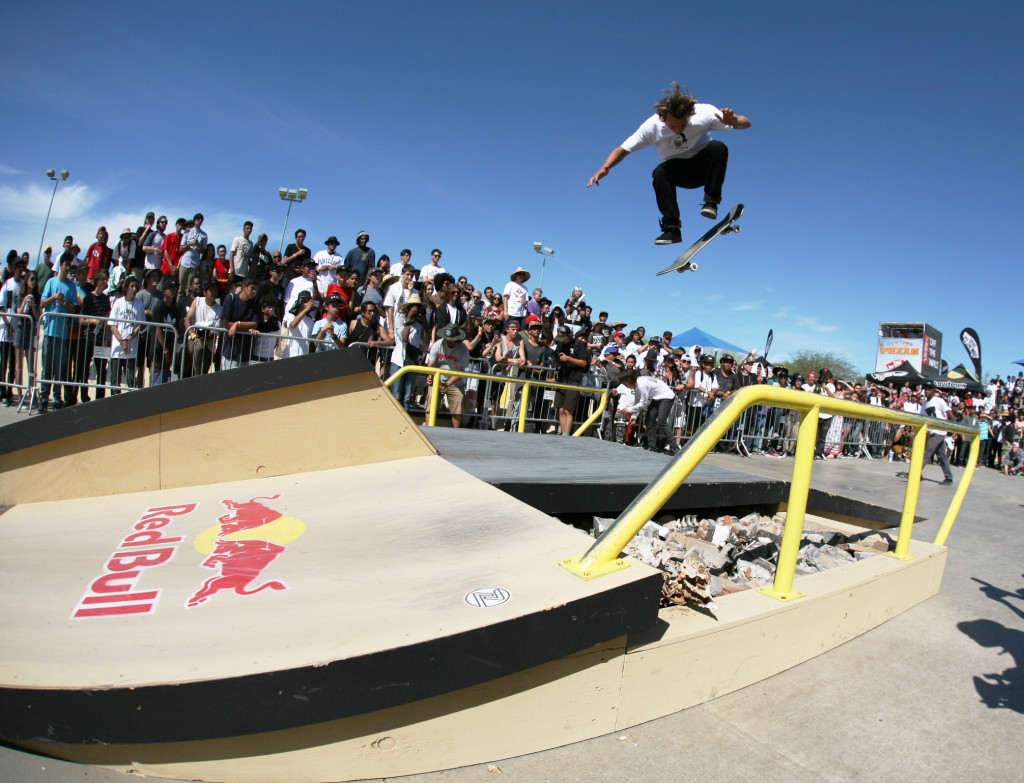 2015 – Day 1- Qualifying Day – Saturday March 28th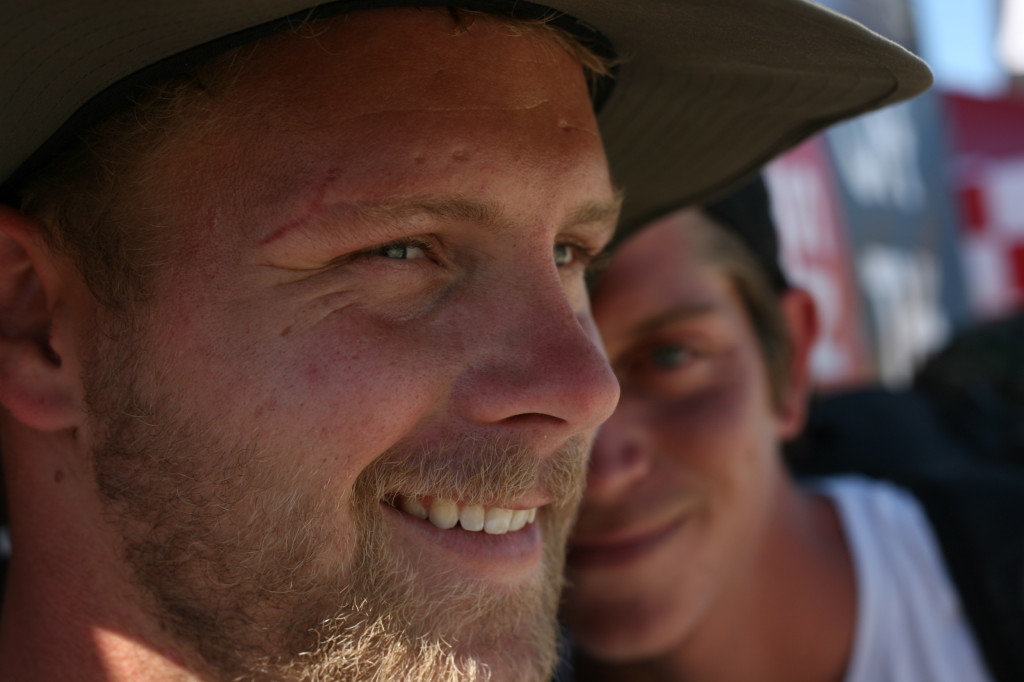 Andrew Forrest looks on the action going down in qualifiers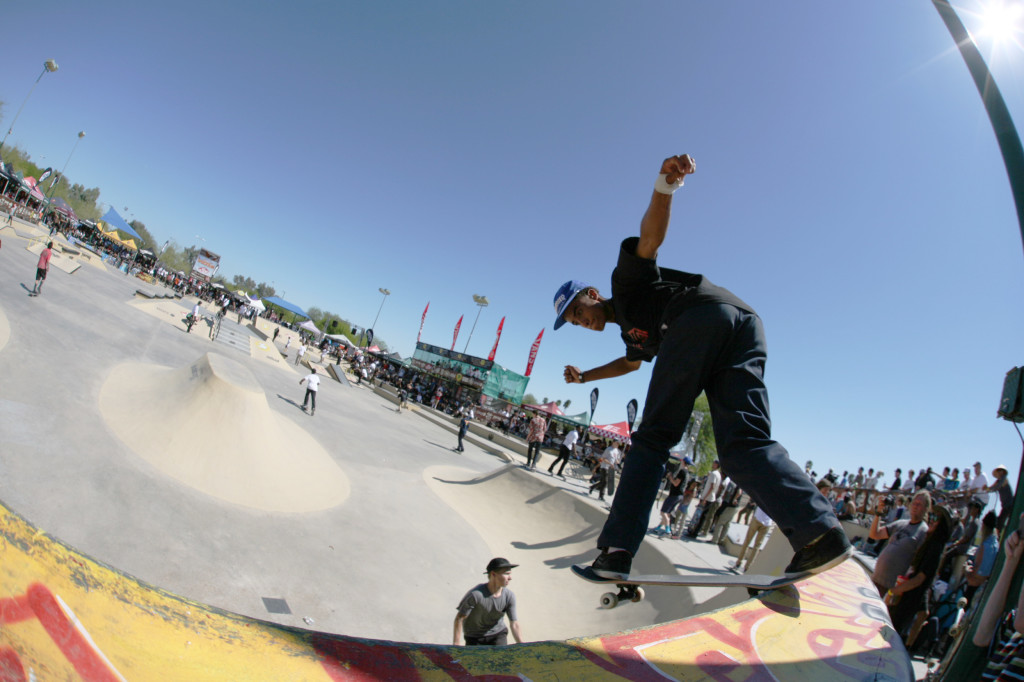 The keyhole sees a lot of action like this backtail in the back of the park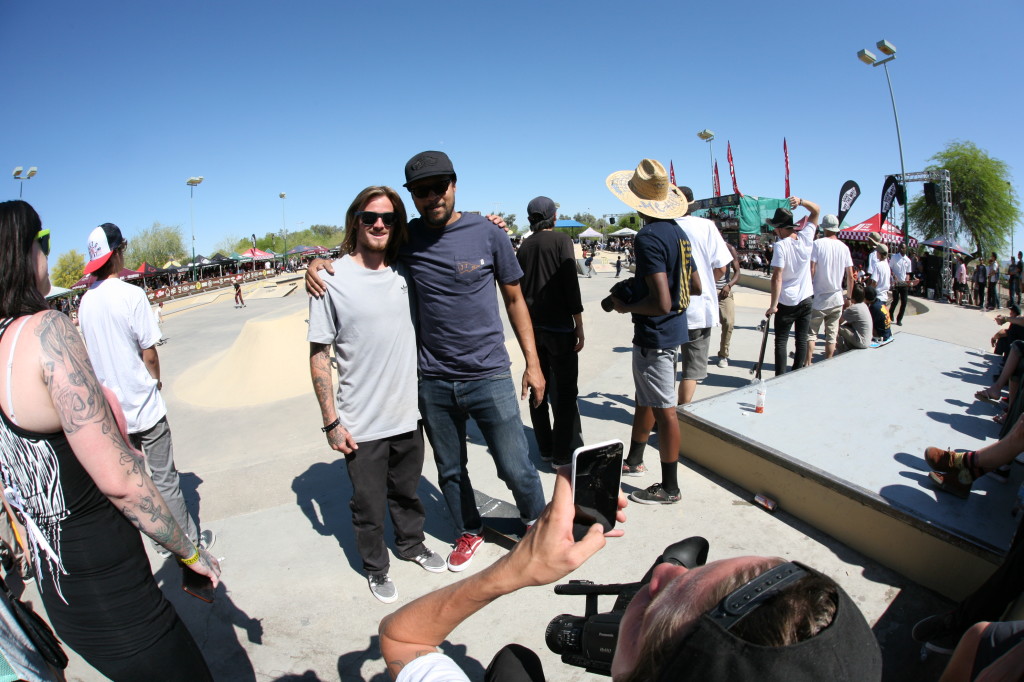 Crowd favorite Steven Snyder poses for the camera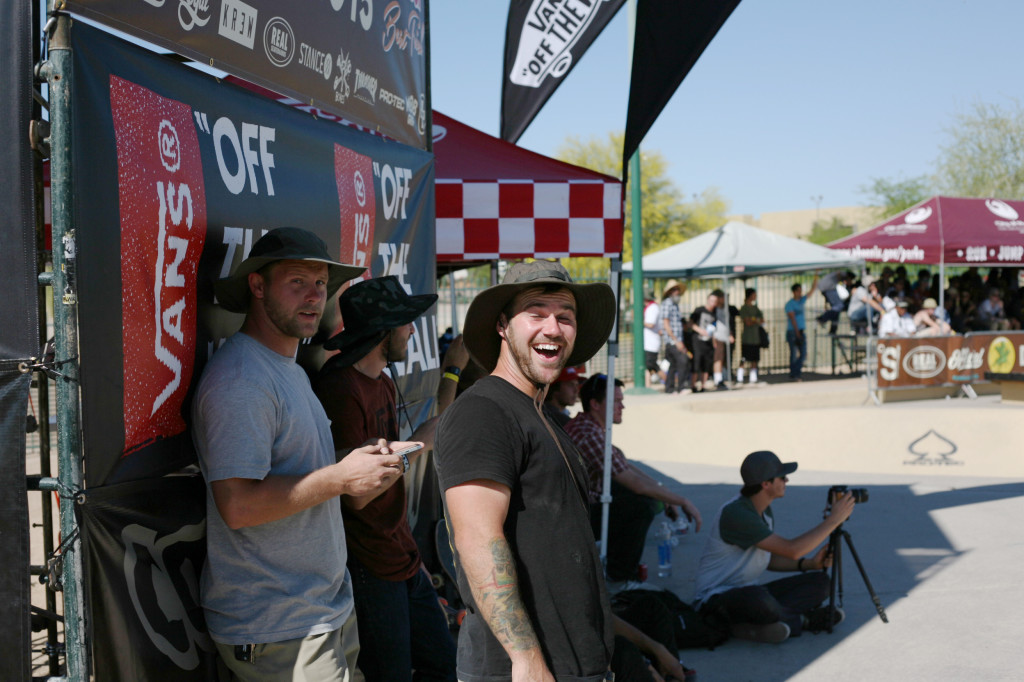 CJ Bartlett kills it! That full cab flip over the bank gap was amazing CJ! 
Judges tower at Desert West Skateboard Plaza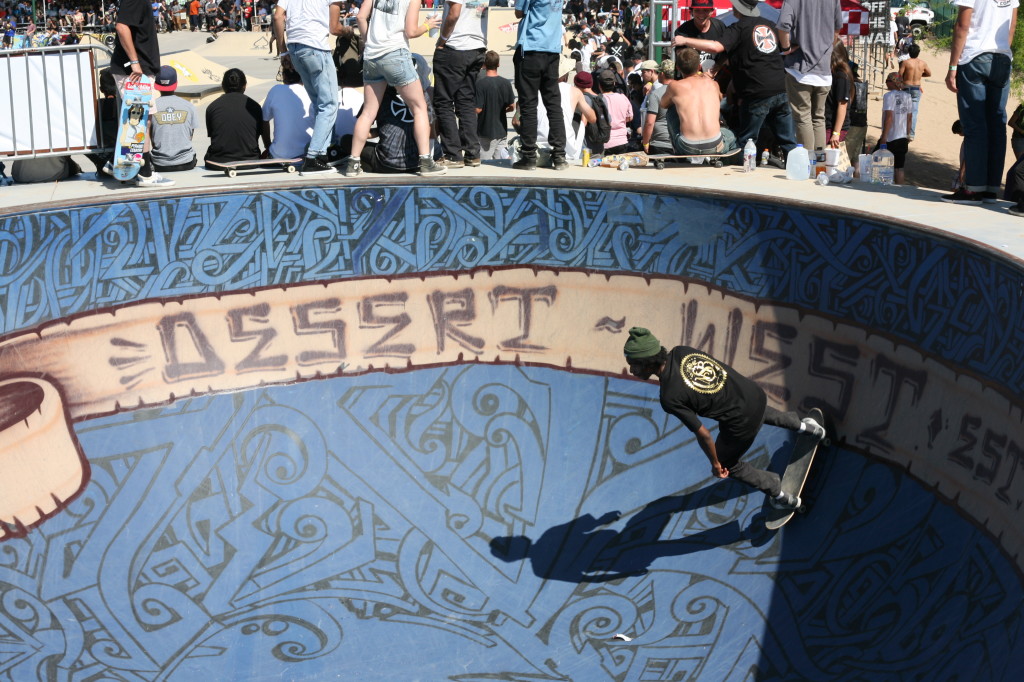 The back bowl here at Desert West is a nice little warm up for riders while they await their jam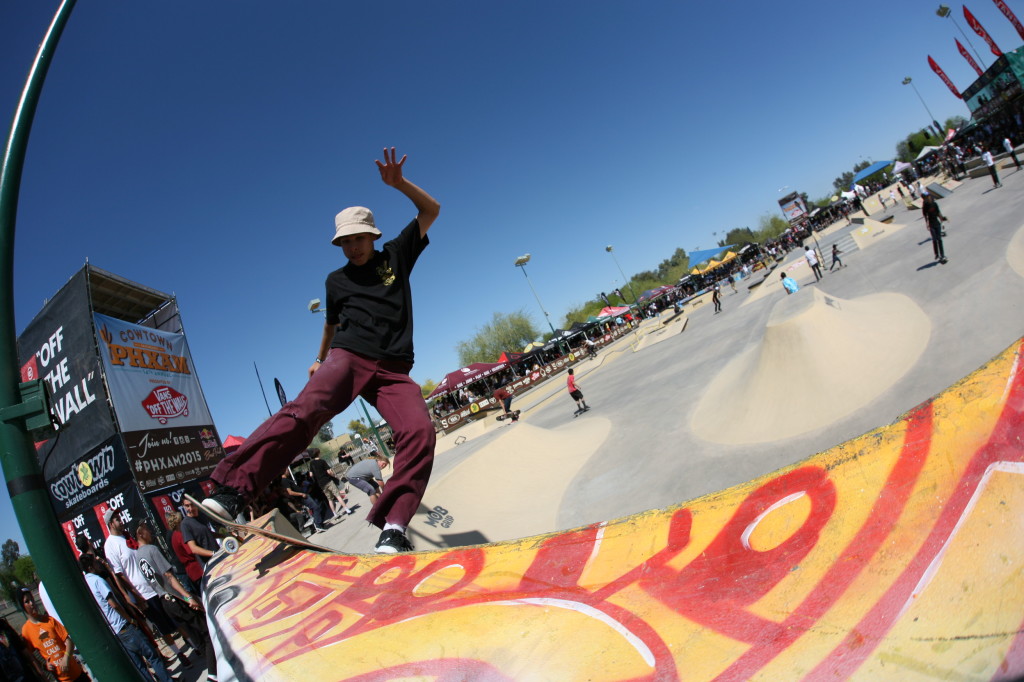 Lipslide over the keyhole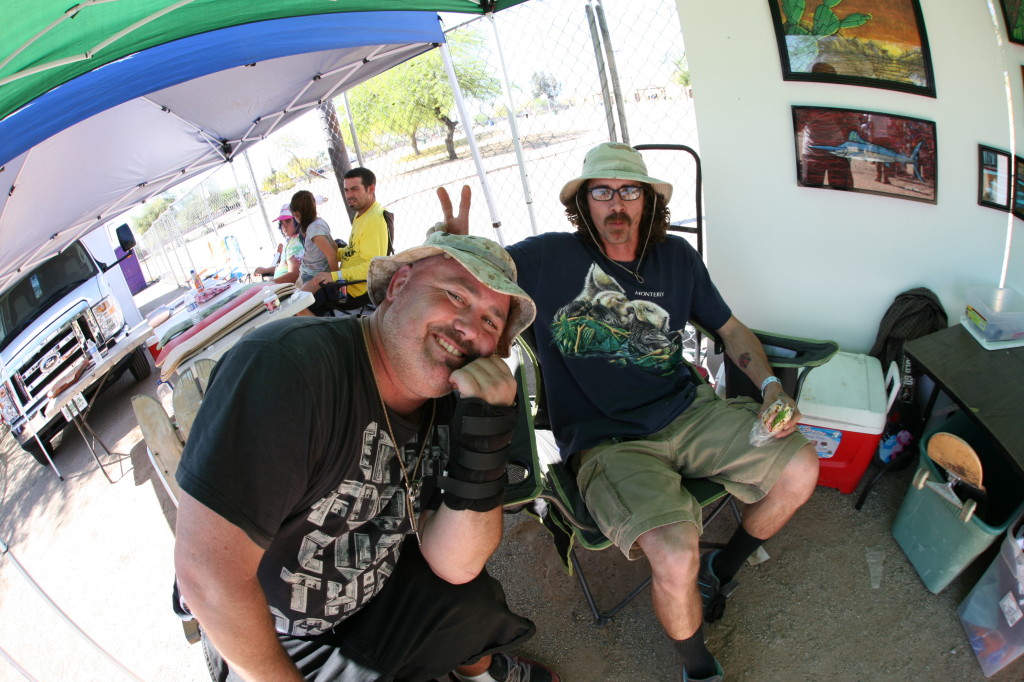 One of the most important things you can do when it's 95 out in Phoenix is find some shade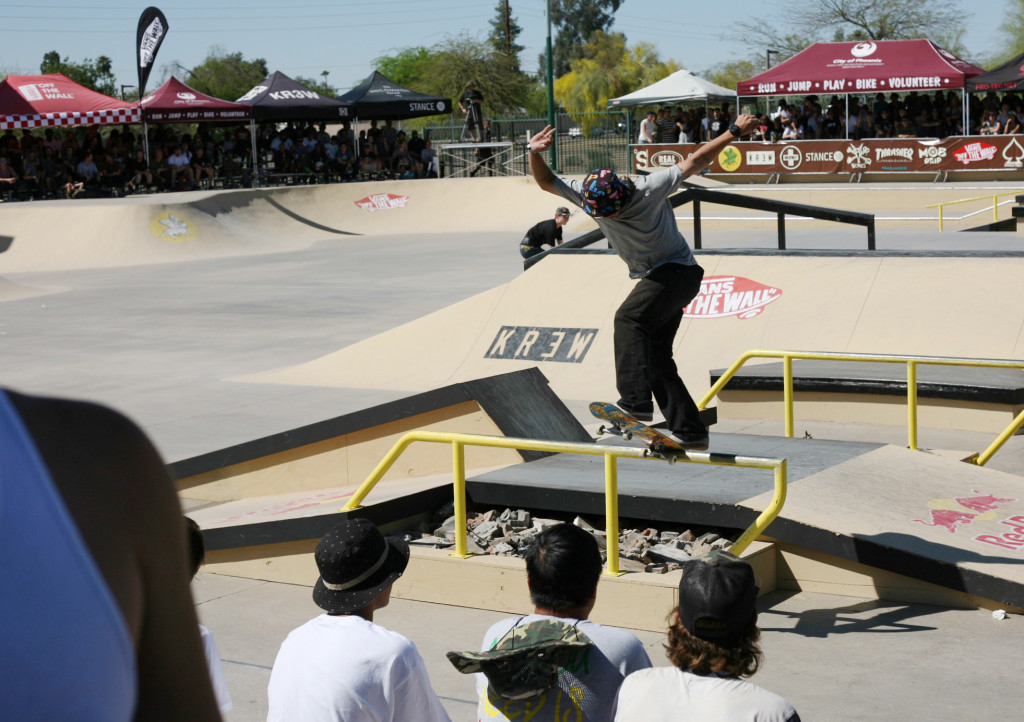 Proper Front Blunt on the Red Bull Best Trick obstacle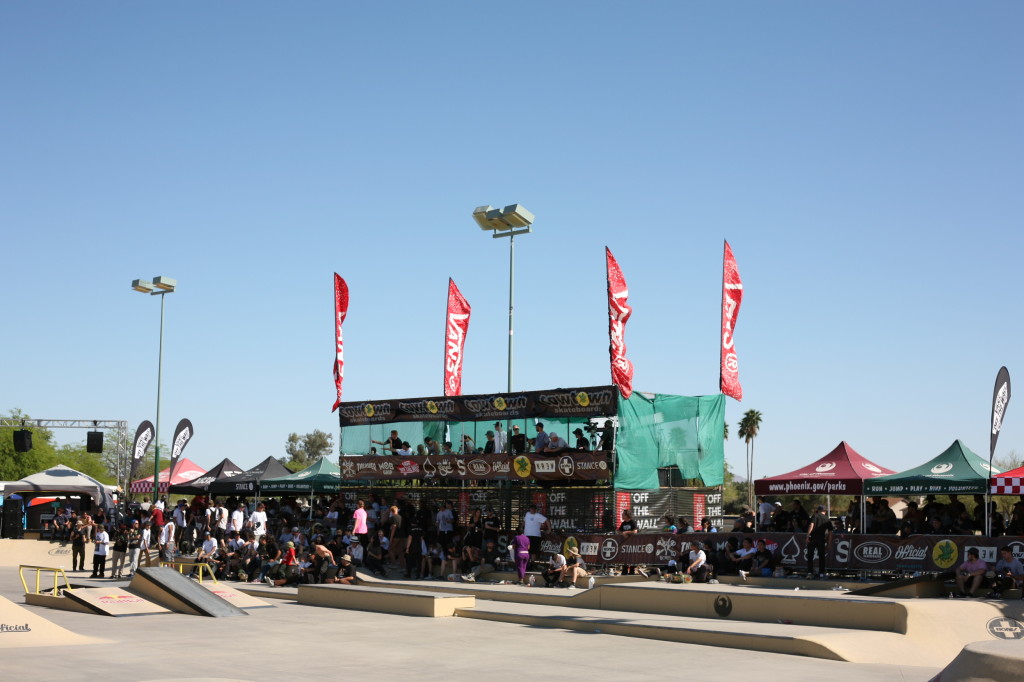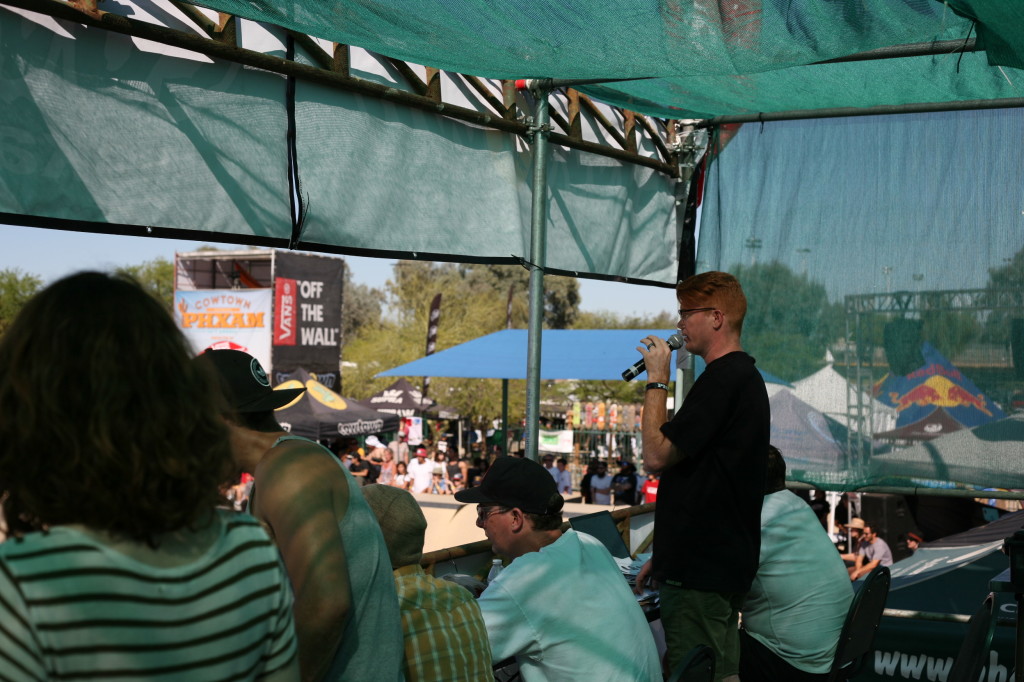 Emcee Pringle holding down the mic all day with Matt Price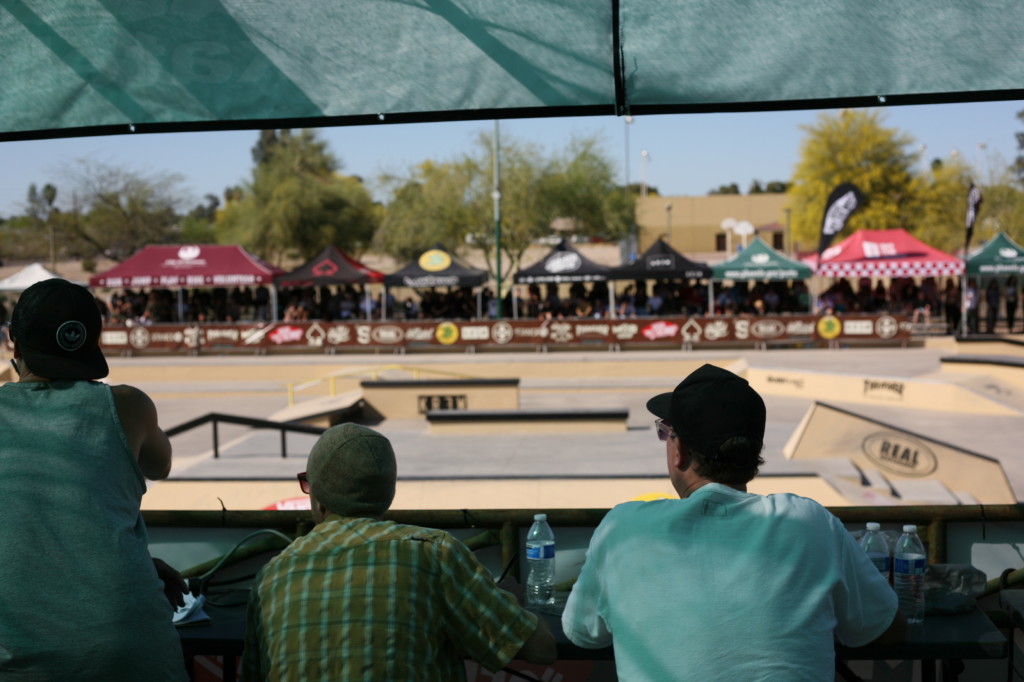 The view from the judges tower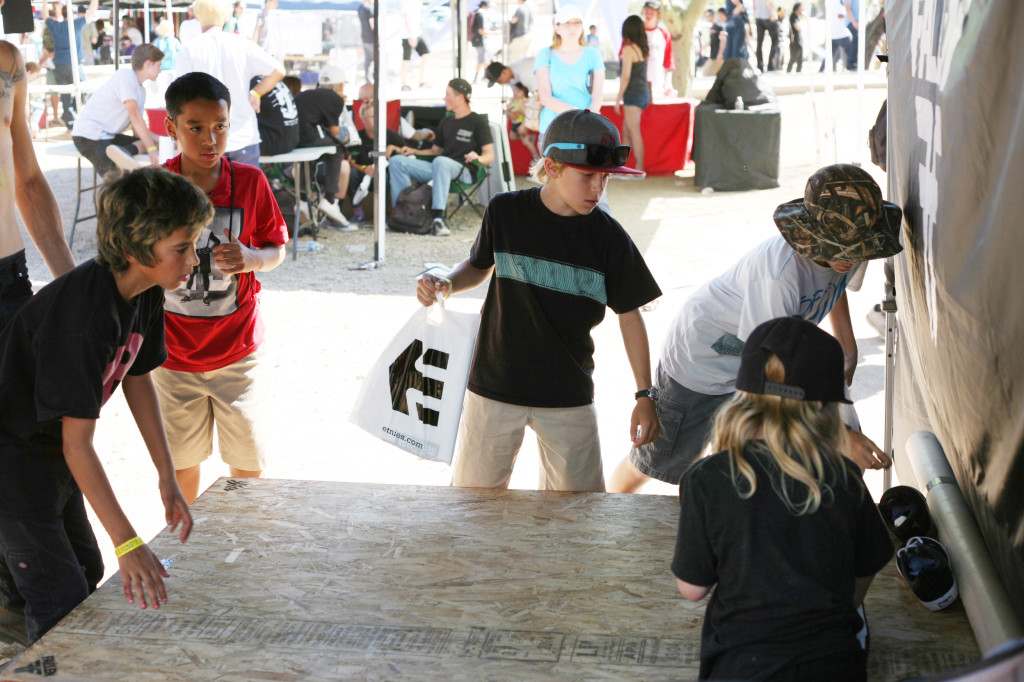 Kids come up all day in Tent City getting goods from all the rad companies who come out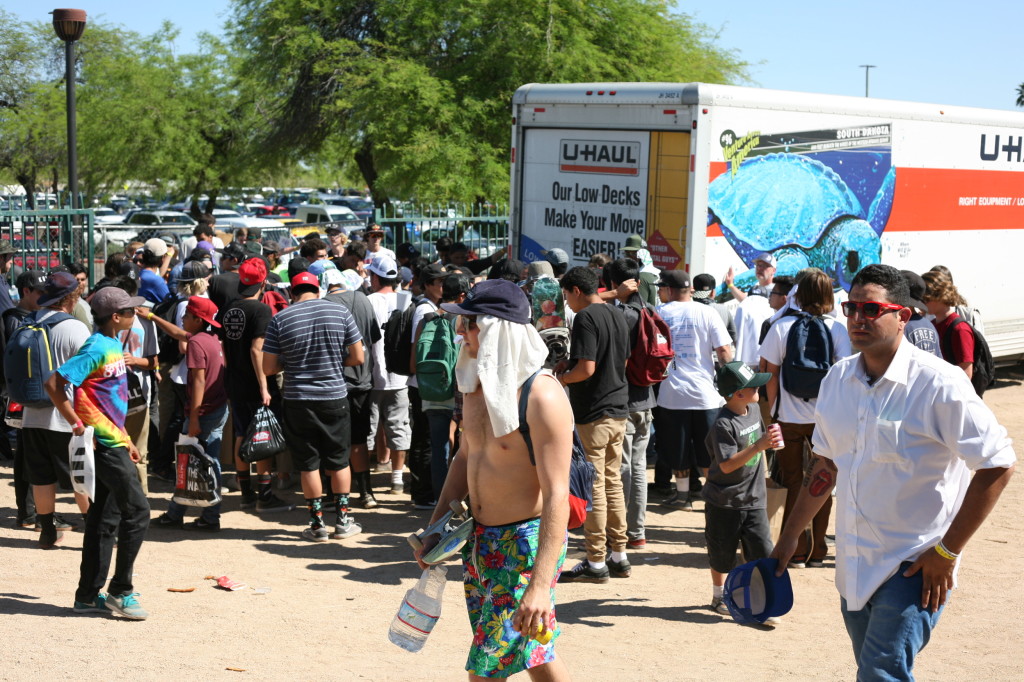 This is our raffle U-Haul. All day they lurk in wait for the next raffle to go down. $1 raffle tickets can really hook you up here at PHXAM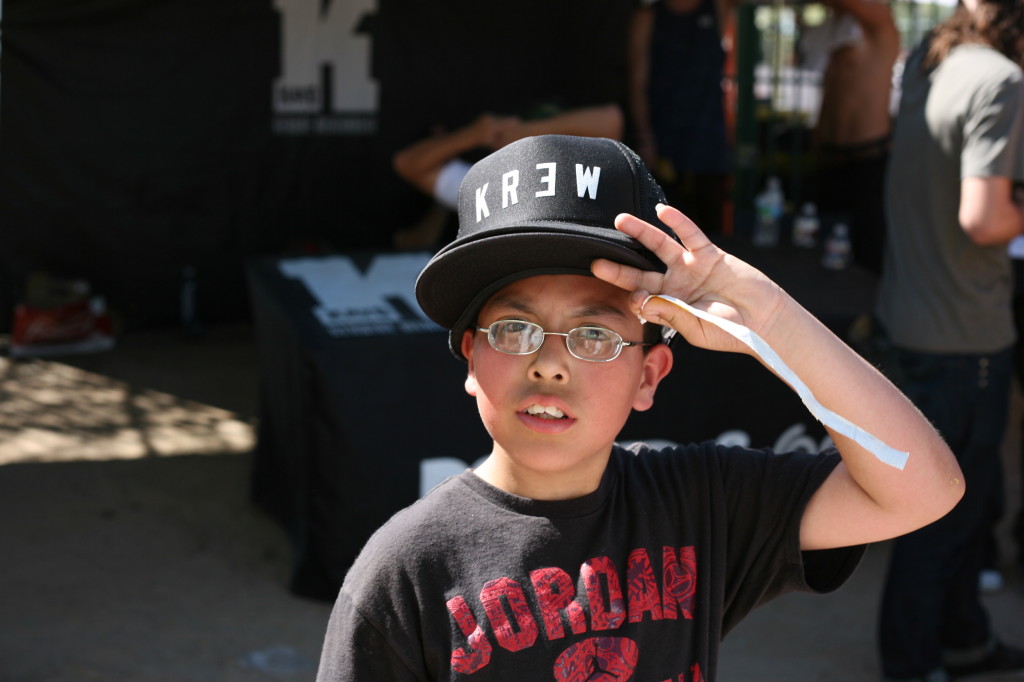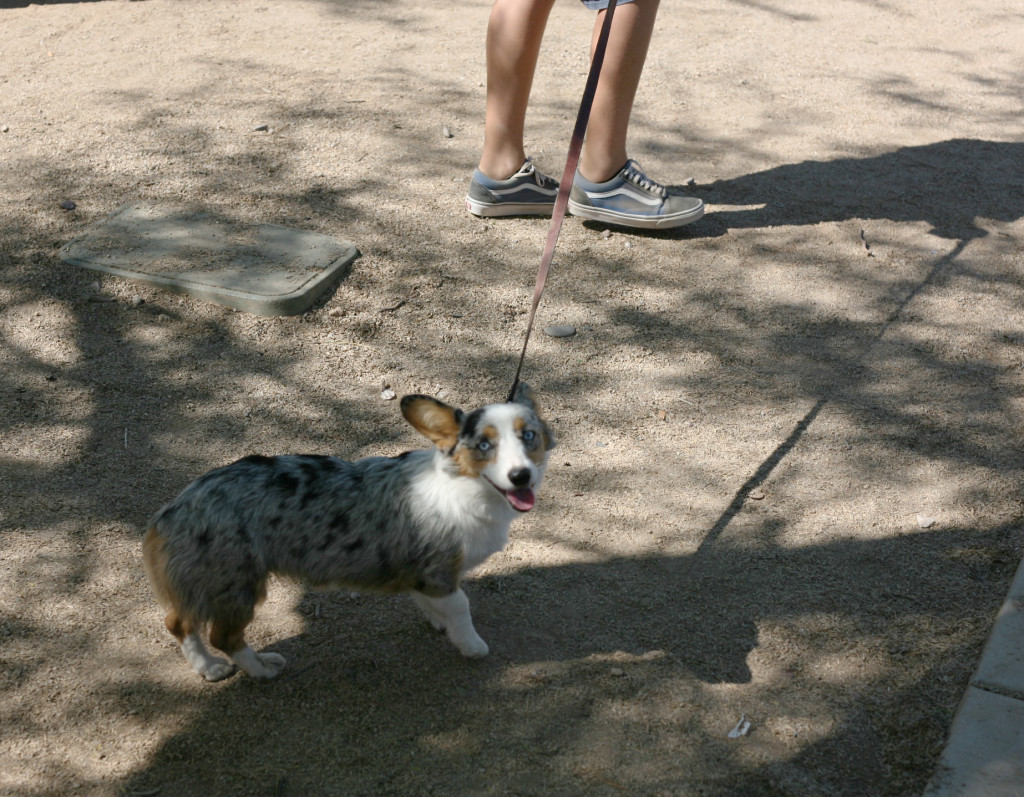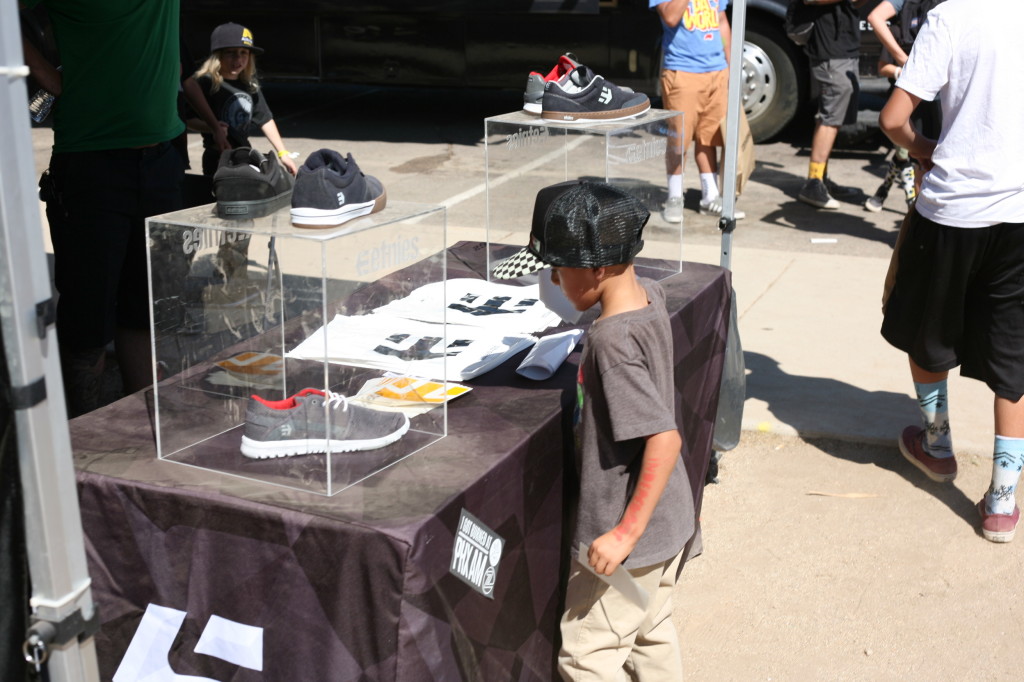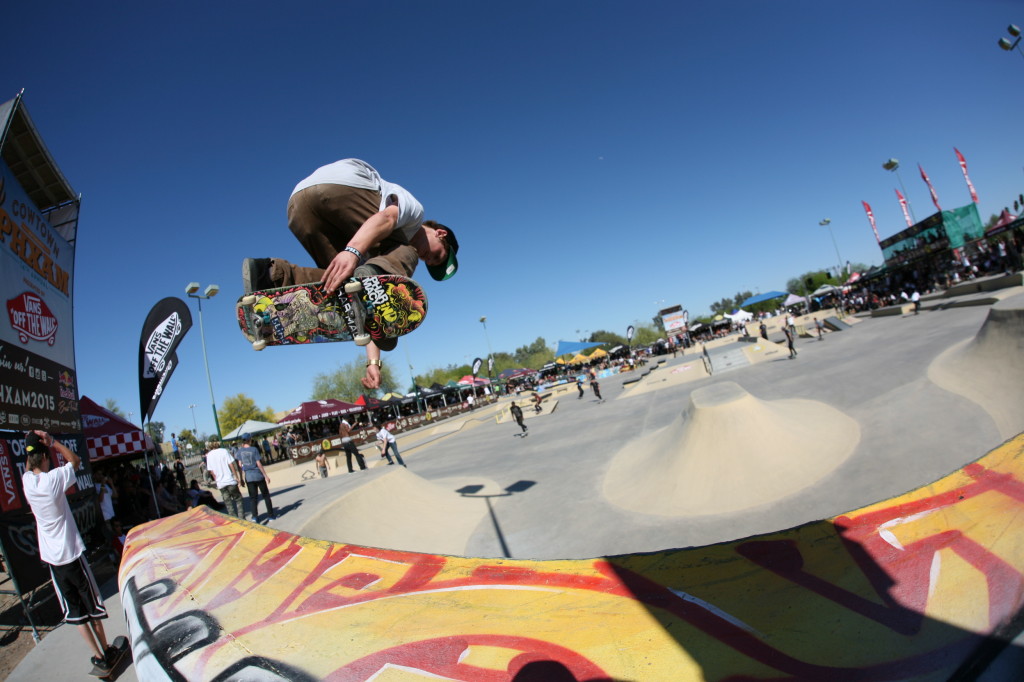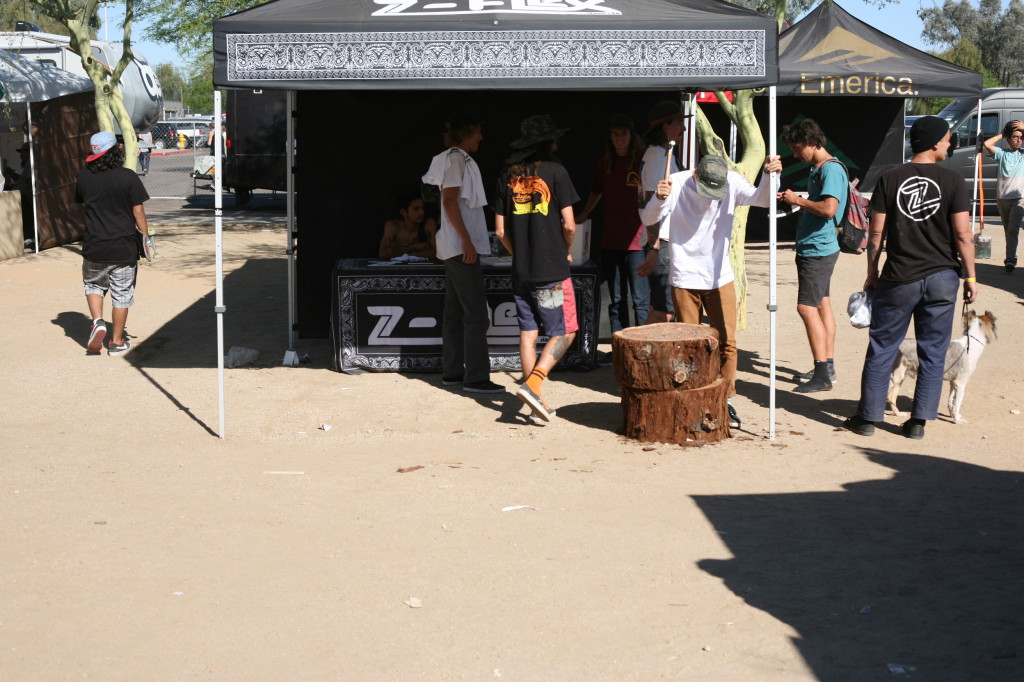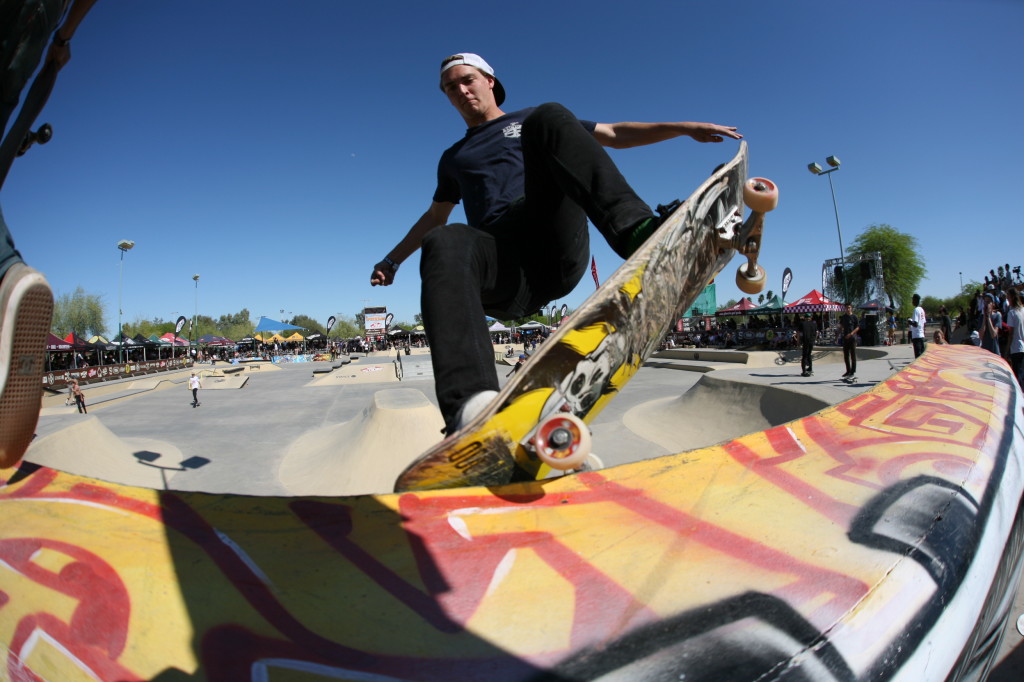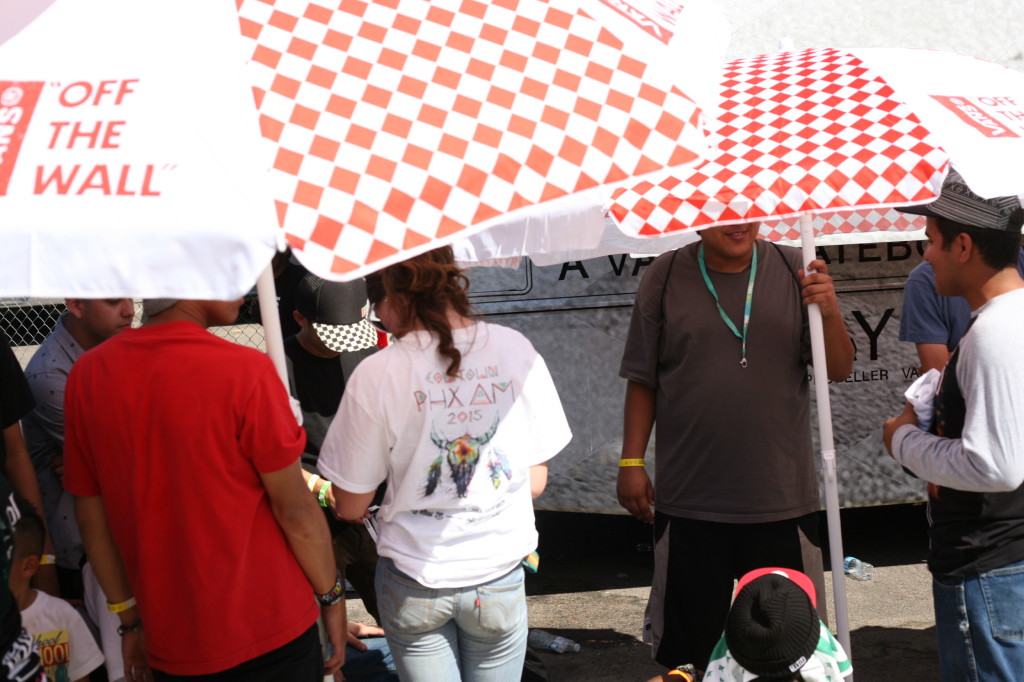 This KR3W x PHXAM shirt came in this years' PHXAM gift bags which the first 500 through the gates receives with other goods from all our sponsors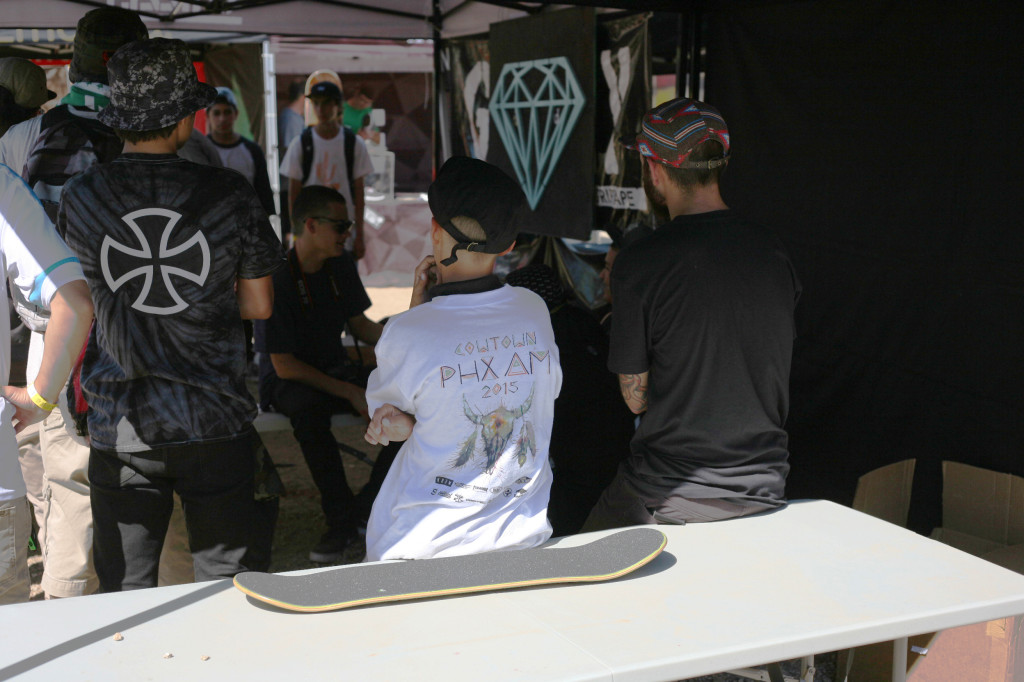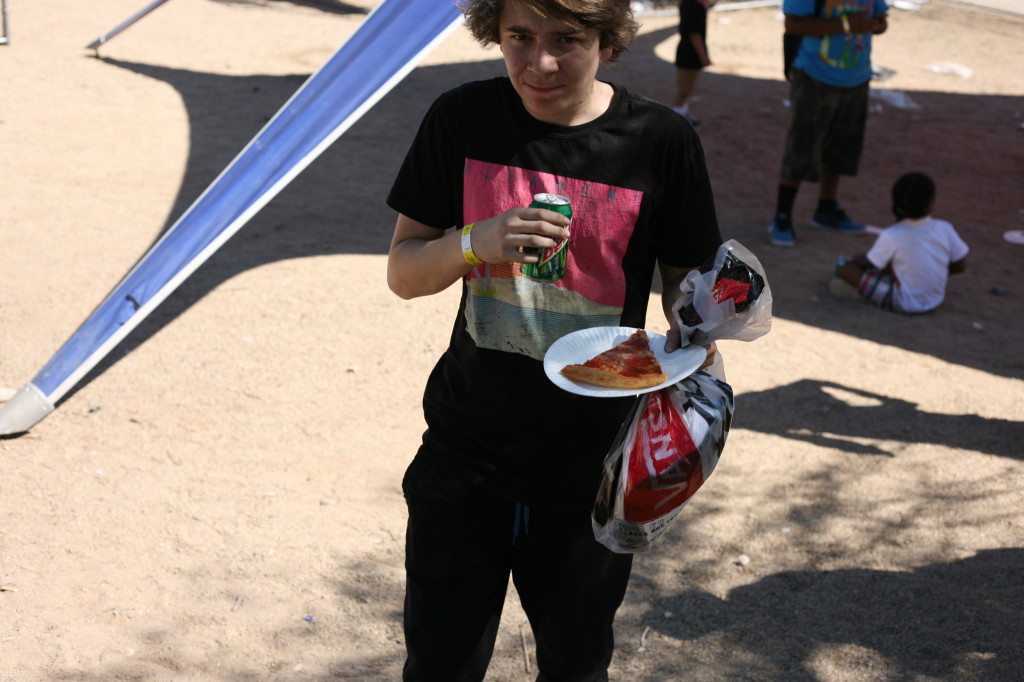 Pizza, popsicles, chips, dogs, and all sorts of stuff is for sale over at the Cowtown Skate Shack all day long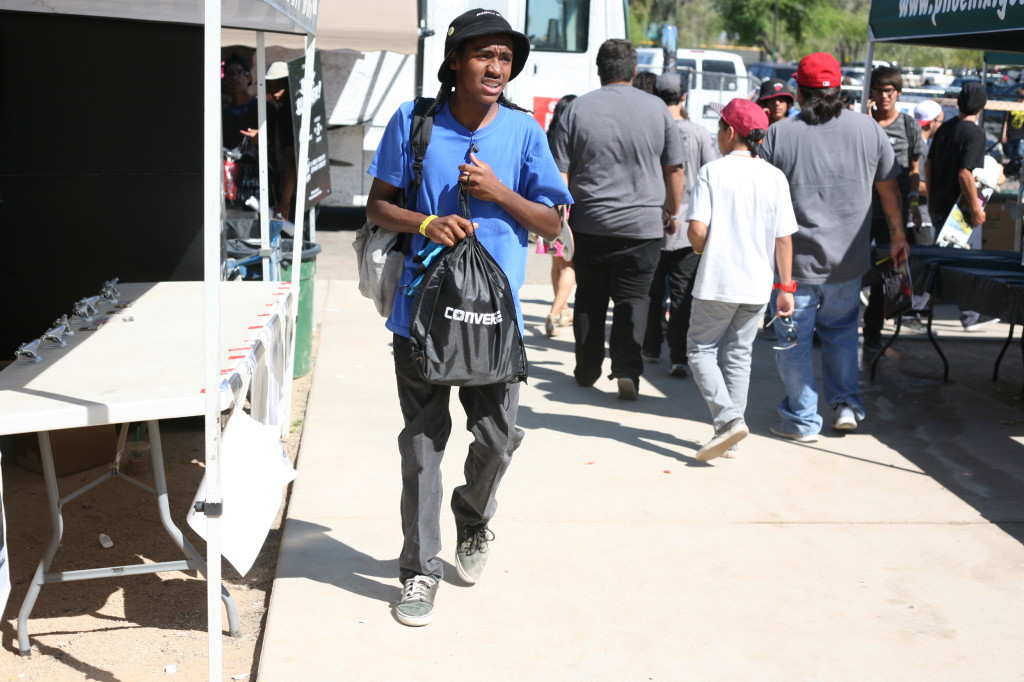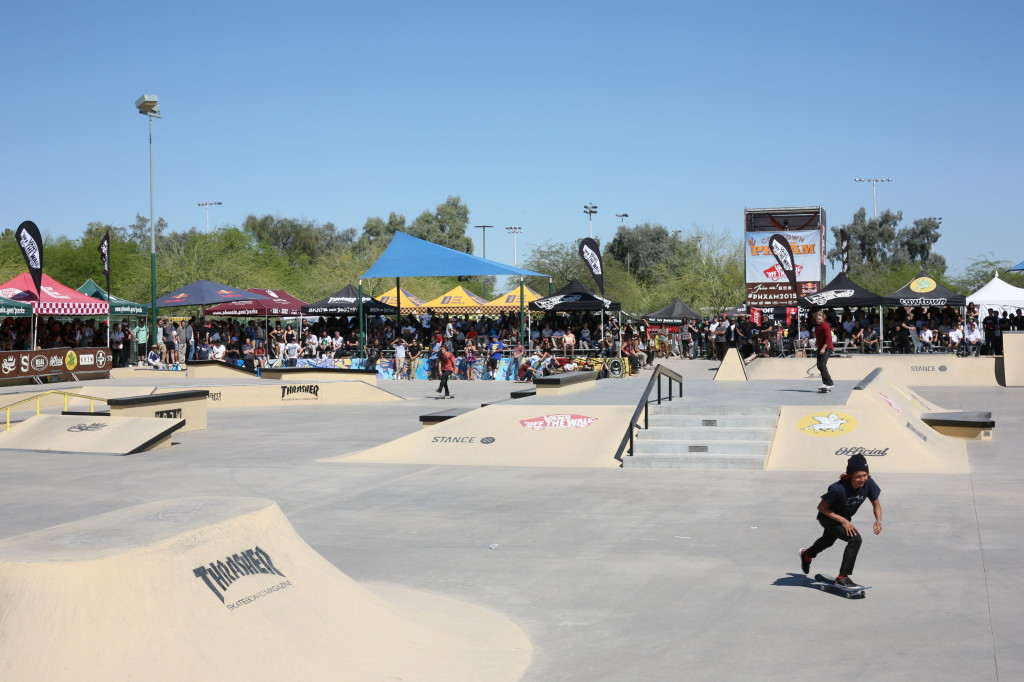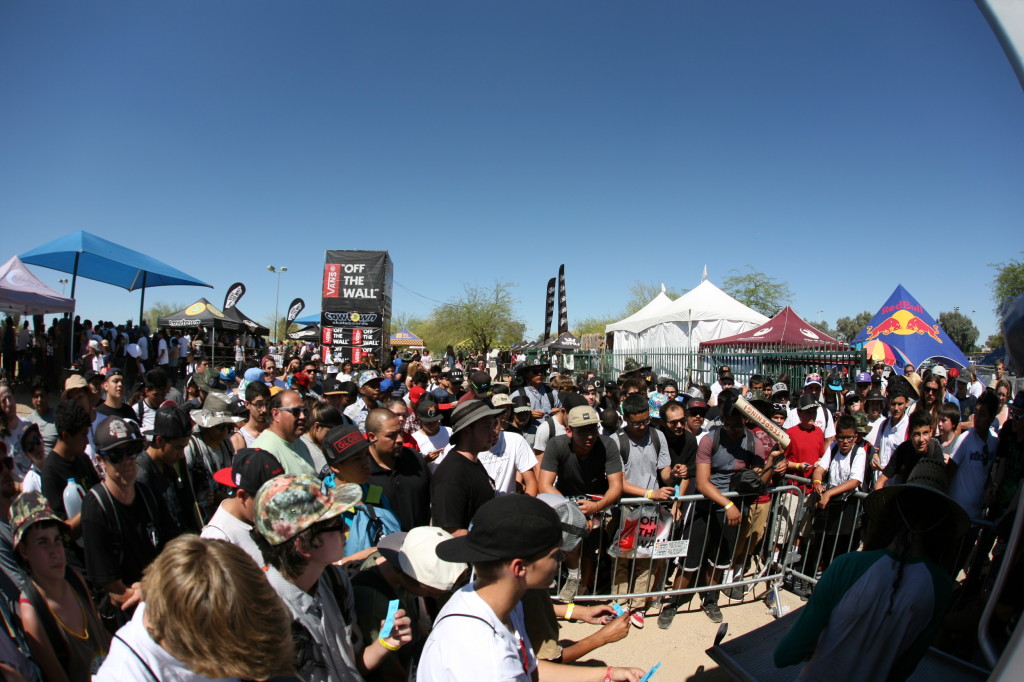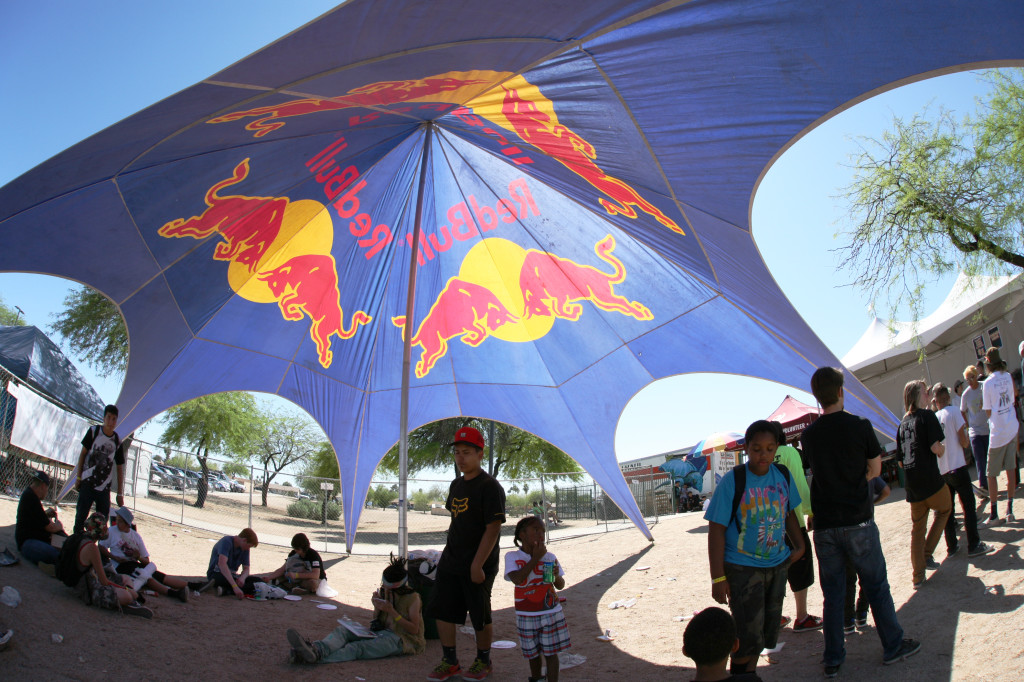 Red Bull knows whats up, SHADE!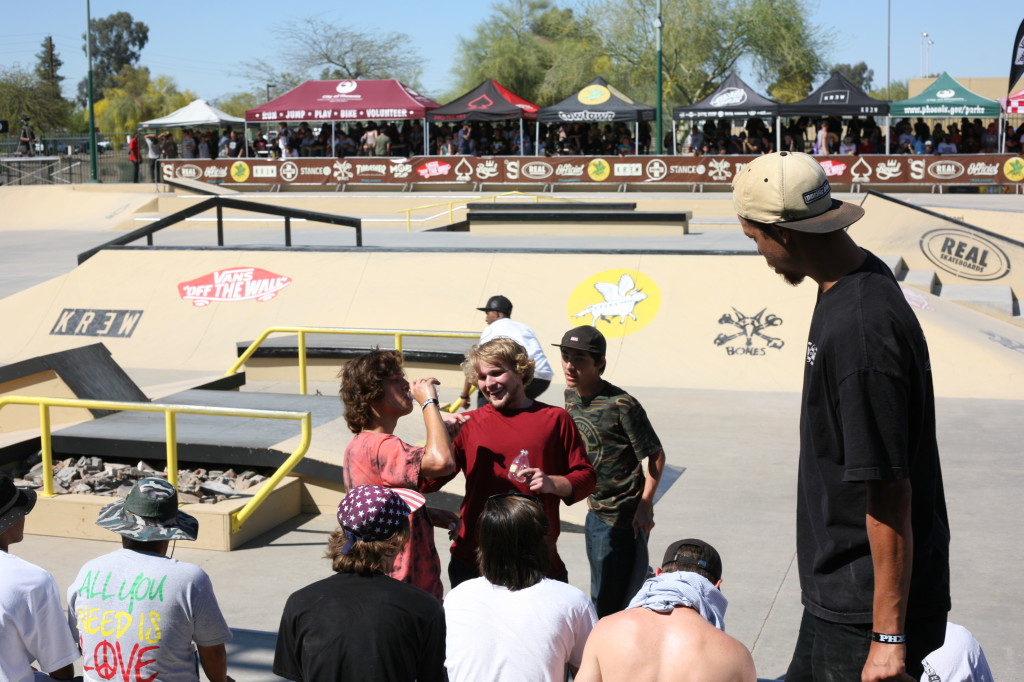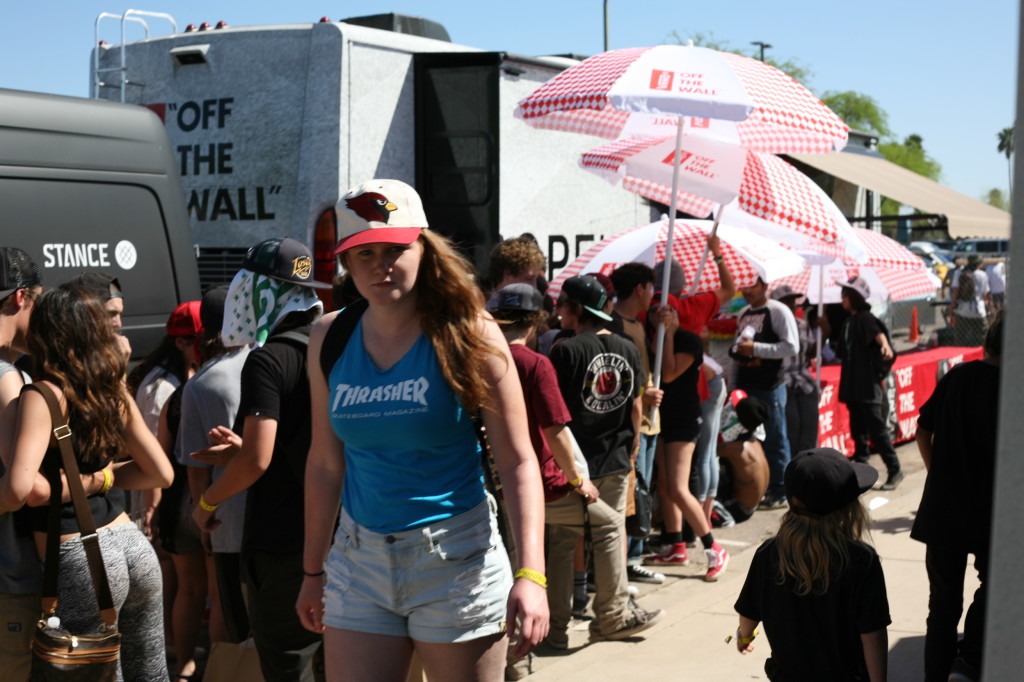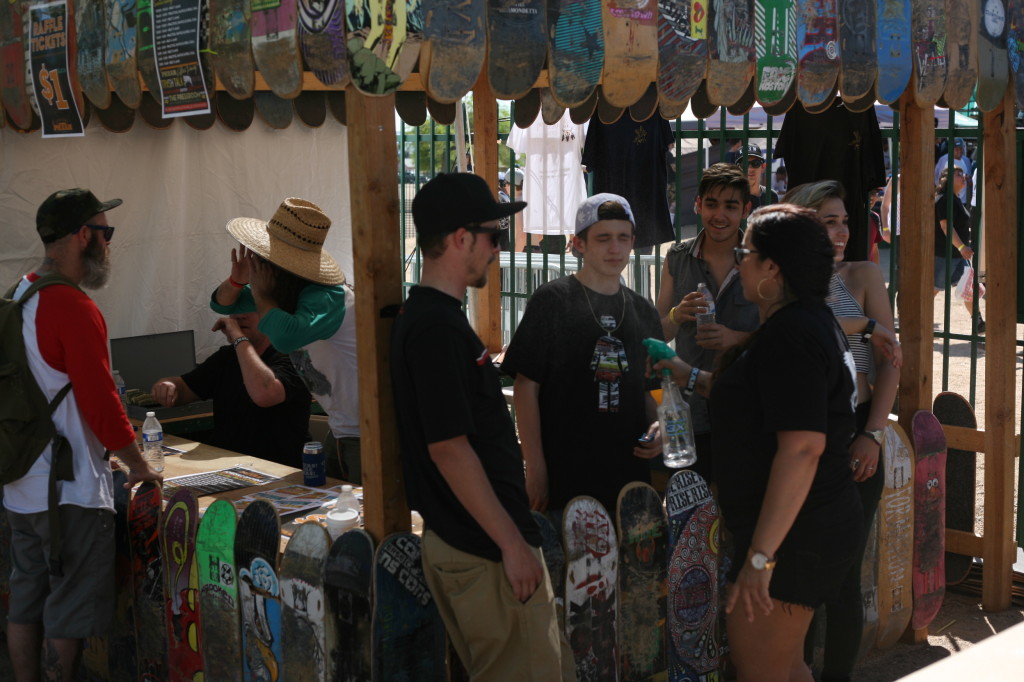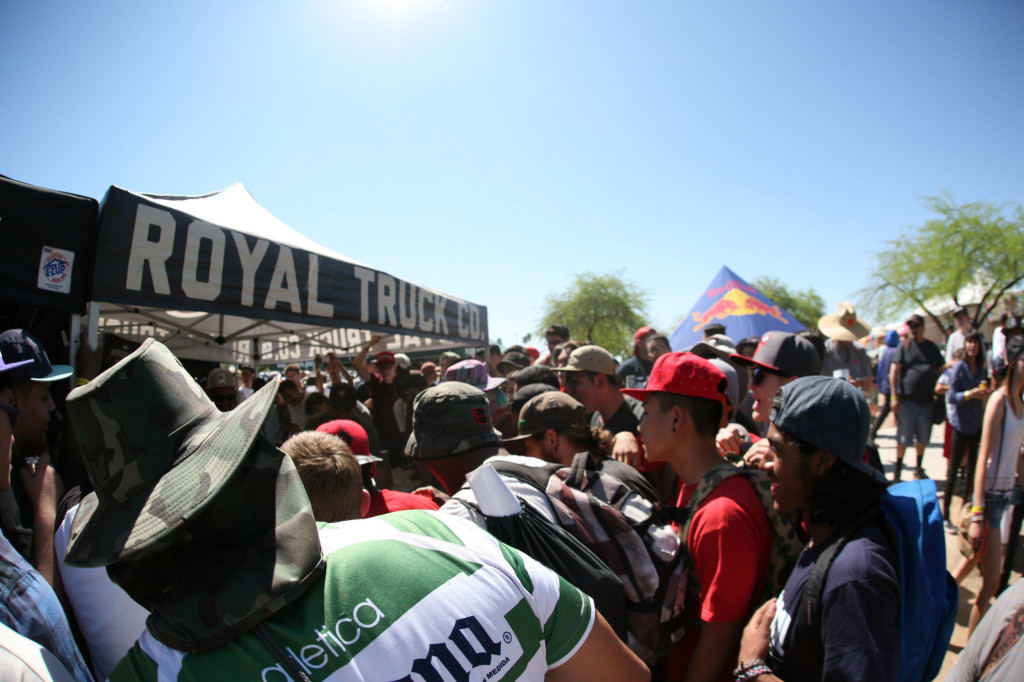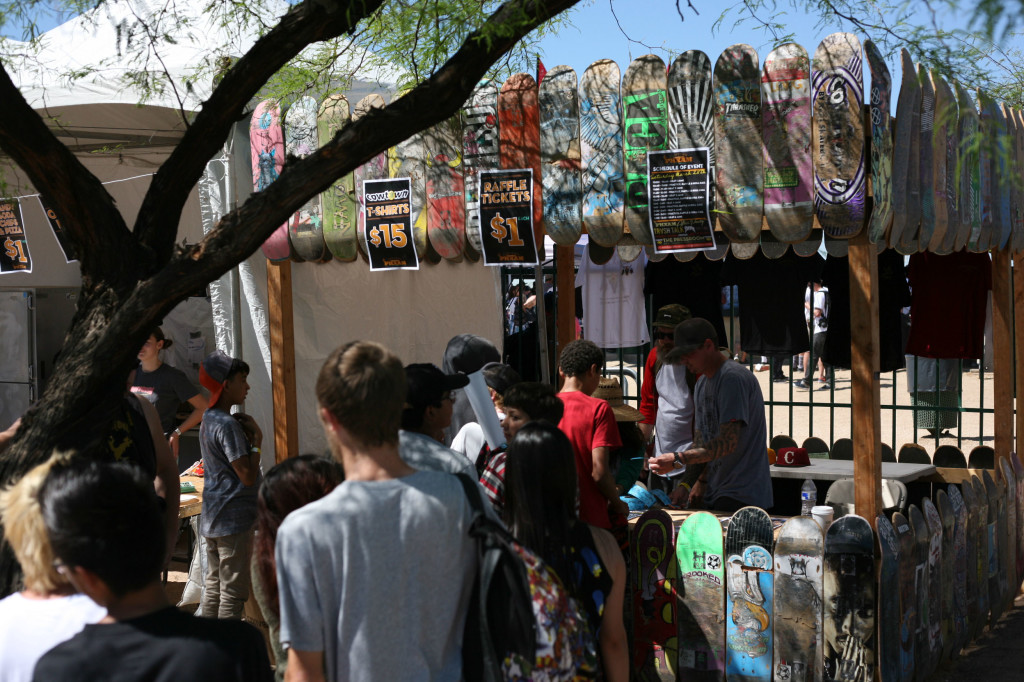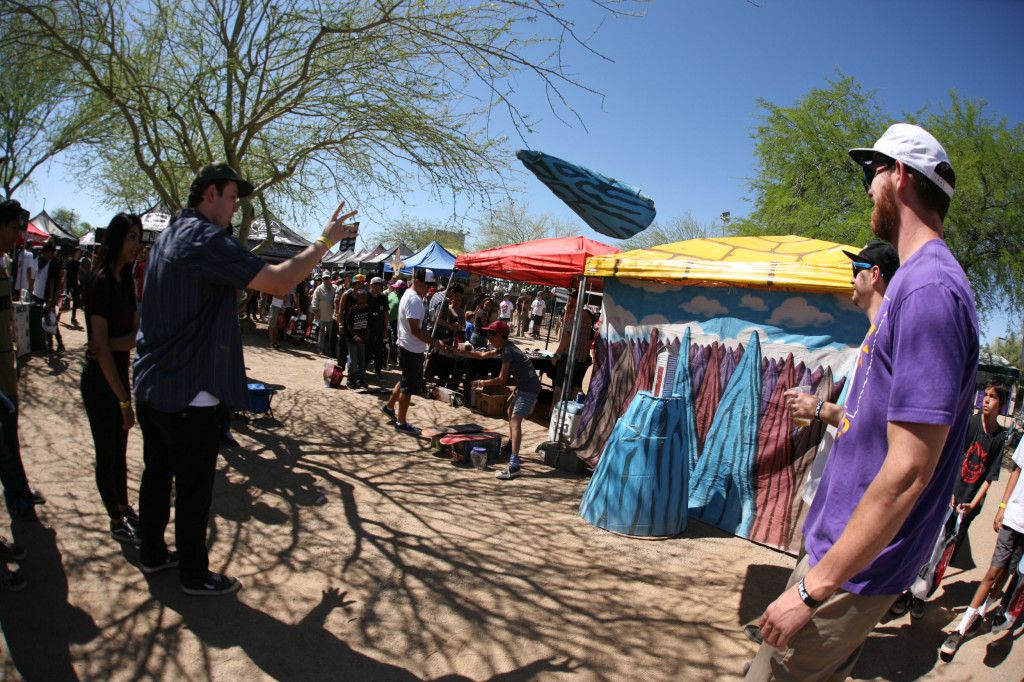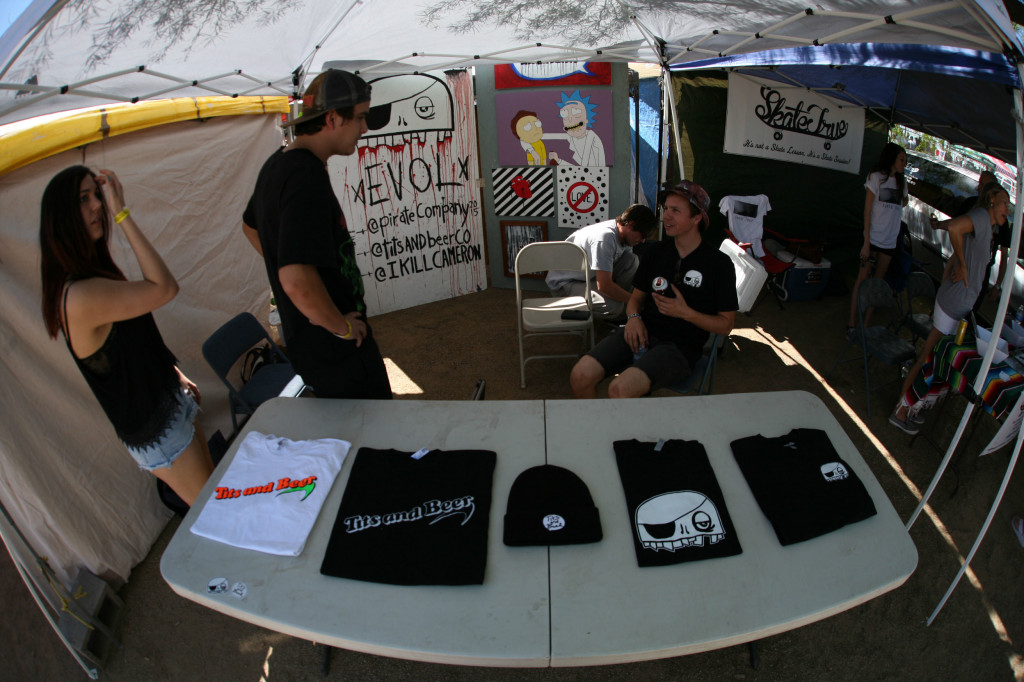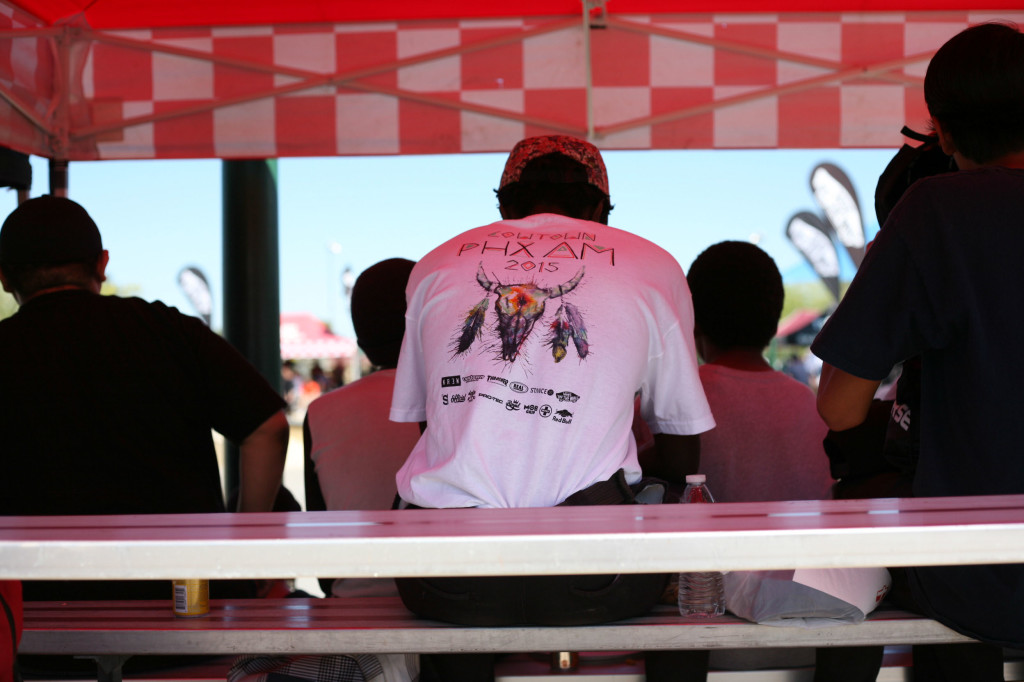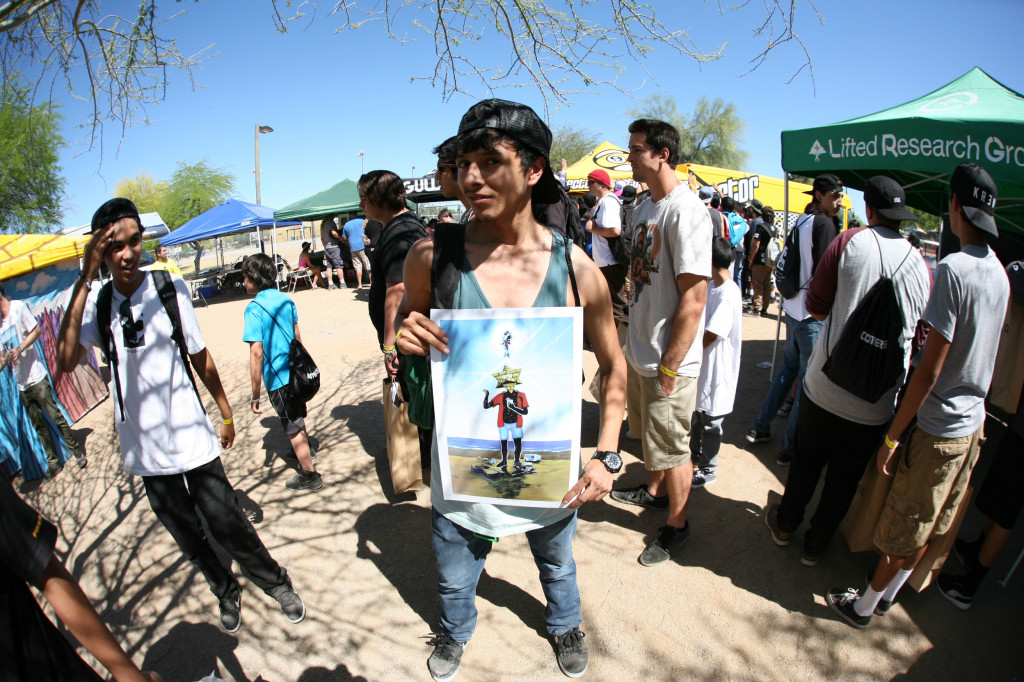 ---
The 2014 PHXAM After Party Presented by KR3W Featuring DEATH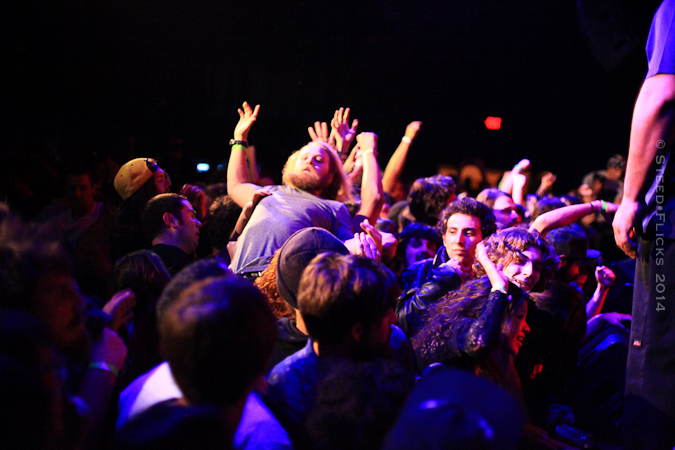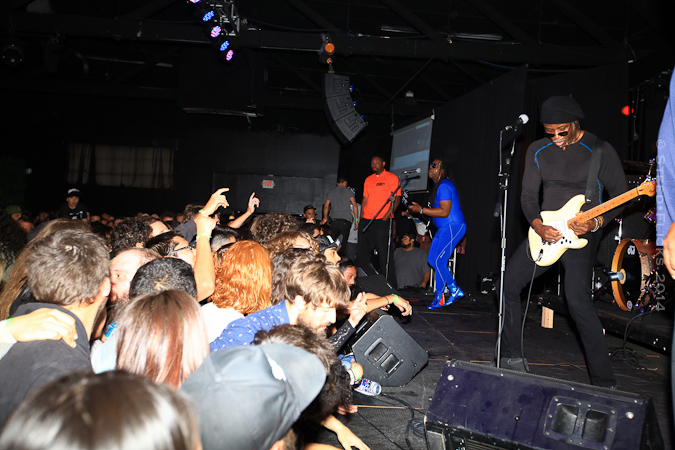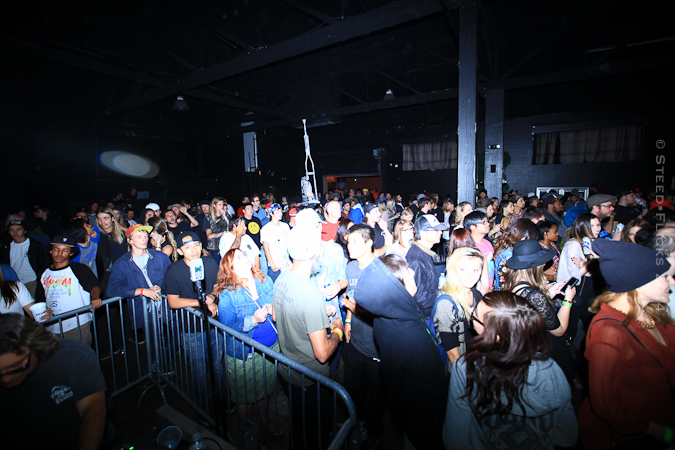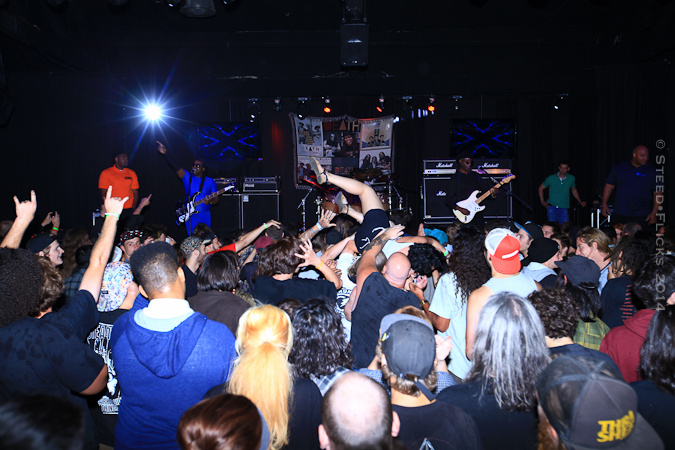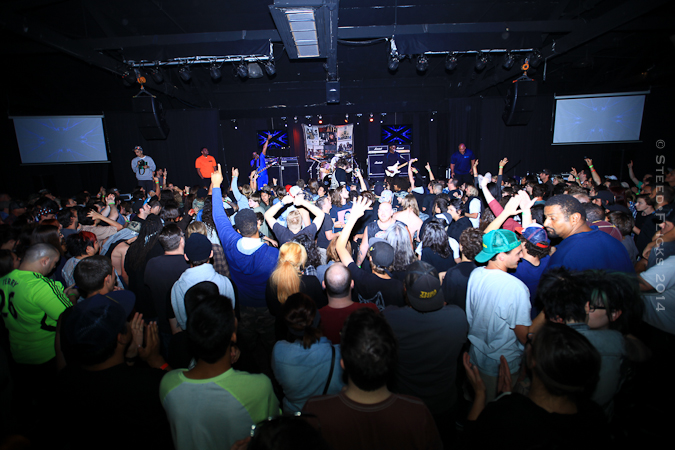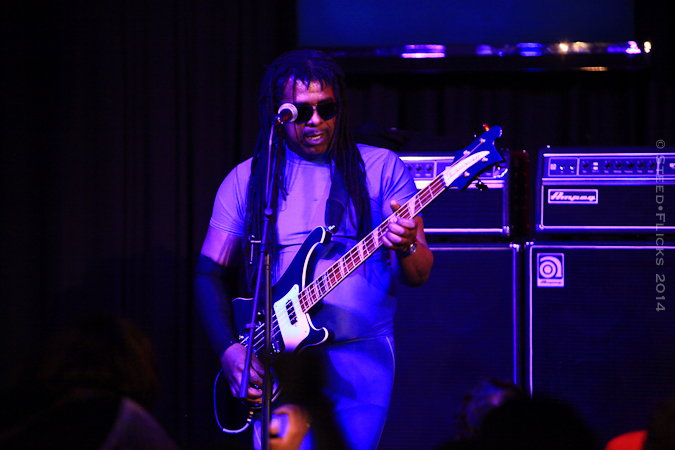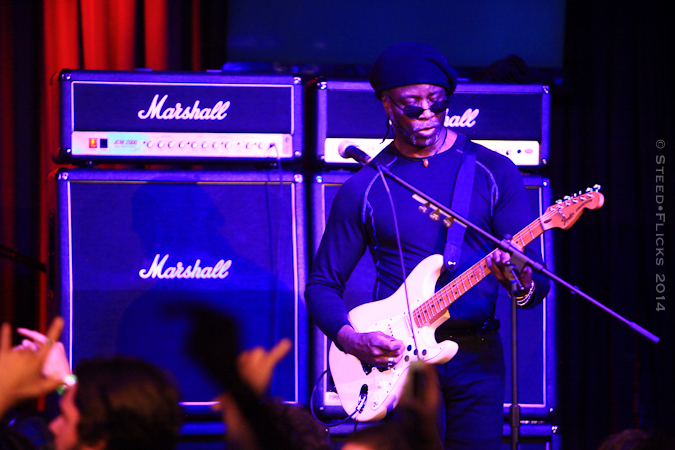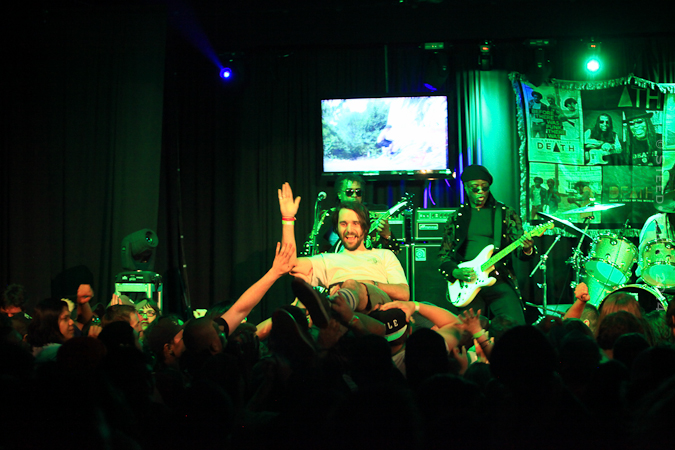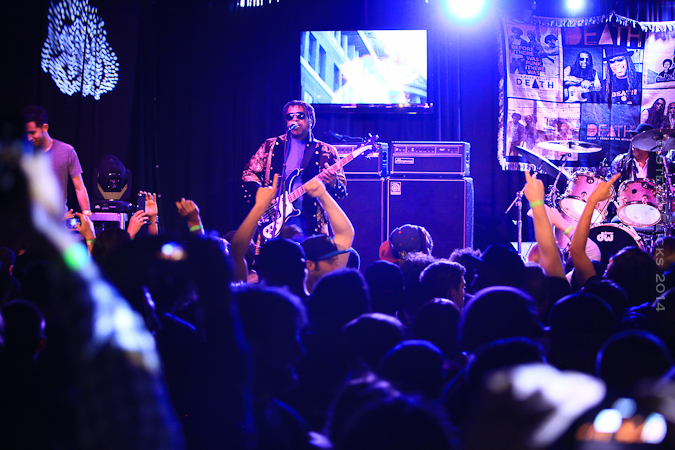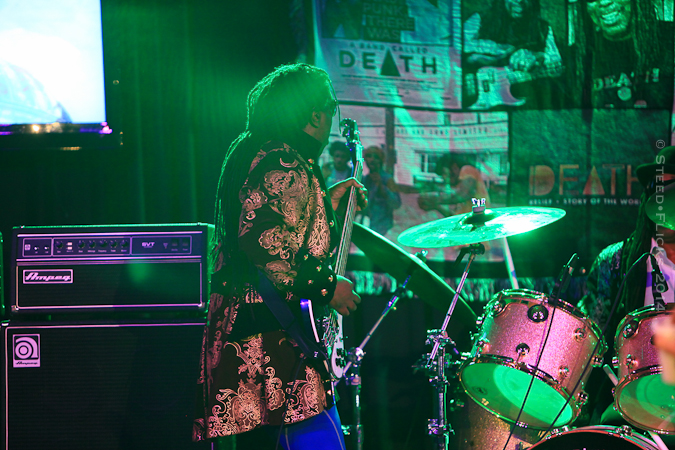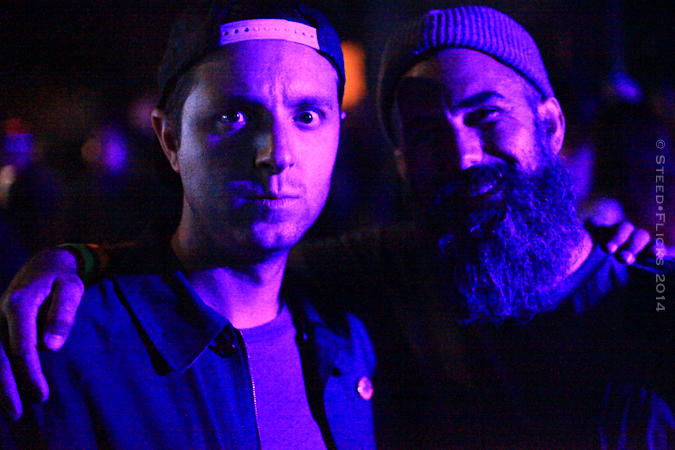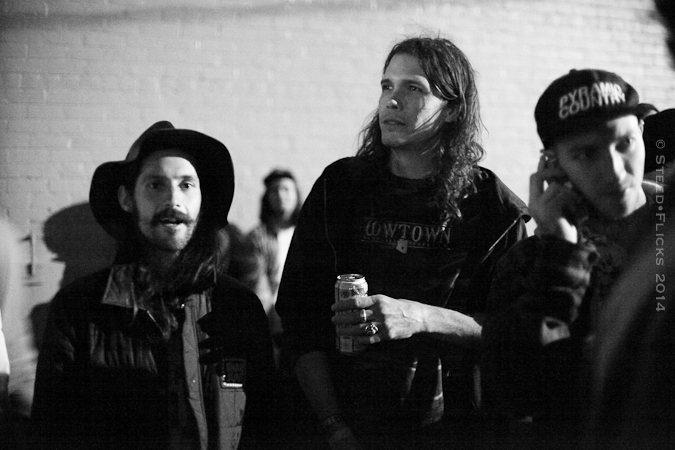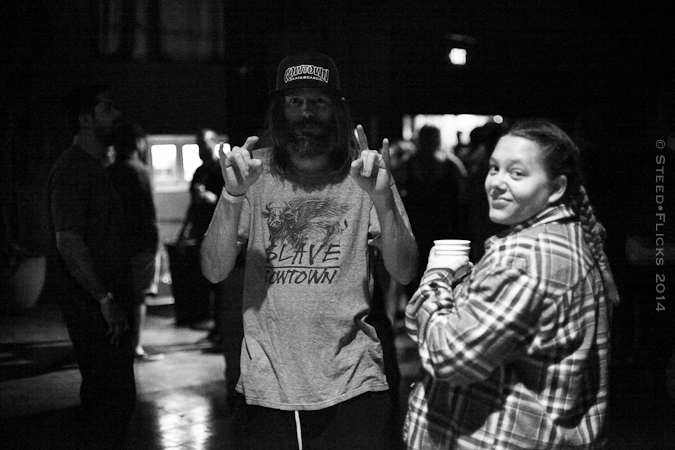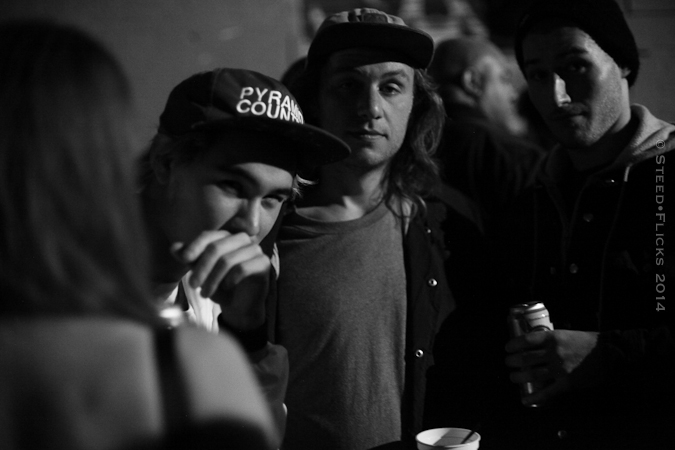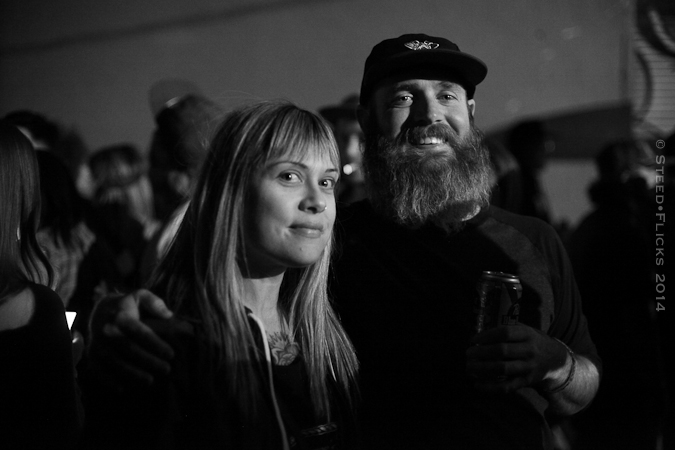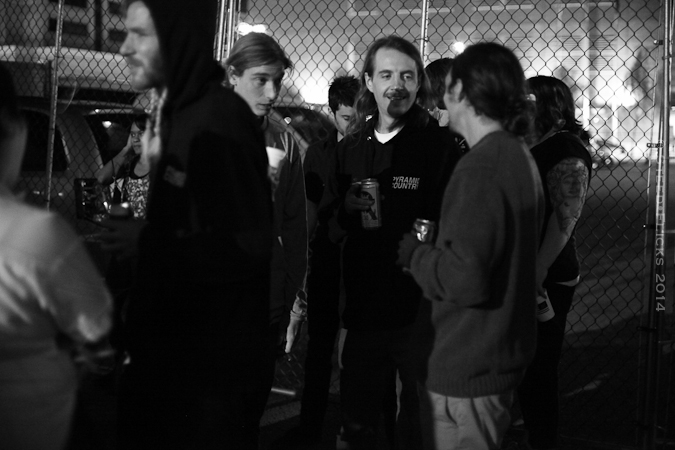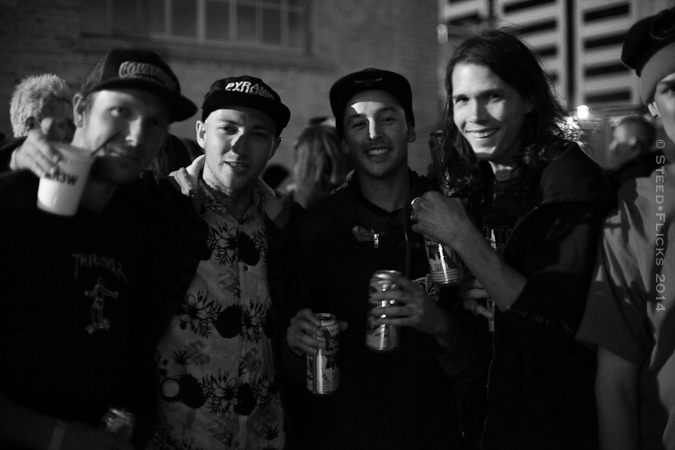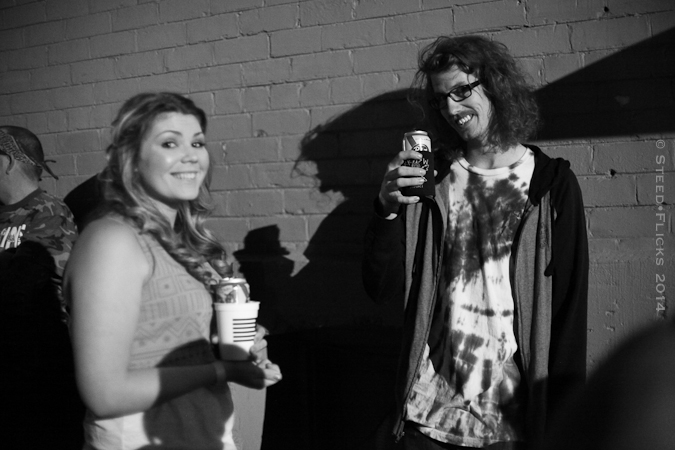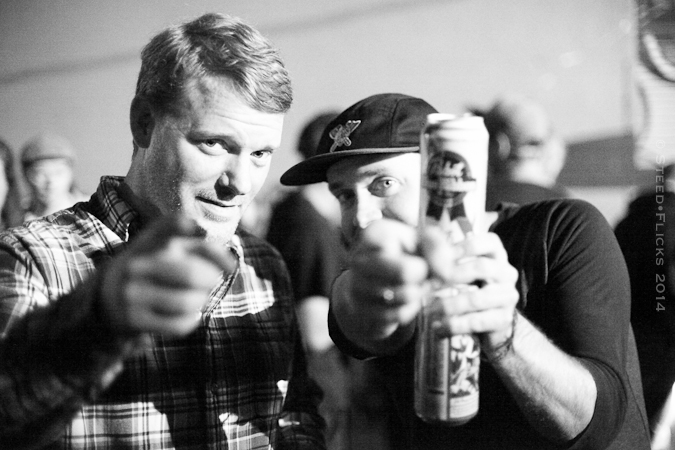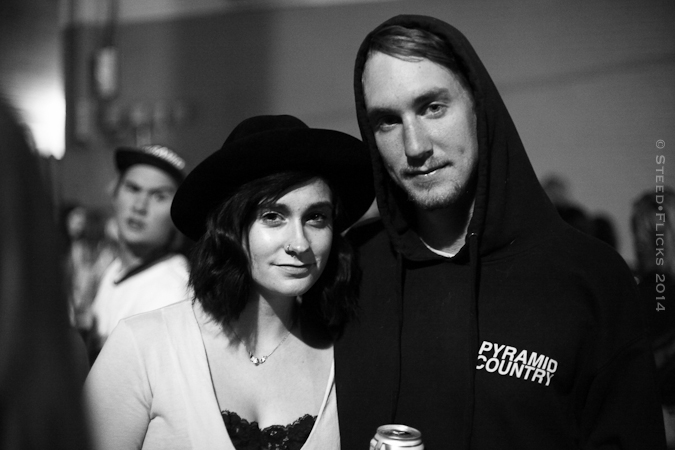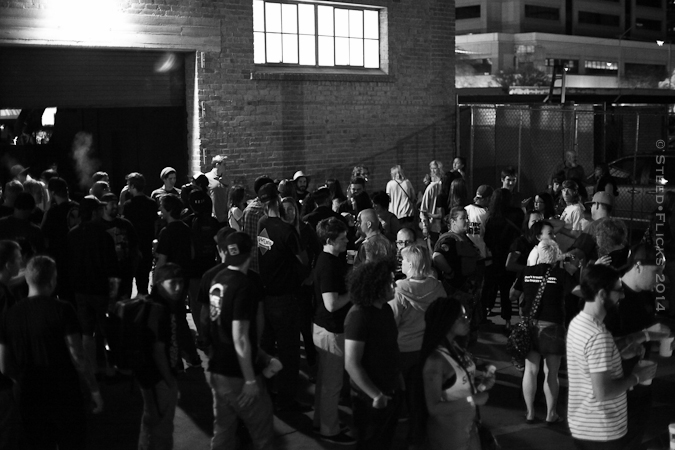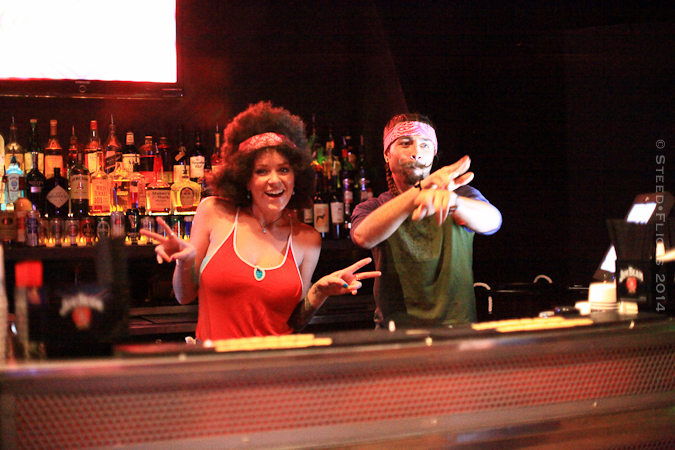 PHXAM Qualifiers Day 2014
Entry line on day 1 for Qualifiers
Waiting in line trying to win prizes in Tent City at Desert West
1st dude in line always gets hooked up here at PHXAMCatching doubles is a bonus when trying to shoot this stylish 180 grinder down the hubba by Marcus Carr
Brimley booth poser shenanigans at Tent CityRaffles going off all day at the park. Over 150 different prize packs from all our sponsors and all the awesome companies that help outThe double set was nothing for this monster FS FlipWe see plenty of BS wallrides on the hubba but this FS one was photo worthy
Red Bull girls hooking up wings for everyone at the contestEnjoyiong themselves in this perfect weather out here in Phoenix. 75, sunny, with an easy breeze.Focus in the judges boothFeeble across the new Red Bull prop
Nick Zizzo with a proper crook pop overBS 180 nosegrind on the Real hubbaSimon Lambey and Kechaud Johnson of CityStars waiting for their jamsCowtown's Aric Blattner 5-0's the A Frame
Adrian Hernandez from Phoenix stokes out his hometown blasting over the keyhole extensionAccidental doubles shots during heated jams are always a bonusJoey Brezinski looks on and cheers on his fellow RedBull teammate Sewa KroetkovJon Rob Moore went pro the night before at the Happy Medium 3 premiere. Congrats JonRob!
Jack Olson goes frontside onto the 5 railSteven Snyder was feeling it out thereThe big front 3 was alluding him in his runDaniel Lutheran signs autographs for his loyal pawns in Tent CitySteven goes front blunt down the double set hubbaJJ Horner holds it down at the Pyramid Country booth 
PHXAM Practice Day 2014